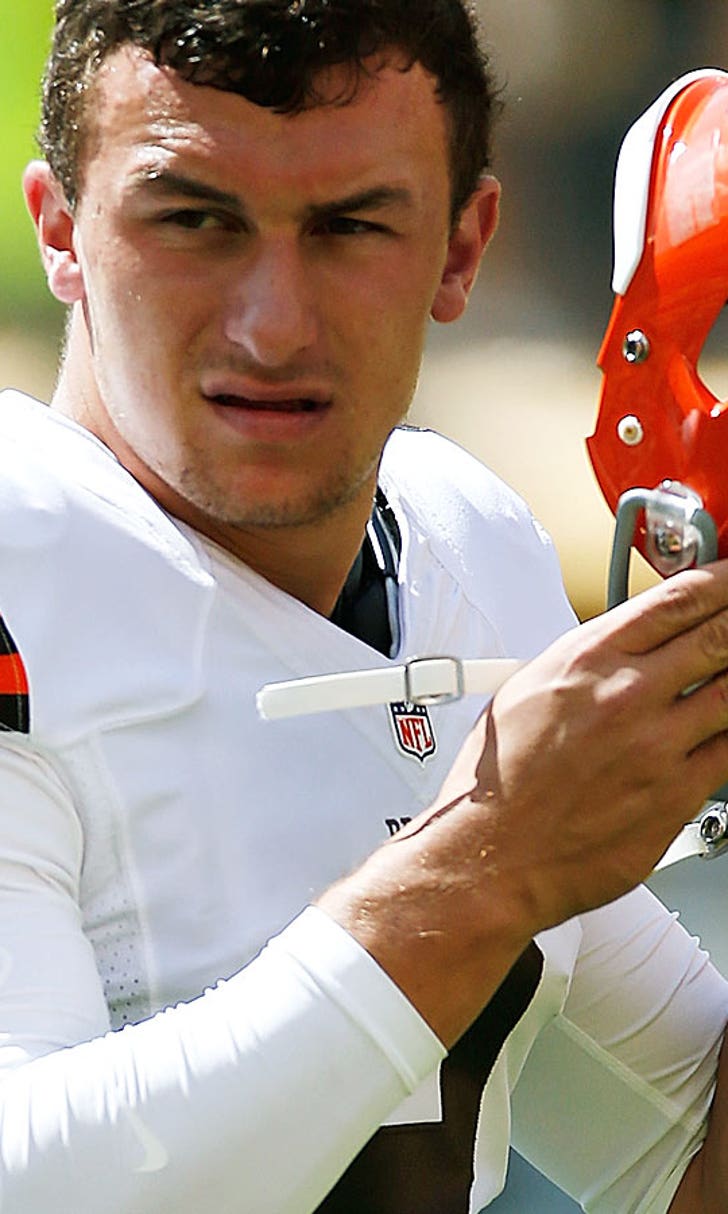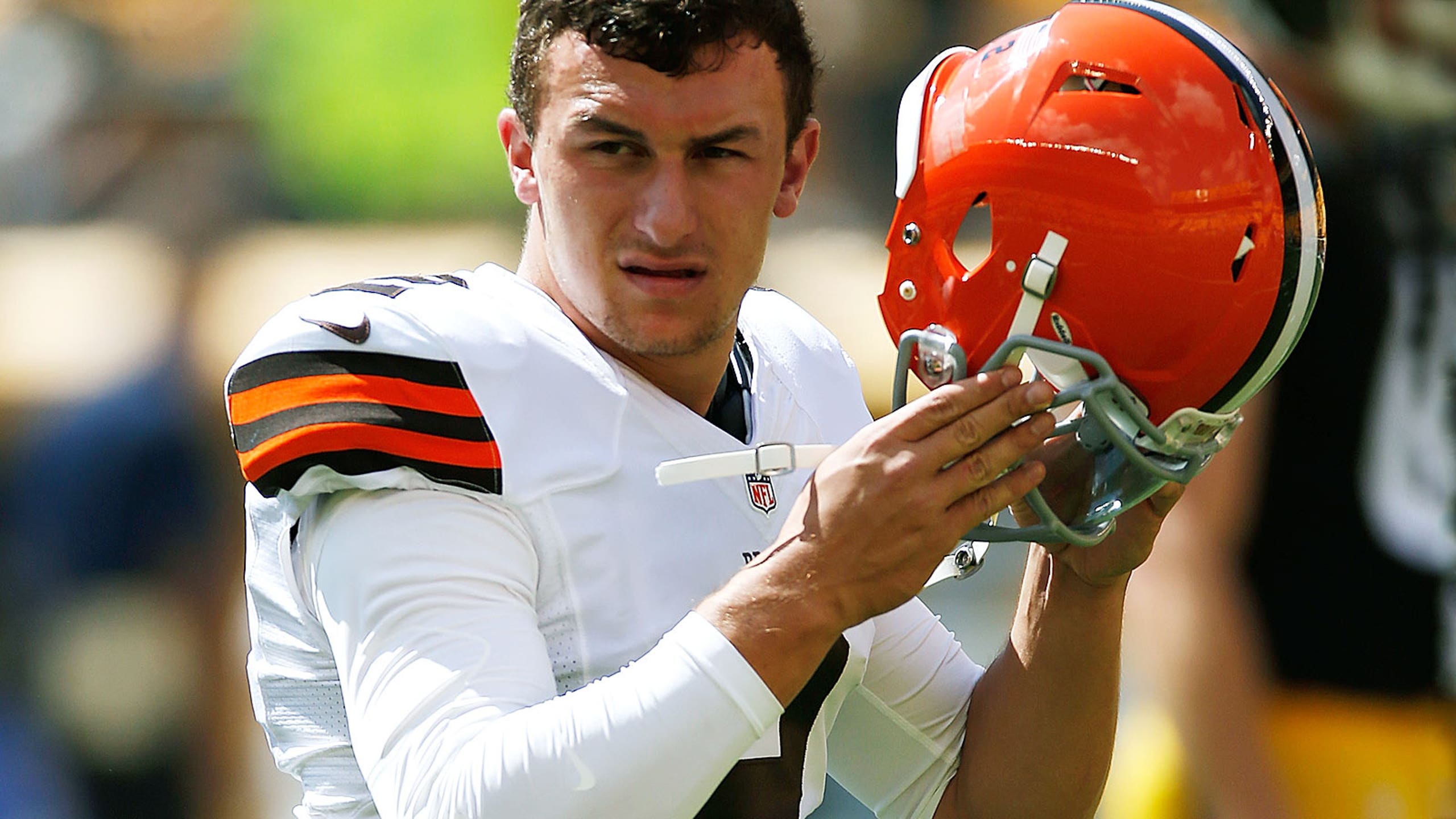 Johnny Time: Browns' Manziel to make first start
BY foxsports • December 10, 2014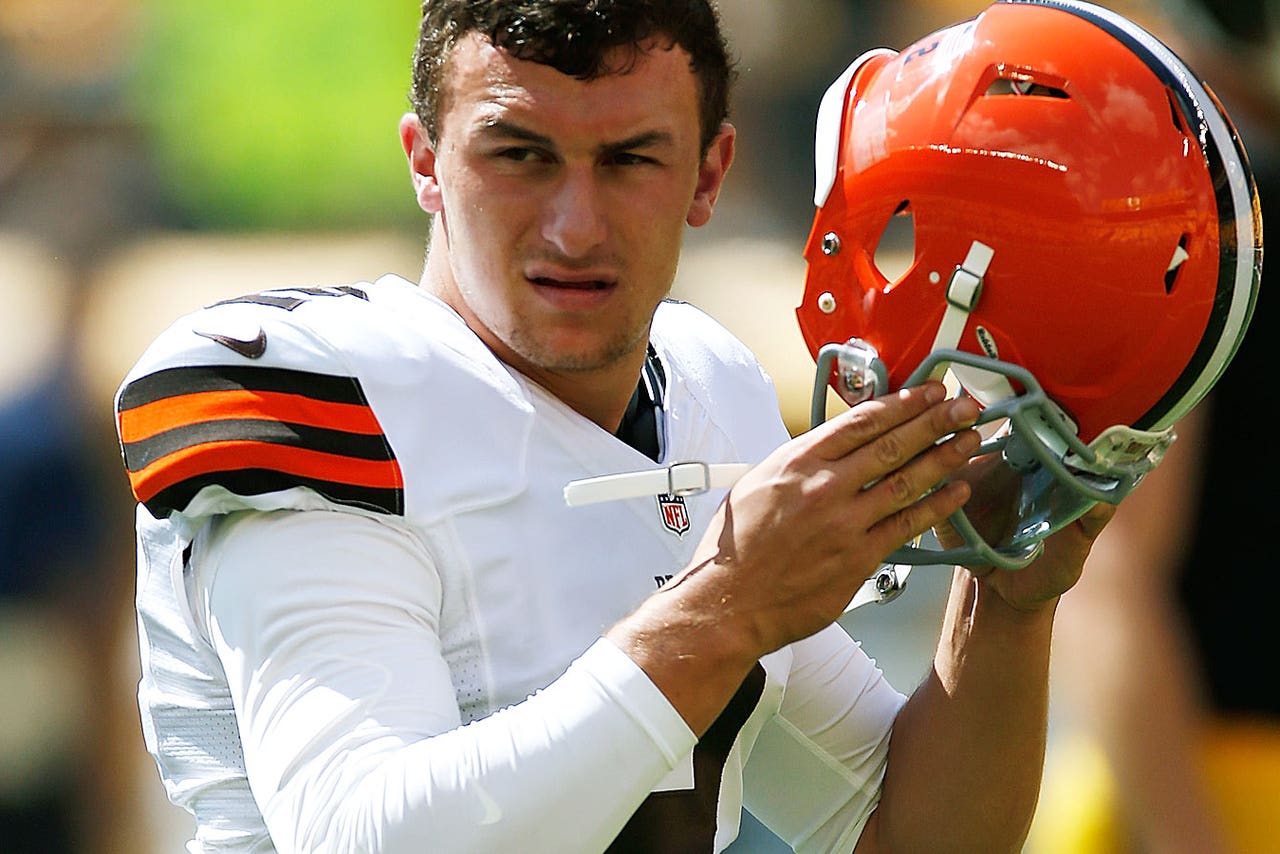 CLEVELAND (AP) -- Johnny Football's days as a backup are over this season.
He's getting his chance to start.
Rookie quarterback Johnny Manziel will make his first NFL start Sunday against Cincinnati, replacing the slumping Brian Hoyer as Cleveland tries to pump life into its sagging playoff hopes.
After moving up in May's draft to get him and waiting seven months as he learned and watched from the sideline, the Browns are finally setting one of college football's most captivating players loose with three games left in the season.
Browns coach Mike Pettine made the expected switch on Tuesday after meeting with his staff and general manager Ray Farmer, then informing both quarterbacks. Many Browns fans have wanted the change for weeks as they watched Hoyer fumble away his dream job.
Pettine said in a statement that the switch isn't about Hoyer or Manziel, but about the Browns.
"We are trying to get the offense to perform at a higher level," he said. "Johnny has worked very hard to earn this opportunity and it will be very important for every member of the offense to elevate their play for us to obtain our desired result."
Manziel's debut start will come in Cleveland's final home game, against a Bengals team Hoyer beat on Nov. 6. Manziel will try to show the Browns he can be the franchise quarterback they've coveted for two decades.
Manziel is the Browns' 21st starting quarterback since 1999.
"I've tried to spend my entire season learning what it takes to become a pro and it's been great to watch Brian because he knows what it takes," Manziel said. "I've prepared every week to be ready to help the team however possible and my focus has been on improving every day."
Even before Manziel was told he'll start, the possibility sparked some controversy with Bengals coach Marvin Lewis calling the 6-footer "a midget" during a radio interview Monday night. Lewis later apologized, but the jab stirred the Ohio rivalry.
The Browns really had no choice but to turn to Manziel. Hoyer has been awful in his last four games, throwing just one touchdown pass and eight interceptions. It hasn't been all Hoyer's fault as teammates have dropped passes and run pass routes incorrectly, but Cleveland needs a spark and Manziel changed games in college with his legs and right arm.
Pettine considered the switch a week ago but stuck with Hoyer, who has gone 10-6 as Cleveland's starter. Hoyer had two interceptions Sunday as the Indianapolis Colts rallied from a 14-point deficit in the third quarter to win. Hoyer and the Browns' offense picked up only three first downs in the second half.
Manziel's promotion could signal the end of Hoyer's time with the Browns. A Cleveland-area kid who grew up attending Browns games with his dad, Hoyer, who battled back from a season-ending knee injury in 2013, is in the final year of his contract. With Manziel around, it's likely Hoyer will have to sign elsewhere to remain an NFL starter.
"Although I am disappointed by coach's decision, I respect him and his choice and will be there to support Johnny," Hoyer said. "As always, I will do whatever I can to help this team win."
The No. 22 overall pick in this year's draft, the popular and polarizing Manziel has been on the field just 18 plays this season. He came off the bench two weeks ago in the fourth quarter at Buffalo, completed 5 of 8 passes and scored on a 10-yard touchdown run.
Manziel won the Heisman Trophy at Texas A&M, where his ability to improvise made him a star and earned him his Johnny Football nickname.
The Browns are hoping he can perform some of that magic on Sundays.
Manziel couldn't beat out Hoyer during training camp and the 22-year-old's off-the-field behavior, which included weekend trips to Las Vegas, led to outside criticism of his maturity and commitment. The Browns held off on playing him until they felt he was ready, and now Pettine has put the team's season in Manziel's hands.
Johnny better be good.
---