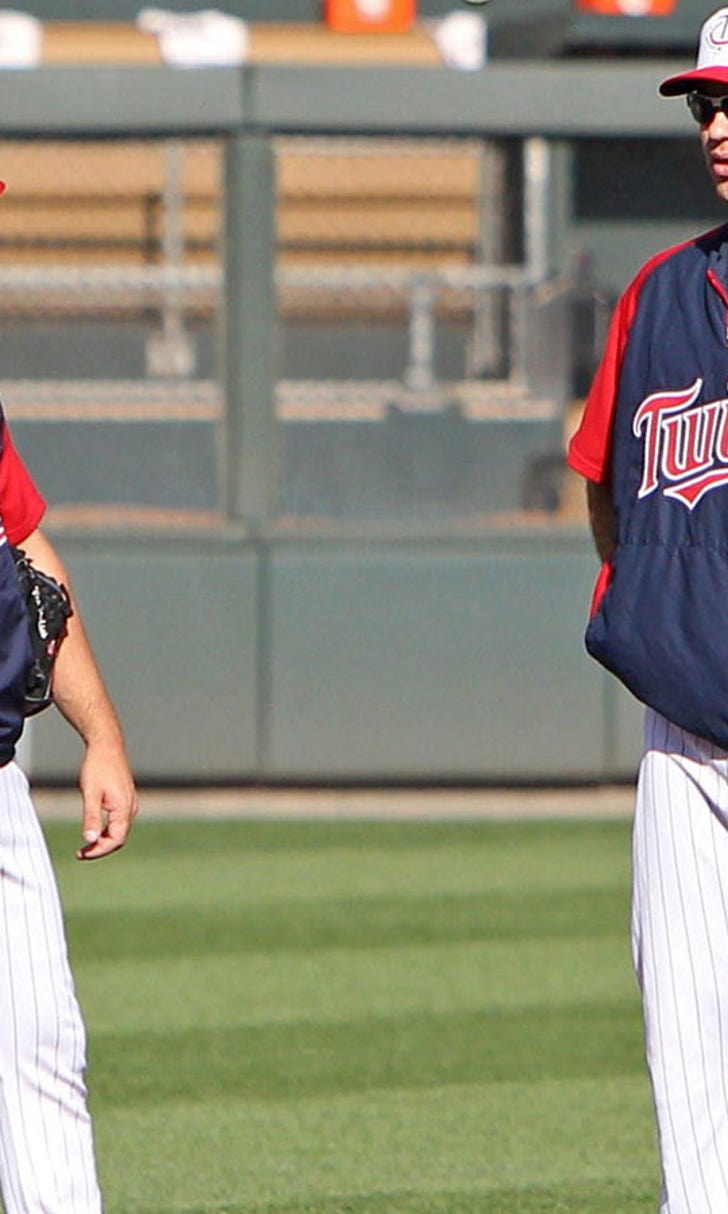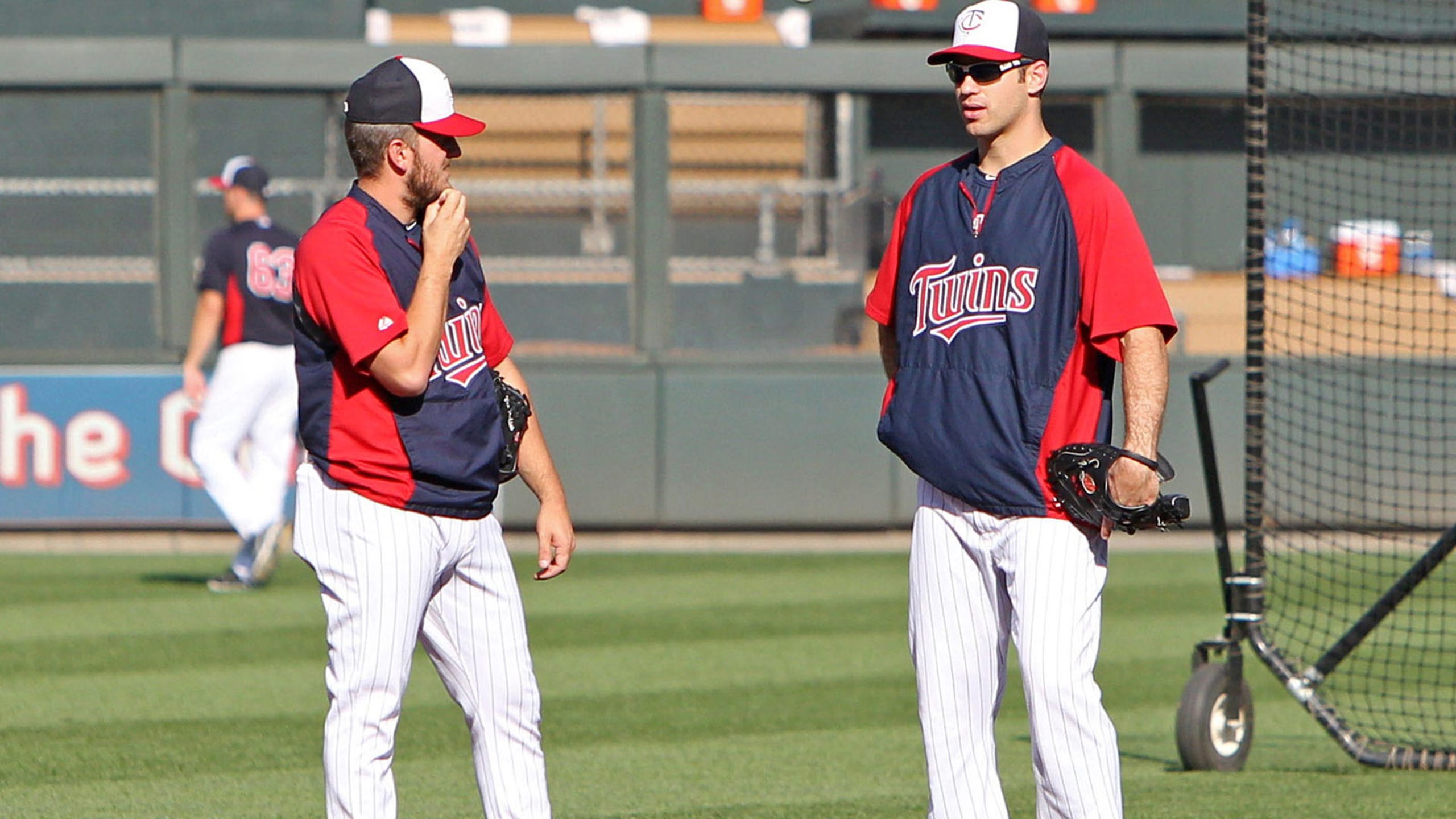 Joe Mauer excited to reinvent himself at first base
BY foxsports • January 26, 2014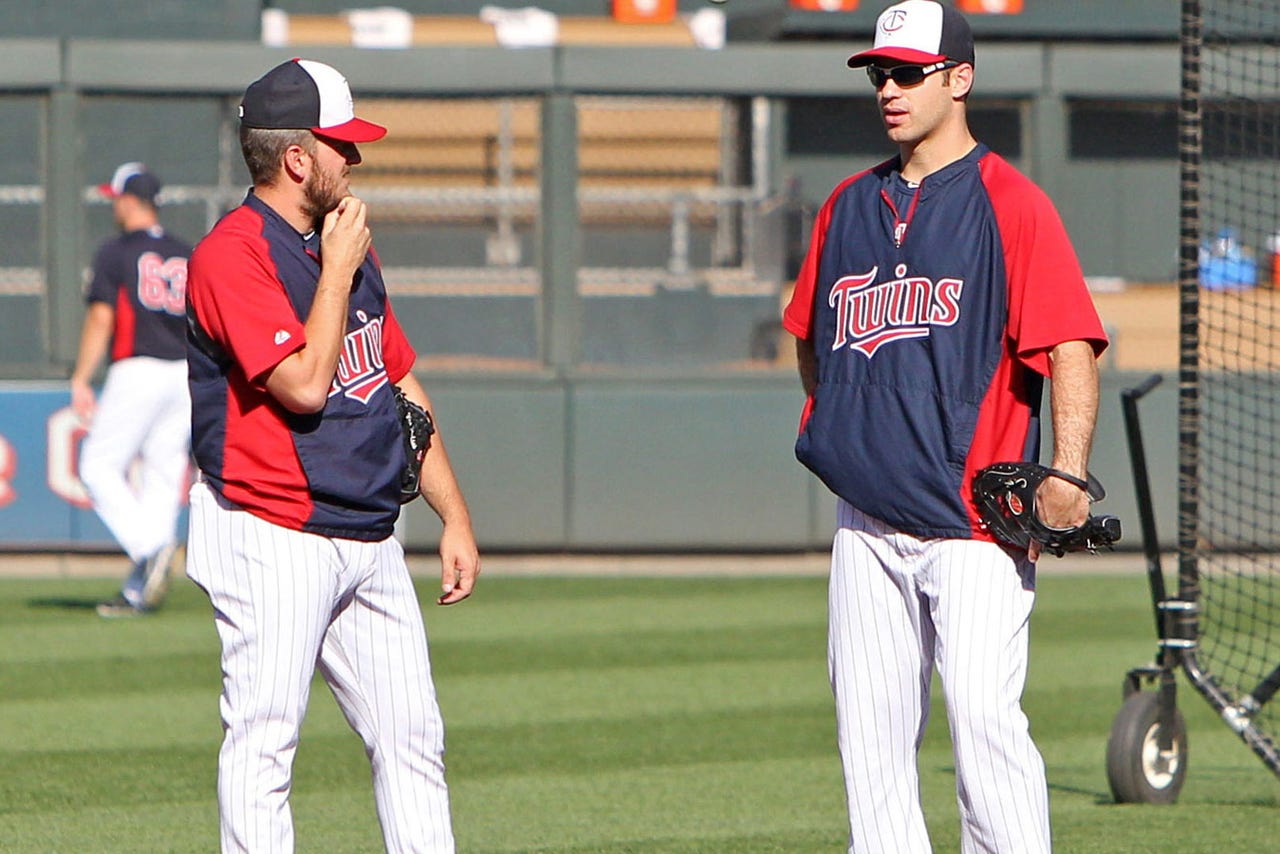 MINNEAPOLIS -- The Minnesota Twins drafted Justin Morneau as a catcher back in 1999. After less than a season as a minor league backstop, Morneau made the position change to a full-time first baseman.
For the 2014 season, Morneau's good friend Joe Mauer will be making that same change -- albeit for very a different reason. In Morneau's case, the move from behind the plate had more to do with his defense at catcher. Oh, and there was the fact that Mauer was drafted No. 1 overall out of high school in 2001.
"It's funny, I always give him a hard time, saying that I got drafted because he was a catcher," Mauer said this weekend at TwinsFest. "He didn't like to hear that. My first instructional league, they were kind of trying out different positions, so I actually saw Morneau in right field, too. That was a treat. He found a good place over at first base."
Mauer also hopes he finds a home at first base after a concussion this past August forced the change. The Twins' All-Star catcher and face of the franchise took a foul ball of the mask in a game against the New York Mets. The result was a concussion that sidelined him for the rest of the 2013 season.
Knowing just how valuable Mauer is to the franchise, the front office and Mauer made the decision to get him out from behind the plate to a position that wouldn't beat up his body on a daily basis. He had played a handful of games at first base over the last two season as a fill-in for Morneau, and he picked up the new position with relative ease.
Yet Mauer had been a catcher nearly his entire baseball career, dating back to his days as a three-sport athlete at Cretin-Derham Hall in nearby St. Paul. As much as Mauer loved catching, the new father of twin girls saw the bigger picture and knew the change was the right thing.
Morneau also offered encouragement as a fellow catcher-turned-first baseman.
"Actually, when I was kind of going through these doctors, he was real supportive," Mauer said. "He actually told me, "Joe, you need to move. It's just not worth it.' That's coming from a guy who experienced a lot of the things that I was going through. He was very supportive in that. He's thinking about me as a friend, not just as a teammate."
The hope now is that Mauer's bat -- which has hit its way to three batting titles, an MVP award and six All-Star Games -- will now be in the lineup on a more regular basis. Mauer's career high for games played was 147 in 2012. Minnesota's front office believes a healthy Mauer at first base should be in the lineup at least 150 times, if not more.
For a team that has lost 90-plus games in each of the last three seasons, more Mauer can only help this offense.
"This guy is an All-Star and one of the best catchers in the game but health-wise we need him on the field. We've said that all along," said Twins manager Ron Gardenhire. "I think I'm going to be able to write him in the lineup an awful lot this year, which we have to have. It's not saying that you can't get hurt at first base -- there's a lot that can happen over there -- but those foul tips and shots off your body, that's definitely something that's kind of hindered him a little bit and he's still hitting .330."
Mauer said he had plenty of discussions with his family -- especially his wife, Maddie -- about the move. Their twin girls, Emily and Maren, are now six months old, and Mauer has fully embraced fatherhood.
There were nights, though, that he couldn't be near his baby girls because of his concussion. When Emily or Maren would cry, Mauer would have to escape to a quiet room in the house while his wife took care of the kids.
That's something Mauer doesn't want to endure anymore, and he hopes his new position will alleviate that.
"Maddie was there every meeting, every doctor's meeting," Mauer said. "I think I kept visiting different doctors hoping that somebody would tell that it was OK to get back behind there. She understood. She let me make that decision."
For Twins fans holding out hope that Mauer might keep a catcher's mitt handy, don't hold your breath. Mauer said going back behind the plate, even in an emergency situation, would defeat the purpose of why he moved to first base. Instead, Minnesota signed veteran Kurt Suzuki to handle most of the catching duties in 2014, while Josmil Pinto, Chris Herrmann and Eric Fryer all have a shot to make the club at catcher this spring.
As weird as it is for Mauer to leave his catcher's gear behind, it will also be weird for the pitchers who grew accustomed to throwing to him.
"He's a great catcher. He's got a great target back there and knows the game and knows the teams we're playing really well," said reliever Brian Duensing. "But we need him on the field, too. . . . Obviously he's a natural athlete, so first base isn't going to be too tough for him."
What has been tough for Mauer has been getting used to thinking of himself as a first baseman. He was introduced at Thursday's Diamond Awards as "Twins first baseman Joe Mauer," a phrase that brought a pause not only to Mauer but to those in the audience.
For as long as anyone has watched Mauer in a Twins uniform, he's been a mainstay behind the plate. Now Minnesota hopes he'll be a mainstay at first base for many years to come.
"Seeing the name tag at my signing booth with '1B' next to it is a little different," Mauer said. "But interacting with fans, they're excited, and it makes me excited, too."
Follow Tyler Mason on Twitter
---
---