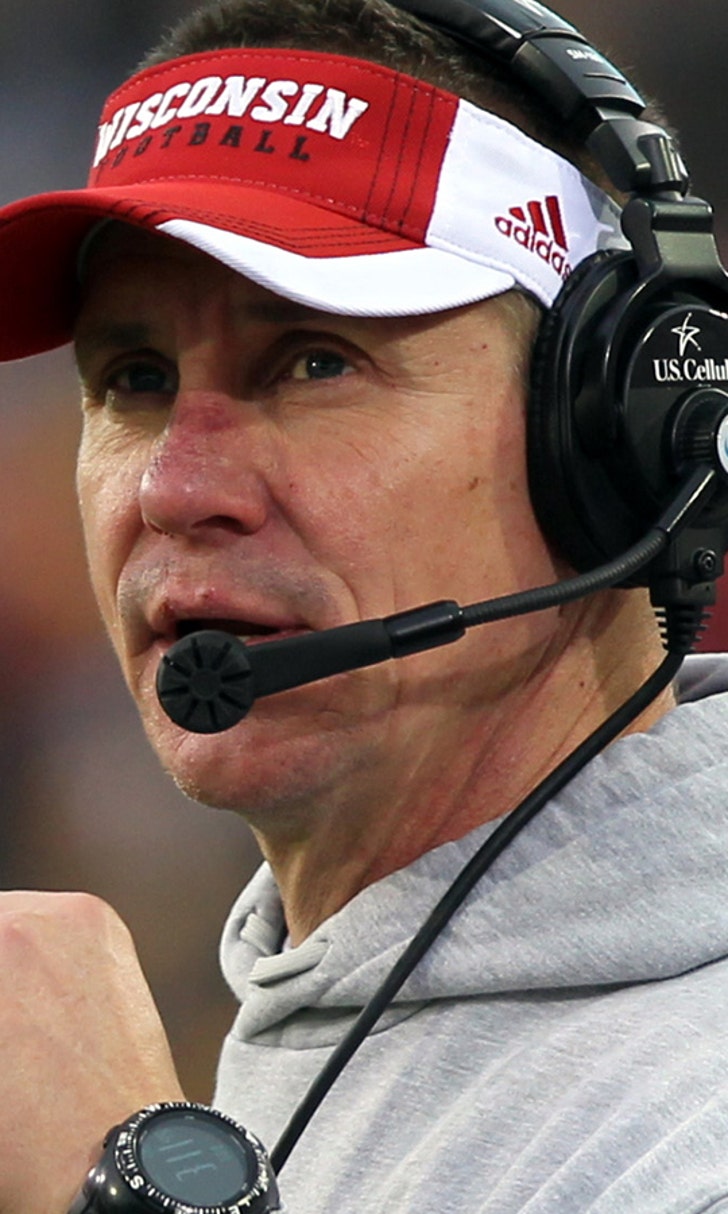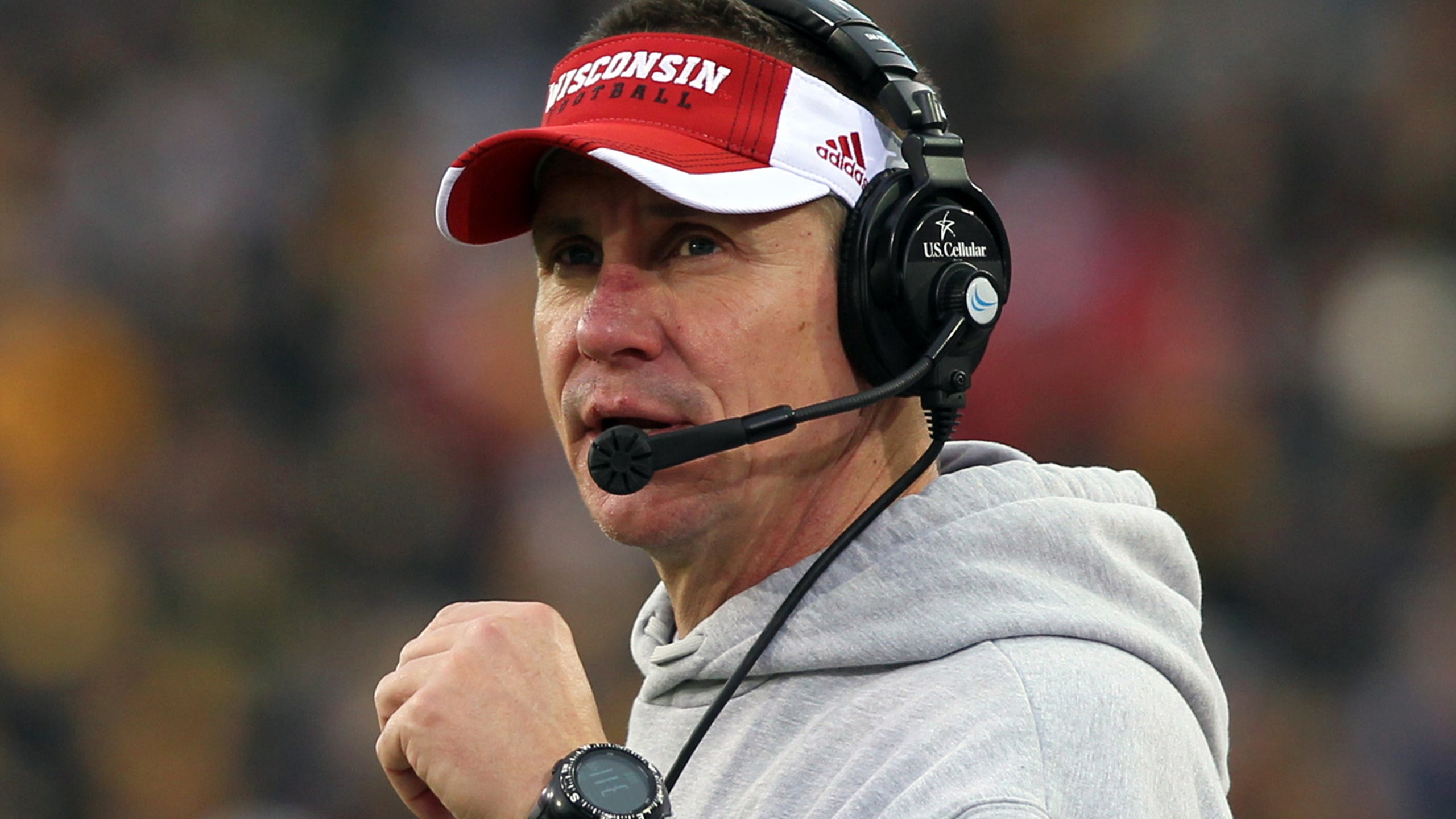 Jesse Temple's Dec. 10 Badgers mailbag
BY foxsports • December 10, 2014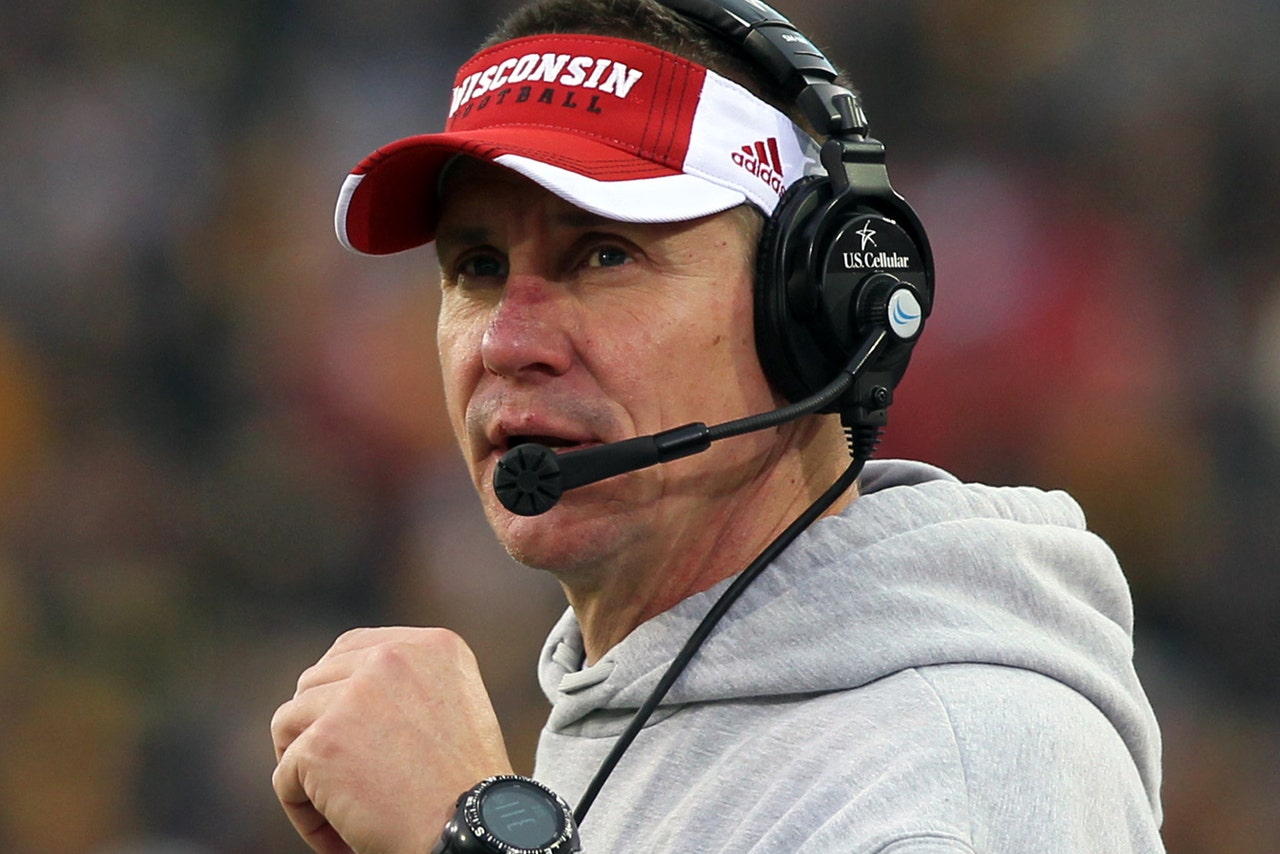 It's another edition of the Badgers mailbag. Or should we simply call it "Disgruntled Fans Raise a Raucous" for this week's version?
Given that Ohio State destroyed Wisconsin 59-0 in the Big Ten championship game on Saturday night, fans have every reason to be upset. Read on for answers about the quality of Wisconsin's recruiting, the play of the Badgers' defense, future quarterback competitions, Ohio State allegedly running up the score, Melvin Gordon's Heisman chances and much, much more.
On with the mailbag:
Q: Saturday night, we saw a perfect demonstration of 4- and 5-star athletes at their best against 3-star and below at their worst. I think Urban Meyer could do what he did, and probably worse, against anybody in the Big Ten at anytime. With Michigan probably gone for years, we are now officially The Big One. -- B. Gailbreath, Madison
A: There's no question Ohio State is the cream of the crop in this conference. The Buckeyes now are 25-1 under Urban Meyer in Big Ten games with one conference title -- which would have been more had the Buckeyes not been on probation one of those years.
I wrote about this last week, but I'll mention it again here on the topic of recruiting rankings. The difference between Ohio State and Wisconsin is stark.
Since 2006, Ohio State has not finished with a recruiting class ranked worse than No. 20 in the country, according to Scout.com ratings. The Buckeyes have finished in the top six in each of the last four seasons. Wisconsin, meanwhile, has not had a class reach higher than No. 29 since 2006. Wisconsin's average recruiting rank in the past nine classes is 40.4, while Ohio State's is 7.6.
Yes, developing talent is a big part of having a successful college football program. But the fact Ohio State collects players with so much talent to begin with certainly doesn't hurt. Even Badgers coach Gary Andersen acknowledged how much farther ahead Ohio State was at this point: "Right now, we're chasing Ohio State, and that's pretty obvious," he said after Saturday's loss.
Q: No. 2-ranked defense? How over-rated were the Badgers? How bad do they need a different QB next year? -- Steve, Sun Prairie
A: Many people questioned the legitimacy of Wisconsin's defensive rankings this season because the Badgers did not play big-time Big Ten East powerhouses Ohio State and Michigan State during the regular season. Wisconsin's starters surrendered only two touchdowns over three games against Maryland, Rutgers and Purdue. But those teams also finished 6-18 in Big Ten games.
Ohio State exposed Wisconsin's defense with quickness on the edges and playmakers down the field to the tune of 558 yards of total offense. Defensive backs lost wide receivers and linebackers fell while trying to catch running backs. Wisconsin still ranks fourth nationally in total defense, and nothing can take away from what the Badgers accomplished during a seven-game winning streak to capture the Big Ten West. But I can see why some people want to put an asterisk on the defense's accomplishments.
As for the quarterback question, Joel Stave is still the likely frontrunner to start next season. Bad game against Ohio State notwithstanding, he has the most experience and remains the most consistent passer. He is 20-7 as a starter, and it seems highly unlikely coaches would throw true freshman Austin Kafentzis or redshirt freshman D.J. Gillins into the fire. As it stands now, I'd expect to see a refined two-quarterback system with Stave and Tanner McEvoy.
Q: After another "big game loss," will Wisconsin ever be able to compete against the "big boys" with the level of recruits we are able to attract and the limited number of four- and five-star recruits we are able to attract? -- Don, Baraboo
A: I wish I could give you a concrete answer telling you the Badgers can win based simply on the team concept with lesser-heralded players. But Saturday's result showed the cavernous difference between a collection of the top recruits in the country and everybody else.
Ohio State's 11 offensive starters averaged 3.54 stars per player out of high school, according to Scout.com, while Wisconsin averaged a 2.27. On defense, the Buckeyes averaged 4.36 stars, and the Badgers averaged 2.63. Wisconsin's only four-star starters were center Dan Voltz and linebacker Vince Biegel. Ten of Ohio State's defensive starters alone garnered at least four stars.
I know some coaches hate to evaluate recruiting talent based on star ratings, but there is plenty of merit here. Ohio State has better players, and Wisconsin may never catch up to the sheer talent in the Buckeyes' program.
Q: The Buckeyes' third-string quarterback dismantled Wisconsin on Saturday night, yet our quarterbacks can't seem to find a light switch in a well-lit room. Can we PLEASE be done with Stave and McEvoy? Has D.J. Gillins progressed effectively through the course of his redshirt season to challenge for a starting role next year? Aside from our year with Russell Wilson, we haven't had a QB since Tyler Donovan. I'm not even asking for a star at this point, just an effective passer and game manager who doesn't give up the ball. -- Todd, La Crosse
A: Maybe it's just me, but I don't see Wisconsin's coaching staff betting the farm on Gillins next season. There's no way around the fact that Stave wasn't very good against Ohio State. But, as noted in an earlier question, he's also 20-7 as a starter, and that's difficult to discard. Stave has done some positive things this year, and teammates and coaches have openly stated Wisconsin would not have made the Big Ten title game without him during that seven-game winning streak.
McEvoy, too, it should be pointed out, has put together the finest rushing season by a quarterback in Wisconsin history. Certainly, his passing leaves something to be desired. But he's rushed for a quarterback program record 574 yards this season and is averaging an astounding 8.8 yards per carry. That's better than Melvin Gordon's 7.6 yards per carry.
Unless Gillins transforms himself quickly or Austin Kafentzis leapfrogs the entire depth chart, it likely will be the Stave and McEvoy show for one more year.
Q: Jesse: At times it appears Gary Andersen is in over his head, and his in-game management appears to be severely lacking. Does Alvarez make a change after only two years? -- Robert, Bear, DE
A: Gary Andersen is 19-7 as Wisconsin's coach, including 13-3 in Big Ten regular-season games. His teams have played in two consecutive New Year's Day games. No, he isn't going anywhere. Bret Bielema had a ton of success and led his program to three Rose Bowls. He also went 1-5 in games against Ohio State. Andersen is not alone in that regard.
I'm guessing nobody was suggesting Andersen was "in over his head" after Wisconsin won seven consecutive games, including three against Nebraska, Iowa and Minnesota.
Q: Now that Ohio State figured out how to defend Wisconsin and especially their rush attack, will Auburn simply copy the OSU scheme? -- Kurt, Stoughton
A: Ohio State ranks No. 23 nationally in scoring defense (21.2 points per game) and No. 15 in total defense (328.0 yards per game). Auburn ranks No. 59 in scoring defense (26.1 points) and No. 59 in total defense (388.7 yards).
I point those numbers out to say that Auburn's defense is not as good as Ohio State's defense, and just because the Buckeyes put players in the right spots doesn't mean the Tigers will, too. Auburn allowed at least 30 points in its final six regular season games against SEC teams, including 55 in a loss to Alabama. Those results ultimately led to Auburn defensive coordinator Ellis Johnson being fired.
At this stage, Tigers head coach Gus Malzahn has yet to name Johnson's replacement. So to think Auburn can simply copy Ohio State's scheme probably won't happen. But the Buckeyes shutting out the Badgers will no doubt be highly scrutinized by Auburn's coaching staff.
Q: I think Bo Ryan is one of the best basketball coaches that has ever lived, but I want your opinion on why Sam Dekker has never lived up to his potential. Everyone, including yours truly, believes he passes the eye test better than anyone who has played here. But this is his junior year, and I don't remember him having an off-the-charts game. I know he is occasionally injured, but he really does seem to disappear in big games especially. I'm wondering if he should stay another year. He really doesn't seem to have the confidence the NBA would require. Another year with Bo might help tremendously. -- B. Gailbreath, Madison
A: Your definition of living up to potential must be pretty high -- or unreasonably fast -- because Dekker has improved every season he has been here. He came off the bench as a freshman and averaged 8.8 points per game, made the All-Big Ten Freshman team and became one of just four players to ever start a game as a freshman under Bo Ryan. Last year, he finished third on the team in scoring (12.4 points) and second in rebounding (6.1). And keep in mind, he wasn't even an upperclassman yet.
To suggest Dekker disappears in big games is really ridiculous. Last year, he led the team in scoring in a victory against No. 11 Florida -- does that count as a big game? He produced his first double-double (21 points, 12 rebounds) in the Cancun Challenge championship victory against West Virginia. He led the team in scoring against Marquette, at Minnesota, at Illinois and against Indiana.
And, if you want to suggest none of those games were important, you know what was a big game? The Final Four game against Kentucky. All Dekker did was tie for the team lead in scoring with 15 points and hit all eight of his free throws.
All indications suggest this is going to be Dekker's breakout year -- and he has 22 regular-season games, a Big Ten tournament and an NCAA tournament remaining to show all his skills. But you haven't seen the way Dekker's ankle injury has hampered him this year in practices and games. It's bothered him so much that he didn't even practice the two days before the Marquette game. When he returns to full strength, he's going to be a force.
Dekker is still as talented and as versatile of a player as Bo Ryan has ever had. He was the best player at the LeBron James Skills Academy in Las Vegas this summer, and he was the best player on the court during Wisconsin's practices this October, from everything I saw, until sustaining the injury Oct. 24. Give him time to heal, let him play this season, and then we can discuss living up to potential.
Q: Jesse, do you think it was wrong of OSU to have their first-string offense in the entire game to run up the score against the Badgers? I thought it was terrible sportsmanship on their part. I hope Alabama shows them no mercy in their bowl game. -- Bob, Madison
A: To be honest, I have no problem whatsoever with what Ohio State did against Wisconsin. The Buckeyes already led 38-0 at halftime, so it's not like they came out and put up another five touchdowns. This is not a Pop Warner game in which there are mercy rules.
If Wisconsin or its fans had a problem with the Buckeyes scoring so much, then it's up to the No. 2-ranked defense in the country to put a stop to it. Plus, Ohio State entered the game ranked No. 5 in the College Football Playoff poll, and the way in which the Buckeyes won clearly catapulted them into the playoff, so what they did worked.
I also wouldn't even categorize what Ohio State did as running up the score. The game already was 45-0 when the fourth quarter began. On the Buckeyes' two touchdown drives in the fourth quarter, they ran the ball a total of eight times and passed zero times. You can't just take a knee with 15 minutes left in the game. Wisconsin should have stopped Ohio State. And for Badgers fans questioning the score, I highly doubt any were upset when UW put up 70 points against Nebraska in the same game two years ago.
Q: Everything was graded an 'F' for the team's performance, but I didn't see any grading on the coaching. Maybe the coaching didn't even deserve to be graded or was subpar for making the grading. I believe the coaching is first on the list for a team's performance. Anderson is nowhere even close to the coach that Urban Myer is, which was more than obvious. All the 'F's' that the team got is reflective of the coaching abilities. Let's not put all the blame on the team. I want to see what the critics say about the Wisconsin football team's coaches. I think the coaches should be graded an 'E' . . . for Embarrassment! -- Clint Wilbur, Nelson, Wis.
A: This question is referring to my weekly postgame report card of Wisconsin's football team, in which the passing offense, rushing offense, passing defense, rushing defense and the overall performance was given an F. I've never graded the coaches on the report card, but you certainly make valid points for the Big Ten championship game. If a team is not prepared to compete, the blame begins at the top. For what it's worth, here's what Gary Andersen had to say after the game:
"I think the key is you look back and say, 'What went wrong?' When it's wrong and it's bad, it's my fault, OK? So, no assistant coach, no nothing else. I got to do a better job.
"I'll take a long, hard look at the tape on both sides of the football. We played a very talented football team. We didn't execute in key moments. There were a lot of balls in the air contested on both sides. Tremendous players on Ohio State's side came down with those balls. Need to do a better job of coaching them."
It isn't likely to make fans feel any better about the result, but at least Andersen was willing to own up to the team's mistakes.
Q: I think that blowout loss will have a lot of impact on MGIII and the Badgers. I think it cost MGIII the Heisman, being a first round NFL pick, and the Badgers recruiting will take a big hit, something that this coach can not afford. What do you think? -- Mark, River Falls
A: Hate to disagree with you, but, well, I'm going to disagree with you. Gordon was never going to win the Heisman Trophy this year anyway. Oregon quarterback Marcus Mariota, who already had a stranglehold on the award, sealed victory with a great game in the Pac-12 championship Friday night against Arizona. He threw for 38 touchdowns with two interceptions and ran for 14 more touchdowns this season. Gordon would have needed to rush for 500 yards and five touchdowns -- and that still may not have been enough because Mariota led Oregon to the four-team playoff and put up equally astounding statistics.
And I certainly don't buy that one single game cost Gordon a shot at being a first-round NFL Draft pick. If that were the case, then let's just drop him to the third round for only rushing for 38 yards against Western Illinois in September. Plenty of factors went into Gordon's rushing numbers against Ohio State -- many of which were the Buckeyes' front seven, which gave Gordon little room to operate.
As for recruiting? Wisconsin and Ohio State land very different types of recruits and have for quite some time. The Buckeyes are still going to get four- and five-star talent. The Badgers are still going to get three- and four-star talent (on occasion). There are plenty of prospects to go around, and the fact Wisconsin has played in the Big Ten championship game in three of the last four seasons doesn't hurt.
Q: Obviously, Badger nation is hurting and we need a win to boost the spirits (or at the very least a touchdown). My question: With our next two games against Auburn and Alabama, is this about to get a whole lot worse before it gets better? -- Dan, Boston
A: This Auburn game actually seems quite winnable for Wisconsin. I've mentioned this above, but the Tigers' defense is a real mess right now, so it's a good time for the Badgers to take advantage. Melvin Gordon likely will be playing his last college game, and you know players will be motivated because they've never won a bowl game since joining the program.
Auburn doesn't even have a defensive coordinator as I'm writing this because Gus Malzahn fired the last one. Auburn is listed as a 5.5-point favorite, but who cares about the spread? Wisconsin was a 4-point favorite against Ohio State, and how'd that work out?
Wisconsin fans should be more concerned about the Alabama game next year because we all know the Crimson Tide are an absolute force. This bowl game is essentially a glorified exhibition that will simply make one team feel better about itself for the way the year ended. But the season opener sets the tone for the rest of the year.
Q: Fans like myself paid a boatload of money to go to Indy for football. Please explain why the Badgers decided to stay home? Big waste of my hard earned cash!!!!! -- Nema1963, Beloit
Q: How do I go about getting my money back for that disgrace of a football game? I've literally lost feeling for an entire sport. My eye doctor said my glasses are going to be permanently stained with disappointment tears. -- Alex Bell, Waukesha
A: That's the risk you run when you attend a live sporting event. Sometimes, a heavyweight bout goes the full 15 rounds and scintillates the masses. Other times, there's a first-round knockout 12 seconds into the match. Saturday's game would have been better for everybody if the Badgers just threw in the towel so we could all go home at halftime.
And Alex, try buying a cheap pair of glasses from Walgreens or something. That way, you'll make your money back on the expensive ticket the next time Wisconsin lays an egg in a big game you attend.
Q: I actually have four questions: 1. What are the chances Andy Ludwig gets fired? 2. Do you think Dave Aranda will get stolen by another program? 3. Who does new recruit Antonio Williams compare to? 4. How is Sam Dekker's ankle? -- Ryan Vatti, Connecticut
A: 1. No chance Ludwig gets fired. Wisconsin is still averaging 34.6 points per game, which would go down as the fourth-highest mark in program history. Last year under Ludwig, the team averaged 34.8 points, the third-best mark.
2. Whether Aranda takes another job obviously depends on two factors: whether another team wants him and whether Aranda wants to leave. I know he's become a hot name in coaching circles for everything he's done at Wisconsin these last two years, and I wouldn't be surprised if some team pursued him to be its defensive coordinator. But, in my opinion, it would have to be either a really good job or offer a really good raise (or both).
3. I have not watched Williams enough to know whom he compares to, but he's going to be a good one. Williams is listed at 5-foot-11, 210 pounds and is ranked as the No. 9 running back in the Class of 2016 by 24/7 Sports. This season, he rushed for 2,852 yards and scored 36 touchdowns.
4. Dekker's ankle is improving, but we'll have to see by how much when the games get going here. He practiced on Monday, and that was encouraging because he missed two practices last week before the Marquette game. It's still probably going to take some time for him to feel like his old self.
Q: I watched the game until I could no longer stand it (about three minutes prior to halftime) and was stunned to see a very good Wisconsin defense had been shredded. Dave Aranda is such a good D-coordinator. How could this have gone so drastically wrong? What has happened to Sojourn Shelton this year that he's taken such a step backward? . . . Do you expect there to be any staff changes at the end of the year? -- Tim, Saratoga, Calif.
A: I don't expect there to be any staff changes based on this single game. Wisconsin is still 10-3, champion of the Big Ten West and making an appearance in a New Year's Day bowl game. Now, it's certainly possible other programs will approach assistant coaches about jobs, but Andersen does not strike me as someone who would fire guys and overreact to one bad (OK, terrible) game.
I'll certainly be interested to talk to Dave Aranda at his next media availability about what he thinks went wrong against Ohio State. He almost always shoulders the blame instead of handing it out to players. But Wisconsin did not get enough pressure on Ohio State quarterback Cardale Jones to make him feel uncomfortable in his first start, and that represented the beginning of the end. Jones needed only six plays and 1 minute, 59 seconds to throw his first touchdown pass, and it snowballed from there.
As for Sojourn Shelton, it's really a curious case. A year ago, he led the team with four interceptions and appeared on track to be one of the best cornerbacks in the Big Ten. That still may happen, but this year he did not live up to anybody's expectations, including him. He told me earlier in the year that he felt as though he'd hit a wall for the first time in his football career, when it seemed like plays he was making last year weren't coming his way.
Last week, Shelton told me he thought going through a season like this would be good for him in the long run, and I admire his openness and ability to understand the big picture. But there's no question he'll need to play better when he becomes an upperclassman and a veteran leader in the secondary.
Q: Here's my lingering question, two days after that debacle: "WTF?" -- Dan, Tosa
A: IDK, man. IDK. But I can tell you that game left me SMH and nearly LOL'ing at that mess.
Follow Jesse Temple on Twitter
---