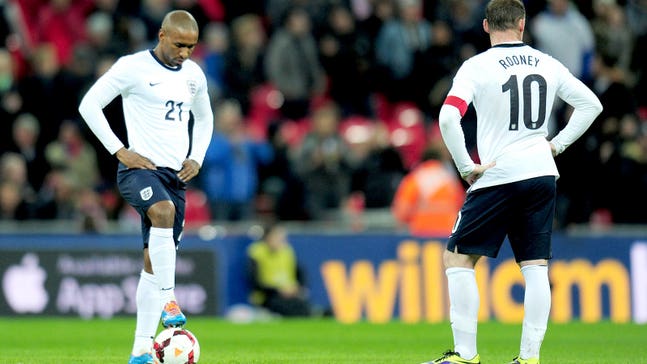 Jermain Defoe changes course after England World Cup snub
Updated
Mar. 4, 2020 9:29 p.m. EST

Jermain Defoe had the next few months planned out well in advance. He expected to travel to Portugal next week to link up with the England squad for the World Cup. He planned to continue onwards through Miami before landing in Brazil prior to the opening match against Italy in Manaus on June 14.
England manager Roy Hodgson dashed those dreams when he unveiled his 23-man squad on Monday. Defoe missed out on one of those coveted spots at the last possible moment. He settled for a place on the standby list, placed in a box with 'In Case of Emergency' stamped right across it.
It proved a stunning, if somewhat predictable, rebuke. Defoe improved his access to first-team football and secured his long-term playing future when he swapped Tottenham for Toronto earlier this year, yet he imperiled his international chances by moving away the Premier League. His recent hamstring injury and Hodgson's need to include a more direct and robust option among the forward corps further hindered his case.
Hodgson ultimately opted for a younger course and shunted Defoe to the side. His plans have gone awry. Instead of pondering trips to south Florida and South America, he is in British Columbia ahead of the Canadian Championship semifinal second leg against Vancouver on Wednesday night.
"I was shocked, like you can imagine," Defoe told the Canadian Press on Tuesday after TFC went through its paces at B.C. Place. "Especially when you've been involved in every squad, and then for some reason you're not included. But (I) always remain positive and just continue doing what I'm doing. I've come over here and done exactly what I used to do at home and that's play well and score goals."
TFC provides Defoe with the opportunity to accomplish the feat with some regularity. Reds boss Ryan Nelsen prefers a traditional 4-4-2 setup with considerable emphasis on playing quickly through midfield and providing plenty of service to Defoe over the top and through the wide areas. His record in front of goal since his move to MLS – three goals in four league appearances, plus the expertly taken opener in the 2-1 victory over the Whitecaps at BMO Field a week ago – reflects the effectiveness of those pursuits.
Although Nelsen expressed the expected shock and sympathy at Defoe's plight, he will breathe easier knowing the poacher will remain with Toronto for the foreseeable future. TFC must cope without the services of Michael Bradley – poised to depart for World Cup training camp with the United States after this date against a youthful Whitecaps side – for a minimum of five league matches. His absence reduces the fluidity and the incisiveness (19 key passes, according to Opta statistics) in the center of the park. There are no like-for-like replacements for the influence he wields.
In Bradley's stead, the onus will fall on TFC to produce opportunities in other ways. Set pieces constitute one potential option given the players at Nelsen's disposal. More concerted emphasis on wide play – most of TFC's best forays have come with Bradley driving through the middle as he did for the second goal against the Whitecaps a week ago – will relieve some of the pressure, too.
Defoe offers some latitude for those efforts. TFC may generate fewer chances without Bradley, but the predatory striker gives them a better chance of taking them. His ruthlessness supplies a genuine escape route. More often than not, one or two gilt-edged openings will usually suffice with Defoe on the end of them.
These are exactly the sort of qualities usually cherished at major international tournaments, but Defoe will not have a chance to summon them for his country over the next few weeks barring an injury to one of the forwards in front of him. England's loss stands as Toronto FC's considerable gain. A potentially fallow period now boasts new hope for a Reds side still attempting to find its footing after a winter of upheaval.
It is not the task Defoe expected to fulfill at this stage in the calendar. He imagined firing England deep into the tournament in Brazil. He even plotted out his year around it. Those aspirations changed on Monday. He must recover from the blow and sort out his new responsibilities.
Defoe must sketch out a new itinerary, one involving a plethora of new goals for TFC and a stern riposte to Hodgson for leaving him out. It starts in Vancouver and then meanders through North America over the days and the weeks ahead. It isn't a trip to Brazil, but it is a place for Defoe to start as he processes the events of the past few days and tries to fill the void left in their wake.
---