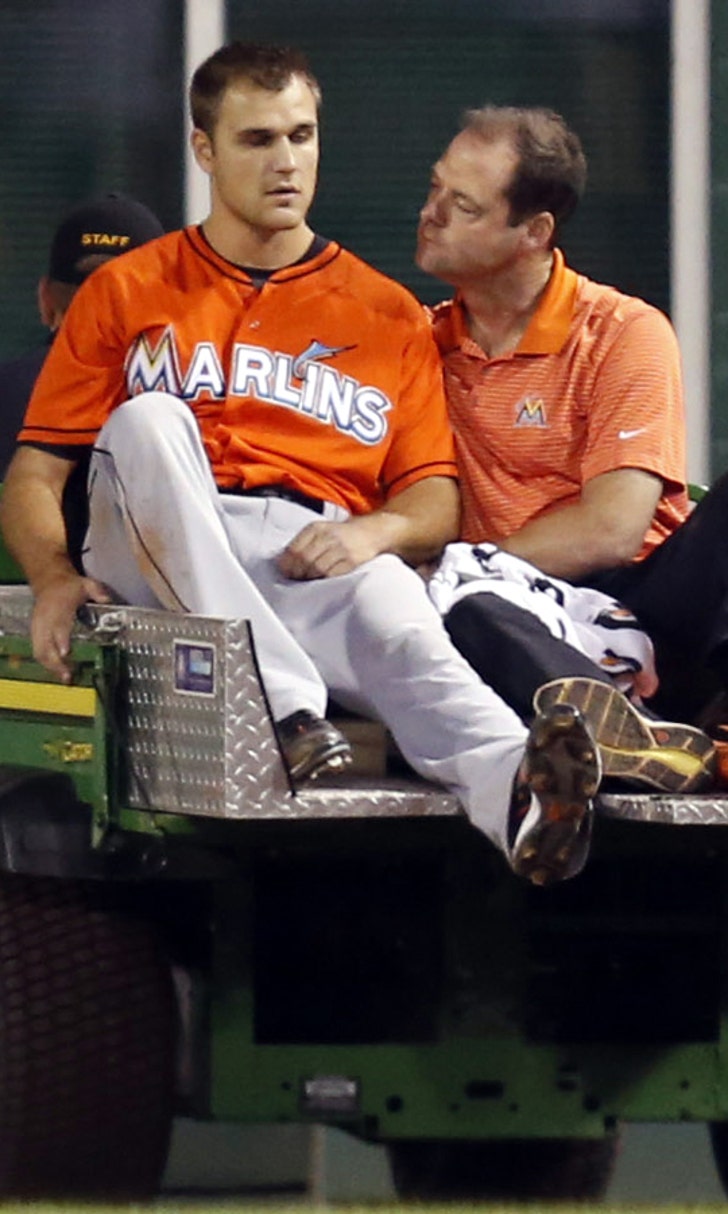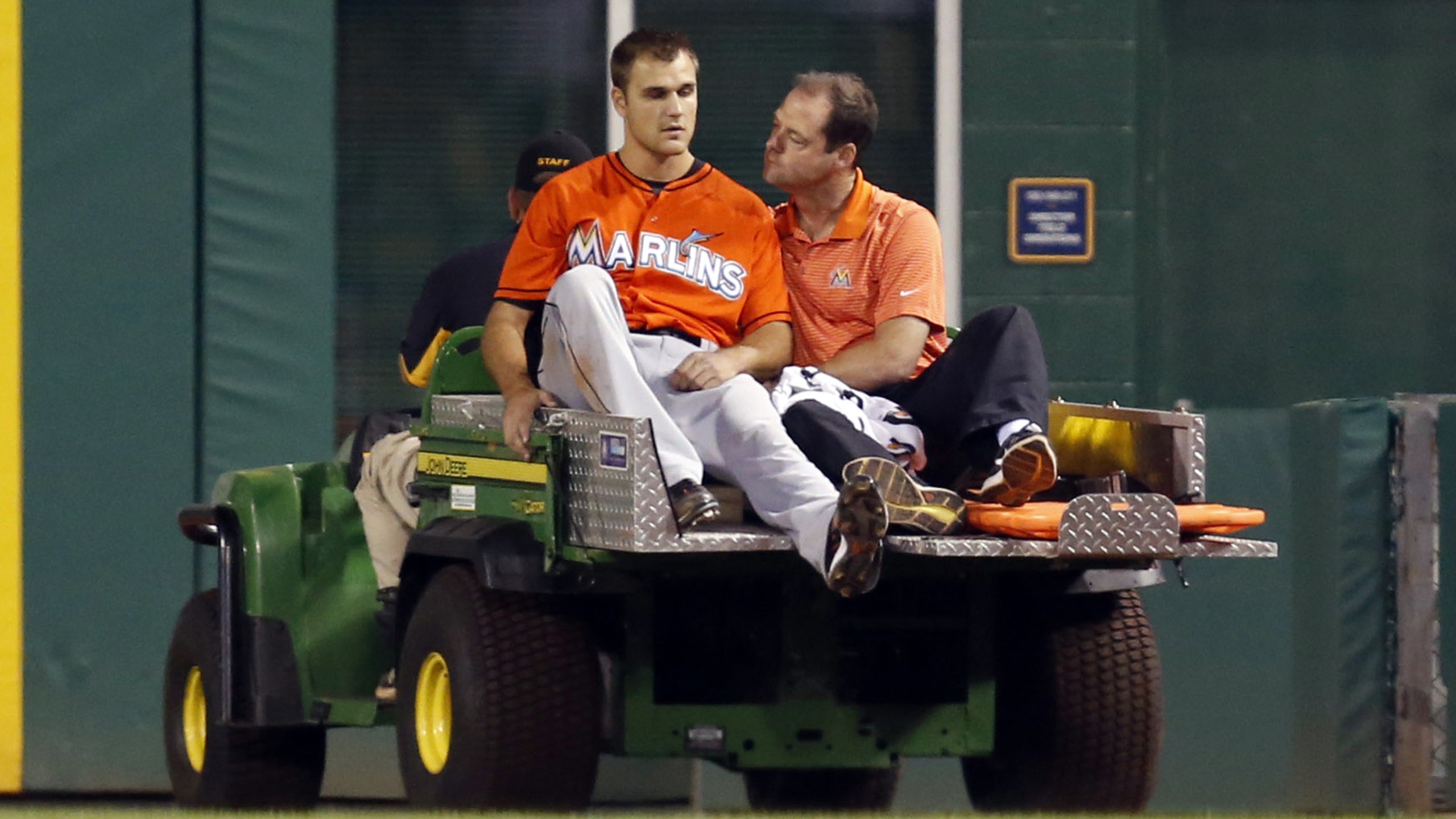 Jennings confident in eventual return to mound for Marlins
BY foxsports • August 14, 2014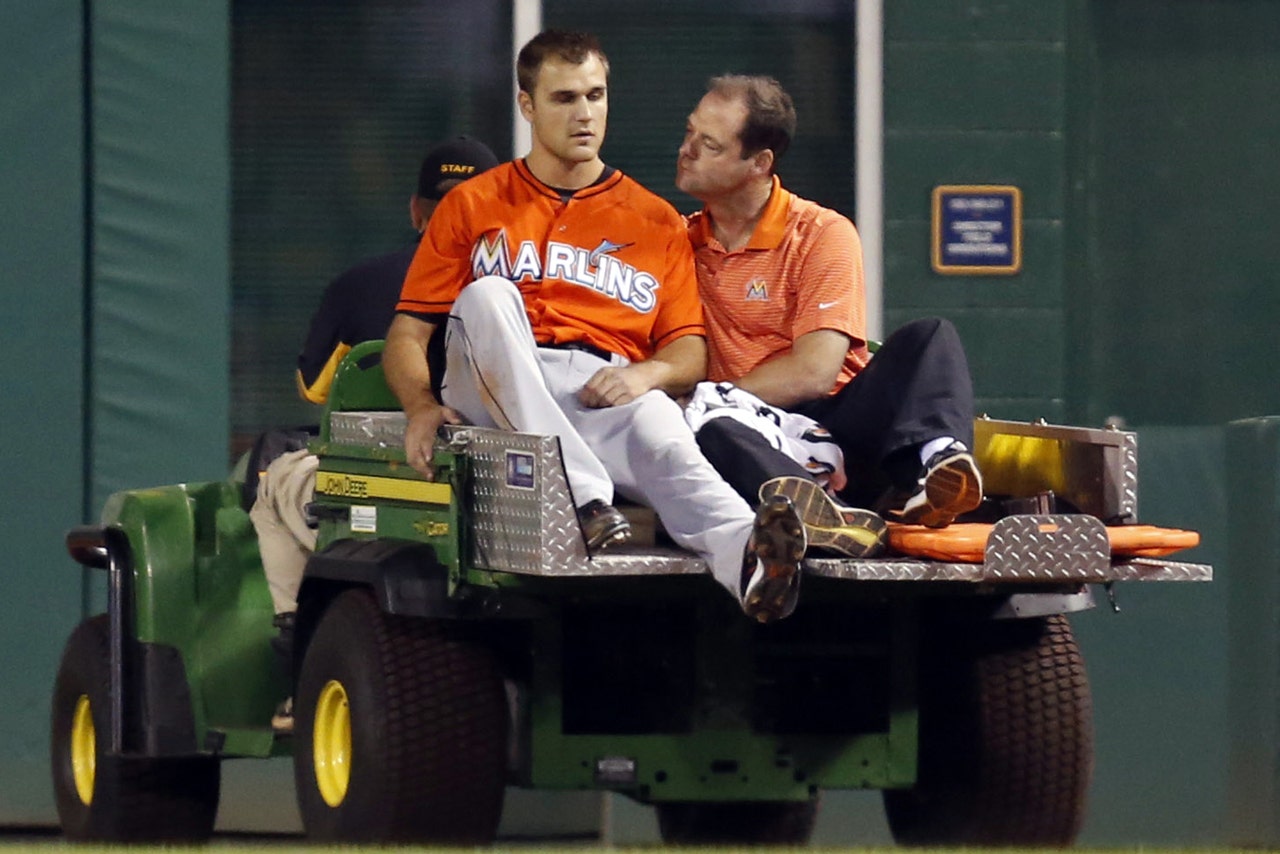 MIAMI -- A week has passed, and Miami Marlins left-hander Dan Jennings doesn't have flashbacks or nightmares of the liner that struck him in the head last Thursday, Aug. 7, in Pittsburgh.
In fact, Jennings played catch in left field at Marlins Park for the second straight day and remains symptom free after sustaining a concussion. Prior to the series opener against the Arizona Diamondbacks, the 27-year-old told reporters he expects to play again this season.
Jennings is scheduled to undergo more tests and a psych evaluation with doctors. On Wednesday, Jennings rode a stationary bike. His progression has surprised both him and the organization.
"If it were up to me and all was safe, I'd be back as soon as possible, but I'm going to wait and refer to the doctors and see what they say," said Jennings, who went just three days without throwing.
When Jordy Mercer made contact with a 93 mph fastball in the seventh inning of Miami's 7-2 loss on Aug. 7, it caught the left side of Jennings' head. He tried getting up with a glazed look on his face. Catcher Jarrod Saltalamacchia raced to the mound and steadied him as head athletic trainer Sean Cunningham and manager Mike Redmond ran onto the field.
What does Jennings remember from the entire incident? Being carted off and seeing the scoreboard read two outs with his peripheral vision. Adeiny Hechavarria recorded the uncharacteristic 1-6 lineout.
After being taken to a local hospital for a CT scan and observation, Jennings asked to watch the video. When shown the clip — easily found online — it didn't affect him. If anything, he was surprised he was able to even put his glove up.
"The main reason I got up is it was so surreal, I tried to tell myself it didn't happen and try to convince myself it didn't hit me in the head or just grazed me," Jennings said. "After a few seconds of trying to talk myself through it, I think I realized I wasn't OK and needed to take it easy for a second. That's what I was thinking. Video, looking back, I was trying to convince myself I was OK."
Despite the concussion, Jennings said noise and light didn't affect him. He never felt the urge to wear sunglasses. The only bothersome thing was spending 15 hours at Hartsfield-Jackson Atlanta International Airport on his way back to South Florida last Friday.
Although he hasn't had a headache or other concussion-like symptoms since the weekend, that side of his head is still tender to touch.
"I'm very pleased with how far he's come over the last few days," Redmond said. "I know the plan is for him to throw bullpens the next couple days. When we head on the road (next week), he'll pitch in Jupiter (Fla.). Get himself back to joining the ballclub."
A remarkable timeframe considering how scary the incident was. Not only did it encourage Jennings to reflect on his career in baseball but it also prompted him to do research on the chances of getting struck by a liner. Unsure of how accurate the statistic was, Jennings read one in every three million pitches comes back at the pitcher's head.
"When I was in the hospital I really started questioning what I'm doing here," Jennings said. "Going through something like that, that is life-altering potentially. I've got a wife and daughter — is it worth it to sit here and play baseball and risk my life? Those thoughts kind of got pushed back in my head after that and started telling myself this is what I do because it's what I love to do and I'm good at it.
"For me to stop playing because something like that may or may not happen — I just don't think that's worth it in the long run. I think this situation was a good wake-up call for a lot of things. Not to take for granted. There are so many things in this game and life try not to take for granted."
Jennings admitted that even playing catch and seeing the ball come back at him has been a little frightening. He said he wouldn't be surprised if he put his glove up as a reflex after making a poor throw his first time back on the mound.
Still, he believes he would be able to get over it because it's "something I've always done. It's so routine, muscle memory for me to go out there and pitch."
"My first thought that went through my head is 'My year's over, no matter what,' " Jennings said. "'My year's done. I can't come back from it this year. How will I deal with this all offseason thinking about it?' It's going to be great. I can hopefully get back on the mound. I can't imagine going over this for five, six months instead of just a week or two. That's a very good thing in my opinion."
You can follow Christina De Nicola on Twitter @CDeNicola13 or email her at cdenicola13@gmail.com.
---
---