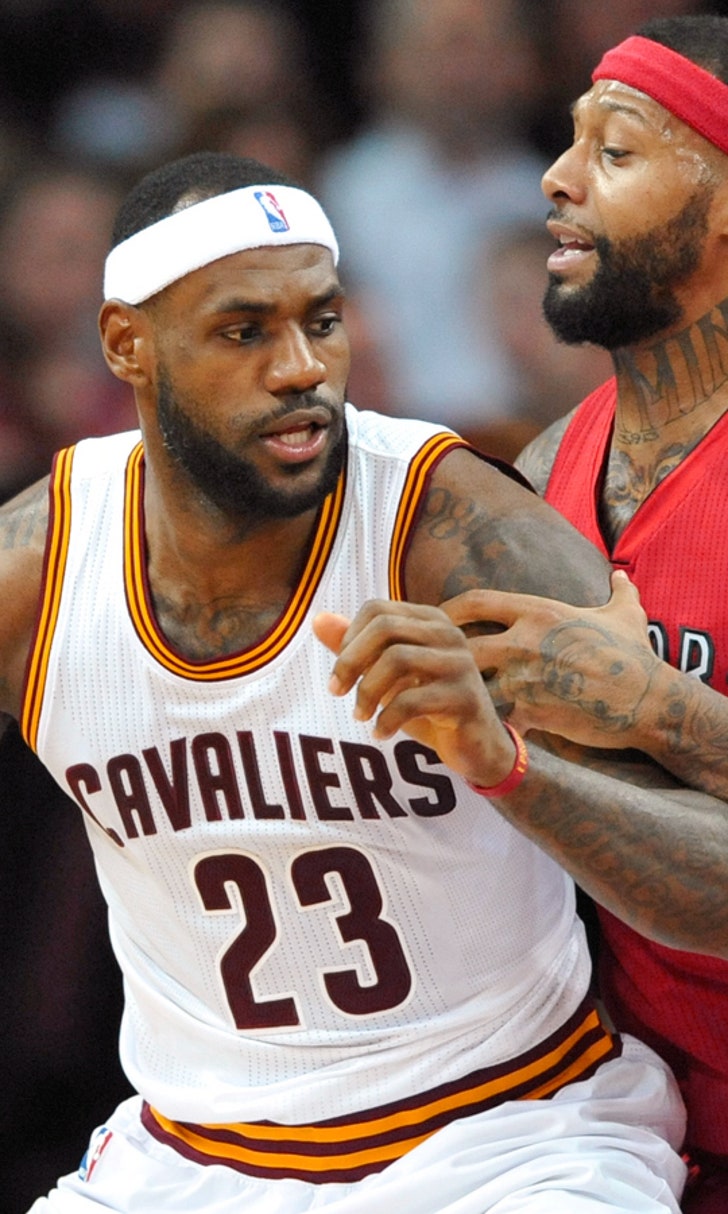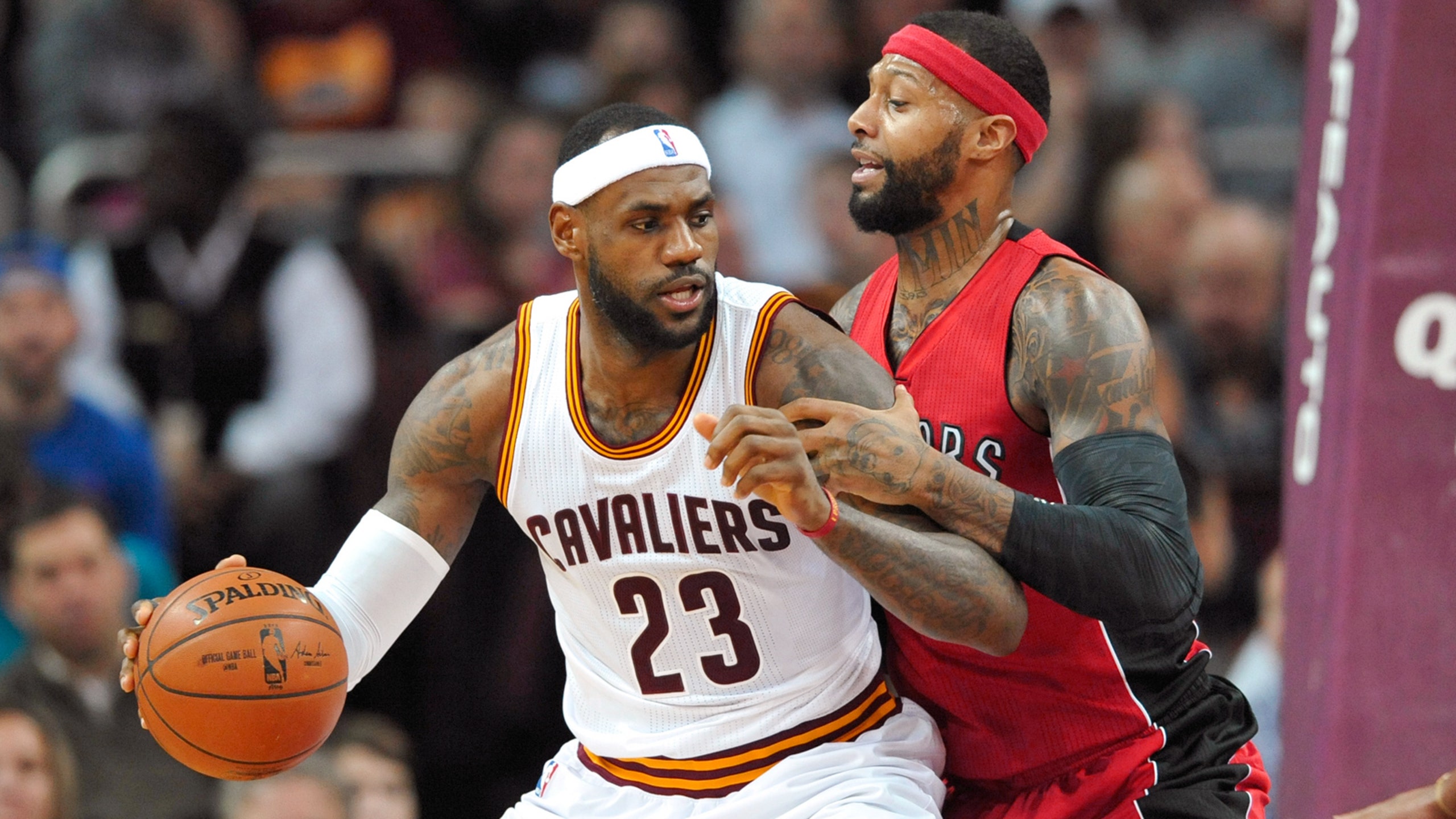 James rallies Cavs past Raptors for 8th in a row
BY foxsports • December 9, 2014
CLEVELAND (AP) -- LeBron James scored 35 points, making the tiebreaking 3-pointer with 48 seconds remaining, and the Cleveland Cavaliers rallied to beat the Toronto Raptors 105-101 on Tuesday night for their eighth straight victory.
James' jumper from the top of the key gave Cleveland a 102-99 lead and tied him with Mark Price for the franchise record for 3-pointers at 802.
James scored 10 points in the fourth quarter as Cleveland rallied from a 10-point deficit early in the period. Dion Waiters came off the bench for 18 points and Kevin Love added 17.
Jonas Valanciunas and Terrence Ross each scored 18 for Toronto. Kyle Lowry added 16, but only scored two in the fourth quarter as he was hounded defensively by Cavaliers guard Matthew Dellavedova.
Following Lowry's missed shot that hit the top of the backboard, James added a free throw with 14.2 seconds remaining for a four-point lead. Ross' dunk on an offensive rebound with 4.2 seconds left made it 103-101, but Kyrie Irving's two free throws with 3.8 seconds left sealed the win.
Trailing 95-85 early in the fourth quarter, Cleveland went on a 10-2 run and tied the game on Love's 3-pointer with 3:50 remaining.
Patrick Patterson's basket gave Toronto the lead but James tied it again with two free throws at the 1:56 mark.
The Cavaliers haven't lost since falling 110-93 to the Raptors at Quicken Loans Arena on Nov. 22, after which James said they were "fragile." Cleveland got a measure of revenge with a 105-91 win in Toronto on Friday. The Raptors built a double-figure lead Tuesday, but couldn't hang on in the team's third matchup in 18 days.
Toronto, which has the best record in the Eastern Conference, went ahead midway through the first quarter and pushed the lead to 13 points just prior to halftime. The margin remained in double figures for most of the second half. Cleveland cut the lead to 97-92 on baskets by James and Irving with five minutes remaining.
Both teams were coming off eventful nights Monday. Toronto couldn't hold a big lead at home against Denver, but emerged with a 112-107 win in overtime.
Prior to Cleveland's game in Brooklyn, James and Irving wore "I Can't Breathe" shirts during warmups in support of Eric Garner, who died in July after a police officer placed him in a chokehold when he was being arrested for selling loose, untaxed cigarettes.
The game was also attended by Prince William and Kate Middleton, who were presented with gifts by James following the game.
Toronto shot 14 for 21 in the first quarter and led 63-55 at halftime. Valanciunas had a strong first half with 14 points and nine rebounds.
TIP-INS
Raptors: Lowry and Ross are the only Raptors to start every game this season. ... Toronto began a stretch of eight straight games against East opponents Tuesday. ... DeMar DeRozan (torn groin) has missed six straight games and is out indefinitely.
Cavaliers: The Cavaliers have won eight in a row for the first time since March 2010. ... Love had nine rebounds, ending his streak of double-doubles at five games. .. G Mike Miller (concussion) missed his third straight game. The 15th-year pro was injured on Dec. 4 at New York.
UP NEXT
Raptors: Host Indiana on Friday.
Cavaliers: At Oklahoma City on Thursday.
---