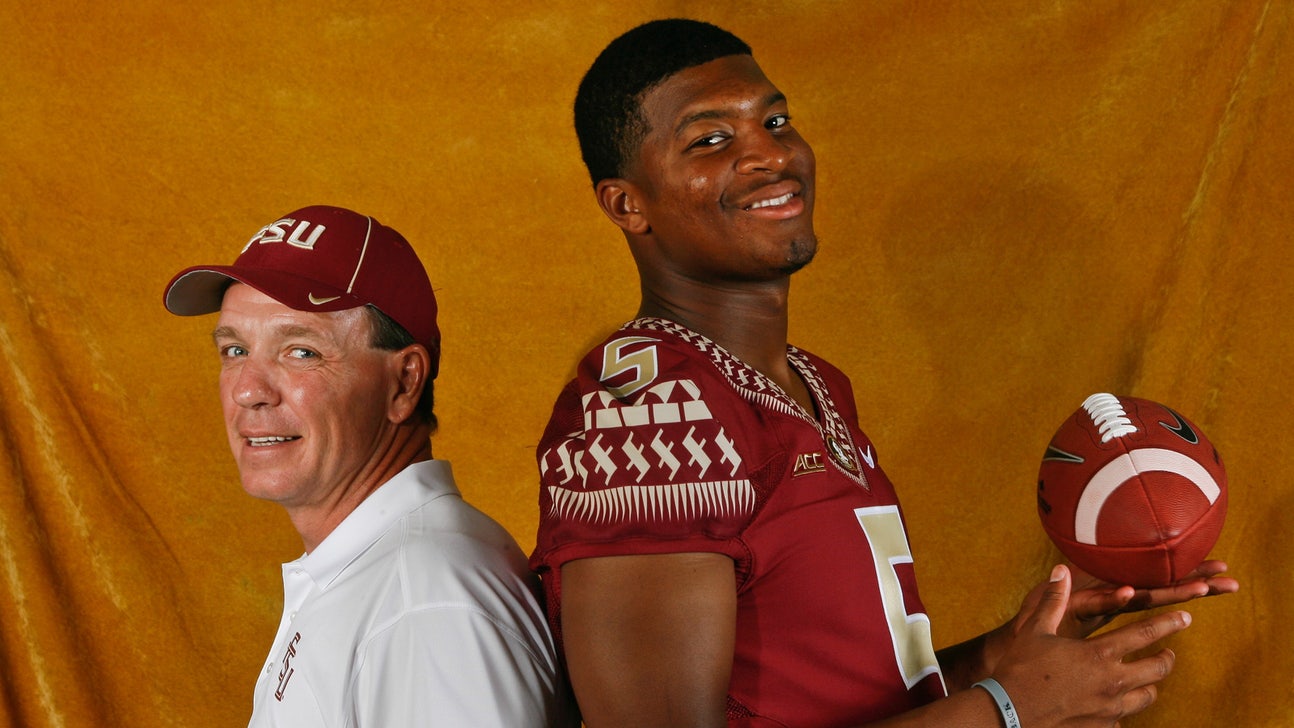 Jameis Winston: New year, same goal for FSU
Published
Aug. 10, 2014 8:15 p.m. ET

TALLAHASSEE, Fla. -- Standing confidently and brandishing his infectious smile, quarterback Jameis Winston took to the podium for Florida State media day.
''It's a new year, man,'' Winston said. ''It all starts with fall camp, and we're having a great fall camp.''
Winston fielded a variety of questions Sunday, many of them dealing with how he can improve on last year, when he led the Seminoles to an undefeated season, an ACC championship, a BCS National Championship, and was awarded the Heisman Trophy.
''It's a new year,'' Winston repeated. ''You've got to get better every day; can't live in the past.''
There were two themes throughout Winston's media day answers: The 'Noles are over last year's championship and he hasn't changed because of the success and media attention.
''I learned I have to be more guarded, but I'm always going to continue to be myself,'' Winston said. ''That's never going to change and as long as my teammates see that, then people can have their own opinions, but it's all about Florida State football.''
Winston has had a few off-the-field issues in the last year (a sexual assault investigation and a citation for theft at a local grocery store), but he is ready to put those in the past as well.
''I don't really have time to focus on bad things,'' Winston said. ''I'm always keeping a smile on my face and focusing on good things. I focus on the positive, not the negative.''
Co-offensive coordinator/quarterbacks coach Randy Sanders said he could see growth in Winston's personal development.
''He's definitely a little more mature,'' Sanders said. ''He's definitely a little wiser.''
On the field, Winston is feeling good about the return of four senior starters from last year's offensive line.
''I got my whole offensive line back,'' Winston said. ''Cam (Erving) is a very special left tackle and it's good to have your blind side blocking you up, but that offensive line is amazing.''
Senior receiver Rashad Greene is also returning to the team, something that the Seminoles quarterback is equally excited about.
''He was our leading receiver last year,'' Winston commented. ''He's a big brother to me. When adversity hit our team last year, I stayed at his house every night. We've got that brotherhood together. He's my brother; I love him.''
The 'Noles enter the season atop college football's preseason polls and are looking to repeat as national champions.
''I haven't set any individual goals, just team goals. The first goal is to win the national championship,'' Winston said. ''We play to win, we don't play to lose.''
---