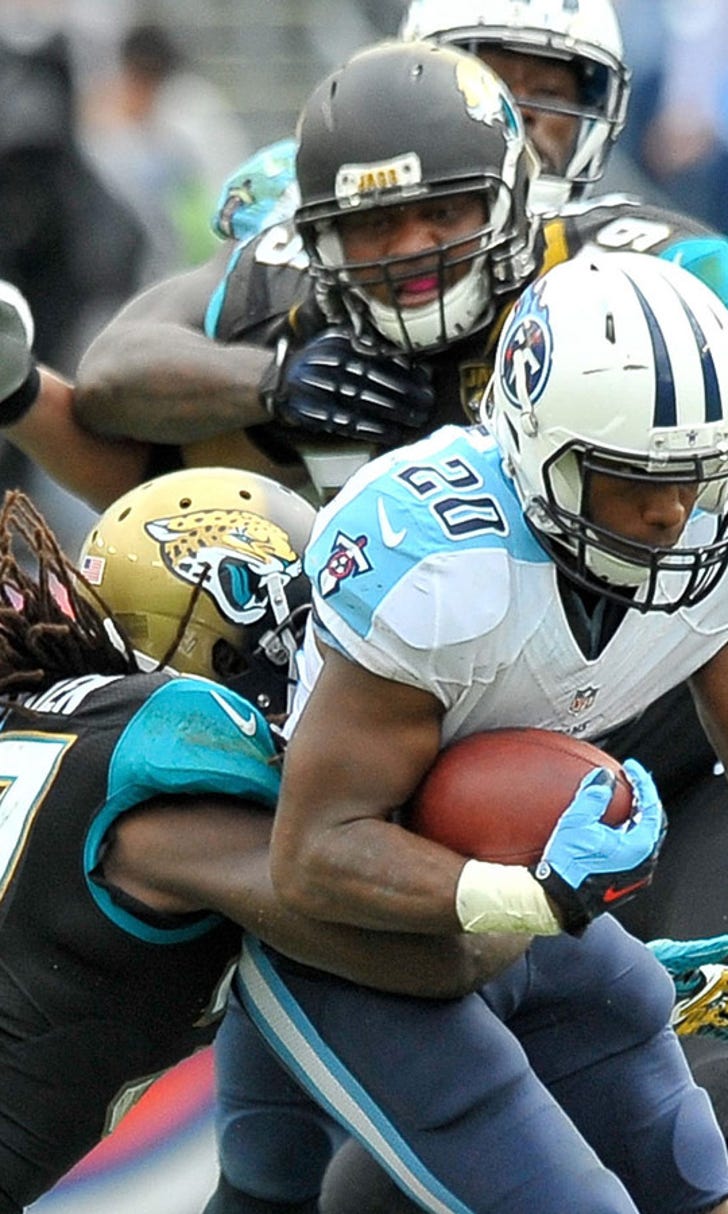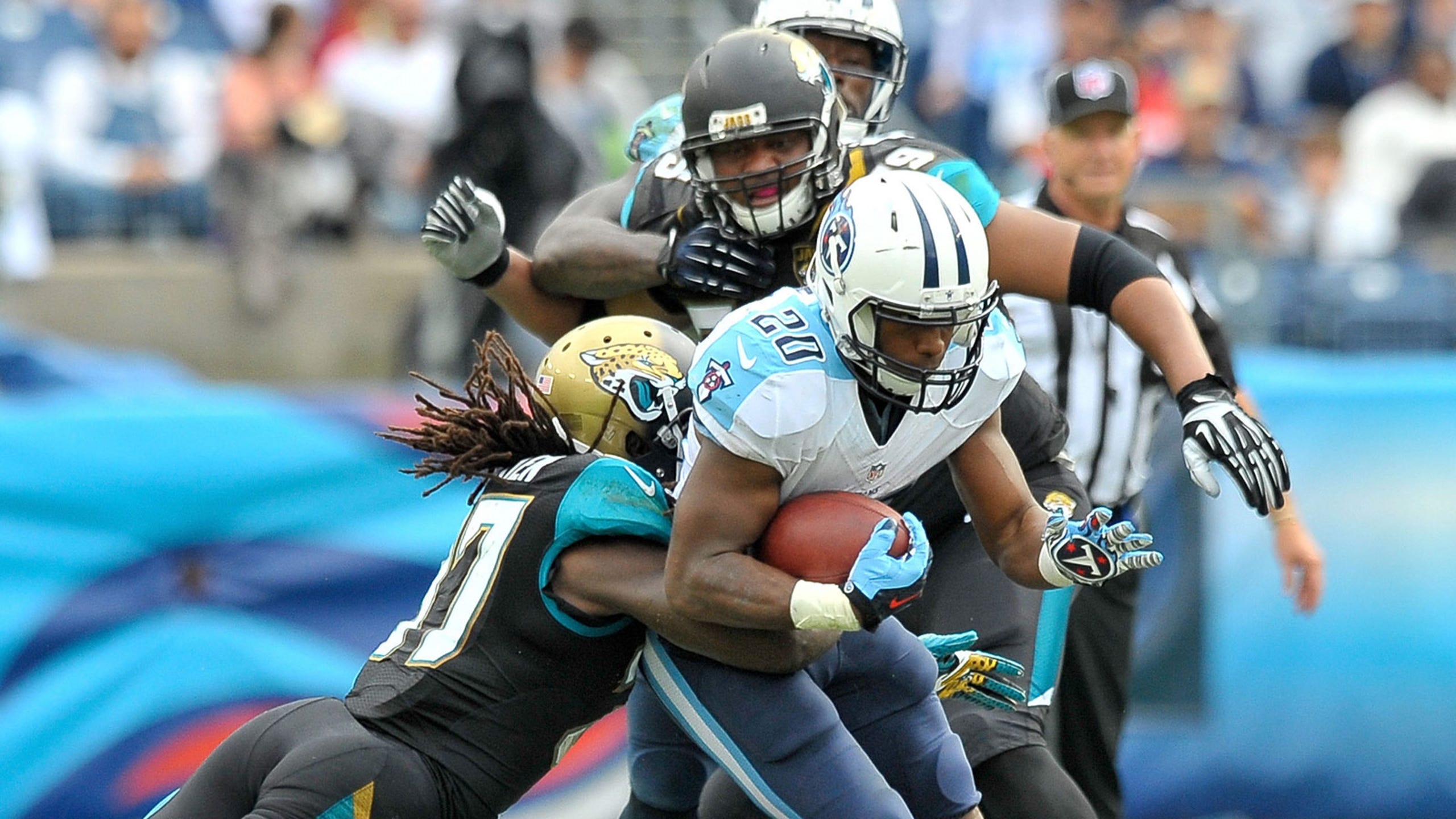 Jaguars, Titans face off in primetime matchup of NFL's bottom-feeders
BY foxsports • December 17, 2014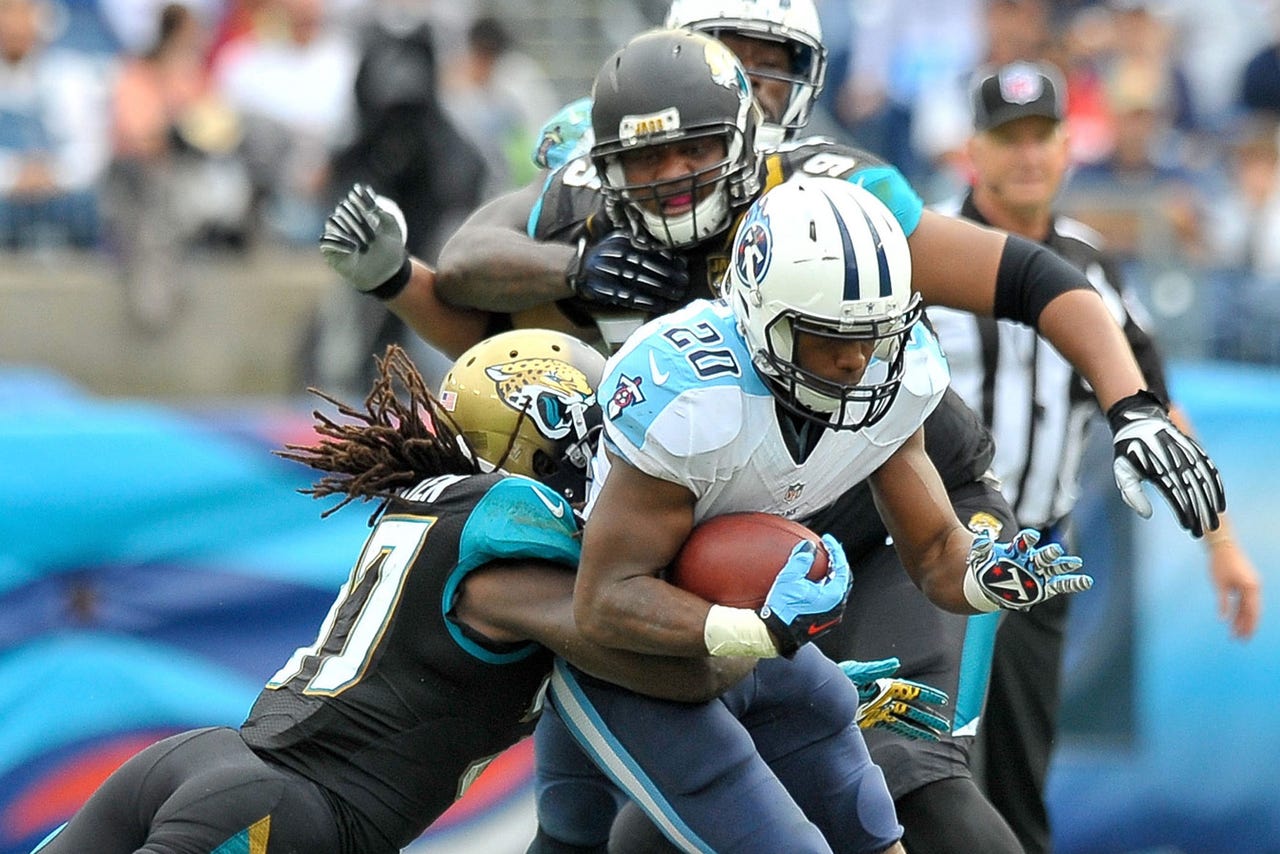 The Jacksonville Jaguars were taking a risk in Week 3 by deciding to forego their plan to have Blake Bortles spend his rookie season watching from the sideline and learning from veteran Chad Henne.
Likewise, the NFL Network was taking a risk by scheduling a Thursday night game a week before Christmas between the Jaguars and the Tennessee Titans, two teams that went a combined 11-21 in 2013.
The Jaguars' decision could eventually pay off. But for now, there's no backing out of a telecast that will test the loyalty of viewers.
Both the Jaguars and Titans go into the game tied with the Oakland Raiders and Tampa Bay Buccaneers for the worst record in the league at 2-12. The Titans have lost eight games in a row since holding on to defeat the Jaguars 16-14 on Oct. 12 as Josh Scobee's 55-yard field-goal attempt in the final seconds was blocked by Sammie Hill, who was in the news earlier this month for a sexual assault allegation that is being investigated by police in Atlanta.
Bortles has thrown for 2,676 yards and 10 touchdowns since replacing Henne at halftime against the Indianapolis Colts. But he's listed as questionable with a right foot injury that he suffered in the process of being sacked eight times Sunday as the Jaguars lost 20-12 to the Baltimore Ravens.
Neither team scored a touchdown last week in their respective losses. So it could well be that the NFL Network, which showed Arizona's 12-6 victory over St. Louis last Thursday, will be stuck with another offensively challenged game.
MATCHUP TO WATCH
Titans QB Charlie Whitehurst vs. Jaguars defense.
Injuries to Jake Locker and rookie Zach Mettenberger have left the Titans with no choice but to go with Whitehurst, who was 10 of 24 in their 16-11 loss to the every-bit-as-lowly New York Jets.
Whitehurst started the previous meeting with the Jaguars and passed for 185 yards in the first half. While the Titans managed only two field goals by Ryan Succop over the last two quarters, the inability of the Jaguars' defense to force a single turnover left the offense with terrible field position to begin almost every drive.
Safety Josh Evans recovered a fumble early in the second quarter against the Ravens, giving the Jaguars 13 takeaways for the season in that category. But the Jaguars have gone five games in a row without an intereception to remain stuck at five. Only the Kansas City Chiefs, with four, have fewer.
Coach Gus Bradley has been pleased with the progress of cornerback Demetrius McCray, a seventh-round pick a year ago who will be making his 11th consecutive start. But neither McCray nor Dwayne Gratz have an interception all season, so the final two games could become more of an opportunity to see whether rookie Aaron Colvin has what it takes to become a starter going into next year.
TRENDING UP
Jaguars: Only the Chiefs and the Arizona Cardinals rank ahead of their defense in the category of touchdown percentage inside the 20-yard line. Of the 51 possessions by opposing teams that reached the Jaguars' red zone, only 23 have resulted in touchdowns. Their defense has also not allowed a 300-yard passer since San Diego's Philip Rivers threw for 377 yards in Week 4.
Titans: Delanie Walker has been one of their few bright lights in a disappointing season. He is fourth among all tight ends in receiving yards with 793 and is coming off a 93-yard effort against the Jets. Walker is on pace for his second consecutive 60-catch season, something he never came anywhere close to accomplishing during his seven years with the San Francisco 49ers.
TRENDING DOWN
Jaguars: Though their defense is already assured of its highest number of sacks in a season since 2005, the total remained at 38 after failing to get to Baltimore's Joe Flacco once last week. It marked the first time the Jaguars went without a sack in a game since their 42-10 loss to the 49ers in October 2013 at London.
Titans: They rank last in defense against the run, giving up an average of 139.6 yards a game. That being said, they held the Jaguars' running backs to 44 yards on 18 carries in the earlier meeting this season. Bortles led the Jaguars in rushing that day with 38 yards, including their only run of more than seven yards.
INJURY REPORT
Jaguars: DE Andre Branch (groin) and LB Khairi Fortt (hamstring) are out. DT Roy Miller (knee sprain), QB Blake Bortles (foot), DE Ryan Davis (hip pointer), S Josh Evans (foot) and WR Tommy Streeter (abdomen) are questionable. DE Chris Clemons (knee) and WR Marqise Lee (elbow) are probable.
Titans: TE Brett Brackett (knee) and QB Jake Locker (left shoulder) and RB Dexter McCluster (knee) are out. T Taylor Lewan (ankle) and QB Zach Mettenberger (right shoulder) are doubtful. LB Zaviar Gooden (hamstring), T Byron Stingily (ankle), TE Delanie Walker (knee), DE Kamerion Wimbley (hamstring) and WR Kendall Wright (hand) are questionable. S Daimion Stafford (concussion) is probable.
DID YOU KNOW?
The Jaguars' offense has scored 20 touchdowns. Thirteen quarterbacks around the league have thrown for more than that, including Jay Cutler, whose three interceptions Monday night in Chicago's loss to New Orleans moved him ahead of Bortles in that category for the season with 18.
QUOTEBOARD
"It's always good having a week of notes on a team and some experience and exposure to them already. I know they were good, they were solid up front and did a good job so we'll have to be sharp and have a good game plan and get ready quickly." -- Jaguars quarterback Blake Bortles, on the prospect of facing the Tennessee Titans for the second time. Bortles completed 32 of 46 passes for 336 yards, which remains the only 300-yard game of his pro career, in their previous meeting. That included a touchdown pass to Clay Harbor with 37 seconds to go.
"Some people are excelling. Some people aren't. We just need to keep raising the bar like Gus says and really go after it." -- Jaguars quarterback Chad Henne, on what he has seen out of the offense from his perspective along the sidelines. The Jaguars are averaging 293.8 yards a game this season, which ranks 31st out of 32 teams. Only the Oakland Raiders (283.5) are worse.
"Playing on Sundays is like being in a car accident. Good thing that I'm a Mack truck. It does take a toll on you. I probably have one tire flat, but I still have 17 more." -- Jaguars safety Johnathan Cyprien, on the challenge of having to play only four days after what the coaches and several players said was as physical of a game as the team has had all season.
"We might not be the highlight team for the season. But you always want to go out winning and not continue to lose. So we're going and give everything we've got and make sure we give a good performance." -- Jaguars linebacker Telvin Smith, one of several rookies who will be playing on national television in the pros for the first time. The Jaguars defeated the Houston Texans 27-20 last December in their only such appearance for 2013.
LOOKING AHEAD
The Jaguars conclude their season a week from Sunday at Houston.
You can follow Ken Hornack on Twitter @HornackFSFla or email him at khornack32176@gmail.com.
---
---