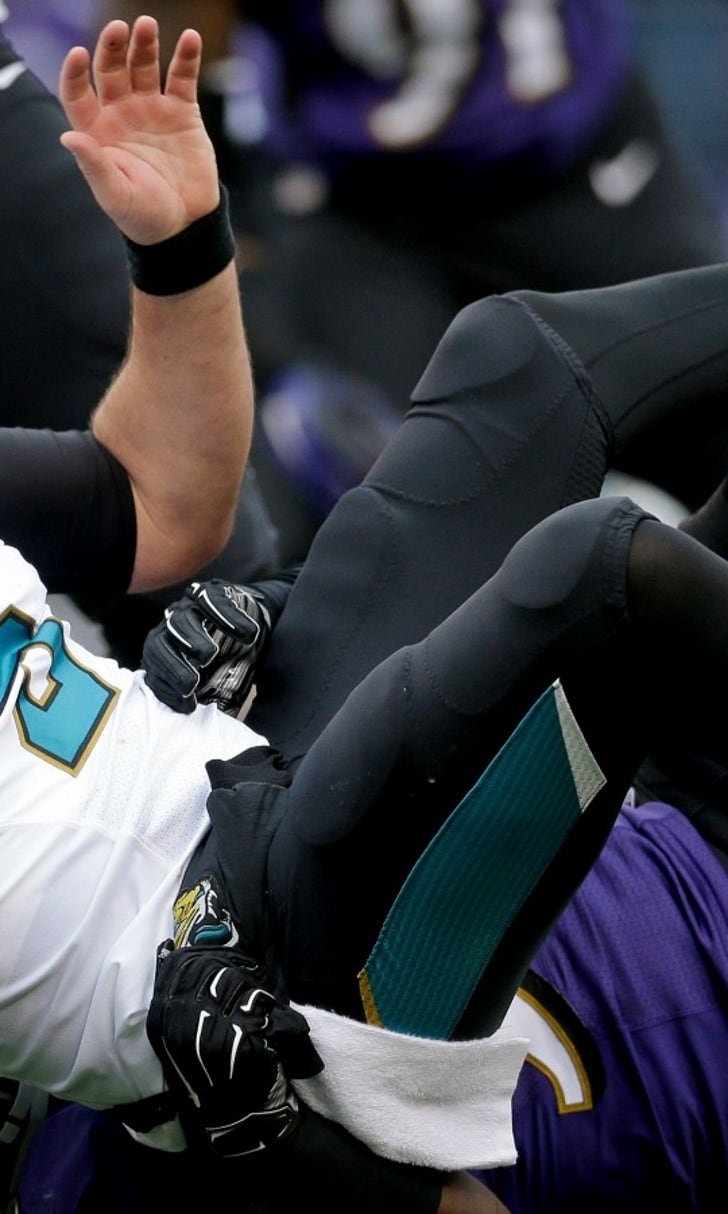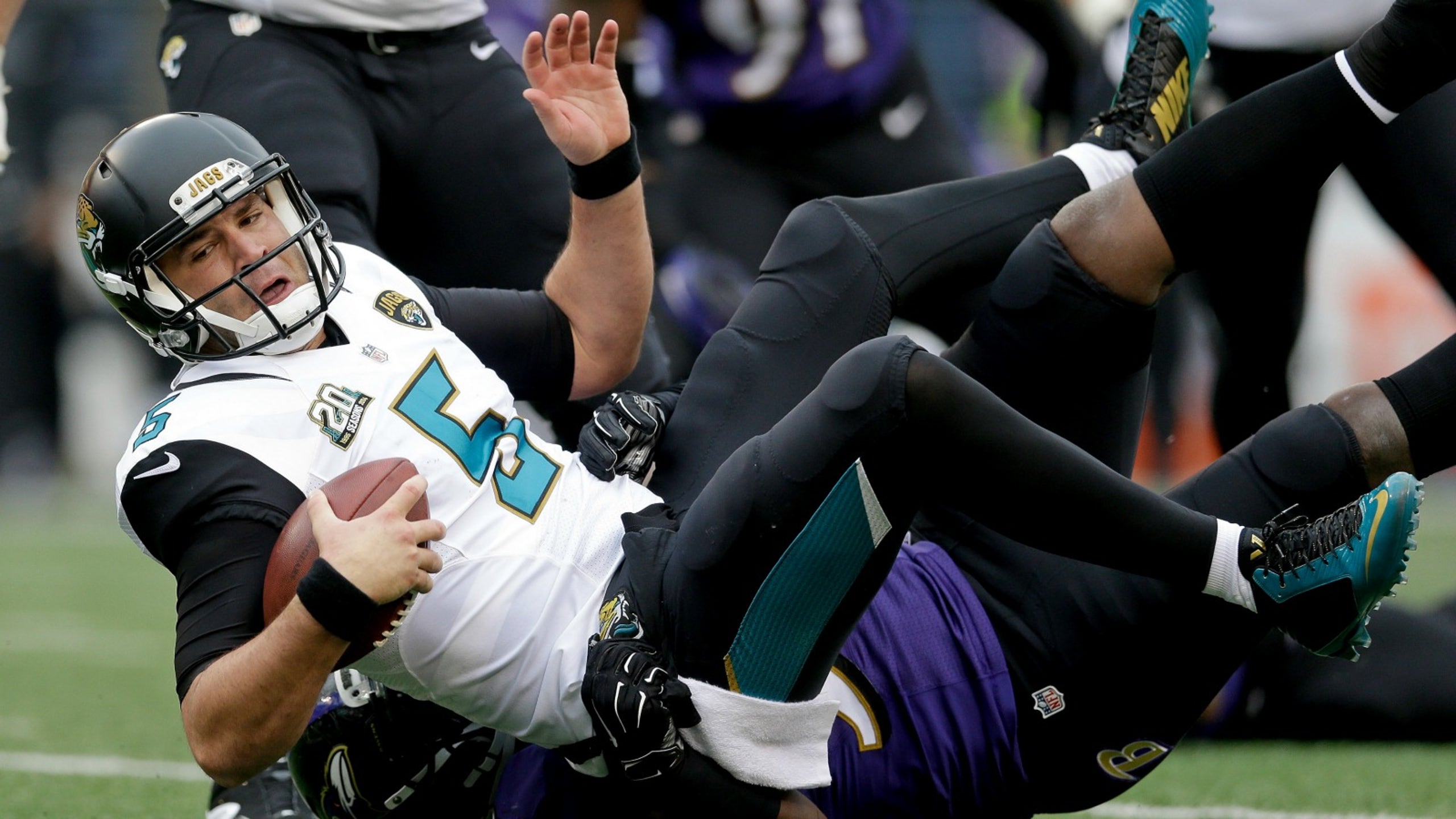 Jaguars observations: Same story, no offense for Jacksonville
BY foxsports • December 14, 2014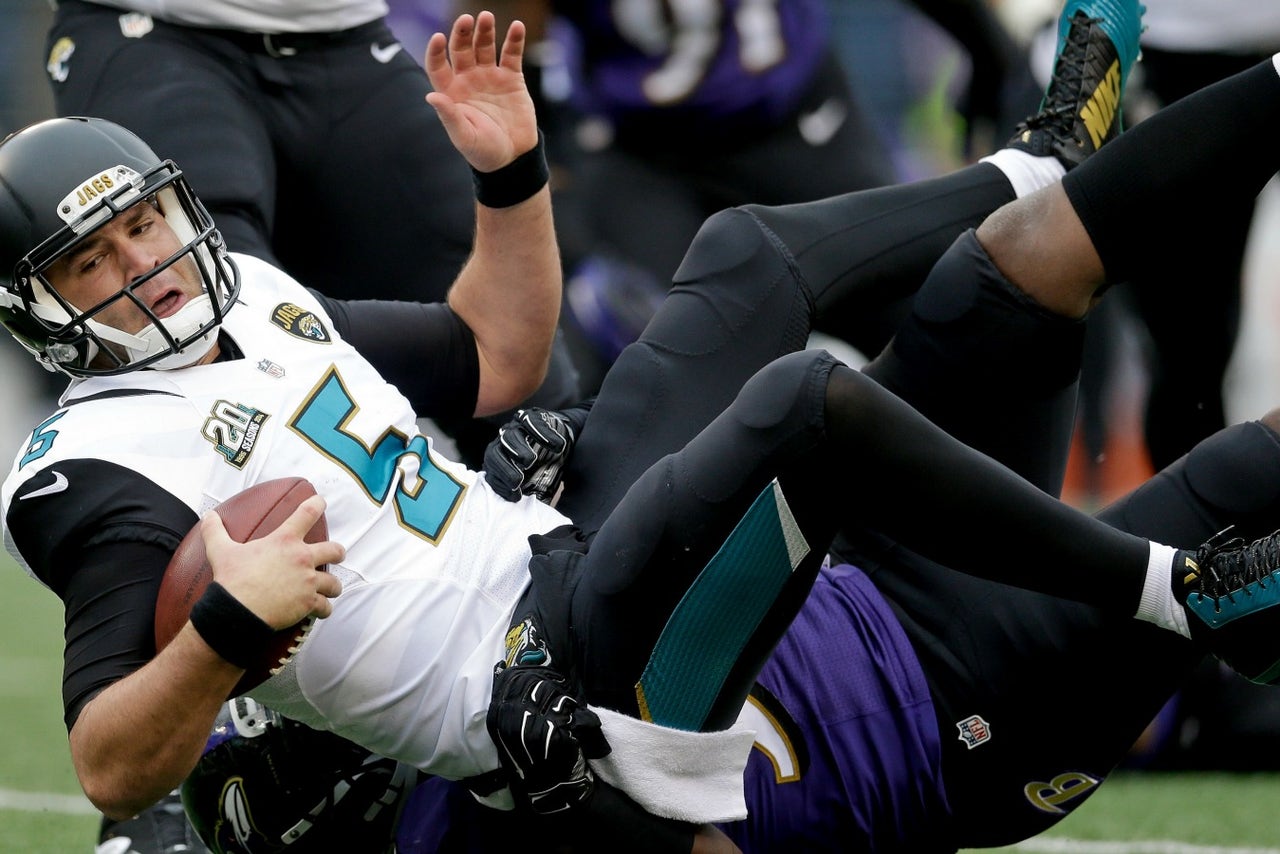 The defense shut down Justin Forsett. The special teams pulled off both a successful onside kick and a fake punt.
But the offense of the Jacksonville Jaguars was another story Sunday -- as in the same old story of recent weeks.
For the third time in their last four games, the Jaguars were shut out in the second half. And as was the case at home a week earlier against the Houston Texans, they couldn't hold a halftime lead.
The Baltimore Ravens went ahead to stay in the third quarter by putting together the only touchdown drive by either offense all afternoon. Joe Flacco's 3-yard pass to tight end Owen Daniels capped an 80-yard march which included a questionable personal foul penalty against Jaguars middle linebacker J.T. Thomas.
Justin Tucker tacked on a 33-yard field goal with 1:11 remaining. Tucker had missed a pair of 54-yarders earlier in the game, including one in the fourth quarter which hit off the left upright after the Ravens were penalized for a delay of game.
A desperation fourth-down heave by Blake Bortles was intercepted in the closing moments as the Jaguars have now gone 45 drives with only two offensive touchdowns.
While Bortles set a franchise record for most completions in a season by a rookie quarterback, the pounding he took at the hands of the Ravens was as bad as any he has absorbed.
Bortles was sacked eight times for 63 yards. And it wasn't Elvis Dumervil, who began the day tied for the NFL lead in that category, who inflicted most of the punishment. Terrell Suggs, Pernell McPhee and rookie Timmy Jernigan from Florida State accounted for six of the sacks.
Bortles threw for 149 yards in the first half and looked particularly sharp on a 30-yard completion to Cecil Shorts III. But the longest completion the Jaguars had following halftime was a shovel pass from punter Bryan Anger to Will Ta'ufo'ou which resulted in a gain of 19.
Bortles finished 21 of 37 for 210 yards. His 253 completions broke the Jaguars rookie record of 239 set by Byron Leftwich in 2003.
2. Settling for field goals proves costly.
For as long as their offense was on the field, the Jaguars should have been ahead by more than 9-7 six minutes into the second quarter.
But their ability to fully capitalize shouldn't have come as a surprise. The Jaguars have the fewest touchdowns inside their opponents' 20-yard line this season (11). So it was in character that after a 17-yard run by Storm Johnson gave them a first and goal at the 9, back-to-back sacks of Bortles forced them to settle for a 45-yard field goal by Josh Scobee.
Even more discouraging than that was their failure to take advantage of an onside kick recovered by Johnathan Cyprien after Scobee's third field goal. Bortles overthrew Marqise Lee by a step in the end zone on third down, and Scobee was wide to the right on a 42-yard attempt.
3. So much for the special teams no longer being a shambles.
Despite Scobee's success and the two surprise plays which worked, the Jaguars couldn't fully overcome a huge breakdown after their opening drive fizzled.
Anger had a punt blocked by Darian Stewart, who came up the middle untouched past Ta'ufo'ou. Kamar Aiken scooped up the ball and ran it in to give the Ravens a 7-0 lead before their offense had yet to take a snap.
The Jaguars were forced to punt two plays after Marcedes Lewis dropped a pass which would have given them a first down.
4. What's the rush?
After giving up an average of 159 yards on the ground in their previous six games, the Jaguars neutralized Forsett, who had rushed for 1,080 yards through the first 13 weeks after an uneventful year in Jacksonville.
Forsett was held to 48 yards on 16 carries with a long gain of 6. The Jaguars got more than that out of Toby Gerhart, who was in the starting lineup because of a season-ending foot injury to Denard Robinson. Gerhart had 54 yards on 13 carries.
The Ravens didn't record a first down running the ball until early in the fourth quarter. Even after a 10-yard run on a third down by Flacco and a 28-yard gain by Bernard Pierce to set up Tucker's second field goal, they finished with only 93 yards.
5. One last chance.
The loss dropped the Jaguars to 0-7 on the road. They will need a victory at Houston in two weeks to avoid finishing a season winless away from home for the second time in franchise history. They went 0-8 in 2003, which was Jack Del Rio's first year as their head coach.
Next up: The Jaguars are home Thursday night to Tennessee.
You can follow Ken Hornack on Twitter @HornackFSFla or email him at khornack32176@gmail.com.
---
---