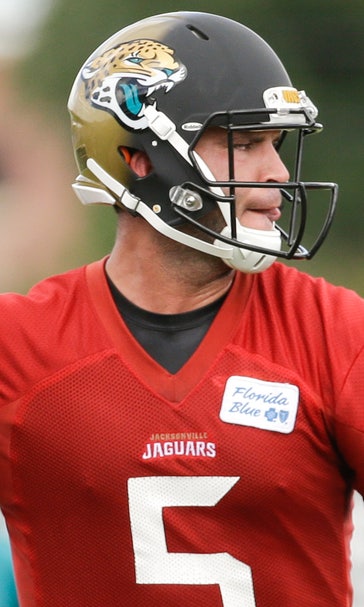 Jaguars notes: Bortles displays improved fundamentals at OTAs
May 26, 2015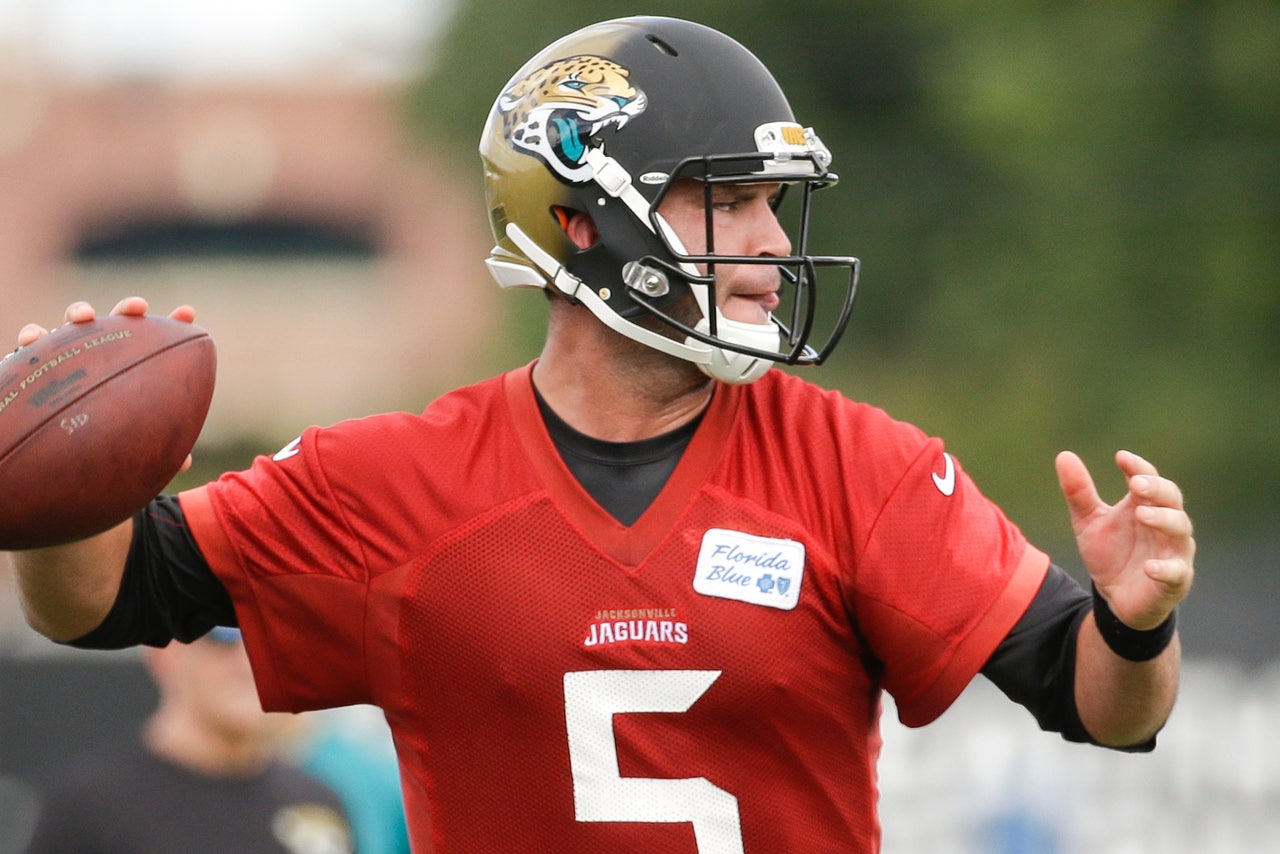 JACKSONVILLE, Fla. -- The debut of what the Jacksonville Jaguars hope will be a new and improved Blake Bortles went off with a minimum of hitches Tuesday as their three-week organized team activities got underway.
After a rookie season in which the No. 3 pick in the NFL draft threw 17 interceptions and often exhibited flaws in his footwork and mechanics, Bortles took what he learned at his passing camp in California and applied that in 11-on-11 drills toward the end of a two-hour closed session where the Jaguars practiced without full equipment.
"I'm still working on trying to make things muscle memory. But it felt good," he said. "I thought the guys ran around and worked their tails off on the first day."
Bortles and the rest of the offense spent the last month learning the playbook of new coordinator Greg Olson. The former UCF quarterback also has a new position coach in Nathaniel Hackett as the Jaguars look to infuse life into an offense which ranked 31st in both total yardage and passing yardage.
"There's a lot of similar concepts (but) different lingos," Bortles said of Olson's system compared to that of 2014 offensive coordinator Jedd Fisch. "You've got to kind of learn the language and can get acclimated that way. It's a lot of good stuff. I know it's been a blast to dive into it and start to learn."
"For them to come out and execute like they did -- you didn't see many busts -- I thought it was pretty good, something definitely to build on," coach Gus Bradley said.
Bortles called Olson, who spent the past two season as the Oakland Raiders' offensive coordinator, "a really good teacher, super-intellectual when it comes to football." Bradley complimented Olson and Hackett on the patience they've shown in letting Bortles largely figure out on his own how to get better.
"Sometimes as coaches, you think, 'OK, we've got to fix this in a day,'" Bradley said. "And it hasn't been like that. It's been little bit and pieces. And because of that, Blake has more ownership in it. He's not there yet, but we've seen really good improvement."
The changes in Bortles were noticeable to two of the Jaguars' top returning receivers.
"The ball's getting there a lot faster," said wideout Allen Hurns, who caught 51 passes as a rookie after being undrafted out of the University of Miami. "You're getting out of breaks, and the ball is there on you."
Added veteran tight end Marcedes Lewis: "You can definitely tell that he went home and sharpened up. That's really good to see from a guy getting drafted where he did and coming into his second year."
Julius Thomas, the tight end who was their top pickup in free agency, found himself on the receiving end of several of Bortles' passes. Olson is expected to often utilize both Thomas and Lewis at the same time as the Jaguars plan to go almost exclusively with four-receiver sets.
"It's a good group of tight ends. It really is," Bortles said of Thomas, Lewis, Clay Harbor and Nic Jacobs. "We'll be able to do a lot of cool stuff with our personnel groupings and putting those guys in different spots."
But it's up to Bortles to develop a chemistry with all his receivers while avoiding lapsing into old habits.
"There's a time and a place to work on those fundamentals, and then a time and a place to just work on the schematic things," he said.
Added Bradley: "Every once in a while, he goes back to maybe an old style. But he catches it now."
CLEMONS A NO-SHOW
The only player not in attendance for the start of OTAs was defensive end Chris Clemons, who was second on the Jaguars in sacks last season with eight.
Of Bradley's four seasons as defensive coordinator of the Seattle Seahawks, the last three were when Clemons played for them. So there was some concern but no sense of panic from Bradley in discussing the 33-year-old Clemons' absence.
"I have faith in Chris Clemons," he said. "I know that he'll come back. He's never not come back ready to go, but I don't want to assume that."
"We all know Clem," tackle Sen'Derrick Marks said. "I don't think Clem's been in an offseason workout program in about seven years."
The Jaguars' starting defensive line through the first 14 games of 2014 was comprised of Clemons and Red Bryant at the ends and Marks and Roy Miller at the tackles. Bryant got released in the offseason, and both Marks and Miller could not participate Tuesday because they are coming off knee surgeries.
MARKS MAKING PROGRESS
While still wearing a brace on his right knee, Marks was flashing a smile in discussing his rehabilitation from a torn ACL which he claims is coming along faster than anticipated.
"I heal 13 percent (faster) than the regular athlete," he said. "I do, man. I don't know what it is. I think I'm a mutant."
Bradley said Miller, who tore cartilage in a knee last December, has been cleared to wear a jersey at practice but still cannot take part in team activities. Two other players present but unavailable were wide receiver Marqise Lee, who injured a knee during voluntary workouts, and safety Josh Evans, who is coming off a shoulder operation.
You can follow Ken Hornack on Twitter @HornackFSFla or email him at khornack32176@gmail.com.
---
---