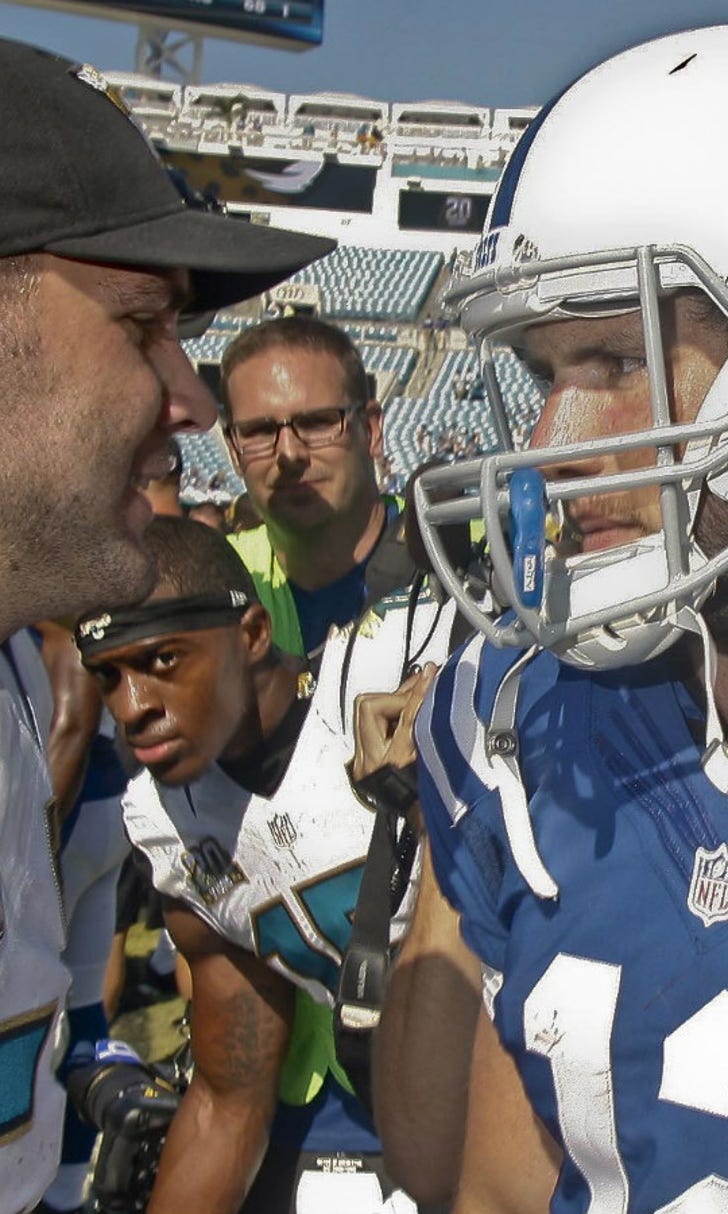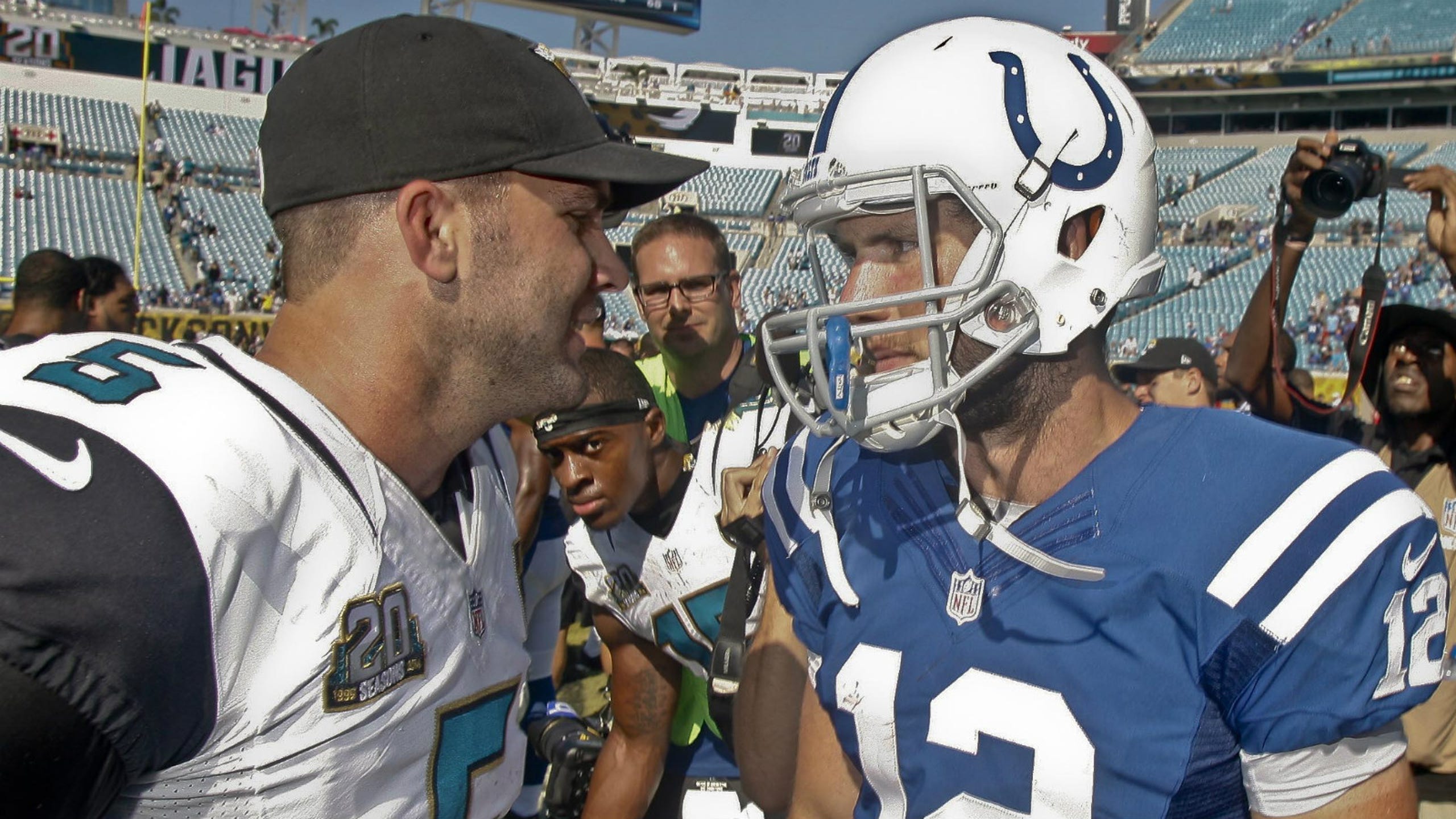 Jaguars look to play spoiler vs. Colts coming off bye
BY foxsports • November 22, 2014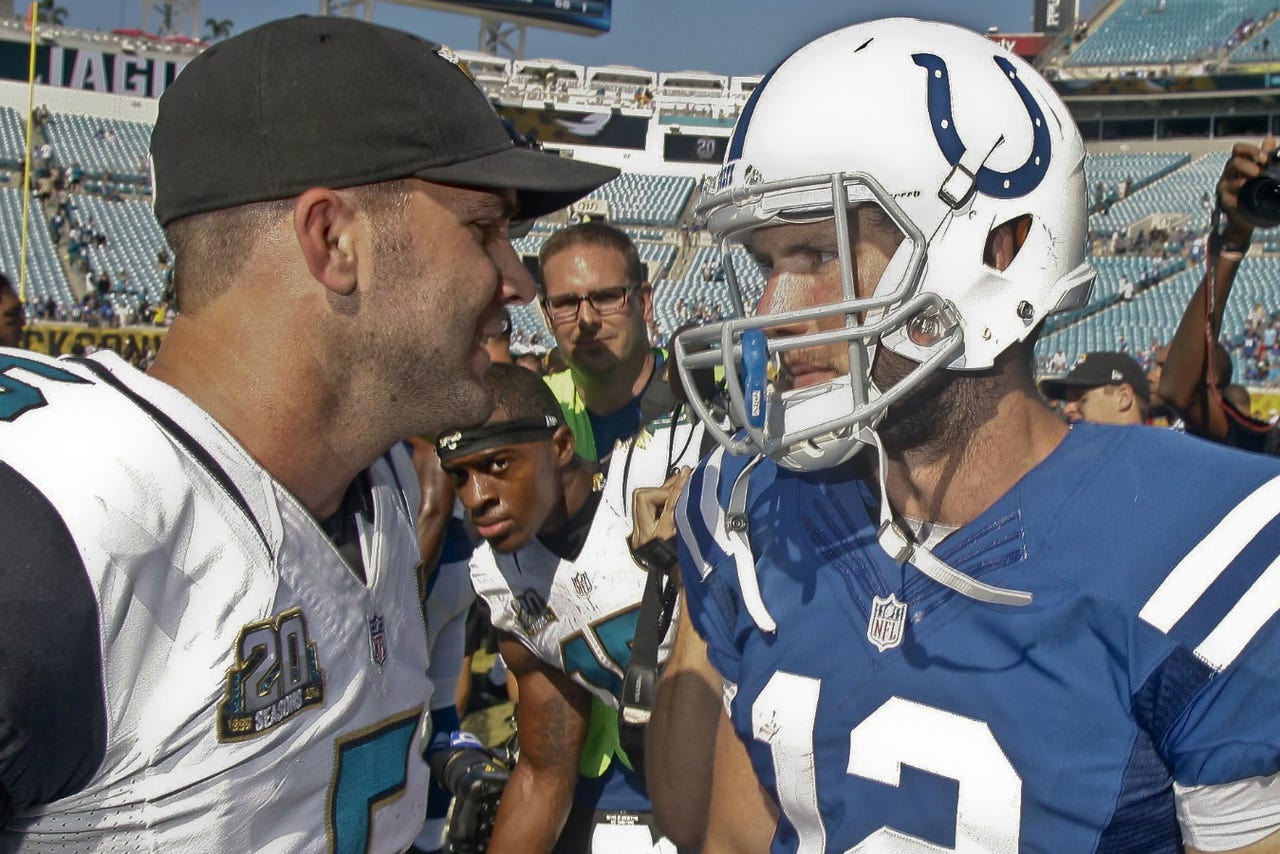 The Jacksonville Jaguars thought they were starting to turn the corner last season by going 4-4 after their bye week.
If they are to salvage a 1-9 2014 season, now is the time coming off a bye. But the Indianapolis Colts might not be the ideal opponent to do so against.
With Indianapolis' loss to New England coupled with a victory by Houston, the Colts saw their lead in the AFC South shrink to a game. They can't afford to look past any team, even one that they drubbed 44-17 in Jacksonville three weeks into the season.
Already assured of their seventh consecutive losing season, the Jaguars have to again settle for playing the role of spoiler. Four of their remaining games are against teams unlikely to earn a wild-card spot.
It will be interesting to see what sort of effect the bye has on rookie quarterback Blake Bortles. Although he leads the NFL in interceptions thrown with 14, Bortles was picked off just twice in the Jaguars' losses to Cincinnati and Dallas, with neither of those coming in the first three quarters.
The Cowboys sacked him four times during their 31-17 win over the Jaguars in London, raising the number of times Bortles has been tackled while attempting to pass to 23 in eight games. By comparison, the Colts have given up only 15 sacks of Andrew Luck all season.
MATCHUP TO WATCH
Colts QB Andrew Luck vs. Jaguars defense.
Lest anyone forget, Luck had a passer efficiency rating of 140.4 after completing 31 of 39 passes for 370 yards and four touchdowns when the Jaguars still had arguably their best defensive player in middle linebacker Paul Posluszny and their top pass rusher in Andre Branch both healthy.
The Jaguars applied next to nothing in the way of pressure on Tony Romo in their loss to the Cowboys but had been among the league leaders in sacks going into that game.
"You're always looking for the sacks and the quarterback hits and the quarterback hurries," coach Gus Bradley said. "Sometimes those things come."
The Colts ran a total of 44 plays and held a time-of-possession advantage of almost 13 minutes in the first half of the earlier meeting. They will be without Ahmad Bradshaw, while Trent Richardson continues to be an underachieving running back. But as long as Luck has time to throw to T.Y. Hilton, Reggie Wayne, Hakeem Nicks and Coby Fleener, the Jaguars and their 29th-ranked defense face a significant challenge trying to hold down the league's top passing (and overall) offense.
TRENDING UP
Jaguars: Denard Robinson, who had a total of three carries this season going into the Sept. 21 game against the Colts, now ranks eighth in the AFC in rushing with 483 yards on 100 carries. He needs to average 87 yards over the final six games to become Jacksonville's first 1,000-yard rusher since Maurice Jones-Drew ran for a franchise record 1,606 yards in 2011.
Colts: They have won the last four meetings by a combined score of 138-40. While two touchdowns came on interception returns, including one by cornerback Greg Toler earlier this season, that still says a lot about how much Luck and the offense have dominated. The Colts have a 9-4 record at home against the Jaguars, with the most recent loss coming in the third game of Luck's rookie year.
TRENDING DOWN
Jaguars: None of their starting secondary -- cornerbacks Dwayne Gratz and Demetrius McCray, as well as safeties Johnathan Cyprien and Josh Evans -- have yet to pick off a pass this season. The only interceptions by their secondary have come from Alan Ball, currently on injured reserve, and Sherrod Martin, who has replaced the injured Will Blackmon as the fifth defensive back in passing situations.
Colts: The Patriots rushed for 246 yards against them Sunday night, with the bulk of that coming from previously little-known Jonas Gray. While the Colts fell to 17th in the league in run defense, that's still better than their ranking of 27th against the pass and 24th overall. Bortles threw for 223 yards in a half against them, but that came after the Colts had taken a 30-0 lead.
INJURY REPORT
Jaguars: DE Andre Branch (groin) and LB Jeremiah George (ankle) are out. QB Blake Bortles (left wrist), DE Chris Clemons (knee), CB Aaron Colvin (knee), S Josh Evans (elbow), G Brandon Linder (shoulder) and T Austin Pasztor (hamstring) are probable.
Colts: TE Dwayne Allen (ankle), T Gosder Cherilus (shoulder) and CB Greg Toler (concussion) are out. DT Arthur Jones (ankle) and RB Trent Richardson (illness) are probable.
DID YOU KNOW?
The Jaguars lead the NFL in fewest penalties (42) and penalty yards (331). The Kansas City Chiefs went into Thursday night as the team closest to them in both categories with 45 penalties for 343 yards.
QUOTEBOARD
"Nobody cares what you're going through. Nobody cares what your excuses are. The bottom line is this is a performance-based business, and we have to get out there and take care of our business." -- Jaguars tight end Marcedes Lewis, on the injuries that have hit him and several other players Jacksonville was counting on this season. Lewis was activated Monday after spending the previous eight weeks on the injured reserve/designated for return list with a high ankle sprain.
"My whole mood is just to come refreshed. I'm not dwelling on the past or looking back to anything. They could come back and have a whole new gameplan." -- Jaguars safety Josh Evans, on whether there was anything the defense could take away from the earlier meeting with the Colts. Evans did not start in that game because Johnathan Cyprien had just returned from a concussion and Winston Guy had yet to be waived.
"It's been a thing for us the whole season, with people coming out. I've been hurt before. Cecil Shorts has been hurt. People have got to step up. When your opportunity is called, you've got to make the most of it." -- Jaguars wide receiver Allen Hurns, on the injuries that have impacted the team throughout the season at that position. The latest casualty was fellow rookie Allen Robinson, who was placed on injured reserve after coming down with a stress fracture in his right foot.
"Yeah, it feels like forever ago. It feels like a long time ago. Was it Week 4 or 3?" -- Jaguars quarterback Blake Bortles, on the game against the Colts where he took over for Chad Henne after the offense mustered only 55 total yards in the first half. This will mark the first time Bortles faces the same team twice in the same season.
LOOKING AHEAD
The Jaguars are home to the New York Giants next Sunday. It will be only the second meeting in Jacksonville between the two teams since Tom Coughlin, the original coach of the Jaguars, was hired by the Giants in 2003.
You can follow Ken Hornack on Twitter @HornackFSFla or email him at khornack32176@gmail.com.
---
---