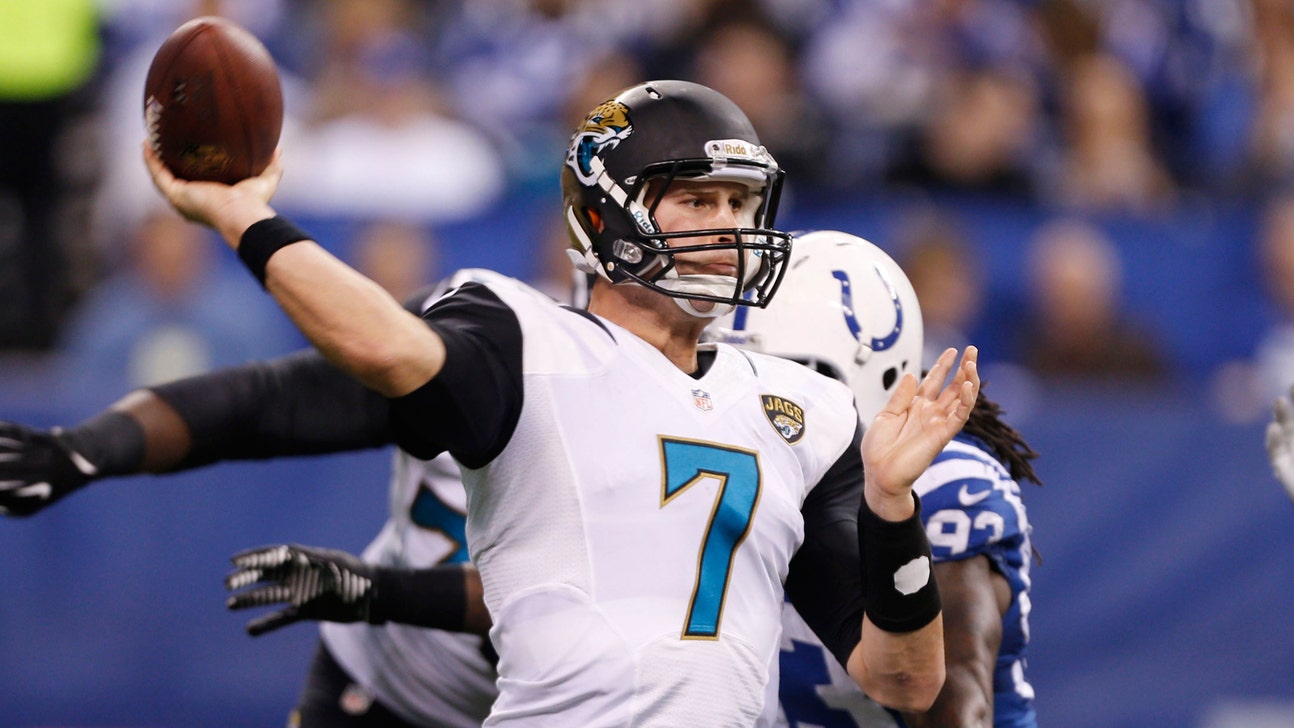 Jaguars look to improve on offensive execution vs. Bears
Published
Aug. 13, 2014 3:00 p.m. ET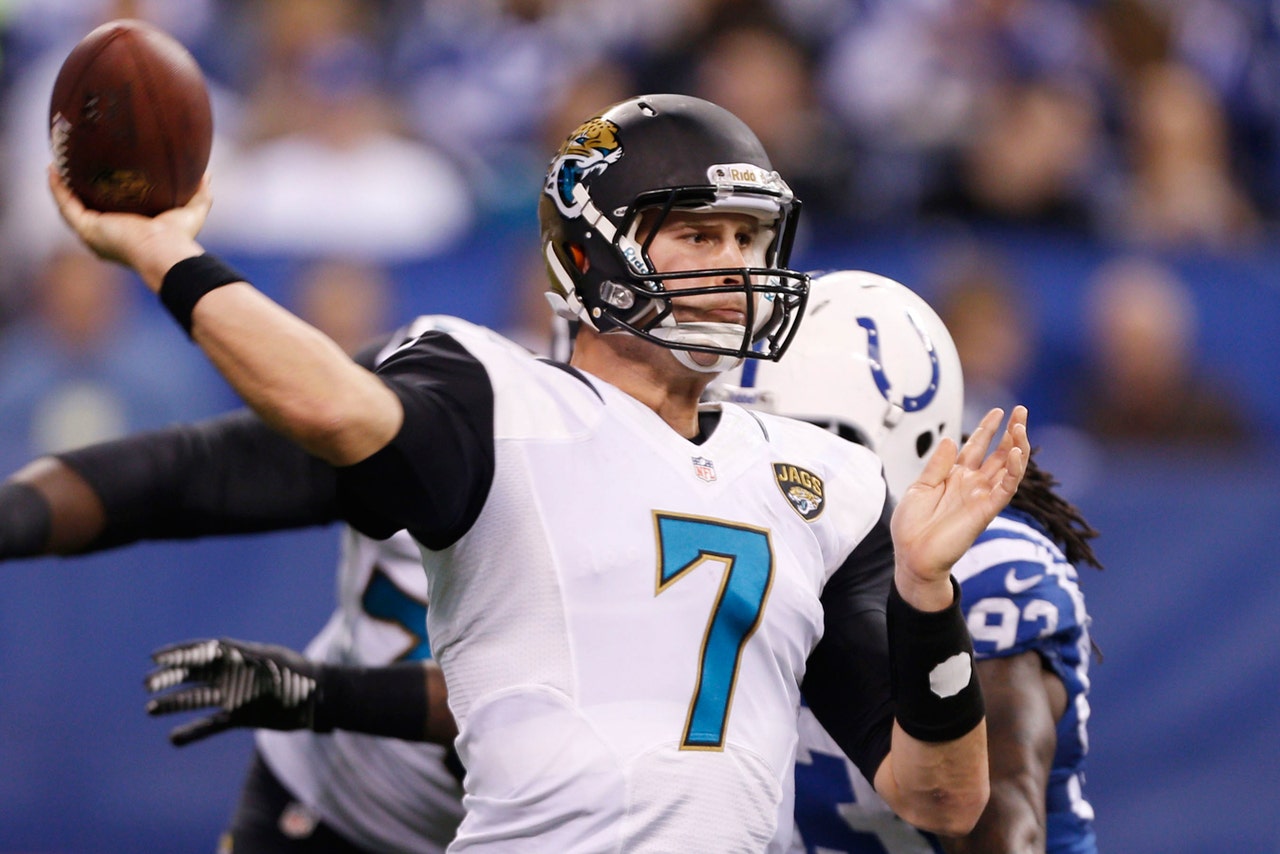 JACKSONVILLE, Fla. -- The Jacksonville Jaguars have a long way to go on offense before they can get to where they want to be.
That's largely because they often continue to have a long way to go on third downs.
During the first four series in their preseason opener against the Tampa Bay Buccaneers where Chad Henne ran the offense, the Jaguars had at least eight yards to go on all four of their third downs. They had a third-and-3 early in the second quarter before Henne gave way to Blake Bortles, but that was followed by rookie running back Storm Johnson being stopped for no gain and center Mike Brewster sailing a snap over Henne's head for a loss of 21 on fourth down.
The Jaguars are coming off a season where they ranked last in the NFL in third-down efficiency, which should make it all the more imperative that they start showing signs of reversing that trend Thursday night against the Chicago Bears.
"It's what you do on first and second down," said Henne, who coach Gus Bradley plans to use for the entire first half of the nationally televised contest. "You can't have negative plays. Get a blade of grass. Just get the offense moving on a positive standpoint rather than a negative."
The Jaguars successfully converted only 31.1 percent of their third downs in 2013. While that represented a slight improvement from the year before, they're not about to be confused anytime soon with the San Diego Chargers or the Denver Broncos, who ranked 1-2 in that category with conversion rates of better than 46 percent.
The only significant gains they made on first down with the first team against the Bucs were a 9-yard completion from Henne to tight end Marcedes Lewis and a 9-yard run by Johnson, a seventh-round pick out of UCF who had taken over at that point for Jordan Todman.
Henne spent part of Sunday night watching tape of the Broncos' preseason opener and hopes he can take away something from what Peyton Manning was able to accomplish on a 14-play, 61-yard drive that resulted in a touchdown against the Seattle Seahawks.
"They really moved the ball," Henne said. "And it was all because of positive plays on first and second down and keeping the tempo. If we establish that with our full offense out there, we'll be successful."
With wide receivers Cecil Shorts III and Allen Robinson both still sidelined with hamstring injuries, the Jaguars aren't close to having their full group of expected starters available. But running back Toby Gerhart returned to practice Tuesday after missing more than a week with a bothersome hip flexor and is likely to receive his first game snaps since signing a three-year, $10.5 million contract with the Jaguars five months ago.
"We're doing everything we can to get that first group ready to go," said Bradley, who has yet to have Bortles take any snaps with the starting offensive linemen, backs and receivers.
In the wake of the two faulty snaps from Brewster to Henne in the 16-10 victory over the Bucs, guards Jacques McClendon and Brandon Linder have gotten more reps than usual at center this week. Bradley isn't about to demote the third-year pro and Orlando native for something that has never happened in practice.
"He'll be our center going into this game," he said of Brewster. "But we're always going to try to find out who's doing well in different situations -- if nothing else, to create more depth."
Asked about being shifted from one position to another, McClendon replied, "It's not about what's best for Jacques McClendon. It's about what's best for the Jacksonville Jaguars."
The Bears are expected to blitz both Henne and Bortles more than the Bucs did. But the Jaguars are also expecting more of a contribution from second-round pick Marqise Lee, the wide receiver who did not have a single pass thrown his way in the opener.
Bradley was critical of Lee for not running a route at full speed but said there was "a little bit of confusion on his part" because of how a Bucs defensive back was playing him. Whatever problems might have existed appear to have been put behind them.
"He is extremely focused and really, really competitive, really driven," Bradley said.
The only times the offense started a drive against the Bucs with poor field position were when Will Blackmon let a pair of punts roll and be downed inside the 5. Blackmon, Kerry Taylor and recently-signed Chad Hall could be the leading candidates to replace the suspended Ace Sanders in that capacity for the first four regular-season games, although Bradley said Tandon Doss is progressing well from an ankle injury and could be ready to go before the end of the preseason.
Blackmon never returned punts while at Boston College but scored three times on returns during his first two seasons with the Green Bay Packers in 2007-08.
"I was afraid of the whole halo rule and getting knocked out," he said. "In the NFL, they were like, 'Do it,' and then I ended up liking it. So who knows? Somebody might get an opportunity knowing they've never done it before and become good at it. That's the beauty of preseason."
You can follow Ken Hornack on Twitter @HornackFSFla or email him at khornack32176@gmail.com.
---