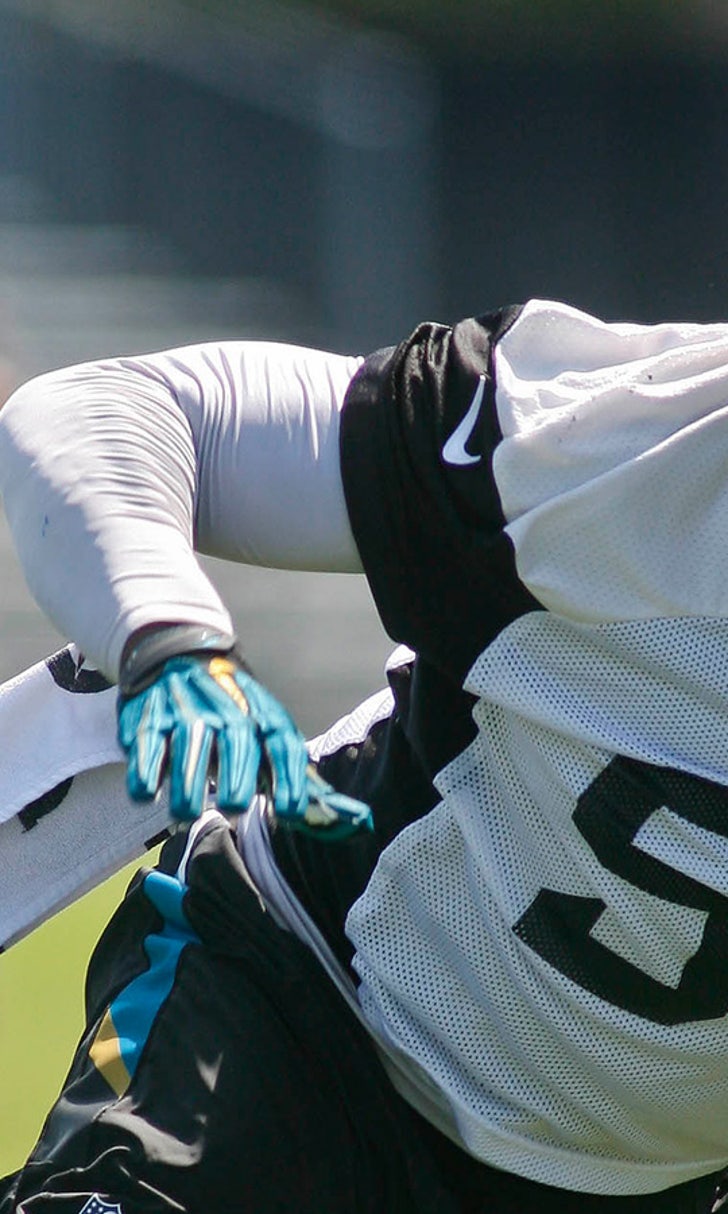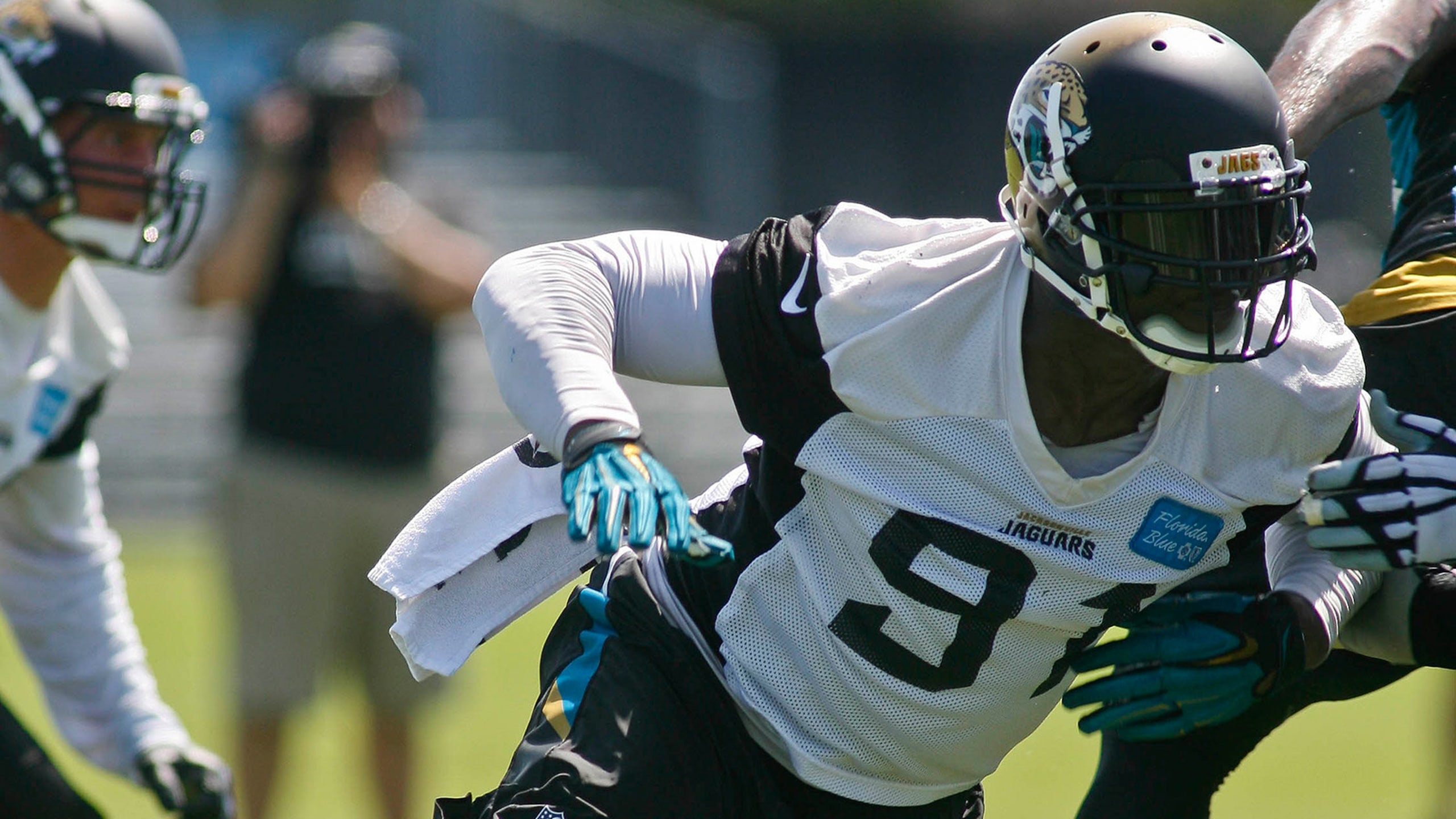 Jaguars DE Clemons reports to camp lighter, more focused
BY foxsports • June 16, 2015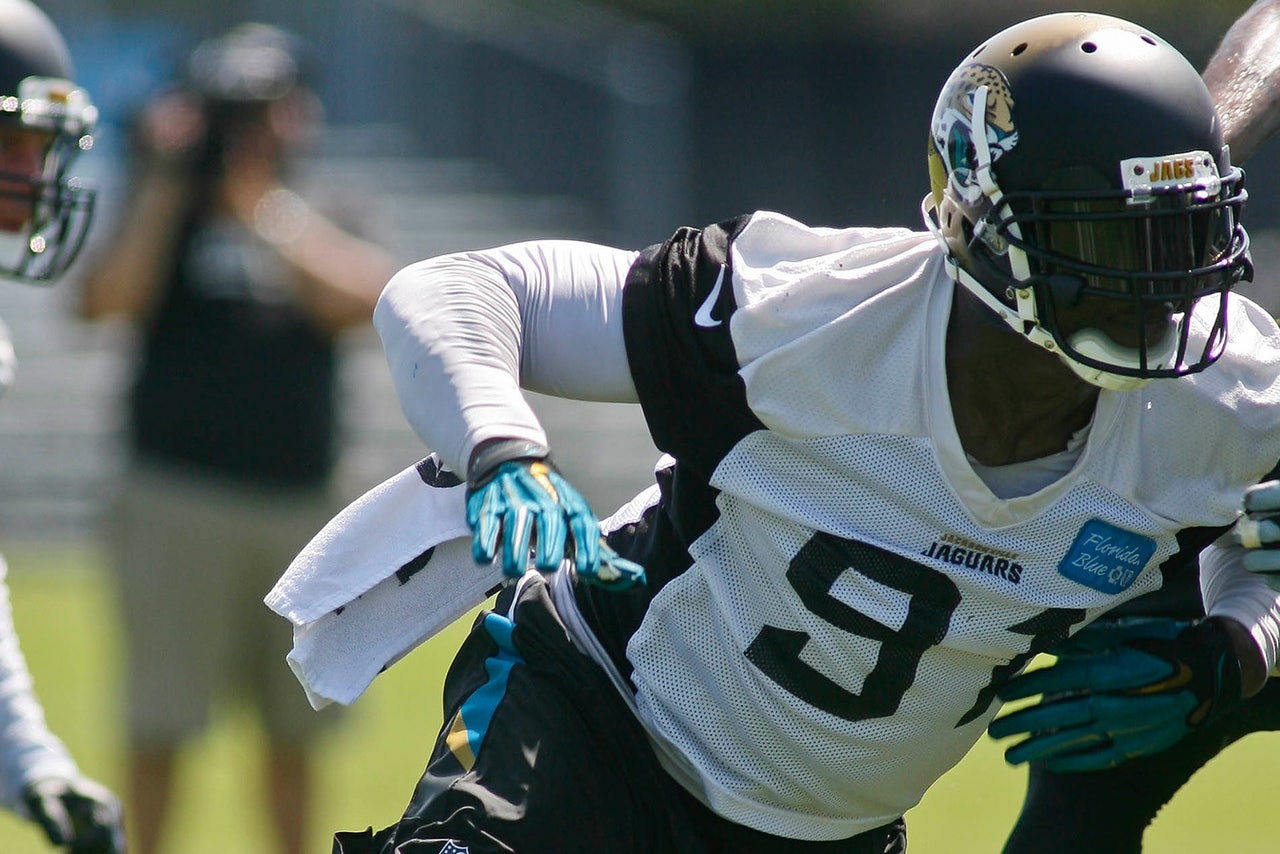 JACKSONVILLE, Fla. -- As far as Jared Odrick was concerned, Chris Clemons might as well have been the Loch Ness Monster with a helmet until Tuesday.
The most noteworthy free-agent addition to the Jacksonville Jaguars' defensive line three months ago finally got to set eyes upon and team up with Clemons during a steaming hot first day of their mandatory minicamp. The veteran of 11 previous NFL seasons, who recorded eight sacks in his first season with the Jaguars, had chosen to train on his own the past several weeks rather than take part in organized team activities where attendance was not required.
"He's been nothing but a legend in this locker room until he got here," said Odrick, the former Miami Dolphin who is projected to start at the defensive end spot on the opposite side of the line from Clemons. "So it was great to have him here, put a face with a name and all the great stories."
Clemons' story, one which he is sticking to, is that Jaguars head coach Gus Bradley and defensive line coach Todd Wash had no qualms with him not coming in prior to this week as he continued a workout regimen that has left him 17 pounds lighter than at the end of last season.
"Gus and I both know that," he said. "We talk about it in the offseason every year. Even when I was in Seattle, I did the same thing. That's the way I prepare myself. That's the way the coaches let me prepare."
Both Clemons and Red Bryant were let go by the Seahawks after their Super Bowl championship as a cost-cutting measure. They caught on with the Jaguars, although Bryant was deemed expendable when they signed Odrick to a five-year, $42.5 million contract in March.
Clemons said his weight got up to 265 pounds during a 2013 season in which he was attempting to come back from a torn ACL. When he weighed himself Monday, he tipped the scales at 248 pounds.
"I was able to focus in what I needed to focus on," he said. "Last year, I was recovering from an ACL injury. This year, I came from a season that was healthy. So it helped me be able to focus more on myself instead of having to worry about doing rehab and instead of being around doctors all offseason."
Clemons started all 16 games as the Jaguars went 3-13, but he recorded just one sack over the final five weeks. As one of just three players on their roster over the age of 30, his future with them looked tenuous after they took Florida's Dante Fowler Jr. with the third pick in the NFL. But Fowler tore the ACL in his left knee on the first day of their rookie minicamp, making Clemons more valuable on a defense where Andre Branch played sparingly in the second half of last season after suffering a groin injury and Chris Smith is undersized and inexperienced.
"It was an easy draft pick because he (Fowler) was one of the best defensive players in the draft," he said. "So why not bring him here? We need that help. For him to get hurt, that was unfortunate. It changes things a little bit."
Clemons has 66 sacks in a career that began in Washington and has taken him to Oakland and Philadelphia as well as Seattle and Jacksonville. He didn't become a fulltime starter until 2010 with the Seahawks while Bradley was serving as their defensive coordinator.
"If (Bradley) wants to put a heavier load on me, I can go out there and focus on that," he said. "That's the reason why I train the way I train in the offseason by myself."
For the moment, Bradley described Clemons' level of conditioning as "probably not where it needs to be" despite the loss of weight.
"I don't care what you say," he said. "You can be off on your own, and you can work out. It's different than when you come and you practice with a team in a controlled environment like this. It's just different, and he's got to get acclimated to that."
But from what Odrick could discern in drills, Clemons was as sharp as if he elected to come to the Jaguars' OTAs.
"That's what a professional does," he said. "He knows all the plays. He knows where he has to be. That's what he expects of himself as a 12-year vet. And you wouldn't expect anything less."
Added tackle Luke Joeckel, who lined up opposite Clemons on several occasions: "I knew he'd be here. Right now in minicamp, we're trying to just get ourselves better. It's good to have him back."
The Jaguars have two more practice sessions this week, including one Thursday which is open to the public, where the 33-year-old Clemons can make up for whatever he might have missed.
"That's the plan," he said. "To be able to get my body in the condition to where the flexibility is there, the strength is there, the speed is there and just the aggression is there. That's one of the things that I look forward to coming into the season."
You can follow Ken Hornack on Twitter @HornackFSFla or email him at khornack32176@gmail.com.
---