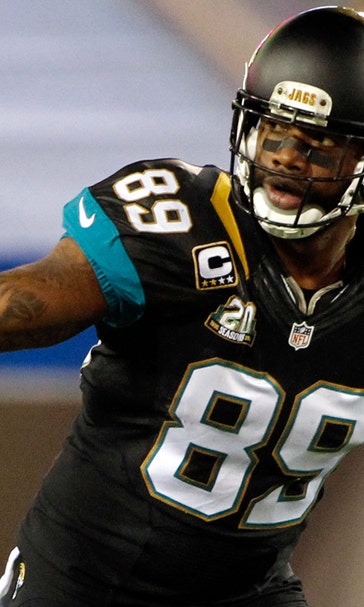 Jacksonville Jaguars 2015 schedule breakdown
April 21, 2015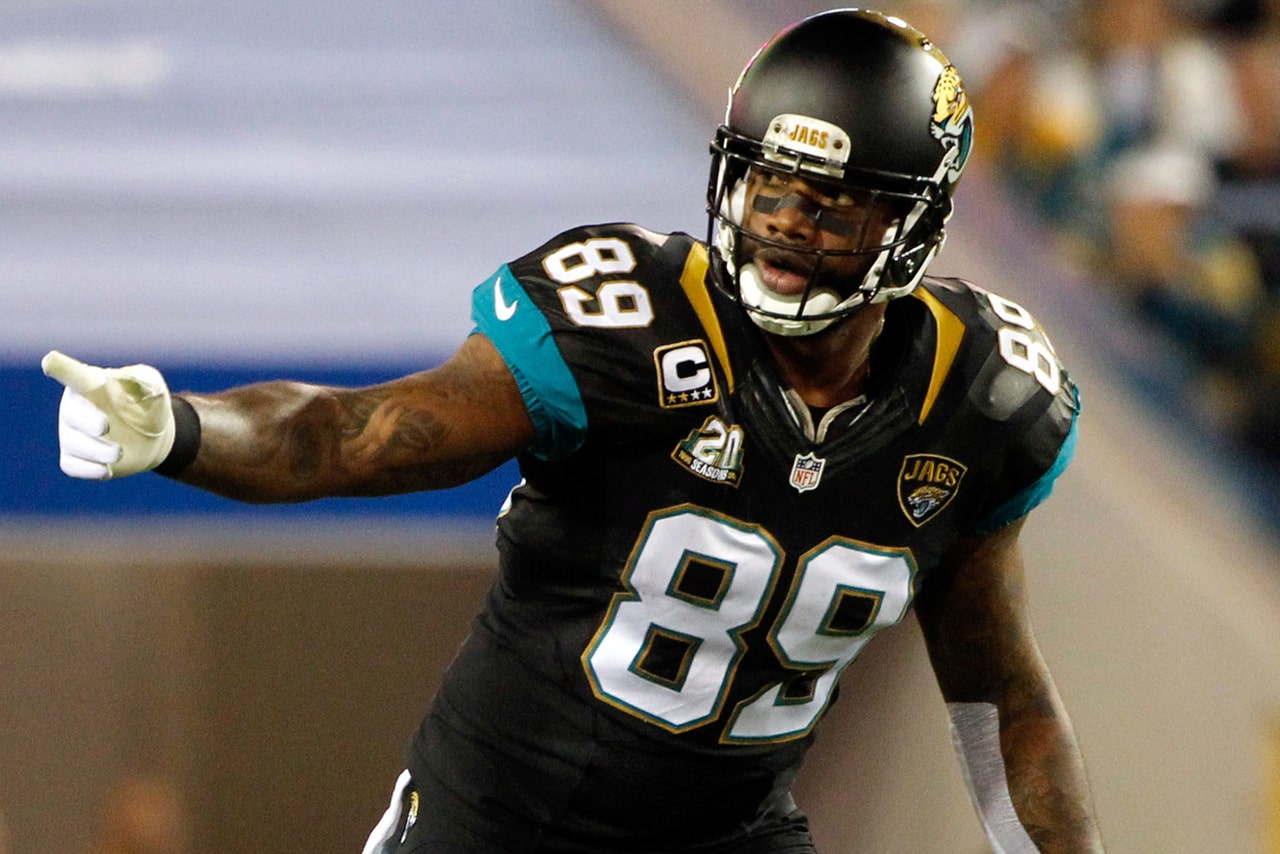 The Jacksonville Jaguars will be hard-pressed this fall to avoid their third 0-4 start in as many seasons.
When their schedule was released Tuesday night, along with that of all other 31 NFL teams, it was hard not to notice that the early portion includes games against three playoff teams, including the defending Super Bowl champion New England Patriots.
Oddly enough, the Patriots might be the least formidable of the first four defenses which Blake Bortles will encounter. New England finished 13th in total defense last season, compared to 10th for the Carolina Panthers, 12th for the Miami Dolphins and 11th for the Indianapolis Colts.
As was the case a year ago, the Jaguars' only national television appearance will come at home on a Thursday night against the Tennessee Titans. And in another repeat from last season, they will finish the season at Houston.
The Jaguars haven't made the playoffs or posted a winning record since 2007 but have added several free agents on both sides of the ball and own the third overall pick in next week's draft.
"Every team is good. Every team is so close," said tight end Julius Thomas, who signed a five-year, $46 million contract with the Jaguars last month. "It's (a matter of) what are you going to do to make that step to get over the hump. It happened in Denver. They hadn't been a playoff team before I got there – not that I'm saying it was all me by any means. But it can always change that quickly."
Here's a closer look (2014 records in parentheses):
WEEK 1: vs. Carolina Panthers (7-8-1), Sunday, Sept. 13, 1 p.m.
Cam Newton has gotten rid of the stigma of never having won a playoff game. And when the Panthers signed tight end Greg Olsen to a three-year contract extension, they made sure Newton's favorite target didn't get away. But what might intrigue Jaguars fans is the return of Jordan Todman, who broke loose for a 62-yard touchdown run to help wrap up a victory over the Titans in what wound up being his final game in Jacksonville. Todman also ranked eighth in the league in kickoff returns, with his departure leaving the Jaguars searching for help on special teams.
WEEK 2: vs. Miami Dolphins (8-8), Sunday, Sept. 20, 4:05 p.m.
Bortles had two interceptions returned for scores and lost a fumble when the Dolphins came to Jacksonville last October and prevailed despite being badly outgained in the first half. If he thought the Dolphins' defense was a tough nut to crack last season, wait until Bortles gets to see Ndamukong Suh in a regular-season game for the first time. Ryan Tannehill passed for 4,045 yards and 27 touchdowns last season but lost two of his top receivers when tight end Charles Clay and wideout Brian Hartline signed with Buffalo and Cleveland, respectively.
WEEK 3: at New England Patriots (12-4), Sunday, Sept. 27, 1 p.m.
As of February, Tom Brady has as many Super Bowl victories as he does wins over the Jaguars. That's because he has faced them only four times in regular-season play. Brady has completed 69.3 percent of his passes against the Jaguars for 1,011 yards and nine touchdowns with only two interceptions, good for a passer rating of 105.4. The Jaguars were hoping to make a run at Patriots safety Devin McCourty last month in free agency, but that ended when he signed a five-year, $47.5-million contract to stay put.
WEEK 4: at Indianapolis Colts (11-5), Sunday, Oct. 4, 1 p.m.
Only Drew Brees and Ben Roethlisberger threw for more yards last season than Andrew Luck, who then went on to lead the Colts to playoff victories over Cincinnati and Denver. But Luck will be without his most familiar receiver after the Colts chose not to re-sign Reggie Wayne. Andre Johnson, the longtime member of the Texans who had 273 receiving yards in a game against the Jaguars in 2012, was added to replace Wayne and serve as a complement to T.Y. Hilton and Donte Moncrief. Johnson will turn 34 before the start of training camp but has missed just one game the past three seasons.
WEEK 5: at Tampa Bay Buccaneers (2-14), Sunday, Oct. 11, 1 p.m.
With the first pick in the draft since they took Vinny Testaverde out of Miami in 1987, all indications are the Bucs will select another Heisman Trophy-winning quarterback in Florida State's Jameis Winston. To say they have been a mess of late at the position would be putting it mildly, although Josh McCown – now with the Cleveland Browns – finished last season with fewer interceptions and a higher passer rating than Bortles. The Bucs have a pair of 1,000-yard receivers in Vincent Jackson and Mike Evans, but an offensive line which allowed 52 sacks desperately needs to be upgraded.
WEEK 6: vs. Houston Texans (9-7), Sunday, Oct. 18, 1 p.m.
Barring injuries, the game will mark the return to Jacksonville of wide receiver Cecil Shorts III, who signed a two-year contract in March with the Texans after leading the Jaguars in receptions the previous two seasons. Shorts caught 176 passes over four years but had problems staying healthy. A bad hamstring kept him out of three of the Jaguars' first five games a year ago, and he never had a single touchdown catch over the final 11 weeks. Shorts ranks eighth in career receiving yards in franchise history with 2,343.
WEEK 7: vs. Buffalo Bills (8-8), at London, Sunday, Oct. 25, 9:30 a.m.
After six colorful, turbulent and occasionally successful years in New York, Rex Ryan takes over a team which has not reached the playoffs since 1999, the longest active drought in the league. Ryan replaced Doug Marrone, who opted out of his Bills contract at the end of last season and was hired by the Jaguars as offensive line coach and assistant to head coach Gus Bradley. The game will be the first in league history to be broadcast nationally exclusively on a digital-only platform, although fans in the Jacksonville and Buffalo markets can still see it on local television.
WEEK 8: Bye
WEEK 9: at New York Jets (4-12), Sunday, Nov. 8, 1 p.m.
In an offseason full of surprising trades, none might have been more jaw-dropping than the one which sent Brandon Marshall to the Jets from the Bears. Marshall, who had 100 or more receptions twice with the Bears and three times with the Denver Broncos, joins a team which averaged a league-worst 184.1 passing yards. But the combination of Marshall and 2014 free-agent signing Eric Decker ought to elevate the level of play of Geno Smith, who will now be backed up by the much-traveled Ryan Fitzpatrick.
WEEK 10: at Baltimore Ravens (10-6), Sunday, Nov. 15, 1 p.m.
This marks the second year in a row where the Jaguars will travel to Baltimore to face the only Harbaugh brother now coaching in the NFL. John Harbaugh hired Marc Trestman as offensive coordinator after Gary Kubiak left to become the new head coach at Denver, which might be as significant of a move as any the Ravens have made since losing to the Patriots in the playoffs. Nose tackle Haloti Ngata and wide receivers Torrey Smith and Jacoby Jones are all gone, while the Jaguars wasted little time claiming running back Bernard Pierce off waivers after the Ravens cut their ties with him.
WEEK 11: vs. Tennessee Titans (2-14), Thursday, Nov. 19, 8:25 p.m.
Depending on what the Titans end up doing next week with the second pick in the draft, this meeting should be more intriguing than the matchup which the NFL Network got stuck with last December. Ken Whisenhunt's first year as their coach did not go as smoothly as hoped, but there were some standout individual performances. Except for Rob Gronkowski, no tight end in the AFC racked up more receiving yards than Delanie Walker, who finished the season with 63 catches for 890 yards and four touchdowns.
WEEK 12: vs. San Diego Chargers (9-7), Sunday, Nov. 29, 1 p.m.
Rumors of Philip Rivers possibly going to Tennessee so the Titans can select either Jameis Winston or Marcus Mariota could wind up giving the Chargers' third game in as many years against the Jaguars a different twist. Rivers threw for 377 yards last September as the Jaguars kept tight end Antonio Gates largely in check but could not contain wide receivers Keenan Allen and Eddie Royal, both of whom topped the 100-yard mark. At least they will no longer have to contend with Royal, who signed as an unrestricted free agent with the Chicago Bears.
WEEK 13: at Tennessee Titans (2-14), Sunday, Dec. 6, 1 p.m.
With the Jake Locker era over before it got much of a chance to start, the Titans appear to be relying on Zach Mettenberger – who has only seven games and six starts under his belt – to turn things in the right direction. That could all change if they pass on taking USC defensive lineman Leonard Williams and go instead with whatever quarterback the Bucs don't select. Their defense added outside linebacker Brian Orakpo, cornerback Perrish Cox and safety Da'Norris Searcy in free agency, although more help is need if they are to improve significantly from ranking 27th overall and 31st against the run.
WEEK 14: vs. Indianapolis Colts (11-5), Sunday, Dec. 13, 1 p.m.
Fed up with underachieving running back Trent Richardson, the Colts signed Frank Gore in the hope of revitalizing an area which was a weak spot even before they were thumped 45-7 by the Patriots in the AFC championship game. The Colts finished 22nd out of 32 teams in the league in rushing, one spot behind the Jaguars. Other than the Detroit Lions and the Arizona Cardinals, no team ranked so low in that category and still reached the postseason.
WEEK 15: vs. Atlanta Falcons (6-10), Sunday, Dec. 20, 1 p.m.
Dan Quinn takes over for the fired Mike Smith as coach of a team which has gone 10-22 since losing at home to the San Francisco 49ers in the NFC championship game. A Jaguars pass defense which picked off only six passes last season, tied for the fewest in the league, will be severely tested by the combination of Matt Ryan and Julio Jones. Ryan topped the 4,000-yard mark in passing for the fourth consecutive year and lowered his interception total from 17 to 14, while Jones had a breakout season with 104 receptions for 1,593 yards.
WEEK 16: at New Orleans Saints (7-9), Sunday, Dec. 27, 1 p.m.
With Jimmy Graham now a member of the Seattle Seahawks, how will Brees and the Saints compensate? Graham's 10 TD receptions were twice as many as any of their other receivers. The Saints appear to have strengthened themselves elsewhere, acquiring center Max Unger in the trade for Graham and signing running back C.J. Spiller and cornerback Brandon Browner. Those additions might be enough to push the Saints over the top in a division which no one had won in back-to-back years until the Panthers pulled off that feat last season.
WEEK 17: at Houston Texans (9-7), Sunday, Jan. 3, 1 p.m.
Are Ryan Mallett and Brian Hoyer really the answer at quarterback? That might be a more burning question for the Texans than whether Jadeveon Clowney can come back from an injury-ravaged rookie season which raised further concerns about the long-range prospects for the No. 1 pick in the 2014 draft. While they improved from two victories in 2013 to nine in Bill O'Brien's first season as their coach, the Texans need to develop additional talent around running back Arian Foster and all-everything defensive lineman J.J. Watt.
BEST NON-DIVISIONAL RIVAL HOME GAME
At first glance, there's not a whole lot from which to choose as far as the four teams outside the AFC South coming to Jacksonville. While the Chargers and the Dolphins had the best records of the bunch, neither one of them reached the playoffs. But the Panthers got in despite a sub-.500 record and defeated the Arizona Cardinals in one of the two NFC wild-card games before losing to the Seattle Seahawks.
The memory of the Jaguars and the Panthers beginning play in the NFL in 1995 and reaching their respective conference championship games the following year must be hard to comprehend for anyone younger than 25. That includes a considerable portion of the Jaguars' current roster.
Newton has started 62 of 64 regular-season games for the Panthers since being taken with the top overall pick in 2011. He has never been sacked more than 43 times and has rushed for at least 539 yards in every season. Bortles was sacked 55 times in 14 games a year ago and finished second on the Jaguars in rushing with 419 yards.
BEST NON-DIVISIONAL RIVAL ROAD GAME
This call is a far easier one to make. For the first time since 2007, the Jaguars have the unenviable task of having to face a defending Super Bowl champion away from home when they take on the Patriots.
While the Jaguars posted a 25-10 victory over them in the 1998 playoffs, the Patriots are the only team they have still not beaten in regular-season play. Until losing to the Bills in the final week of last season where Brady only played the first half, the Patriots had won 35 consecutive home games against AFC opponents. On top of that daunting statistic, the Jaguars went winless on the road last season for just the second time in franchise history and the first since 2003.
MOST DANGEROUS GAME
The natural inclination would be to pick the game against the Patriots. But don't forget that the Jaguars have been outscored 50-3 in the first halves of their last two home games against the Colts. Luck's passer rating of 140.4 from the Colts' 44-17 romp last September ought to stick in the craw of everyone on the Jaguars' defense who remains from that awful afternoon.
FINAL THOUGHT
In the last four years, the Jaguars have started 1-5, 1-9, 0-8 and 0-6. Going winless for a third straight September would not be disastrous, but only if they can bounce back in a big way before heading to London. While doubling their total of three victories from a year ago would not prevent a fifth consecutive season of 10 or more losses, it would represent tangible progress for a team which hasn't established much of an identity on offense or defense.
You can follow Ken Hornack on Twitter @HornackFSFla or email him at khornack32176@gmail.com.
---
---