Jackets try to prevent sweep at hands of Canadiens
Published
Mar. 20, 2014 9:03 a.m. ET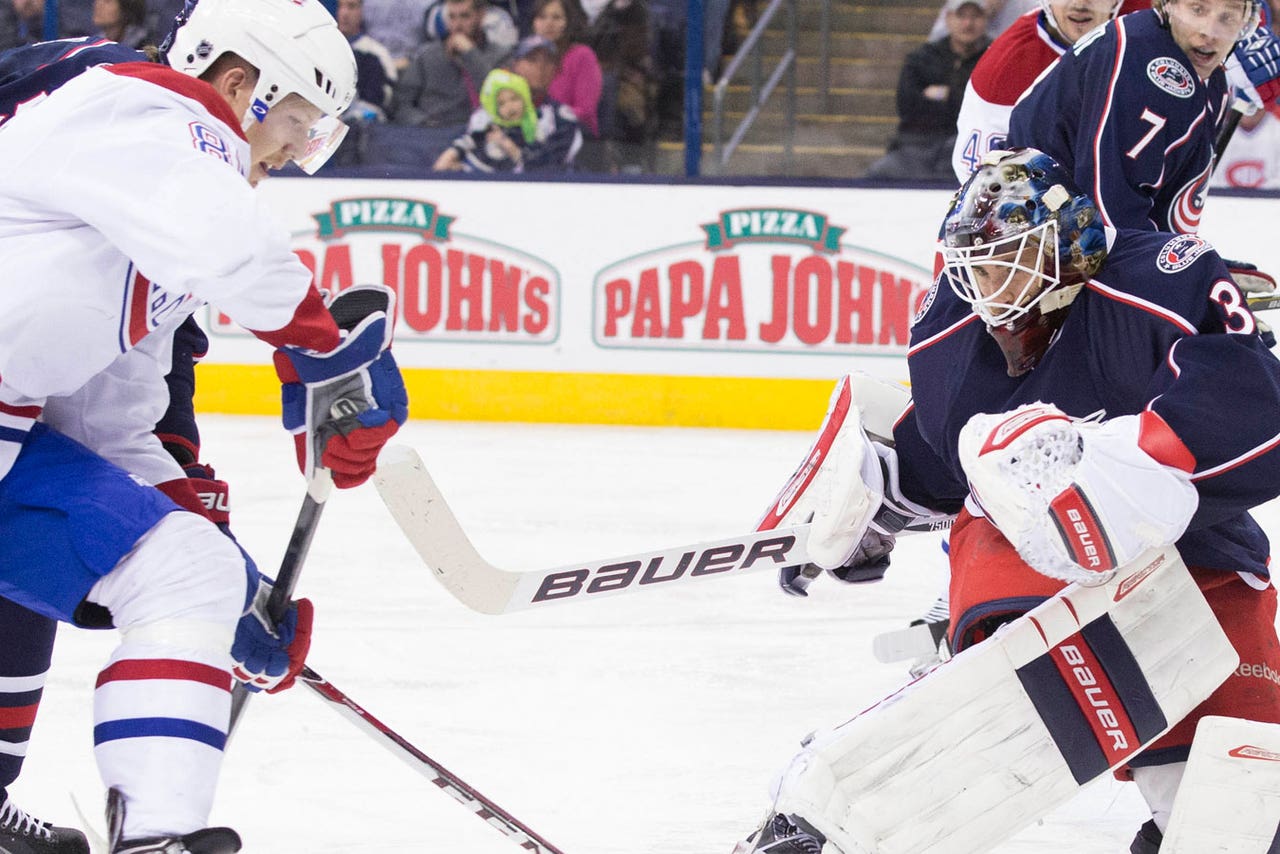 Blue Jackets Live pregame at 7 p.m., puck drops at 7:30 p.m., network: Fox Sports Ohio
Thomas Vanek finally showed why the Montreal Canadiens acquired him earlier this month.
The Columbus Blue Jackets already had problems against the Canadiens before the star winger joined Montreal.
The Canadiens seek a fourth straight win Thursday night and a sweep of the three-game season series against a Blue Jackets team that could have its eyes on its next contest.
Vanek had one assist in his first five games with Montreal (38-25-7) before turning in his ninth career hat trick in Tuesday's 6-3 home win over Colorado. He was acquired from the Islanders on March 5 after New York got him from Buffalo on Oct. 27.
"It was frustrating," Vanek said. "I think I'm pretty emotional out there and sometimes I show my frustration too much.
"But it's been a tough year moving around, trying to get your first goal with Buffalo and then a new team and then here. But I thought we were generating chances and it just didn't go in. Getting that first goal was nice. I was really pressing the last few games."
Vanek has scored two goals in nine career games against the Blue Jackets, and probably has unpleasant memories of the last time he saw them. He suffered an upper-body injury on his first shift and played only 23 seconds in the Islanders' 5-2 loss Nov. 9.
Montreal rallied from a two-goal deficit in a 3-2 shootout win at Columbus (35-27-6) on Nov. 15, and got two goals from Tomas Plekanec in a 5-3 home victory Oct. 17.
The Blue Jackets fell behind by two goals after one period in that October visit. It came to coach Todd Richards' mind when he saw Montreal score 38 seconds into a 5-4 overtime win over Ottawa on Saturday.
"It's a great building to play in," Richards said. "Watching their game against Ottawa the other night, they came out of the gate, looked a little bit like when we were there early in the year so they're a team that likes to start fast in their building."
Richards did not reveal whether he would start reigning Vezina Trophy winner Sergei Bobrovsky or backup Curtis McElhinney entering a back-to-back set.
Bobrovsky has started the last 15 games but could rest since Columbus returns home for a crucial matchup Friday night against the New York Rangers. The Blue Jackets trail the Rangers by two points for third place in the Metropolitan Division, and former Columbus star Rick Nash will make his long-awaited return to town.
Columbus fell 3-1 at home to Carolina on Tuesday despite a 47-20 edge in shots on goal, including 19-0 in the third period.
"I think we were missing some desperation early in the game," Richards said. "I think we had desperation in the third period."
The Blue Jackets are 0 for 18 on the power play over their last six games. The Canadiens have killed off all 16 penalties in their last five.
Montreal star Max Pacioretty has gone six straight games without scoring, the 30-goal scorer's longest drought since an eight-game dry spell Oct. 15-Nov. 16.
The Blue Jackets activated Jared Boll on Wednesday. The winger has missed 45 games due to a torn tendon in his ankle.
---