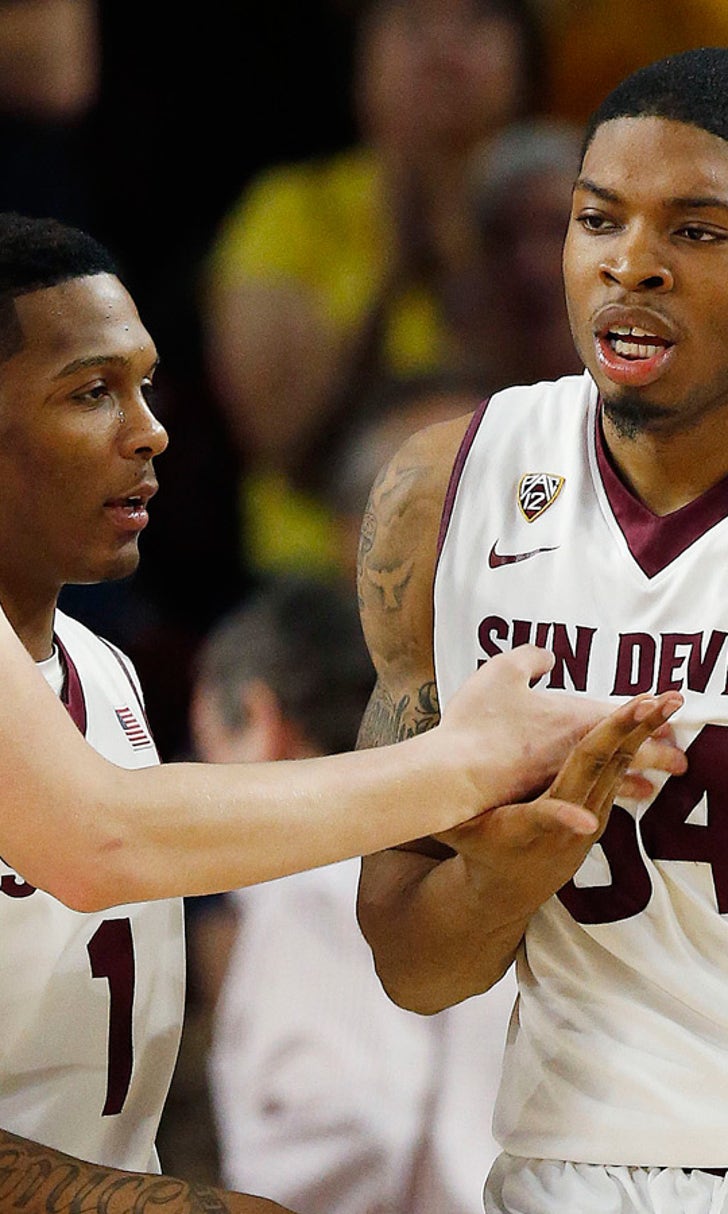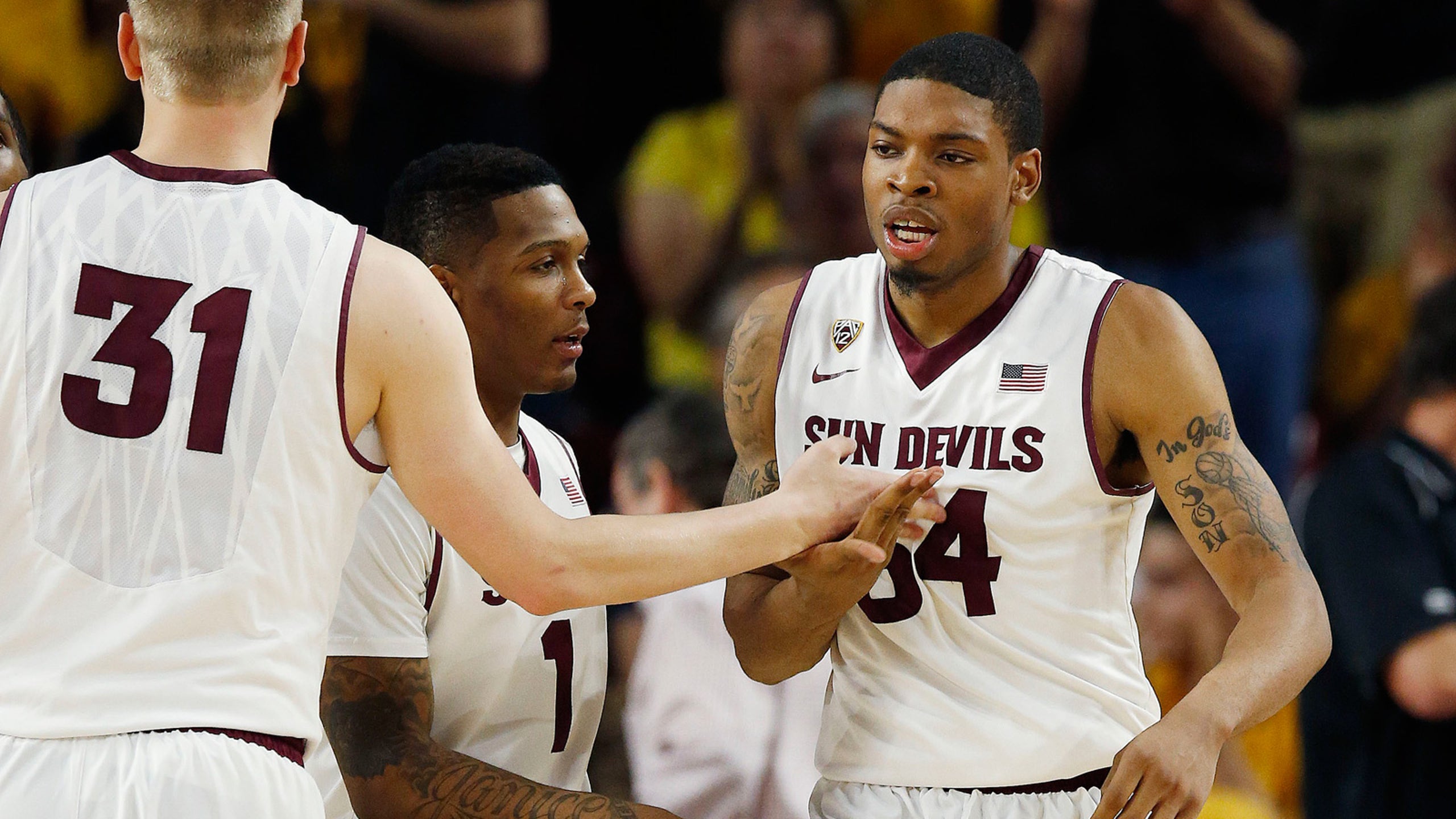 'J-amigos' carry the load for Arizona State
BY foxsports • February 18, 2014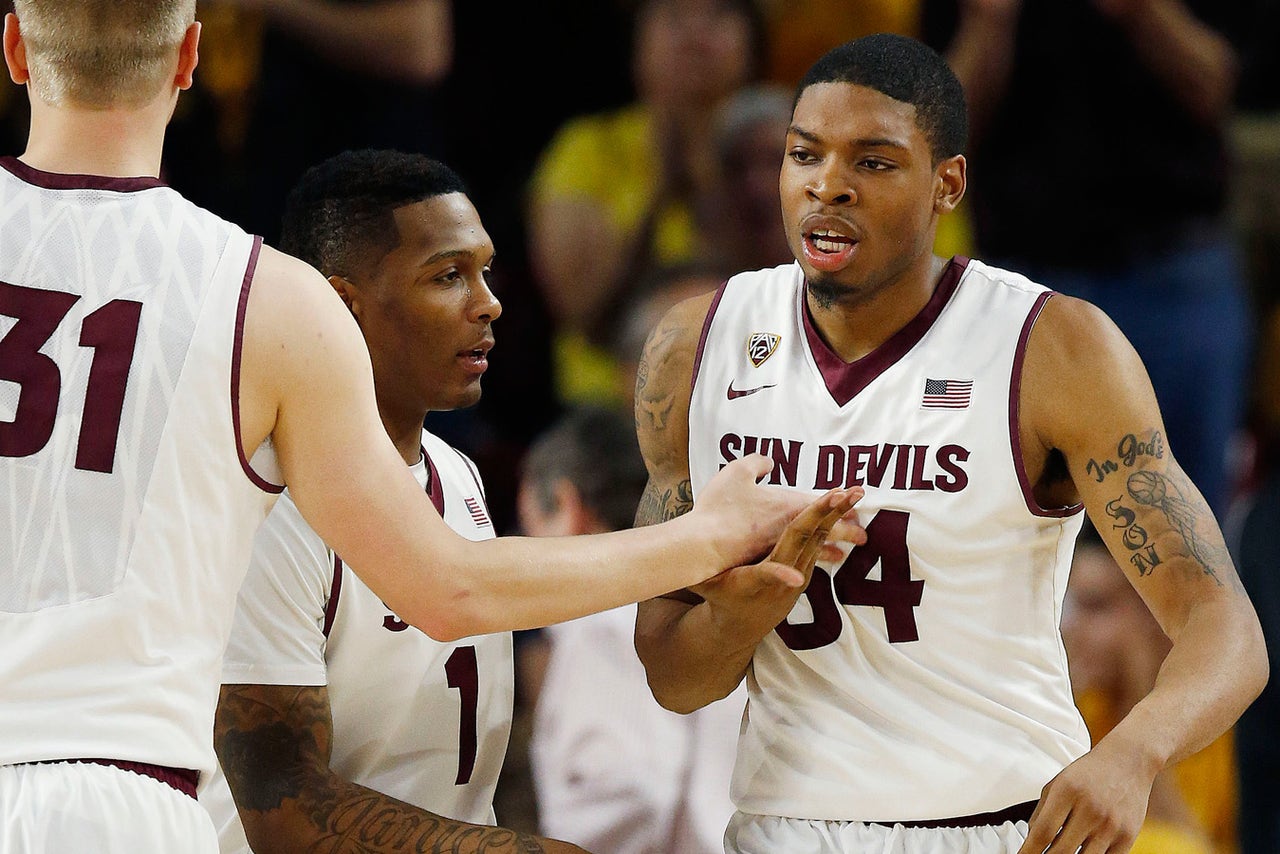 TEMPE, Ariz. -- Someone suggested Arizona State's big three needed a nickname.
After first demurring, Jahii Carson tried one on for size.
"The J-amigos?" he suggested.
For a working title, it fits just fine.
Carson, Jordan Bachynski and Jermaine Marshall have led the Sun Devils within a standard deviation of the NCAA tournament while giving opponents three-pronged problems. The arrival of Marshall has completed the whole, giving ASU a third scorer and one who seems to relish the big moment.
His go-ahead layup with 14 seconds remaining in double overtime keyed a 69-66 victory over No. 2 Arizona on Friday, the biggest home victory in school history -- and at the same time, one they are trying to distance themselves from as they visit Colorado and Utah this week. The Sun Devils (19-6, 8-4) meet Colorado (19-7, 8-5) at 9 p.m. Wednesday.
"We had a meeting and we talked about not being satisfied," Marshall said. "Our ultimate goal was not to beat Arizona. It was great to do, but that is not our goal this season. It's to get the tournament. We need every win. We need to move on, get over that game. We don't want to go there (Colorado) after such a great win and let ourselves down.
"We control our own destiny, that's the great thing about it. We're going to keep fighting and try to get as many wins as possible to get in the dance."
ASU has won six of its last seven games and is projected as a No. 8 seed in one mock NCAA tournament bracket and a No. 9 seed in another this week, but they will play four of their last six games on the road, with home games against Stanford and California. Players say they are not caught up in the math.
"We don't try to think specifically how many wins we need or how many teams we have to beat," Carson said. "We just know if we defend our home court, we have a good chance to get a berth."
While Shaquille McKissic has drawn the defensive assignment against an opponents' top wing threat, new starter Eric Jacobsen has added physical play inside and sixth man Jonathan Gilling helps the offensive flow, Arizona State would not be knocking on the NCAA door without the "J-amigos."
Bachynski, Carson and Marshall have been all over the Pac-12 and national leader boards all season.
Bachynski leads NCAA Division I with 115 blocked shots, an average of 4.6 per game, and is six blocks short of breaking his own league record set a year ago. He is second in Pac-12 play in field goal percentage (56.4) while averaging 11.9 points a game and is sixth in rebounding (8.2). His free throw percentage is 78.6.
Carson, a Bob Cousy Award finalist, is one of two players in the league averaging 18 points and four rebounds in Pac-12 games, at 18.4 and 4.1. The Sun Devils' primary ball-handler, he is one of four players averaging at least 35 minutes a game.
Marshall, a 6-foot-4 transfer from Penn State, has given ASU a scorer who seems as comfortable on the perimeter as he is taking the ball to the basket. He is averaging 17 points a game in league play and is second in the Pac-12 with 29 three-pointers, making 42 percent.
"I can't imagine a smoother transition," ASU coach Herb Sendek said of Marshall's addition.
"Teams have to pick their poison," Carson said. "We have the big fellow inside, I can start to make plays, Jermaine is going to hit shots. When all three are connecting and clicking, it is definitely tough to get stops."
Marshall has scored 29, 12, 25, 22 and 22 points since recovering from a strained groin, and he has made 16 of 38 on 3-pointers in that stretch. His three with 17 seconds left at California sent the game into overtime before the Sun Devils won, 89-78.
"Whenever he is on the floor, whether he scores or he doesn't, his presence beings a lot. Defenses have to focus on him," Carson said.
"It just takes a huge toll and we are able to score more. Then when they forget about him, and they forget that he can drive to the basket and make plays by himself, that makes a huge contribution to our team. He can make big plays. He is all about the team. When you have a guy like that who is older, more mature and is all about the team, it adds that much more positive spirit to our team. I follow his lead. He follows my lead. We follow the big fellow's lead. When we are all connected as three, it is tough to beat us.
"I think we're hitting our peak, and everybody knows what we need to do to win basketball games."
The trio, all in their last college season, have embraced their roles as team leaders. 
"We text each other after the game, before the game. Talk about what we need to do, the leadership we need to bring" Marshall said. "We communicate during the game as well. We'll try to give each other tips during the game, in huddles and timeouts. The biggest key is just listening to each other and trusting each other. I think we are doing that, and it is showing on the court."
Follow Jack Magruder on Twitter
---