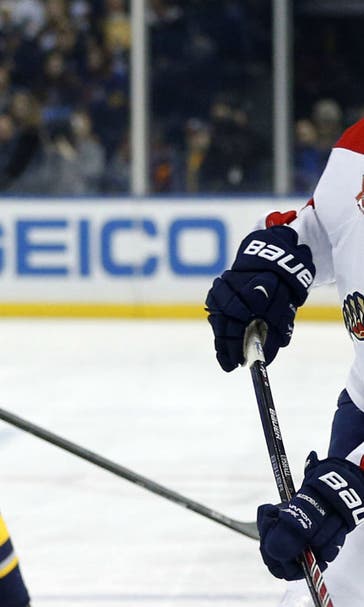 Islanders at Panthers game preview
January 13, 2014

Time: Tues., 7:30 p.m.
TV: FOX Sports Florida
Almost six years have passed since the New York Islanders won five games in a row. It's been much longer since they took eight straight on the road.
The Islanders hope to accomplish both while matching the club record for consecutive road victories when they face the Florida Panthers on Tuesday night.
John Tavares scored the go-ahead goal with 1:24 to play to help New York (18-22-7) overcome an early two-goal deficit and win 4-2 at Dallas on Sunday. Tavares added an assist and Kyle Okposo had two goals as the Islanders scored three times in the final 4:16 to win their fourth straight and seventh in eight contests.
"We're competing. We're defending a little better," said coach Jack Capuano, whose club is in the midst of its longest winning streak since February 2011. "Playing more within the team concept. I think when you can utilize your four lines that we do, a lot of guys the minutes are distributed."
While New York looks to win five straight for the first time since a six-game run Feb. 12-21, 2008, it's also in position to equal the club record of eight consecutive road victories set Feb. 27-March 29, 1981. Halfway through a season-high six-game trip, the Islanders have outscored opponents 29-16 during the last seven road contests, including 14-2 in the third period.
Sunday's victory marked the third time in four games that New York scored three third-period goals.
"It's good to have a team that can play the third period as their best period, whether you're ahead or behind," defenseman Calvin de Haan told the Islanders' official website.
Tavares has eight goals and 10 assists in nine games while Okposo has scored 11 of his 19 goals in his last 15 contests. De Haan has recorded five of his six points in the last four games in the third period.
Okposo has two goals and two assists during New York's four-game winning streak over Florida (17-21-7), which is second to last in the Eastern Conference but only two points behind the Islanders.
The Panthers have split their last six games but earned at least one point in five. They concluded a 1-1-1 trip by allowing a goal with 2.1 seconds left in overtime of Saturday's 2-1 loss to New Jersey.
Florida has been held to one goal three times during its current 2-1-2 stretch that's made up of a one-goal regulation defeat, three games decided in a shootout and one in overtime.
"We think we can play a lot better," Florida's Tim Thomas told the NHL's official website after making 34 saves to fall to 11-11-3 with a 2.57 goals-against average.
"We're happy that somehow we eked out a point, but we can play better than that. We have played better than that."
Thomas could face New York for the first time since he left the Islanders as a free agent in July after not playing a game for the team he was traded to from Boston in February. The Bruins suspended Thomas for failing to report to training camp after he decided he would sit out the 2012-13 season.
Florida's Brad Boyes, who had 10 goals and 25 assists for the Islanders last season, has a team-leading 12 goals and one in two straight home contests.
---