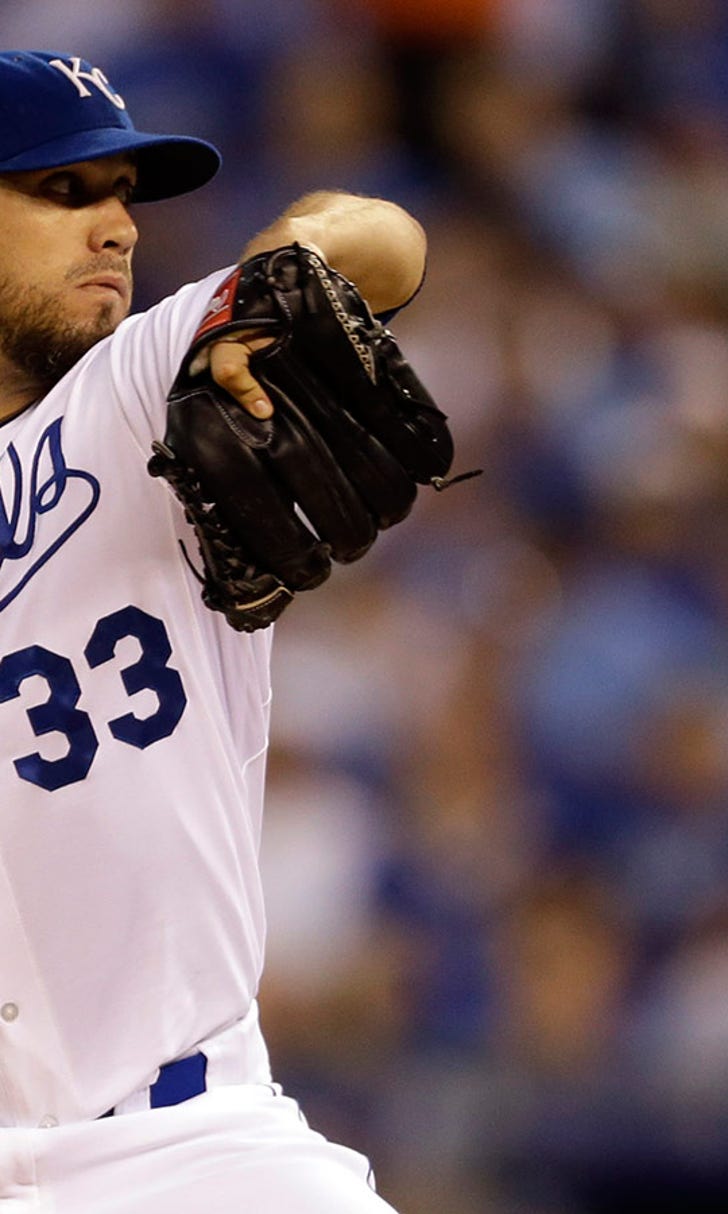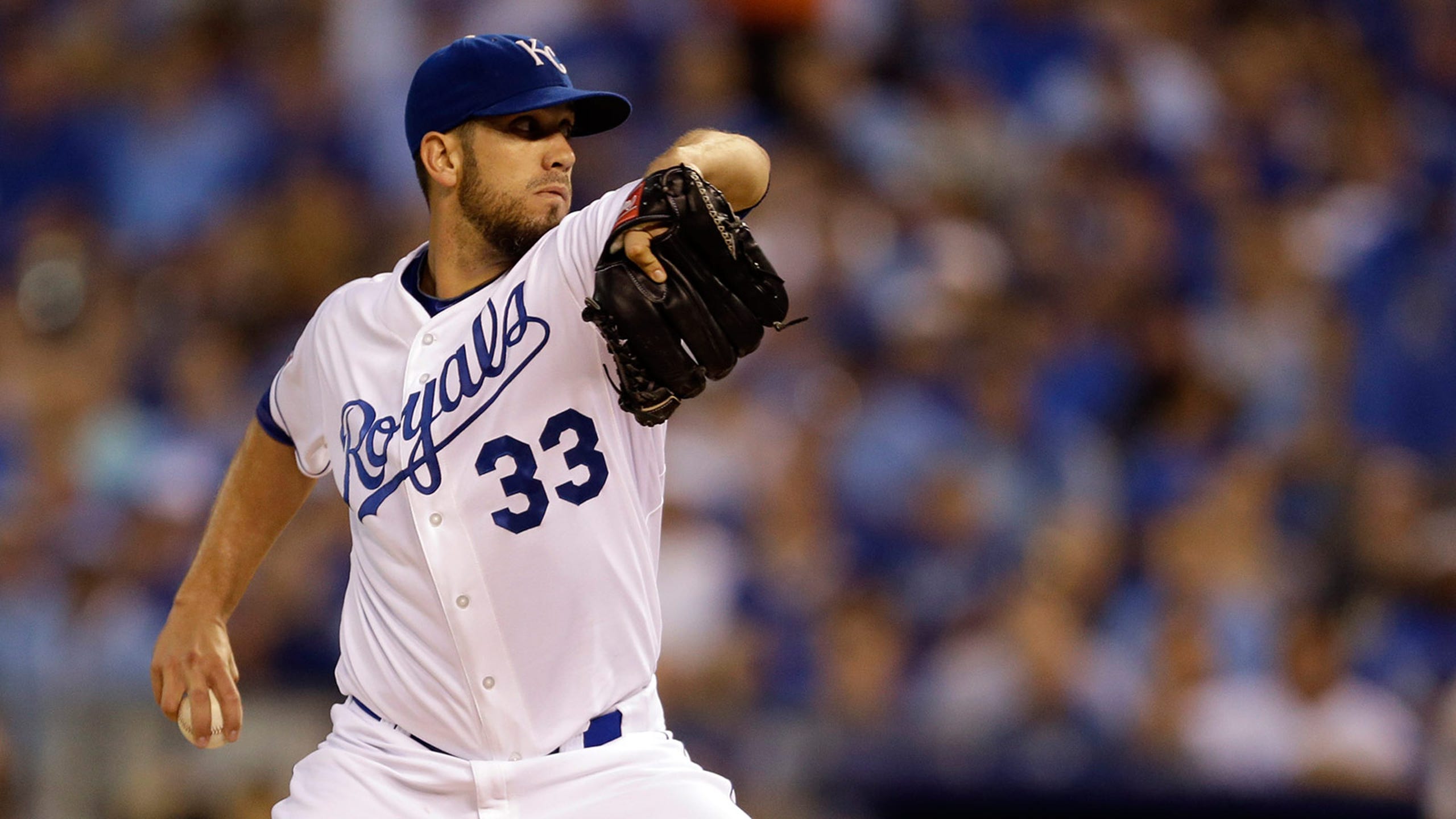 Is Shields really worth $100 million?
BY foxsports • January 5, 2015
"You go through The Sporting News for the last 100 years, and you will find two things are always true:  You never have enough pitching, and nobody ever made money."
- Donald Fehr
Sunday, our Ken Rosenthal reported that free-agent starting pitcher James Shields, lately of the Kansas City Royals, will likely wind up with a contract of at least five seasons and $100 million. Not that anything's set in stone ...
The talk of Shields and $100 million does not mean that he indeed will land such a deal. Third baseman Chase Headley reportedly received a four-year, $65 million offer from an unidentified club early in free agency but wound up re-signing with the Yankees for four years, $52 million.

Some executives, in fact, say they would be surprised if Shields topped $100 million, considering he is 33 and perhaps due for regression coming off eight straight 200-inning seasons.

The bottom line: Certain clubs have backed off Shields due to the expected price, according to major-league sources. The Marlins and Diamondbacks are among those teams, sources say.
We will, once Shields finally signs, devote many electrons to whether or not he's "worth" whatever his new employer has committed. We can guess he'll be "overpaid" – The Winner's Curse and all that – but will that sort of analysis be interesting or useful? Let us suppose that he actually signs for five years and $100 million ... Is there any meaningful difference between five years and $100 million, and five years and $90 million? The difference between a $20 million AAV (average annual value) and an $18 million AAV is utterly meaningless to anyone except Shields and his agent. And, I suppose, maybe another free agent or two out there.
Now, if Shields winds up signing for just four years instead of five ... Why, that might actually make a difference for the team that's not on the hook for a fifth year of a potentially debilitating contract. But if it takes five years to sign Shields and there's a fair amount of competition to sign him, the "winner" of the auction will have overpaid but not in a particularly meaningful way. He's going to get what guys like him get, plus maybe just a little more.
What's more meaningful is just how good he'll be. And as Joe Sheehan pointed out Monday morning in his newsletter, Shields just isn't likely to be real good.
Essentially, it comes down to this: Shields has benefitted, for essentially his entire career, from both good fielders behind him and pitcher-friendly home ballparks.
In Shields' defense, his career ERA's right in line with his fielding-independent pitching stats. So his 3.72 career ERA? That's almost exactly the pitcher that Shields has actually been. Which makes him ... good, but hardly great. And at 33, he's highly unlikely to become great.
Joe notes that Jack Morris was the same sort of pitcher until he was 32, then fell off quite a bit for three seasons before rebounding with a couple of strong seasons at 36 and 37. In terms of ERA, this is largely true. But Morris wasn't actually a significantly different pitcher from 33 to 37 than he'd been from 28 to 32. His ERAs jumped a bunch, but his fielding-independent stats were fairly close.
Morris pitched exceptionally well in 1983, but otherwise he was just a really good, Shields-like pitcher from 1979 through '92, piling up a ton of innings and nearly always keeping his team in the game. That's James Shields, and I expect Shields to keep being Shields for another four or five seasons. Is he "worth" $18 million, or $20 million, or $22 million per season? Why, yes: That's almost exactly what he's worth. Barring a serious injury, his annual value on the field – around 3 Wins Above Replacement, and assuming a small age-related decline from season to season – is worth around $20 million. That's been true in each of the last four seasons, and probably will be true in each of the next four.
Still, when Shields does get his (approximately) $20 million AAV, some will be surprised and some will be incensed, because it's just difficult to get your brain around the idea that $20 million does not buy greatness.
In fact it's difficult to buy greatness at any price, because by the time a player's old enough to demand the market rate for greatness, he's about to begin the slide into non-greatness. For one example, see Albert Pujols. But there are many, many, many other examples. CC Sabathia, for example.
If you want to add 3 WAR next season, you spend $20 million on James Shields. Way back when, one creative owner suggested to his fellows that every player should become a free agent after every season. Because they'd been fighting for their freedom, the players might have felt compelled to accept such a thing. But the fellow owners couldn't imagine a world without long-term contracts. So they got them, and you can't spend just $20 million on James Shields. Instead of getting 3 WAR for $20 million, you spend $100 million and hope for a dozen WAR. Because you've got the money, and the taxpayers are probably springing for that new video screen in the outfield. You pays your money and you takes your chances, because nobody's really figured out a better way to do it.
---
---