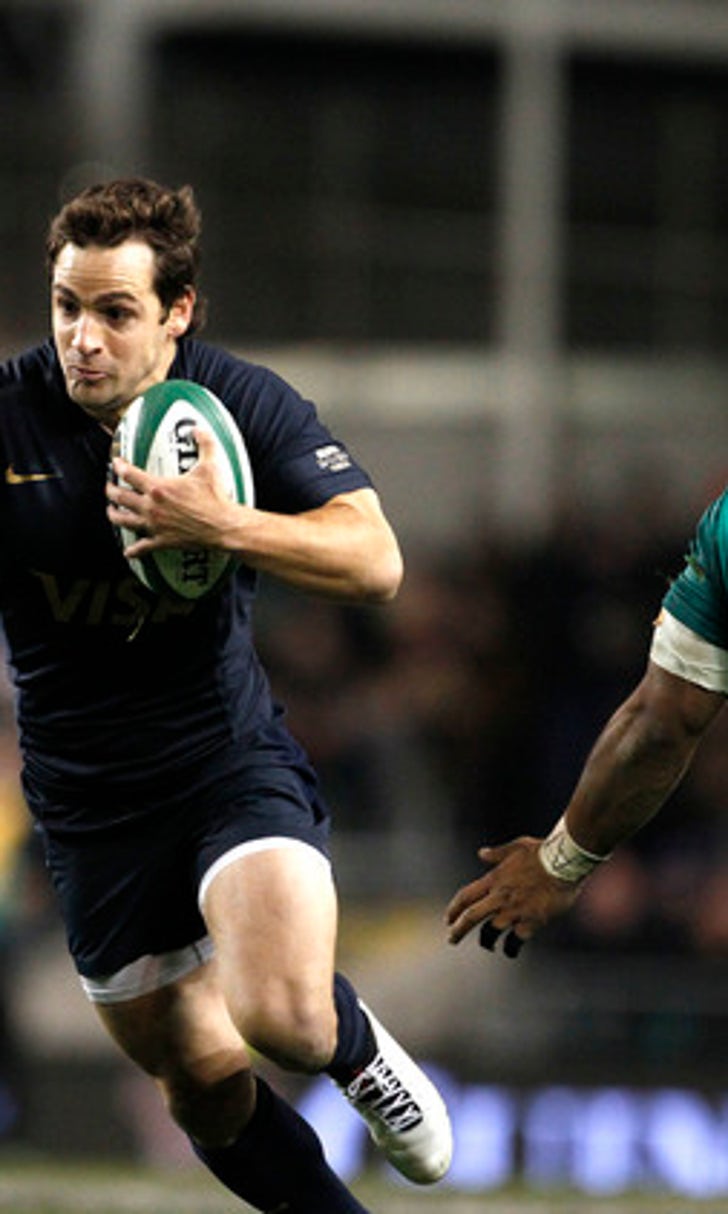 Ireland defeat Pumas 28-19 to sweep home tests
BY AP • November 25, 2017
DUBLIN (AP) Ireland swept its autumn rugby tests after holding off Argentina 28-19 at Lansdowne Road on Saturday.
In their first matchup since the 2015 Rugby World Cup quarterfinals, Ireland earned a measure of revenge.
Ireland had the result in hand leading 20-0 in the third quarter and 25-7 into the fourth.
Winger Jacob Stockdale scored two tries and No. 8 CJ Stander the other. Jonathan Sexton kicked over 13 points.
Argentina's tries came from fullback Joaquin Tuculet, replacement No. 8 Juan Manuel Leguizamon, and winger Ramiro Moyano as they finished a miserable 2017 with just two wins and 10 defeats.
''They surprised us in the way that they played,'' Argentina coach Daniel Hourcade said, referring to Ireland's attacks down the wings.
''It is a way of playing we are used to because we play with southern hemipshere teams. When we got used to the way they were playing and we were comfortable on the field, we matched what they were doing and started to dominate.''
Joe Schmidt didn't believe the game plan for his 50th test in charge of Ireland was any different than normal.
''We want to mix our game up, there is a real license to play,'' he said.
During the anthems, the Pumas held a shirt bearing the number 44 to honor the missing sailors on the ARA San Juan submarine, which vanished 10 days ago.
Argentina's scrum struggled, losing two tightheads in the first half, one of which led to Ireland's second penalty by Sexton.
Also, Stander, prop Tadgh Furlong, and center Chris Farrell were punching holes to good effect.
In the 21st minute, the impressive Farrell's soft hands took out flanker Pablo Matera and center Santiago Gonzalez-Iglesias. Sexton ghosted into the space vacated and Stockdale was on his shoulder to finish off.
Argentina's running game was failing to fire. The Pumas had 18 phases in the Irish 22 late in the first half, but couldn't breach the defense.
The game appeared beyond doubt in the 42nd, when Stockdale came off his wing to take a flat pass from Sexton in midfield. His arcing run from the Argentine 22 earned him a third try in two tests.
''Jacob is a kid who is learning fast,'' Schmidt said. ''He is a big young lad. I thought he finished off that second try really impressively.''
Argentina responded with extended pressure. Flyhalf Nicolas Sanchez chipped in behind the flat Irish defense for Tuculet to score in the 55th.
Ireland turned down a kickable penalty with an hour gone and it paid off when a rolling maul from the lineout ended with Stander scoring.
The Pumas kept the match interesting with a Leguizamon's try in the 71st but time was running out.
Sexton's 75th-minute penalty gave the Pumas no way back, but they finished with a consolation try for Moyano in injury time.
Ireland has never lost to Argentina in Dublin, an eighth successive win.
---