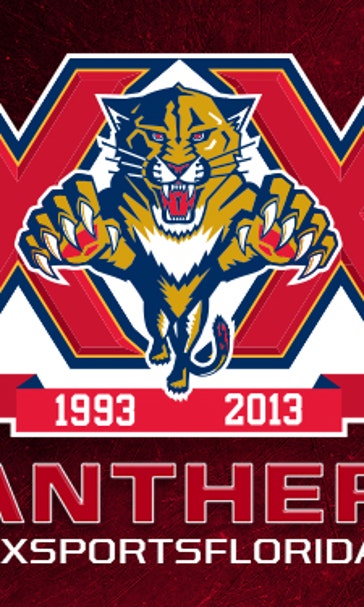 'Inside the Panthers: Young Guns' debuts Feb. 4 on FOX Sports Florida
January 31, 2014

FORT LAUDERDALE, Fla. --€" On Tuesday, Feb. 4 at 10:30 p.m., FOX Sports Florida, the regional television home of the Florida Panthers, will debut a new episode of "Inside the Panthers" upon conclusion of the Panthers vs. Toronto Maple Leafs game. Titled "Young Guns," this episode will spotlight many of the young players in the Panthers organization, both at the National Hockey League and minor league levels.
Hosted by Drew Goldfarb and produced by Frank Forte, the show features a look back at draft days for several of the Panthers emerging stars and goes in-depth with their background, development and entry into the NHL. "Young Guns" also goes beyond the Panthers presence in South Florida. Viewers will get to visit the Cats' American Hockey League affiliate in San Antonio for interviews with prospects Vincent Trocheck, Jacob Markstrom, Quinton Howden, Wade Megan and Garrett Wilson, along with Rampage Head Coach Tom Rowe.
This episode features sound from:
-- Executive Vice President and General Manager Dale Tallon
-- Panthers Head Coach Peter Horachek
-- Panthers Director of Scouting Scott Luce
-- Panthers teammates Nick Bjugstad, Aleksander Barkov, Jonathan Huberdeau, Erik Gudbranson, Dylan Olsen
Re-air schedule:
Thu 2/6/2014 --10:30 p.m.
Fri 2/7/2014 --10:30 p.m.
Thu 2/27/2014 -- 10:30 p.m.
See all of this and more on "Inside the Panthers: Young Guns" and be sure to follow @FOXPanthers on twitter and visit FOXSportsFlorida.com for channel listings and exclusive Florida Panthers coverage.
About FOX Sports Florida / FOX's Sun Sports
FOX Sports Florida & FOX's Sun Sports are the regional television homes of the Orlando Magic, Tampa Bay Rays, Miami Heat, Miami Marlins, Tampa Bay Lightning, Florida Panthers, Florida State University and the University of Florida. The regional sports networks are available in more than 6.5 million cable & satellite homes across the state. FOX Sports Florida and Sun Sports are committed to making a positive impact in the communities we serve by engaging our audiences and providing award winning TV  and web coverage of Florida's hometown sports teams. For more information, channel listings and how you can get involved with FOX Sports Florida / Sun Sports, visit  www.foxsportsflorida.com
---