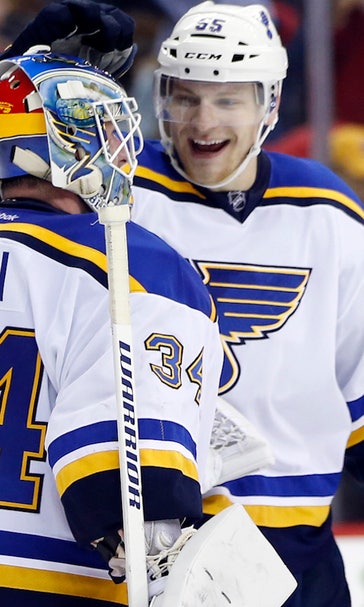 Inside locker room, Blues are noticing key difference this year
May 14, 2016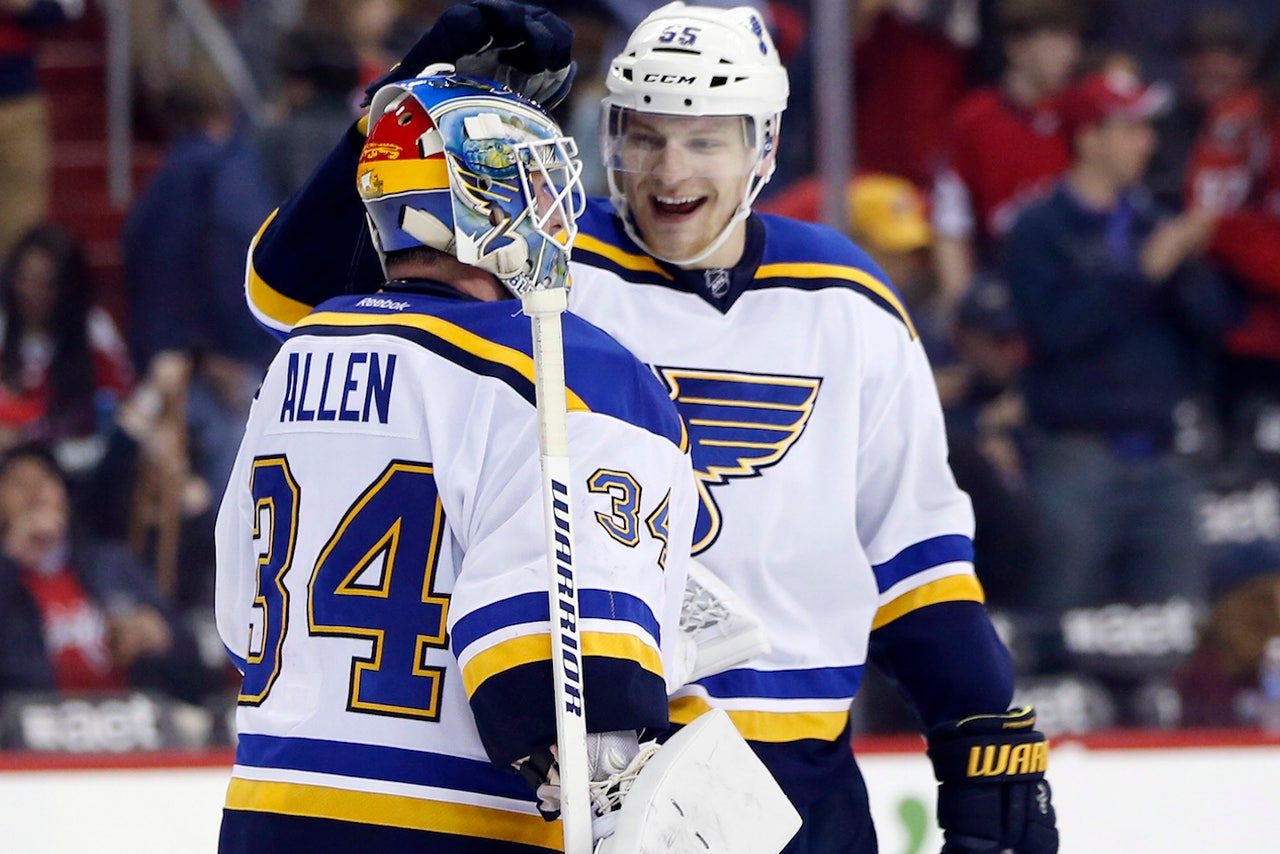 ST. LOUIS -- €"This, perhaps, is how you begin to erase 48 years of playoff shortcomings.
Before a Game 7 triumph over the Blackhawks in Round 1 this April, before a dominating Game 7 dispatch of the Dallas Stars in Round 2, there was a twist to the Blues' regular season that no one saw coming: injuries --" lots and lots of them, to players it seemed the Blues, battling in the toughest division in hockey, could ill afford to lose.
Instead, it made them stronger.  
"Adversity forced us to become a team," explains head coach Ken Hitchcock. "I saw a lot of organizations and a lot of teams that went the other way this year that had similar situations to what we went through, and we went the right way. It built a trust that, quite frankly, can last for years."
After another crushing playoff exit last April, captain David Backes and a few others stayed deep into the offseason -- almost July 1-- searching for answers to the Blues' playoff yips. The club was tired of putting in 82 games of work to squander it away in two weeks. They were over the "painful" early exit interviews that had become a playoff ritual.
"There weren't many stones unturned for resources in reaching out, whether it's other hockey people, other sports people, other non-sports people that have had success," Backes says. "Just kind of a humbling admission that we didn't have all the answers and we needed to find them."
There is a sense among Blues players that this year's advancement to the conference finals is not the result of a silver bullet crafted this offseason, but rather the fruits of knowledge and labor gained over several years instilling a culture and learning what works (and what doesn't).
This season, the Blues discovered that, in order to win, they needed to communicate better.
"We've learned over time that going quiet, not talking to each other, not dealing with the issue immediately to get moving ahead doesn't work," Hitchcock says. "We've learned to talk through adversity, and we've learned to hang together. I've said this before, the adversity created it. We had to deal with it, we had no choice.
"If we wanted to stay alive in the season, if we wanted to keep getting points, we had no choice but to deal with real issues, real time, and we did it. And it gained confidence that we could deal with issues during the competition, so instead of waiting for a period to be over or waiting for a game to be over to deal with the issue, we dealt with it immediately on the bench, and that's a big change."
Couple that development with an approach this postseason that goaltender Jake Allen identifies as "more realistic":
"We're going to get scored on. We're going to give up two or three goals in a game," he says. "Who really cares? This postseason, it's not about stats, it's not about anything like that. If we win 7-6, great. If we win 1-0 ... I think we're just coming to an approach that we've got to find a way to win games, and there's 60 minutes out there to do it. And if we're trailing after the first 33 minutes, [it's] not a big deal. We've still got lots of time left."
In other words, the Blues aren't putting any extra pressure on themselves in how to get the job done -- their focus is on getting it done. It doesn't have to be pretty. Pundits may speculate how a game or series should go. But the Blues only care about the end result, which means they're far from rattled when something doesn't go their way (such as an overturned goal).
General manager Doug Armstrong noticed this mental toughness help the team conquer two Game 7s, where some recent incarnations of the Note couldn't even get that far.
"Not getting rattled when we had a couple opportunities to take Chicago out and came back and did it in Game 7, not getting rattled when we had an opportunity to take out Dallas and didn't do it ... then go on the road and win in Game 7 -- €"this is a mentally strong team," he says. "And I think that starts with the leadership of Backes, [Alexander] Steen, [Troy] Brouwer and [Paul] Stastny."
Most of the veterans seem to be playing better than ever in these two rounds: guys such as Patrik Berglund, Steen and Backes are enjoying solid postseason performances. As captain, Backes is "probably the guy who," according to Vladimir Tarasenko, "everybody follows."  
Ryan Reaves, a teammate of Backes for several seasons, describes a change he's noticed in the captain's demeanor this year when things go wrong. Before, Reaves says, if something went wrong on the ice, Backes would go back out looking like, metaphorically speaking, he wanted to "kill somebody" to snatch back the momentum.
"I used to use the term 'suspy eyes' [suspension eyes],'" Reaves says. "Sometimes he'd have the suspy eyes and go out there and try and just murder somebody and get the boys back into a game. A lot of the times, it works. Sometimes, it backfires."
Now, Backes is more calm: when something goes wrong, he simply goes back out on the ice and plays the right way (though he certainly won't shy from contact).
"It kind of just relaxes everybody else: the way he goes out and plays the right way," Reaves says. "I think his resolve when something goes wrong has been the best I've seen since I've been here."
Allen, who praises his captain effusively ("an ultimate leader for us, on and off the ice," "a professional in every way possible") adds his own observation: "I think all those tough times have sort of added up to him realizing what's necessary and what's not necessary [in playoffs]."
Part of figuring out what's necessary goes back to how the team communicates. Backes credits the entire leadership group with keeping everyone on the same page this postseason, but admits it's been a learning process.
"It's something where you're trying to find the right mix of having enough guys involved and not having too many guys involved, finding that sweet spot," Backes says. "I take blame for maybe not having all my ducks in a row and trying to do at times too much myself, at times deferring too much. But I think we've found a great spot right now where we've got different guys taking care of different aspects and everything just seems to be a daily routine of we know what's going to happen and when something comes up, there's a guy that's right on top of it, squashing it, communicating to the rest of the guys."
And everyone seems to be responding. This year, Allen believes, there's a different feel in this room when it comes to buying in.
"Inside the locker room, we notice a big difference in our team this year compared to last year: just the competitive side, the work side, the buy-in side," he explains, before clarifying: "It's not a major difference, but it's maybe a few minutes a game that do turn the ship the right way. And if you don't have those, like last year, we're sitting on our couches watching TV."
Like Tarasenko says, "There's only one way to get deeper [in the postseason]: when everybody helps each other."
And while buy-in may seem a natural instinct, veteran Steve Ott insists that full-fledged commitment is learned.
"Over the years, every team's different, but now you're seeing that when you have that 100 percent buy-in to play a structured game with the type of personnel we have, how we're built for the playoffs, and then you start getting success from it, I really do believe it uplifts everybody," Ott says. "It has us kind of all pulling in the same direction."
The young guys, of course, must learn to buy in at an accelerated rate -- rookies such as Robby Fabbri and Colton Parayko have caught on so quickly that it almost seems unfair. But that's where a good leadership group shows its worth: the younger guys are surrounded by those who've already learned the needed lessons, which can speed up the learning process.
"[The younger guys] just see what it takes to succeed," Allen says. "I just think watching a guy like [Backes], a guy like Steener, a guy like Ells just come to the rink every day and what it means to be in the Stanley Cup playoffs and what it means to be a Blue -- "they just rub off on everyone the right way."
In other words, four consecutive early postseason exits, at long last, are starting to bear fruit.
---
---