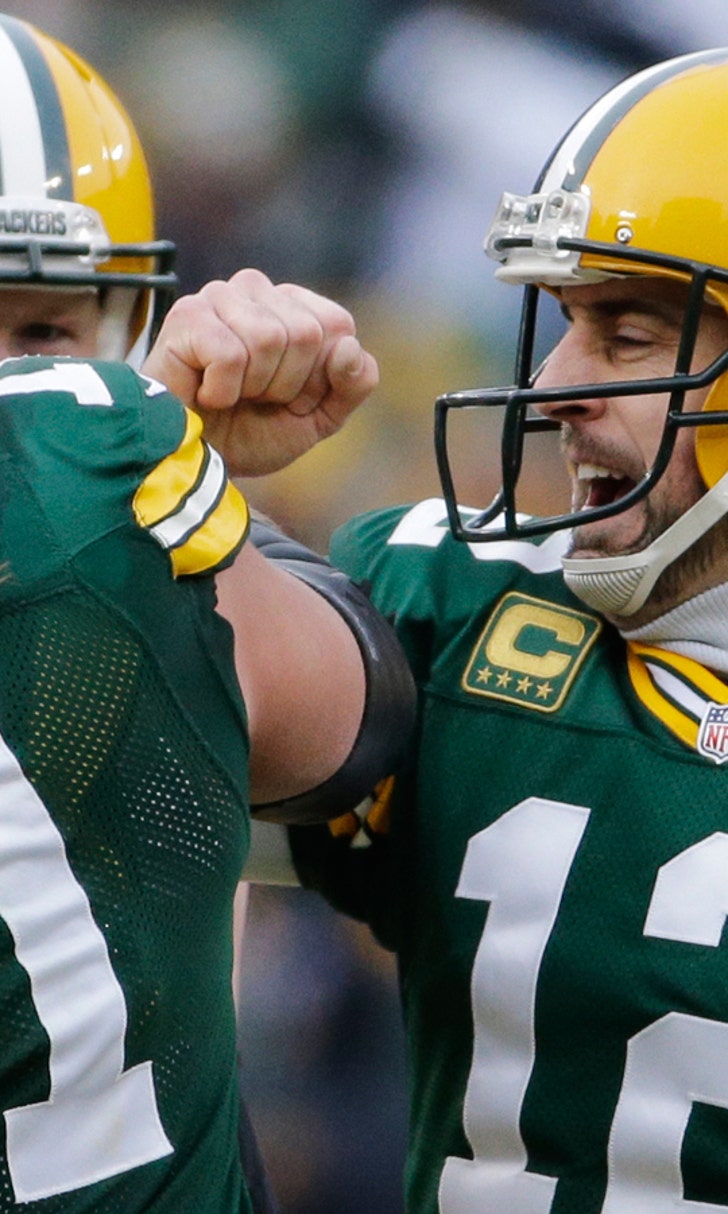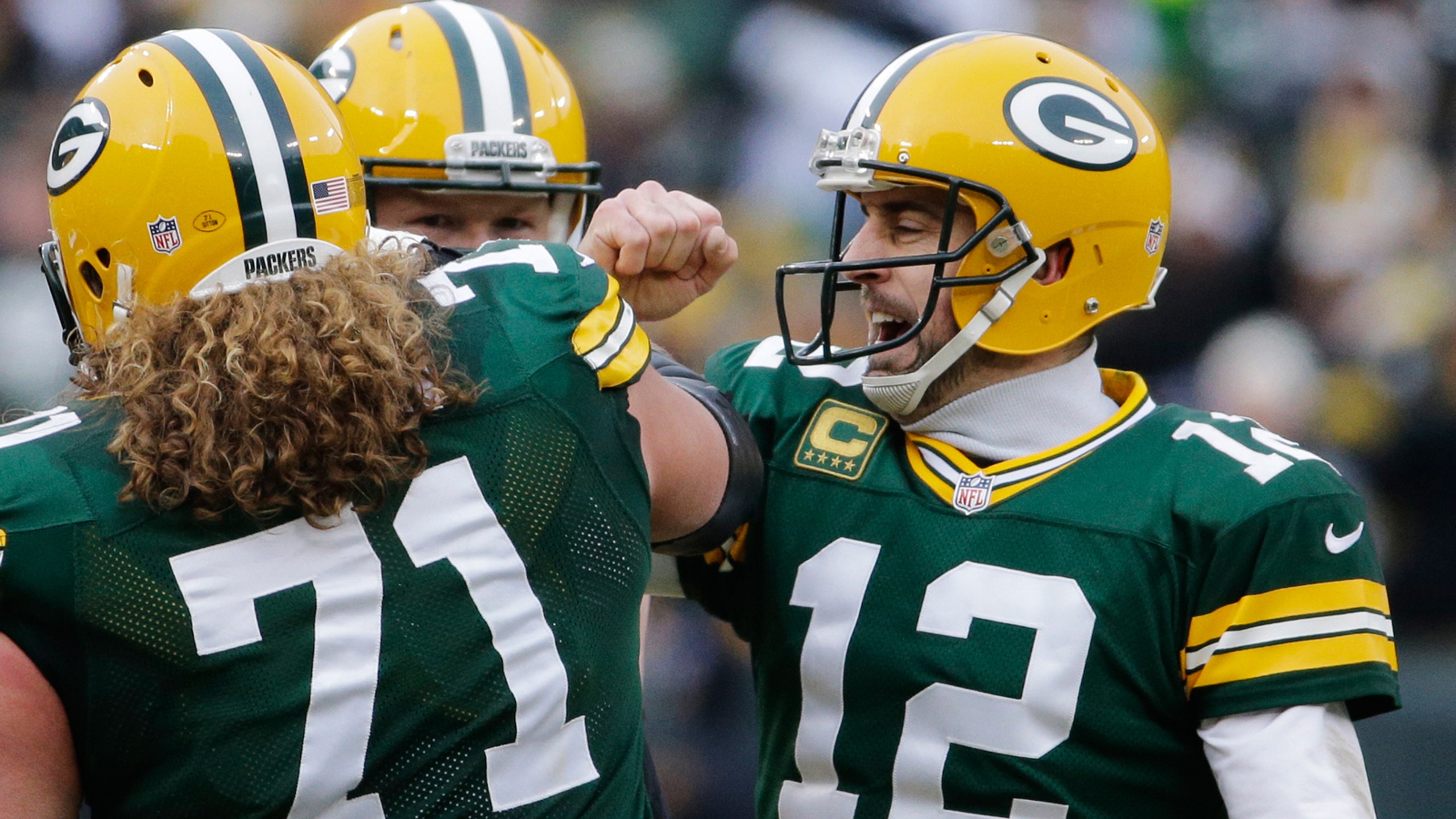 Injured Rodgers carries Packers to win with special performance
BY foxsports • January 11, 2015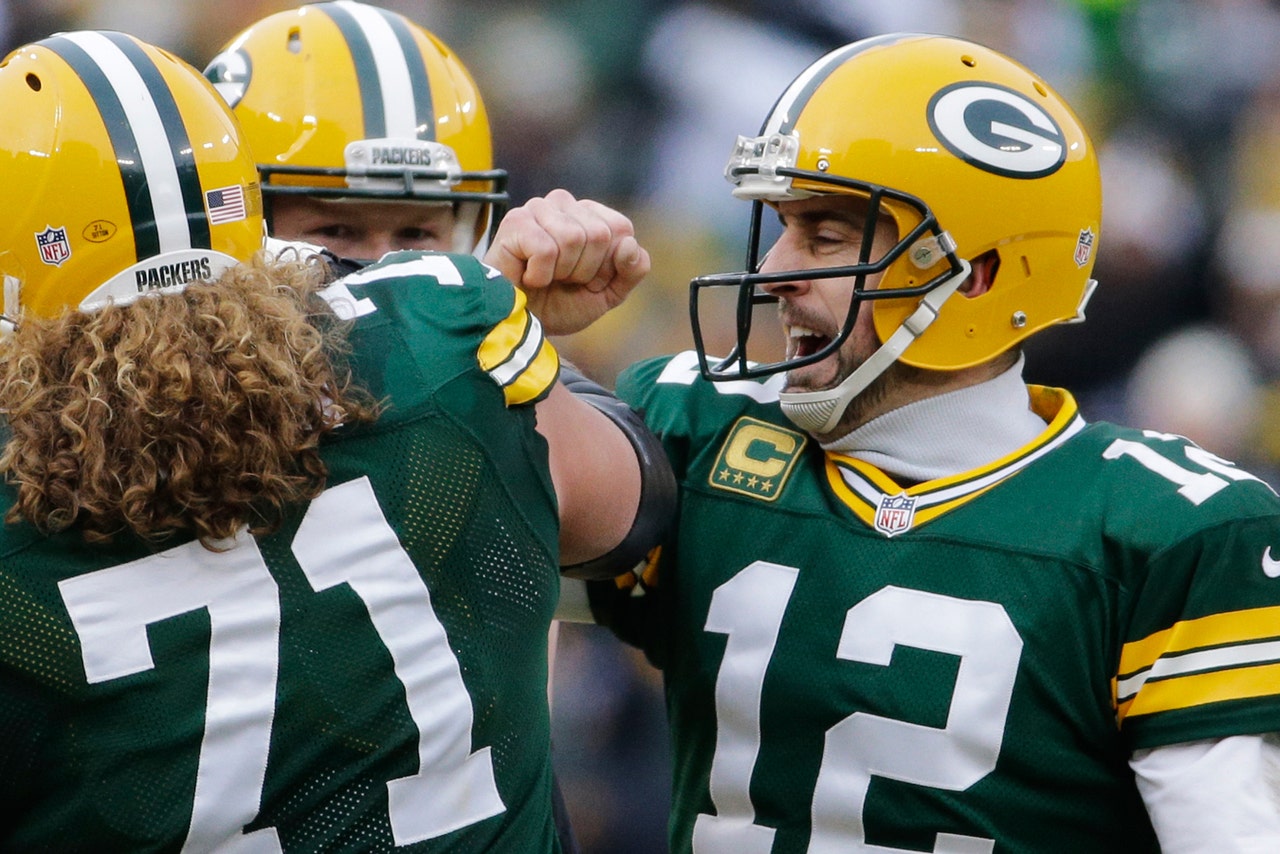 GREEN BAY, Wis. -- Aaron Rodgers never expected his left calf to be completely healthy for Sunday's game. He realized very early on that he couldn't do as much as normal. Rodgers was in some pain, and that made certain movements more difficult for him.
With the Green Bay Packers' season on the line in their divisional-round matchup with the Dallas Cowboys, none of that mattered for Rodgers. Though his motions weren't the same, his results were, as Rodgers led the Packers to a come-from-behind victory to advance to the NFC Championship Game.
"I think I've got 120 minutes left in me," Rodgers said.
Rodgers was of course referencing the amount of time that ticks off the clock in the span of two NFL games. Extending beyond another 60 minutes would require Green Bay to win its next game, which will take place in Seattle on Jan. 18 at the Seahawks. Then it would be on to the Super Bowl.
"So I'm going to do everything I can to make sure I can play all those minutes," Rodgers added.
Throughout Sunday's game, Rodgers was mostly confined to the pocket. It was very unlike the mobile quarterback he usually is, so good at extending plays with his legs. Many times, even as the Cowboys defense got near him, Rodgers had little choice but to stay put between the tackles and make the best out of a tough situation.
"I had an idea going in of what I'd be able to do, but it changed a little bit after the (first-quarter touchdown) throw to Andrew (Quarless)," Rodgers said. "It was a little stiffer than I thought it would be, so I just kind of adjusted from there. And the guys did a good job of protecting.
"For whatever reason, I was able to move to my left with a little less pain. I kind of figured going in it would be the other way around. A couple of those plays I actually moved to my left and made some throws."
Rodgers' touchdown pass on the Packers' opening drive was just his third throw of the game. Seven of the 10 plays in that series were handoffs. But as Rodgers began to scramble up the middle, he wasn't moving too well before finding Quarless in the end zone.
"I feel like with my mobility, normal mobility, I would just have been able to run that one in," Rodgers said. "But as I moved forward in the pocket, I realized that I couldn't do a whole lot. Thankfully, Andrew flashed on me, and I was able to hit him."
Regarding his choice to throw that pass rather than try to run the ball in himself, Rodgers said, "The pain in my calf helped me make that decision very easy."
Rodgers spent quite a bit of time in pistol or shotgun formations. Head coach Mike McCarthy did that in an effort to "manage the stress" for Rodgers, instead of having him pull away from center in the traditional manner.
One aspect of Rodgers' game that didn't change much was his accuracy, especially late in the game. That was on full display in the fourth quarter when pressure forced Rodgers to take a couple steps out of the pocket to his left before firing a rocket to tight end Richard Rodgers for the go-ahead -- and winning -- touchdown. There was not much room to make a throw, but the league's likely Most Valuable Player zipped it between safety J.J. Wilcox and cornerback Sterling Moore.
"(The opening) looked kind of big when I threw it and then it kind of got a little smaller as the ball got a little closer," Rodgers said with a smile. "I looked out to my right, I had Randall (Cobb) in the flat, but they were kind of sitting on him. I was able to move to the left slightly, which is actually a little bit easier moving to the left for whatever reason on the calf, and I kind of saw Richard. He's got incredible hands, but he did a good job of body-catching that one."
Early in the second half, Rodgers sailed a couple passes that he normally throws with great precision. He didn't -- and perhaps couldn't -- step into certain throws. But in completing 24 of 35 passes for 317 yards with three touchdowns and no interceptions (a 125.5 passer rating), Rodgers still had plenty of throws that were right on-target.
"I expect to be accurate," Rodgers said. "It's just a matter of throwing the ball on-balance. And, luckily, with it being my left leg, the rhythm is not really affected by the calf. It's just the mobility. So I was able to throw some balls on rhythm and put 'em where I wanted."
Rodgers finished his spectacular season at Lambeau Field by throwing 28 touchdowns and no interceptions. He hasn't thrown an interception at home since Dec. 2, 2012.
Rodgers seemed to further aggravate his calf injury on a 31-yard strike to Cobb late in the second quarter. After the completion, he slowly hobbled to the line of scrimmage. By the end of the game, Rodgers admitted he was "a little bit worse" than he was when the day began.
No matter what Rodgers did, though, it was no surprise to the players who are with him every day.
"We know he's the best quarterback in the game," wide receiver Jordy Nelson said. "He was the best quarterback in the game today on one leg. He's been the best quarterback in the game on two legs. He knows what he can do. He's an extremely brilliant player, understands the game, understands our offense and can make any and every throw."
Rodgers has been battling a calf injury since he was hit Week 16 in Tampa Bay. He then worsened it when injuring a different part of his left calf a week later. Though the Packers' first-round playoff bye gave Rodgers seven extra days to recover, the injury isn't one that will be going away.
But that's all part of what makes Rodgers' performance Sunday -- and two weeks ago in Green Bay's division-clinching victory over Detroit -- so special.
"That's as good as it gets," McCarthy said. "What he's done in this stadium the last two games with the condition of his calf is spectacular."
Follow Paul Imig on Twitter
---