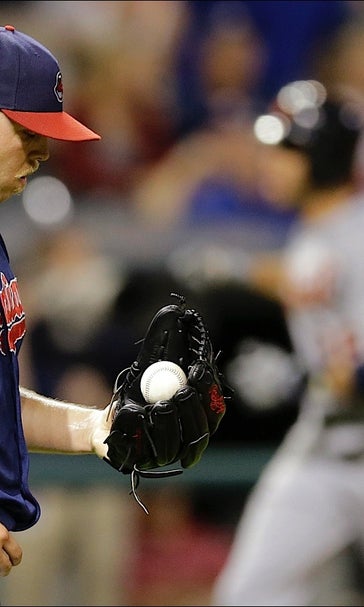 Indians pitchers get into one jam too many against Tigers
September 3, 2014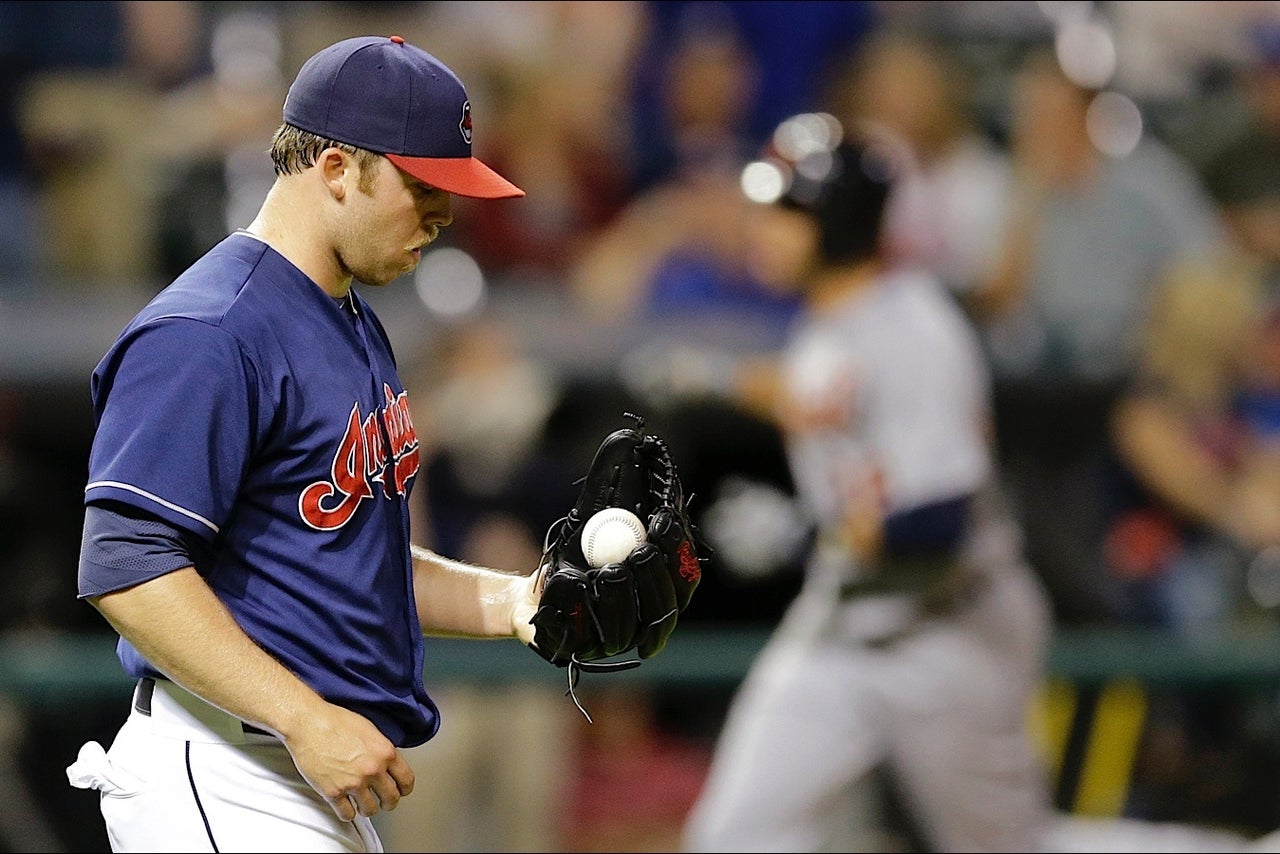 CLEVELAND -- For eight innings, the Indians pitching staff was able to get themselves out of some pretty rough jams. In the ninth inning though it caught up to them.
With one out and two on, J.D. Martinez hit a 1-0 Cody Allen fastball to center as Detroit rallied for a 4-2 win at Progressive Field on Tuesday in what has to be considered the Tribe's most gut-wrenching loss of the season.
Before Martinez's home run, the Tigers were 2 for 15 with runners in scoring position and had left 12 runners on base. Allen came on in the ninth was in trouble immediately, walking Torii Hunter and giving up a single to Miguel Cabrera. Victor Martinez flied out to center before J.D. Martinez's blast put the Tigers on top. Allen has blown three saves this season, all via home runs. Two of them are by Martinez and the other one was Sunday by Kansas City's Alex Gordon.
After converting 17 straight save opportunities, Allen has blown the last two. This one was because he had trouble commanding his breaking ball.
"It allowed them to maybe fight off some fastballs or take some fastballs that he normally gets by guys," manager Terry Francona said. "He was throwing pretty hard. He just didn't have a feel for his breaking ball."
Allen added about his breaking ball: "I was just overthrowing it. I didn't make the pitches where I had to, fell behind, had to throw to good hitters and threw hitable pitches. They didn't miss them."
Over the first two games of the series, the Tigers Bermuda Triangle of Cabrera and the two Martinez's is 17 for 27 with three doubles, four homers and nine RBI.
"I love when Cody's pitching, don't get me wrong, but when you see who's coming up, it's difficult to navigate through because they're so dangerous," Francona said. "That's a difficult lineup, and until we got nicked up in the ninth, we did a really good job. They stranded a lot of runners."
The blown save overshadows what might be one of the best escape jobs in the majors this season. After retiring the Tigers in order in the first, Carlos Carrasco had to battle the rest of the night, allowing 10 hits and walking one while striking out a career-high 10 in 5 1/3 innings.
According to the play index on baseball-reference.com, Carrasco's line of 10 hits, 10 strikeouts and no more than one run allowed in fewer than six innings marks the first occurrence in the Majors over the last 100 years.
Carrasco also became the fourth different pitcher in team history to record at least 10 strikeouts in an outing lasting 5 1/3 innings or fewer. Besides Danny Salazar doing that feat earlier this season against the White Sox, the others are Bartolo Colon and Sam McDowell.
"He really dug deep. That was really something," Francona said. "He pitched out of so many binds and executed some unbelievable pitches. It flew past encouraging. They made him work really hard and they got him out of there a little bit earlier."
Carrasco gave up three straight singles to start the second and then walked Alex Avila with the bases loaded to bring the Tigers within 2-1. After that, Carrasco struck out the next two hitters and got Ian Kinsler to ground out.
The next three innings, the Tigers would get someone in scoring position and could not convert. In the fourth, Eugenio Suarez and Rajai Davis were at second and third with one out before Carrasco struck out Kinsler and Hunter.
In the fifth, a Cabrera double and Victor Martinez single put runners at the corners with none out before Carrasco struck out J.D. Martinez, Alex Castellanos and Avila.
"From the second to the last inning I got a lot of men on third, men on second. But I just need to battle, need to do my job. From the second to the last inning, they can do like 20 hits, but no runs," Carrasco said. "Every pitch I threw from the second inning, I threw for one reason -- to get out of trouble."
In his five starts since returning to the rotation, Carrasco is 3-0 with a 0.90 ERA, allowing just three earned runs in 30 innings pitched. The right-hander also has 34 strikeouts against only four walks while limiting opposing hitters to a .191 average.
"I think this was my best game. I just got a lot of traffic from the second inning to the last. But I feel good and I did my job," Carrasco said.
If you needed any more painful reminders that the Indians' offense continues to struggle, Tuesday proved it again. The lone runs came in the first on a two-run homer by Carlos Santana. After scoring three or fewer runs 70 times all of last season, this was the third straight game and 67th this year where that has happened. When it does, the Tribe is 18-49.
After the first, the only other serious threat the Indians had was with the bases loaded and two outs in the sixth, but Michael Bourn flied out to center. In just his second Major League start, Klyle Lobstein struck out 10. It is the first time since July 27, 2007, against Minnesota that both starting pitchers in an Indians' game have had 10 strikeouts or more.
With the loss, the Indians fall to 70-66 and are five games back in the AL Central and Wild Card races.
"We'll show up tomorrow and be ready to play. We'll move on," Allen said.
Follow on Twitter joereedy
---