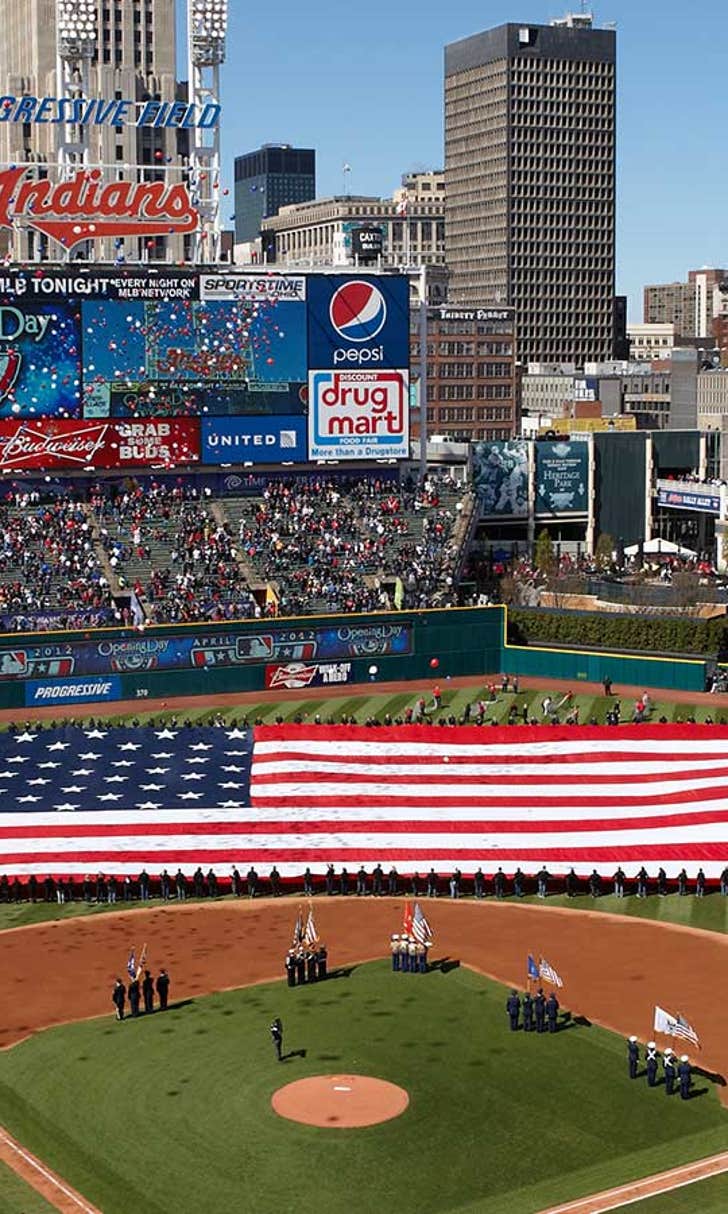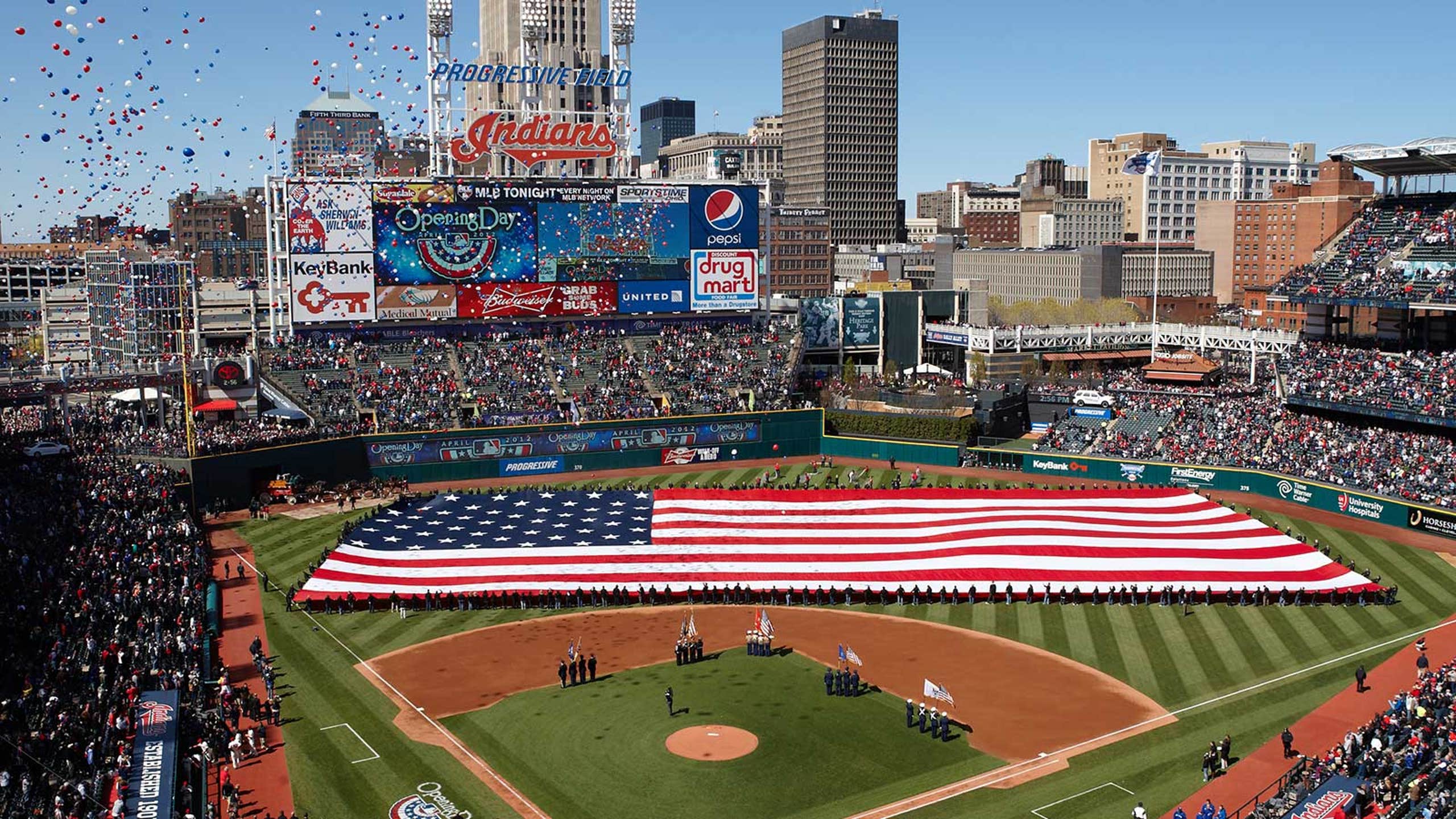 Indians announce new initiatives for 2014 season
BY foxsports • February 26, 2014
Cleveland, OH -- The Cleveland Indians announced on Wednesday new initiatives at Progressive Field for 2014, including further details of the team's Onsale for Single-Game tickets, a new Family ticket option and a new Promo Pass initiative.
Online On-Sale
Fans who register at Indians.com/OnlineOnSale will have first crack at Single-Game tickets -- including the Indians home opener -- on Monday, March 3.
It's easy to sign up: Just visit Indians.com/OnlineOnSaleand enter your contact information, and fans will receive access to the absolute lowest prices on Single-Game tickets for the 2014 season. Fans will receive a password with which they can access the On-Sale on March 3. But hurry: The deadline to sign up for this access to Single-Game tickets is Friday, February 28 at Noon ET.
KeyBank Kids Value Tickets
The Indians are proud to celebrate families and connect generations at Progressive Field each day, and a new ticket offer will make it more affordable for families to come to the ballpark.
KeyBank Kids Value Tickets give kids $15 loaded value for use on concessions (excluding alcohol) or merchandise in the ballpark. Tickets must be purchased with a full-price adult ticket, and are limited to two kids tickets with each adult ticket. Tickets must be purchased online at least 48 hours in advance of game time, and are good for Mezzanine and Upper Box sections. More details are available at Indians.com/KidsValue.
Carnegie Tickets
New in 2014, the Indians Carnegie Tickets program offers flexibility and tremendous value for fans, including a bonus depending on the amount of money fans deposit into their accounts.
Fans will make an initial investment into their Carnegie Tickets account, which they then can use to buy tickets over the course of the season, for any seating location, and any game, subject to availability. For making this up-front commitment, fans will receive a bonus, ranging from 5%-20%, depending on level of investment.
Redemption is online only at CarnegieTickets.com, 48 hours in advance of the game. The amount deducted from the account will be based on the current single-game price of their selected seats at the time they redeem. As ticket prices will generally rise as the game approaches, Carnegie Ticket purchasers are encouraged to Buy (and Redeem!) Early and Save.
Promo Pass
After listening to fan feedback during the 2013 season, the Indians will implement a new Promo Pass program, which will allow fans to secure promotional items in advance for a small fee without having to arrive at the ballpark early.
The items available for Promo Pass include:
- Orel Hershiser bobblehead courtesy of Meritech, May 3
- Brohio bobblehead courtesy of Sugardale, May 31
- Omar Vizquel jersey courtesy of Medical Mutual, June 21
- Jason Kipnis bobblehead courtesy of FirstEnergy, July 8
- Jim Thome replica Progressive Field statue courtesy of KeyBank, August 2
By adding Promo Pass onto a ticket purchase for an additional $5, when fans arrive to the ballpark there will be a reserved promotional item waiting for them at a convenient redemption location just inside the gates, even if all the items at the gate have already been given out. Promo Pass tickets are available online only and must be purchased 48 hours in advance of the game. For more information, fans can visit Indians.com/PromoPass.
Brantley bobblehead added to Promotional schedule
The Indians have added a fifth bobblehead to their 2014 Promotional schedule, and it features "Dr. Smooth," Michael Brantley, who earlier this month signed a contract extension through 2017. The Brantley bobblehead will be given to fans on September 1.
The Brantley bobblehead, in addition to the Brohio and Kipnis bobbleheads, Vizquel jersey and Thome replica statue, will be available to 12,500 fans at the gates this year, an increase over last year's promotional item availability and another alteration the Indians have made after listening to fan feedback.
Fan Designed T-shirt Contest voting announced
The Indians Fan Designed T-shirt Contest, courtesy of Cleveland Clinic, was named the No. 4 MLB promotion by Sports On Earth, and we received over 100 creative submissions.
After a week of voting, the winner is Greg Pennypacker's design, which features a white Block C collage on a Navy Blue shirt. (The winning design is attached to this email.) The T-shirt will be given away to 10,000 fans on Saturday, September 6, when the Indians take on the Chicago White Sox, courtesy of Cleveland Clinic.
Brohio Governor; New Brohio T-shirt design to launch Opening Day
Indians fans -- along with Nick Swisher, the President of Brohio -- have spoken, and Adam Gockowski has won the Brohio Governor election. Gockowski was sworn in on Tuesday with the Honorable Ketchup presiding at the Indians What's New event at Progressive Field.
Gockowski, a video engineer at a Lakewood company, featured former Ohio State football coach and current UA executive Jim Tressel in his nomination video. He will be charged with leading Brohio -- in Section 117 at Progressive Field -- each Friday and Saturday this season.
Fans originally submitted videos to be considered for one of four finalist spots. Those finalists then campaigned in front of Swisher himself on the KeyBank main stage at Tribe Fest last month. In addition to a new full-time Brohio Governor, a new Brohio T-shirt design will be unveiled on Opening Day.
Brohio tickets will be available at Indians.com/Brohio on March 3.
**Cleveland Indians press release

---