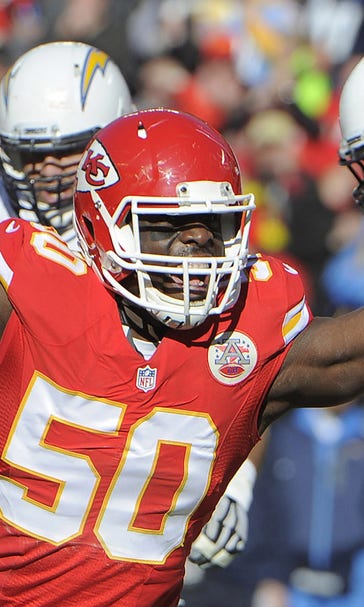 In this game of chicken, Chiefs fans see red, Houston sees miles of green
March 2, 2015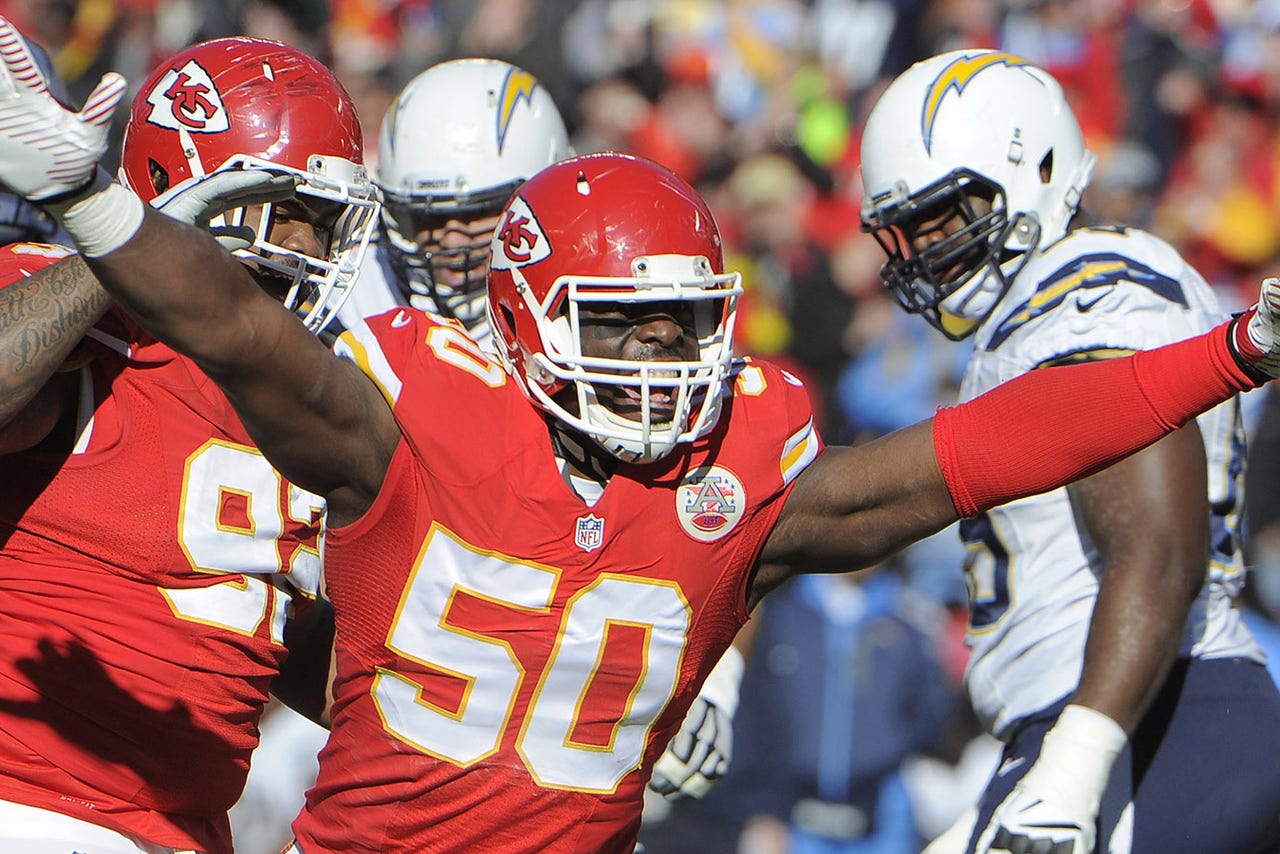 KANSAS CITY, Mo. -- It takes two to tango, kids. So before you throw John Dorsey under the Twitter bus for the 15th time this afternoon, ask yourself two questions:
1. If you were in Dorsey's shoes, would you rather have Justin Houston locked up, pain-free, in the long term for the Kansas City Chiefs, or quarterback Alex Smith?
2. Which player is likely to go out and break the bank, right now, on the open market: Smith, a 30-year-old quarterback only a few seasons away from the winter of his pro career, or Houston, a pass-rushing monster who just turned 26?
You'd do Houston, 11 times out of 10, no question. You'd make him the No. 1 priority, full stop.
But say Smith's reps come back to you first, having weighed the possibilities, about returning to the fold. Do you then refuse a market-value extension outright, simply because the market value for quarterbacks is patently absurd?
Say you try and you try and you try with priority No. 1, hammering and hammering away. But No. 50 has his own camp, his own mind, his own timetable, his own agenda. When you rack up 22 sacks in one autumn, the next logical step is setting yourself up for life. And not just you: It's your heirs, their heirs, and the heirs after that.
Dorsey, the Chiefs' general manager, knows the game. And, as of Monday, it's now, officially, a game of chicken.
The Chiefs tagged Houston to a non-exclusive franchise designation, essentially daring him to sign another offer sheet somewhere else. And, in the same breath, dare another team to sacrifice two first-round picks in exchange.
Houston, in turn, dares Dorsey to match any offer he might get on the open market. And it won't come cheap:
Logic dictates a suitor with a strong roster and some cap room to play with. The Colts have a good core and an estimated $45.1 million in space. The Jaguars ($68.2 million of room), Raiders ($55.43 million), Browns ($53.7 million) and Jets ($51.4 million), while varying degrees of rancid, could also try to break the Chiefs' back with a monster offer. Other notable teams with money to play with: the Bengals ($40.82 million), the Packers ($33.11 million) and ... the Falcons ($33.25 million), whose front office includes Scott Pioli, the man who took a flier on Houston in the first place as a third-round draft pick out of Georgia in 2011. Interesting.
The buzz at ProFootballTalk.com on Monday -- and Houston news is like weather in the spring, give it 10 minutes, and it'll change -- was that No. 50 is leaning toward the nuclear option, intending to "aggressively" pursue an offer from another club, and that he's "seriously considering" avoiding all things Chiefs until Week 10, the latest he could report and still have 2015 count toward an accrued year in free agency.
A lot of this is agent-posturing and agent-speak, which is fine. The sword cuts both ways.
Dorsey is protecting his backside by slapping the tag, which, because it's non-exclusive, is expected to be worth slightly less than the $13.2 million figure widely reported. With the tender offered and the tag applied, Houston and the Chiefs have until July 15 to hammer out a long-term deal. If that deadline passes, then they can't go back to the table until after the regular season.
All teams need to be under the salary cap as of March 10, the beginning of the 2015-16 league year. The Chiefs are estimated to be $6.65 million under the cap as of Monday afternoon, according to OverTheCap.com. Accommodating Houston's one-year tender would probably require another $6.5 million or so in cap space before March 10.
So there's a little bit of chess involved here, too. With the non-exclusive designation, another team can set the market value for Houston, which is bad. On the other hand, Dorsey could also potentially come out of that with two first-rounders in return, a pair of ducats -- draft picks -- that he covets. In the Chiefs' mind, that's turning a loss into something of a win. Or minimizes the damage, at the least.
"We will continue to discuss long-term options with him and his agent," Dorsey said in a statement released by the club Monday afternoon. "Our goal is to reach a deal that is mutually beneficial. We want to keep Justin in a Chiefs uniform for years to come."
Because here's the thing: Dorsey gets the last word, but the ball is, at it has always been, in the court of Houston and his agent, Joel Segal. If No. 50 wanted to be a Chief for life, something would've been done by now.
Or, chances are, a long time ago.
Houston has been angling for the open market for more than a year now and, in his defense, went out and played like a man who wanted to get paid, by somebody. And at this point, it's safe to say he doesn't care which somebody that is. Chiefs fans are seeing all kinds of red Monday. And Houston? All Houston sees is miles upon miles of green.
You can follow Sean Keeler on Twitter at @SeanKeeler or email him at seanmkeeler@gmail.com.
---