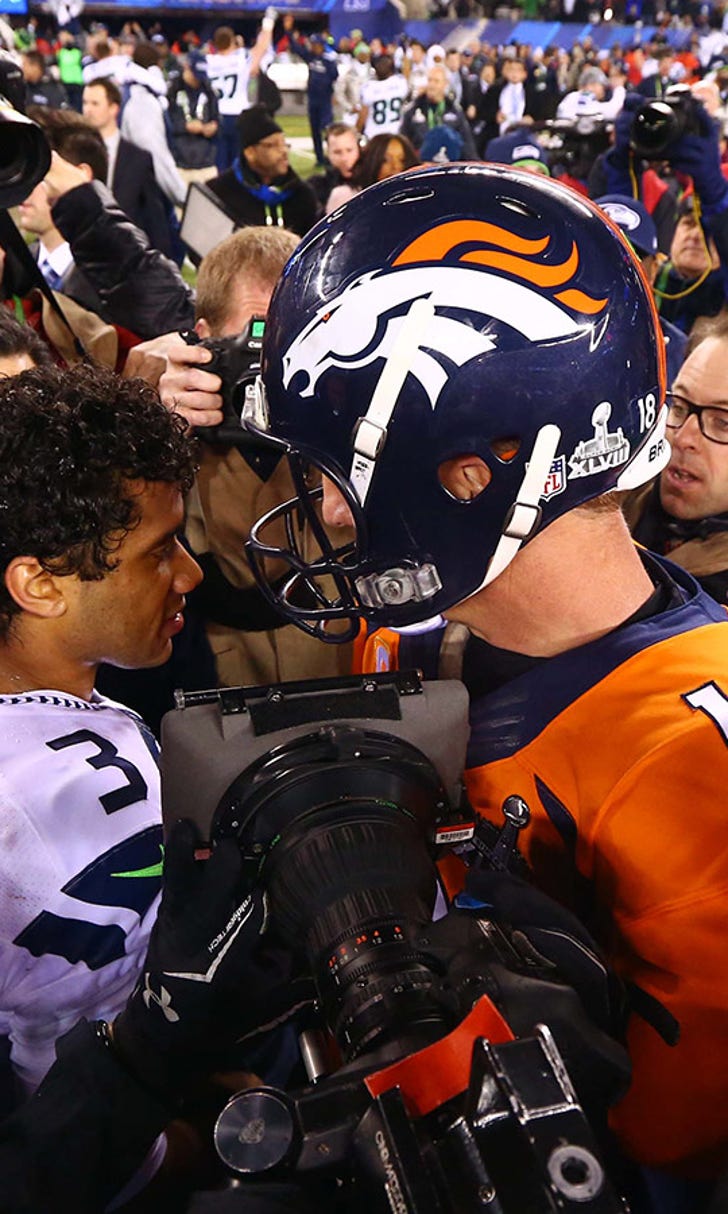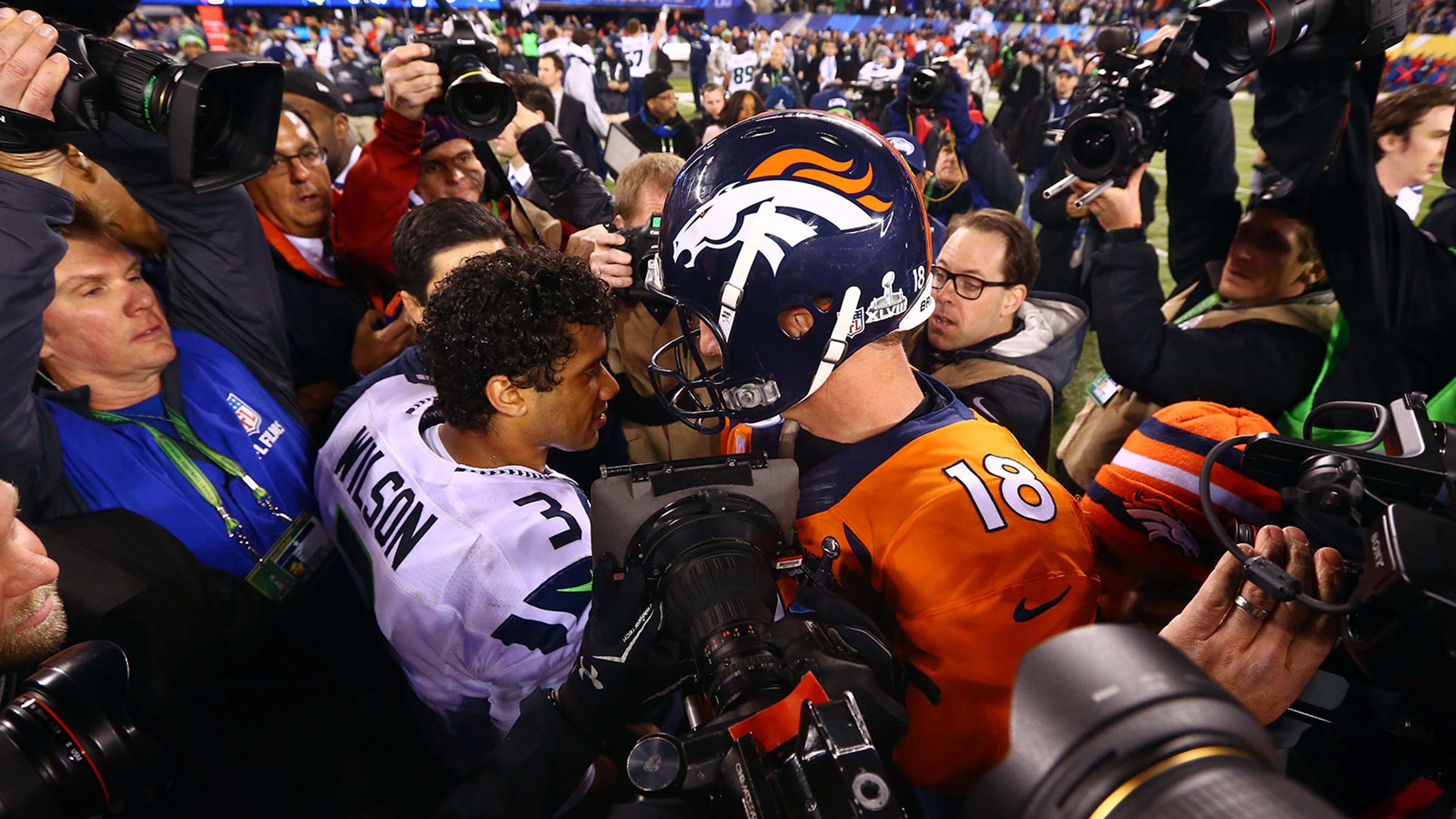 In terms of NFL likability, Peyton Manning and Michael Vick are on opposite ends of the spectrum
BY foxsports • February 19, 2014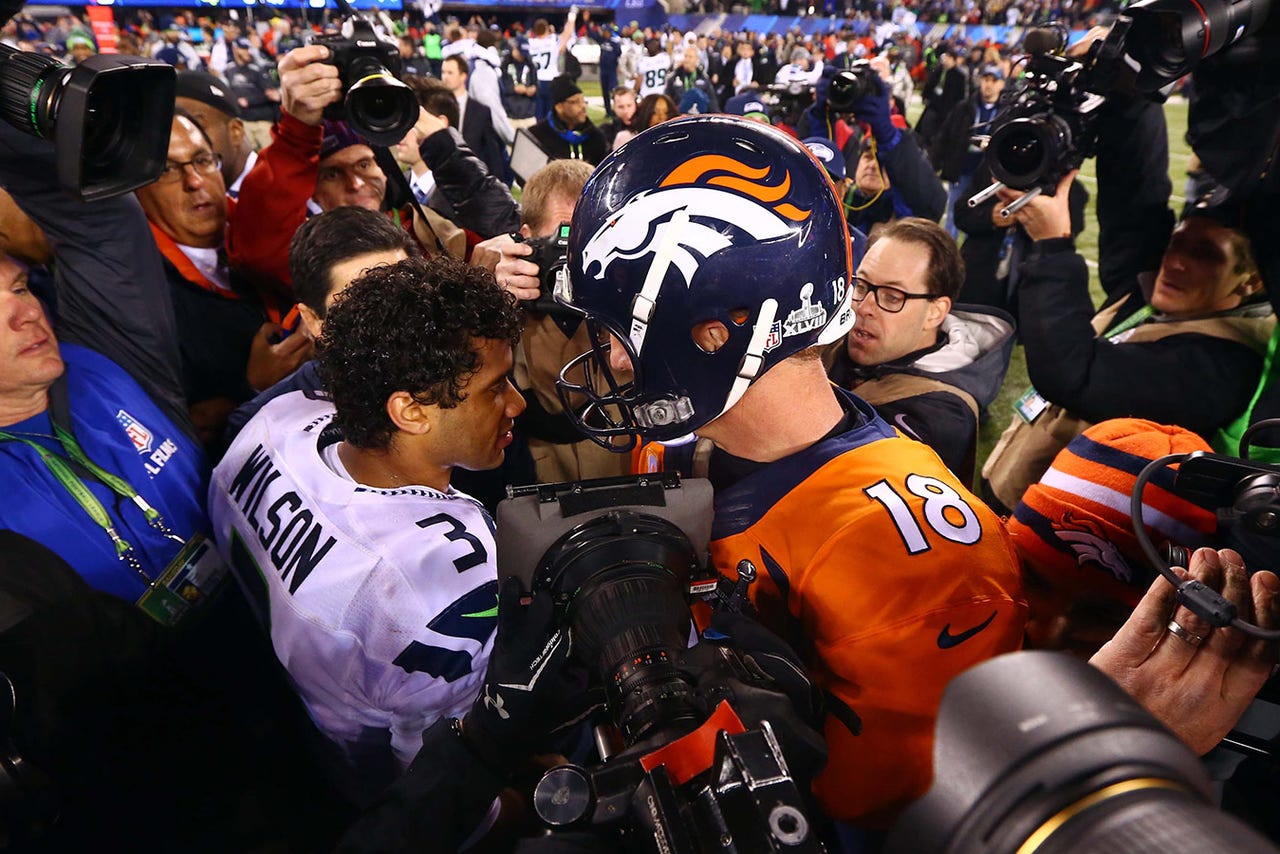 Peyton Manning and his Denver Broncos certainly stunk in the Super Bowl, but apparently, we still really, really like him.
In fact, Manning is the most likable player in the NFL, according to REPUCOM, a global marketing research company that tracks the popularity of celebrities.
Manning beat out Packers quarterback Aaron Rodgers -- he of the "discount daaah-bul check" -- for the NFL's top spot, according to REPUCOM, which surveys 1,000 U.S. consumers on a weekly basis.
And, predictably, Super Bowl champ Russell Wilson's popularity is on the rise. The Seahawks' quarterback checks in at No. 3 on the list.
The rest of the top 10 most-liked players: Redskins quarterback Robert Griffin III, Saints quarterback Drew Brees, Cardinals wideout Larry Fitzgerald, Vikings running back Adrian Peterson, Giants quarterback Eli Manning, Chiefs quarterback Alex Smith and Colts quarterback Andrew Luck.
Interestingly, Smith ranks ahead of 49ers quarterback Colin Kaepernick, who took Smith's job in San Francisco and played in the Super Bowl a year ago but sits only 14th on the most-liked list.
And Eli Manning ranks seven spots behind his brother despite owning two Super Bowl rings in two chances, compared with Peyton's single ring in three tries.
Maybe "Saturday Night Live" success counts for a lot.
The least liked? You guessed it -- it's still Eagles quarterback Michael Vick, who served 19 months in federal prison for his role in a dogfighting ring.
And, because we know you're far more intrigued by the least-liked/most-hated list, right behind Vick are:
2. Lions nose tackle Ndamukong Suh, who has made groin-kicking his own special Thanksgiving Day tradition.
3. Steelers quarterback Ben Roethlisberger, who twice has been involved in rape allegations.
4. Jets quarterback Mark Sanchez, the not-so-proud owner of one of the NFL's most infamous plays -- the butt fumble.
5. Ravens outside linebacker Terrell Suggs, who once during an argument with his then-girlfriend allegedly held a bottle of bleach over her and their 1-year-old son.
6. Cowboys wideout Dez Bryant, who once allegedly assaulted his own mother.
7. Bears quarterback Jay Cutler -- apparently, fans don't find his I-don't-give-a-blank stare into the distance all that warm and fuzzy.
8. Bucs corner Darrelle Revis -- they must have surveyed 1,000 U.S. wide receivers for him to make the list.
9. Seahawks running back Marshawn Lynch -- they must have surveyed 1,000 U.S. sportswriters right after his Super Bowl Media Day snub.
10. Titans running back Chris Johnson -- we have no idea, either.
You can follow Jeffrey Flanagan on Twitter at @jflanagankc or email at jeffreyflanagan6@gmail.com.
---