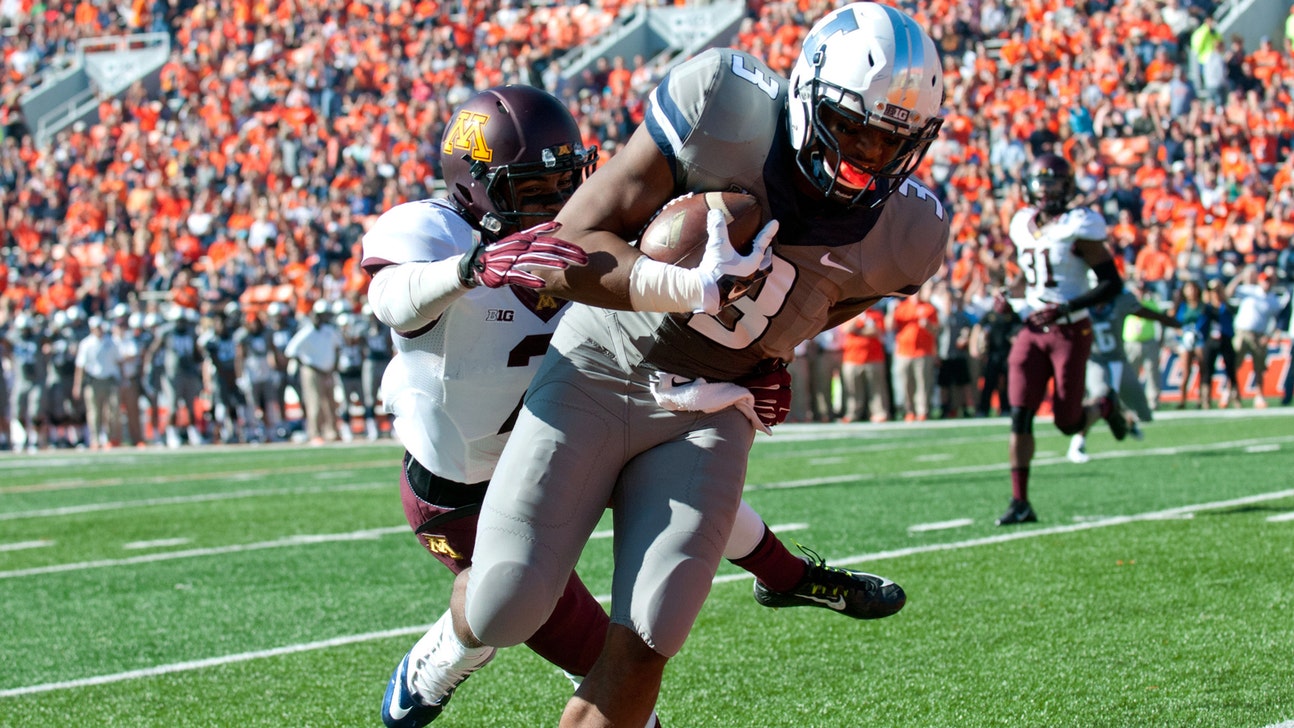 Illinois deals Gophers upset loss, 28-24
Published
Oct. 25, 2014 3:59 p.m. ET

CHAMPAIGN, Ill.  -- When Illini linebacker T.J. Neal ripped the ball out Minnesota running back David Cobb's hands in the fourth quarter Saturday, cornerback V'Angelo Bentley knew his roommate had delivered something pretty rare for the Illini this season.
A chance for the much-criticized defense to win a game.
Bentley scooped up the ball and carried it into the end zone with 6:33 to play, giving Illinois a 28-24 lead they'd hold.
"I pretty much knew right away -- it pretty much bounced right to me," Bentley said. "I'm thankful for T.J. Neal for ripping it out and I just wanted to get to the end zone as fast as I could -- I think I'm going to buy (him) dinner."
After those final minutes ticked off, the Illini (4-4, 1-3 Big Ten) charged across the field and stood tightly packed in front of the band and student section, singing the school song. Wearing all-gray "Gray Ghost" uniforms intended to honor "Galloping Ghost" Red Grange, they took the celebration up the tunnel and into the locker room, like a team that hadn't won in a long time.
"It was electric. That's what it's supposed to be. That's what locker rooms are supposed to be like," Illinois coach Tim Beckman, soaked in Gatorade, said. "I don't think we'll ever take the gray off."
It had been a while since the last win.
The homecoming victory breaks a three-game losing streak that started Sept. 27 at Nebraska. Looking even further back, it was just the second Big Ten win in coach Tim Beckman's two-plus seasons in Champaign and may have bought him at least a little relief from rumors that his days at Illinois are numbered.
Across Memorial Stadium in the Minnesota locker room, the Gophers (6-2, 3-1) couldn't believe they lost.
After putting up 21 third-quarter points to take their first and only lead at 24-21, the Gophers believed they were about to repeat last weekend's comeback win over Purdue.
"The way the defense came out the second half playing, I just knew we were going to get stop after stop," linebacker Damien Wilson said. "We had the game in the bag."
Instead the Gophers' win streak stops at four. And their shot at their first 4-0 Big Ten start since 1967 is gone.
Minnesota remains on top of the Big Ten West, tied with Nebraska. But after the bye week ahead, the Gophers look at a schedule that gets much tougher: at home against Iowa and Ohio State, followed by road games at Nebraska and Wisconsin.
Much of the credit for Illinois' win belonged to the defense.
The Illini came into the game giving up 484.6 yards and 35.9 points a game. And they were 13th in the 14-team conference in turnovers created with seven.
Cobb finished with 118 yards and two touchdowns on 22 carries. But Illinois held him in check for almost three quarters, with 34 yards on his first 16 carries.
Controlling Cobb and creating the game-changing fumble gave a defense that hadn't had much to get excited about this season a reason to feel good.
"It's like Christmas, when you open up a present and they see it, their eyes get big," defensive coordinator Tim Banks said. "It's like that whenever you get a win. They're excited and when they're excited, I'm excited.
Cobb blamed himself for the fumble and the loss.
"I let the team down, I'll be honest about it," he said.
Illinois led 14-0 in the first quarter, scoring on two of its first three drives, with most of the yardage and one of the scores coming from quarterback Reilly O'Toole.
The senior backup started for Wes Lunt, who is out with a broken leg, and finished 14-21 for 188 yards and a touchdown. He added another 59 yards on 17 carries and a rushing touchdown.
O'Toole threw for the first touchdown, hitting tight end Jon Davis from 3 yards with 9:31 left in the first quarter. Just under 7 minutes later, O'Toole ran the ball in from 9 yards.
Between quarterback Mitch Leidner and Cobb, the Gophers came to life in the third quarter. They put up 21 points on a 52-yard Leidner strike to Isaac Fruechte and a pair of rushing touchdowns by Cobb, from 1 and 13 yards.
Those 21 unanswered points gave Minnesota its first and only lead, 24-21.
---