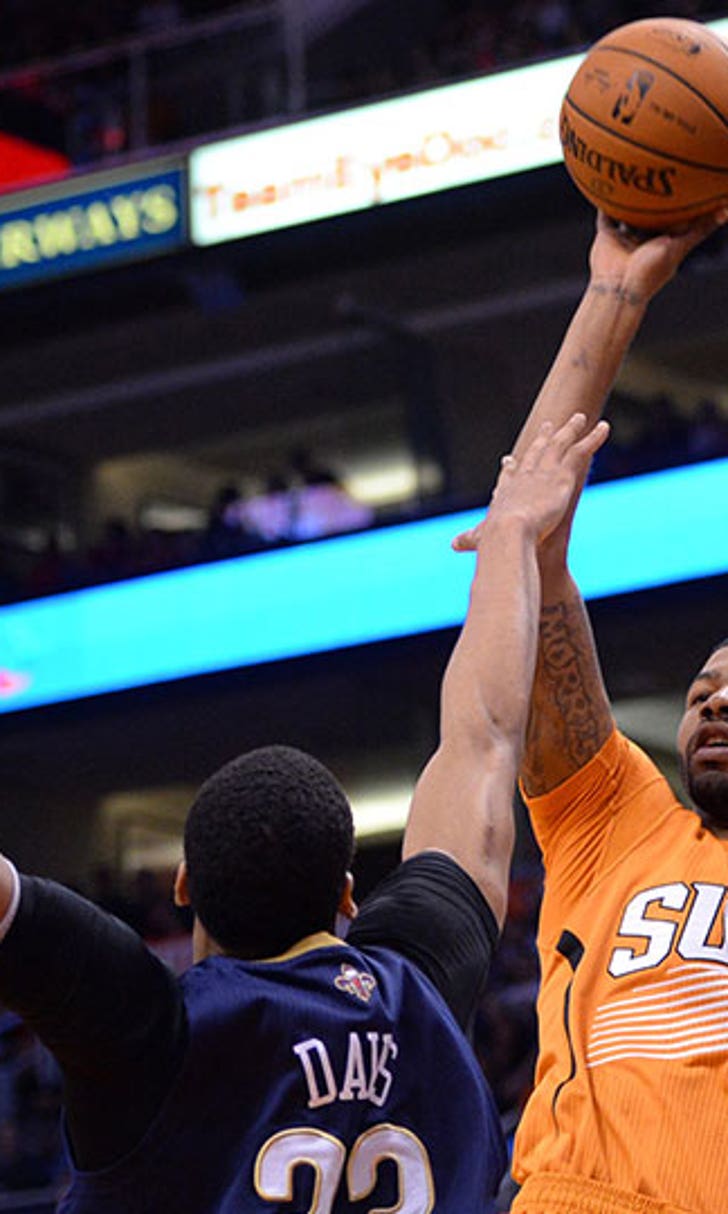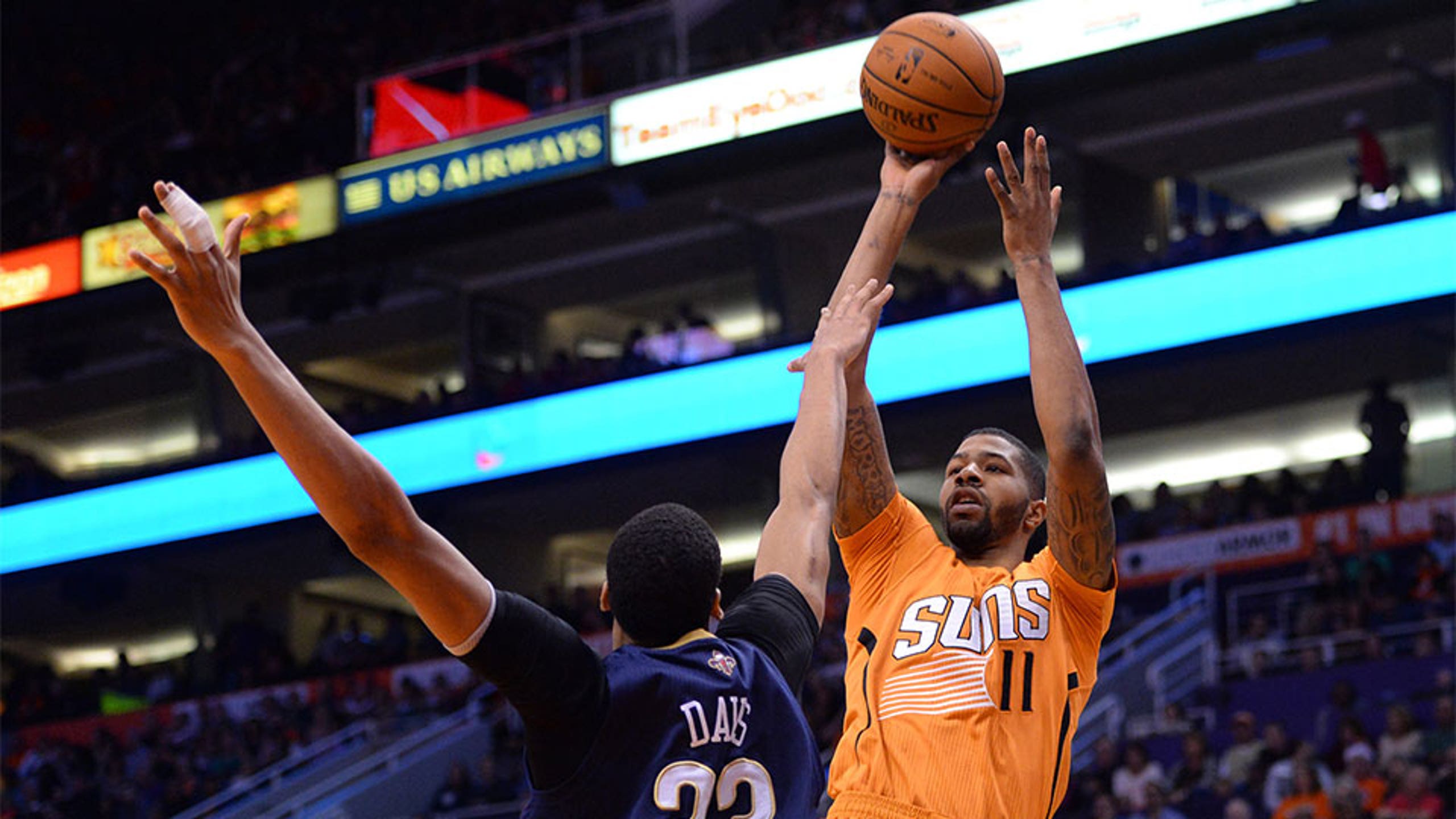 If Markieff Morris can keep getting better, so can Suns
BY foxsports • August 15, 2014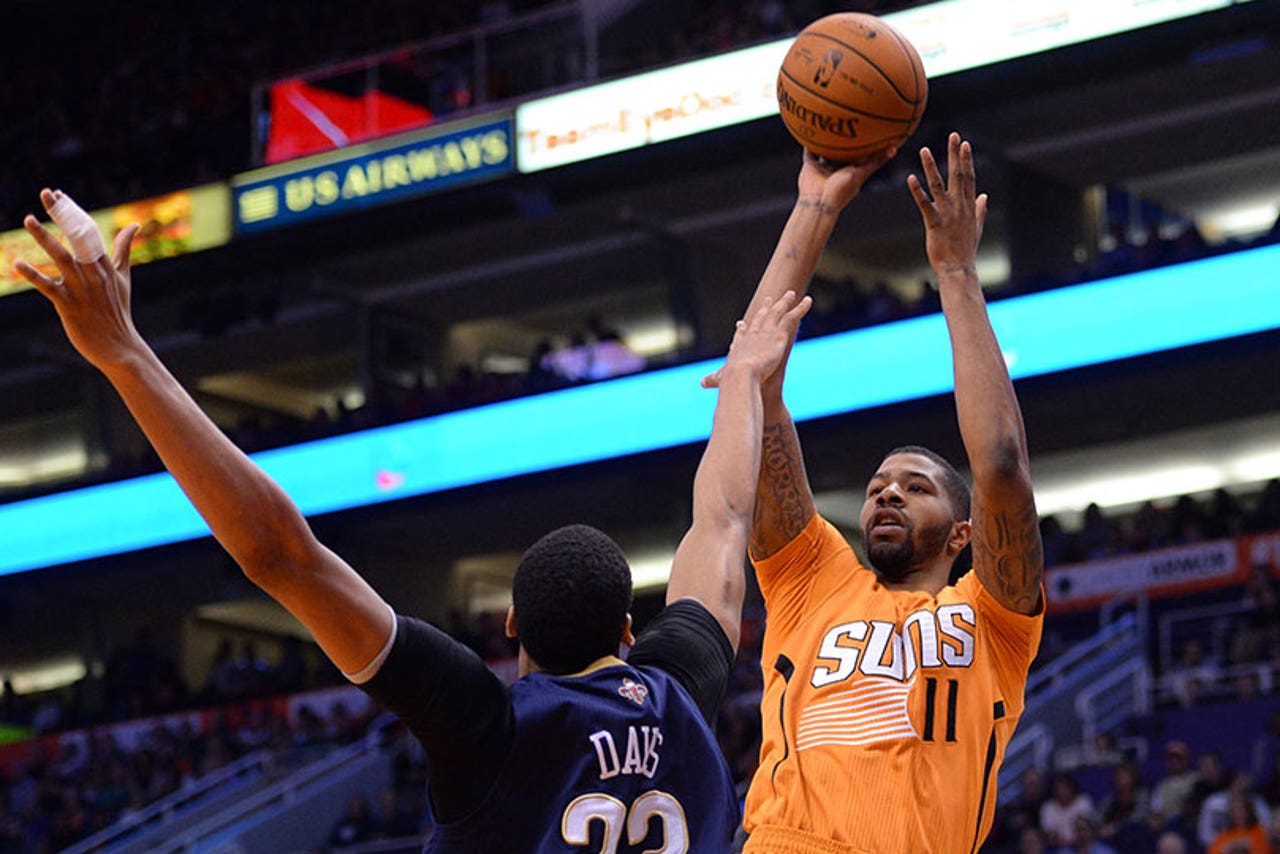 Despite winning 48 games during a season that included their two best players starting together only 34 times, the Suns still have some doubters to address.
Well, there's one national NBA writer who this week predicted five fewer victories for Phoenix this season.
So, with a very good chance that Goran Dragic and Eric Bledsoe -- supported by Isaiah Thomas -- will double team the point-guard position for a much larger chunk of this season, could the Suns actually regress? (By the way, those 43 predicted triumphs were projected for the ninth position in the Western Conference standings.)
OK, the West didn't exactly become any weaker this summer. But mass career-year performance -- as was the case here last season -- seems more reasonable when we consider that most of the team's rotation players are young.
Anyway, beyond expectations of uprising or downgrades from the backcourt, the Suns' potential for reaching the eighth seed (or higher) could come down to how much more Markieff Morris improves. And that's assuming he can get better.
For context on Markieff's importance, let's revisit this quote supplied last March by then-first-year Suns coach Jeff Hornacek:
"Of maybe all of our guys, he's probably the biggest key. If he plays well, we usually have a pretty good chance of winning the game. When he isn't active, then we struggle."
For a look at how much the slightly larger (6-foot-10, 245 pounds) of the Morris twins improved last season, dig these numbers:
In four minutes more per game than the previous season, Markieff's scoring average increased by 5 points, his field-goal percentage rose a whopping 8 points and his free-throw attempts per game more than doubled.
According to hoopsstats.com, Markieff's one-season improvement (based on efficiency ratings) was the fourth-best among NBA power forwards that were rotation regulars.
His performance hike generally occurred as the linchpin of a second unit that frequently overpowered the opposition bench.
With Channing Frye now working in Orlando, however, Markiefff is expected to move into the starting lineup and begin finding his way while possibly spending less time on the court with barely smaller brother Marcus.
In addition to maneuvering outside that familial comfort zone, Morris, who averaged 13.8 points in 26.6 minutes per game last season, must thrive without crowding the driving lanes used by his backcourt teammates.
It's anticipated that -- in an effort to generate at least some of the court spacing lost by Frye's departure -- Markieff may attempt to become more of a stretch power forward.
We've seen that before.
After making 42 percent of his 3-pointers during that last season at Kansas, the 13th selection in the 2011 NBA Draft hoisted 124 shots from deep in 63 games as a rookie. He made a reasonable 35 percent of those, but the overall number is pretty misleading.
Morris was on fire from the great beyond during the first two months of his pro career, bagging a robust 19 of 39. Over the last three months, he managed to make just 24 of 85 (28 percent). The initial accuracy also inspired Markieff to seek scoring opportunities farther away from the presumed bread-and-butter environment of the mid-post.
For a player projected to offer basket-area grit, this perimeter straying had begun pushing Morris toward post-draft-bust consideration. According to a personnel executive from another team in the Western Conference, this extended-range agenda wasn't doing favors for anyone.
"We really liked him going into that draft," the personnel guy said of Markieff. "He did shoot the college 3 pretty well his last year, and we've seen guys gradually add shooting range from year to year when they find themselves going up against bigger players at their position.
"It just seemed like somebody got to him even before he played an NBA game and convinced him he could be a perimeter-oriented four. And I'm not just talking about a stretch four shooting 3s off pick and pops; you could see he often tried to do too much off the dribble from way out there."
After slouching through his second pro season on a truly dreadful Suns team, Morris' third year offered a new coaching staff to work with and an old approach to refine.
Leaving the stretch-four duty to Frye, Markieff went back to finding offense from the elbow, short corner and mid-post areas. He squeezed off only 108 3-pointers last season (making just 31.5 percent of those) but drastically improved his accuracy on shots from between 10 and 18 feet. In his second season, Morris made 36 percent of his attempts from that range; last season, the percentage rose to 46.
An assistant coach from one of the Western Conference's power teams now considers Markieff a preparation problem.
"I think both of them are tough to prepare for," the coach said of the Morris twins. "You could tell that last year, Markieff or his coaches had made a point of emphasis on him catching the ball within scoring range . . . instead of floating on the edges, he always looked to get the ball where he could shoot it comfortably off a jab step or be one, maybe two hard dribbles from the cup. Instead of trying to shake big guys and running into help by starting farther out, he was using his quickness to create space and getting a good look before help could come."
While the Suns and their followers have been concerned about generating late-game offense when opposing defenses clog the driving lanes, even greater improvement from Morris could provide a go-to option.
If his off-season work translates to another increase in efficiency, eventual double teams will create passing opportunities for a player Hornacek said is among the team's best facilitators.
Our contributing opposition coach isn't exactly thrilled with that proposition.
"If Morris has gotten better," the coach said, "with the guards they have and him as a starter . . . well, this just makes the conference even more of a grind."
---