Matt Carpenter
Matt Carpenter
Ichiro ties Cobb on all-time hits list, but Marlins fall to Cardinals
Published
Aug. 14, 2015 11:08 p.m. ET

ST. LOUIS (AP) -- At 41, Ichiro Suzuki still is chasing hits and history.
With a single Friday night in the Miami Marlins' 3-1 loss to St. Louis, Suzuki kept moving up the all-time charts.
His fifth-inning liner to left field allowed him to match Ty Cobb's total of 4,191 hits.
Suzuki collected his first 1,278 hits in Japan. His 2,913 in the major leagues leave him 87 shy of the coveted 3,000-hit milestone.
Cobb held the hits record for many years before Pete Rose passed him on the way to 4,256.
"A special night for Ichiro to tie Ty Cobb," Marlins manager Dan Jennings said. "He's a Hall of Famer, plain and simple."
Suzuki was signed to be a reserve outfielder for the Marlins. But with slugger Giancarlo Stanton injured, Suzuki has been playing regularly.
Suzuki is hitting .333 in August and .253 for the season after going 1 for 4 against the Cardinals.
"Tying Ty Cobb, that just goes to show you what kind of career Ichiro has had," Marlins center fielder Cole Gillespie said. "I'm sure he's going to reach more milestones down the road."
Jennings agreed.
"He continues to defy age," he said. "To produce as he has produced and continue as he has at 41 is a tip of the cap to who he is and the career he has had."
"Forever people have been talking about Pete Rose and Ty Cobb and now Ichiro Suzuki will be mentioned in that same breath. And he still has a ways to go," he said.
Suzuki wasn't at his locker immediately after the game for comment.
Jaime Garcia pitched shutout ball into the ninth inning and Matt Carpenter homered for the Cardinals.
Garcia (5-4) came within two outs of throwing the first complete game of the season for the NL Central leaders. He gave up six singles, walked one and struck out six.
Trevor Rosenthal got his 36th save in 38 chances.
Carpenter's bunt single broke a scoreless tie in the fifth. He hit a solo home run in the eighth.
Tom Koehler (8-10) took the loss and Miami's three-game winning streak ended.
Garcia took a 3-0 lead into the ninth and began the inning by striking out Martin Prado. Garcia then hit Derek Dietrich with a pitch and walked Casey McGehee, bringing Rosenthal from the bullpen.
The Marlins scored an unearned run when Cole Gilliespie singled and right fielder Jason Heyward mishandled the ball for an error.
Garcia retired the first nine batters. After Dee Gordon singled to lead off the fourth, Garcia picked him off. Garcia did not allow a runner into scoring position until the seventh.
Carpenter hit his 18th home run. Mark Reynolds doubled and scored on Carpenter's bunt with two outs, and added an RBI single in the seventh.
"You want to go deep," Koehler said. "Anytime you give up that second run, it makes it tougher on the offense."
TRAINER'S ROOM
Marlins: OF Christian Yelich (bruised knee) was not in the lineup for the third straight game and might not play in the series. He said he was lacking mobility.
Cardinals: 1B Matt Adams (quad surgery) impressed the club in a running drill and continues to inch toward a rehab assignment. He was expected to miss the season when he was injured May 26.
UP NEXT
Marlins: Brad Hand (2-2, 4.29) has allowed one run in 11 innings since rejoining the rotation.
Cardinals: RHP John Lackey (9-7, 2.91) will go for his 12th consecutive quality start Saturday. All 17 starts he has made at Busch Stadium since he was traded last year have qualified as quality.
---
---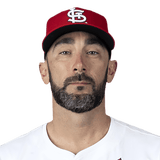 Get more from Matt Carpenter
Follow your favorites to get information about games, news and more
---