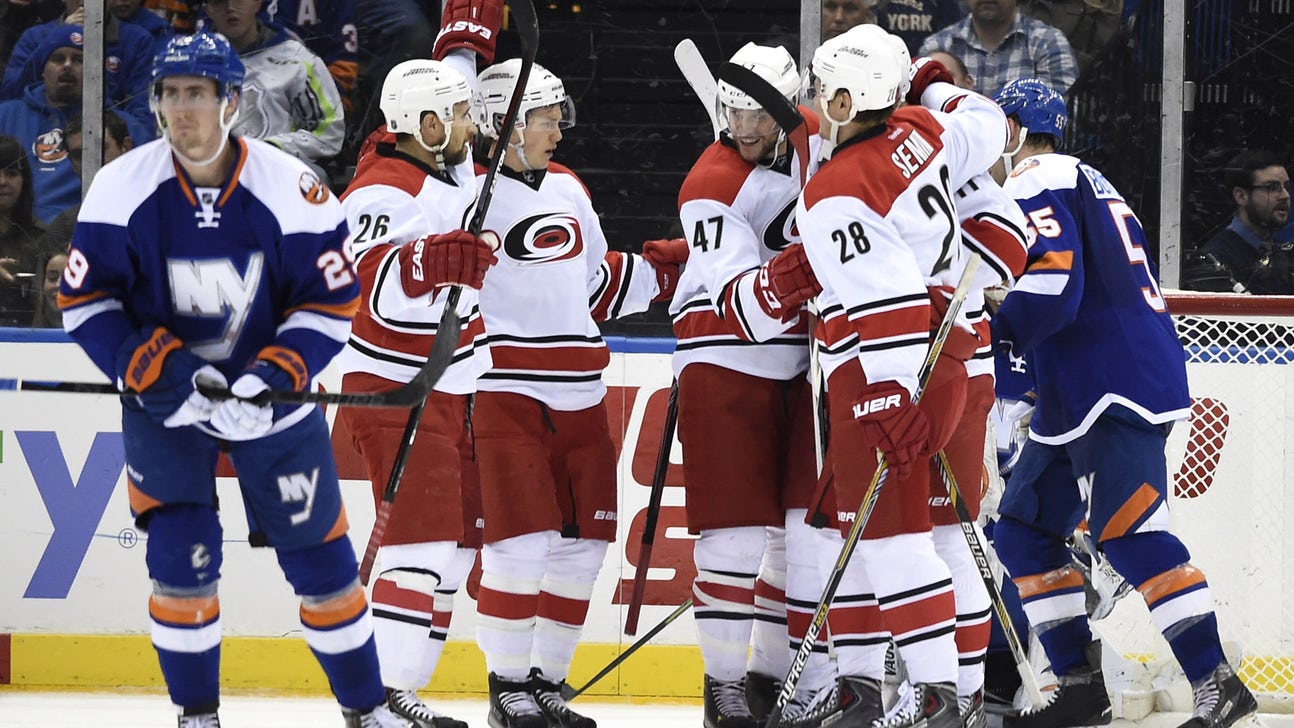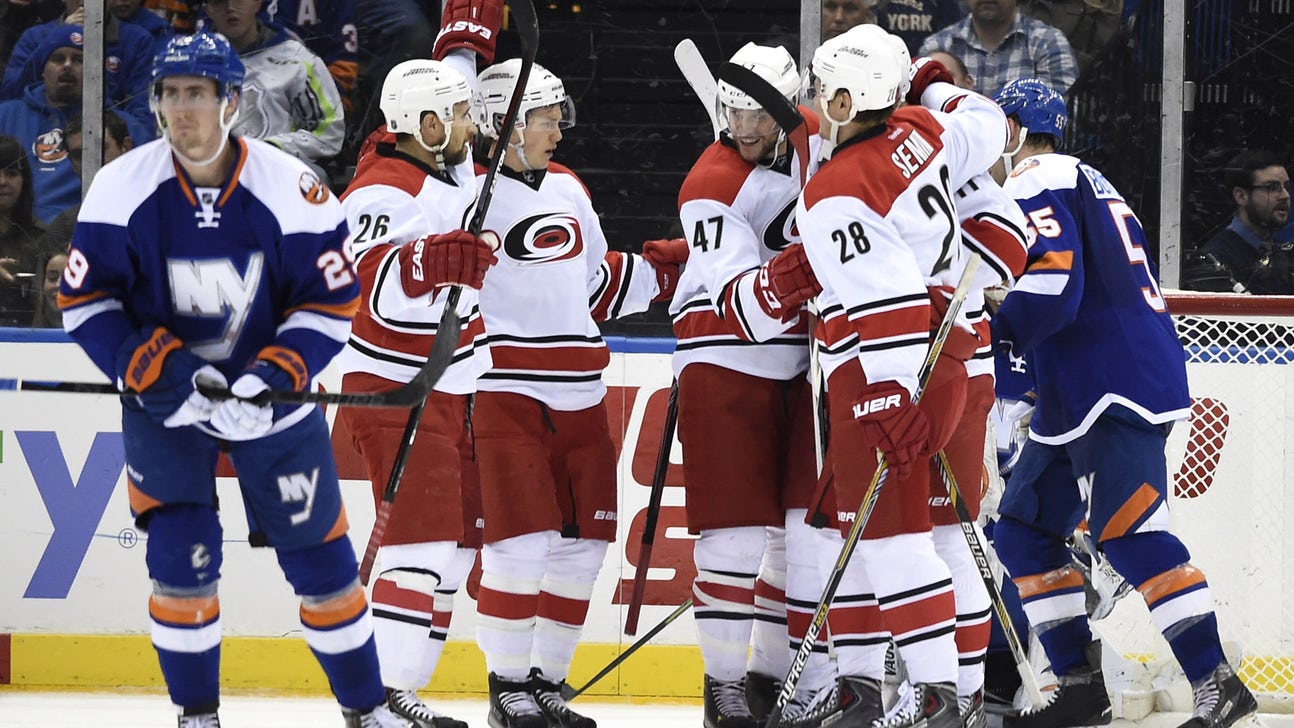 Hurricanes swap defensemen with Caps, defeat Islanders
Published
Feb. 28, 2015 8:14 p.m. ET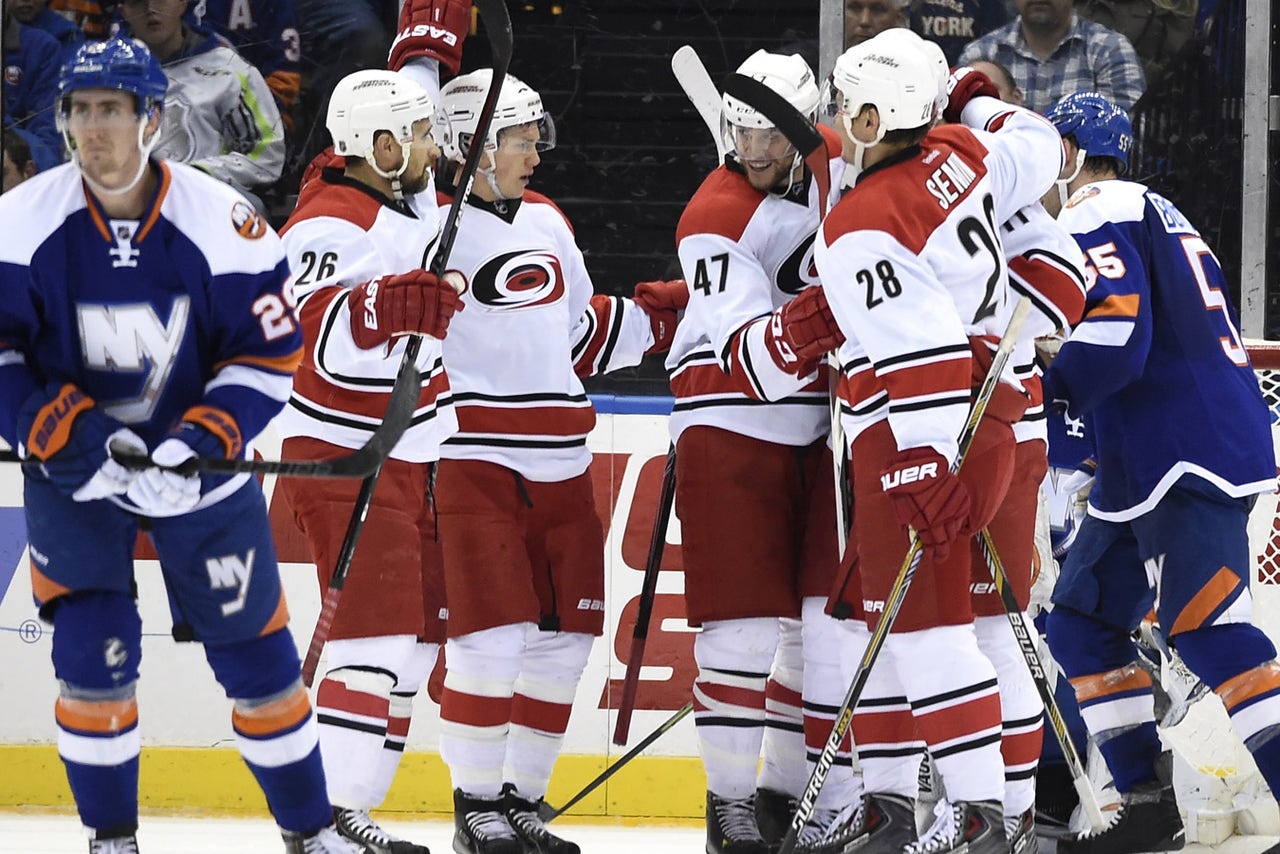 UNIONDALE, N.Y. -- Jay McClement scored twice and Cam Ward made 21 saves as the Carolina Hurricanes beat the New York Islanders 5-3 on Saturday for their third straight win.
McClement tied it 1-1 late in the first period and then scored again midway through the second for his sixth goal. Justin Faulk, Brad Malone and Michal Jordan also netted second-period goals for Carolina, which beat the Islanders for the first time in four meeting this season.
Michael Grabner opened the scoring for the Islanders at 11:47 of the first with his seventh goal, rifling the puck past Ward from the left circle. Nikolay Kulemin and John Tavares also scored for the Islanders.
McClement's first goal with 2:19 left in the first was scored when the puck deflected off his skate and past goalie Chad Johnson. The goal was upheld on video review.
Faulk put Carolina ahead 2-1 at 1:26 of the second with his 12th goal on the power play. Eric Staal and Victor Rask had assists.
Malone made it 4-2 with 2:14 left in the second when he tapped a loose puck past Johnson for his sixth goal. Jordan added his second of the season on the power play with 8 seconds remaining in the second to give Carolina a three-goal edge.
Tavares got New York within 5-3 at 9:35 of the third with his team-leading 30th goal. It is the second time the Islanders captain has hit the milestone. Tavares had a career-best 31 goals in the 2011-12 season.
The Hurricanes, winners at home against Washington on Friday, have won four of five.
The Hurricanes (24-30-7) opened with 10 shots before the Islanders had their first, and outshot New York 18-9 in the opening period. They continued the barrage in the second with an 18-10 advantage.
The Hurricanes traded defenseman Tim Gleason to the Washington Capitals earlier Saturday for Jack Hillen, who started on defense alongside Jordan.
Under terms of the trade, Carolina receives the Capitals' fourth-round pick in the upcoming draft.
The Hurricanes traded Gleason for the second time in 14 months. They dealt him to Toronto on New Year's Day 2014 in exchange for defenseman John-Michael Liles and a prospect, then signed him over the summer to a one-year, $1.2 million contract.
"Tim has been a steady presence on and off the ice for our team, and I wish him all the best in Washington," Carolina general manager Ron Francis said. "This gives us a chance to take a look at Jack for the remainder of the season and continue to accumulate assets for a deep draft this summer."
On Wednesday, the Hurricanes -- who are well behind in the Eastern Conference playoff race -- also traded forward Jiri Tlusty to Winnipeg, and defenseman Andrej Sekera to Los Angeles.
---