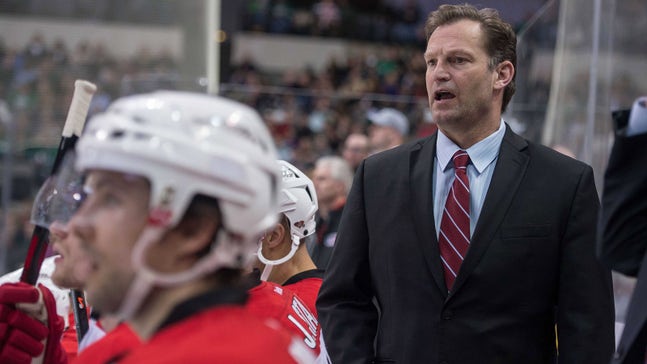 Hurricanes fire head coach Muller
Published
May. 5, 2014 11:27 a.m. ET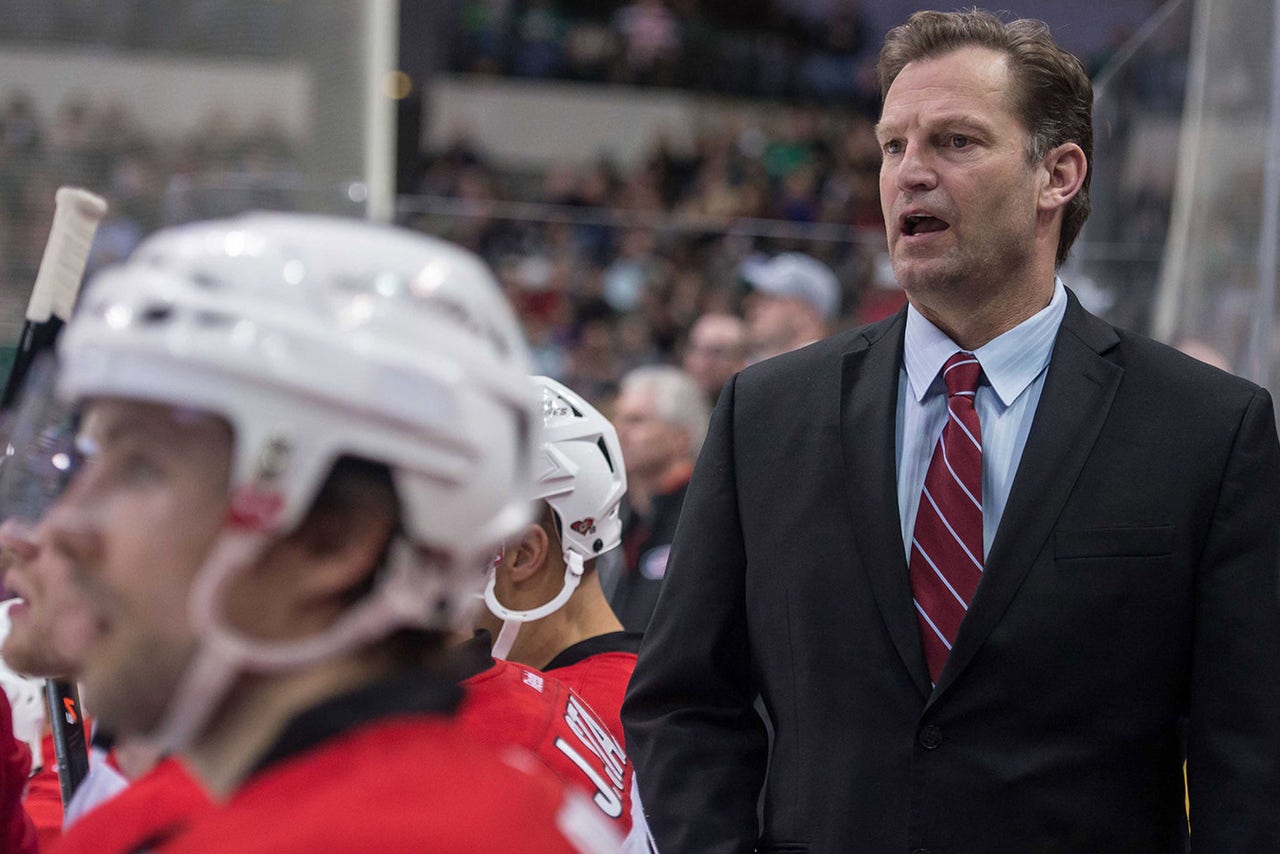 The Hurricanes have fired coach Kirk Muller after three seasons.
Muller went 80-80-27, including 36-35-11 this past year. He failed to make the playoffs in any of his seasons.
Carolina also removed two assistants, John MacLean and Dave Lewis, but kept goaltending coach Greg Stefan, reassigning him to their pro scouting department. Assistant coach Rod Brind'Amour will also remain on staff.
These are the first major moves for new executive vice president and general manager Ron Francis, who took over last week to replace Jim Rutherford.
"We thank Kirk, John and Dave for their time and effort during the past three seasons," Francis in said a statement released by the team. "Kirk and his staff worked very hard, but we feel that the team is in need of a fresh start at this time."
This was the first head coaching job for Muller, who played in 1,349 games from 1984-85 through 2002-03 in stints with the Devils, Canadiens, Islanders, Maple Leafs, Stars and Panthers.
Francis acknowledged that Muller's tenure wasn't exactly conventional by any means -- he came in a few months into the season in 2011, then faced a lockout-shortened season in 2012 and his third season was an Olympic year.
"You look at a lot of things and you watch the team over the course of the year, I just felt at this point going forward, we needed a fresh start," Francis said.
Francis has barely been on the job himself before having to make this decision.
And just because it was made relatively quickly doesn't mean it was made lightly.
"It's taken a long time to kind of walk through this. It's not something that you look at lightly or take lightly," Francis said. "I think (Muller is) going to go on to be a real good coach in this league. But you want to analyze everything.
"At the end of the day, you kind of take the information that's there, you analyze it and you get sort of a gut feeling on what you need to do and you act on it."
There's plenty of work still to do. While Rutherford groomed Francis, the Hurricanes' brand-new GM made it clear last week that he is his own man.
He wants to analyze everything about the team moving forward and work to improve it, putting his own stamp on the organization.
As he forms the team in his image, that applies to everything -- from the way the team drafts players to the way it develops players and so on. He wants to make sure he hires a head coach that fits that image.
He's open to all candidates right now, he said. "It would be an open search at this point. I don't really have anybody in mind," Francis said. "I think we'll start with a big list and then we'll kind of narrow it down to the guys we think are worth bringing in and actually interviewing and kind of go from there."
Francis said that he's already fielded some phone calls from interested parties that wanted to "throw their (names) in the hat". He said that if Brind'Amour wanted to throw his own name into it, he'd be considered as well. 
There's no timetable for the search, but he said ideally he'd like someone in place before the NHL Draft (which is in late June).
He acknowledged that whoever he hires as head coach will certainly reflect his long-range vision for what he wants this organization to become. The most important quality he's looking for is an effective teacher.
"Analyzing your talent and finding what system is best for your players and then activating that (system), you have to be able to teach that. You have to be able to communicate what that system is to your players," Francis said.
"You've got to be able to manage the different personalities in that locker room to get them to understand the different roles within that system to be successful. And you have to be the strong leader that's going to kind of take that locker room and get them in the right direction."
There were rumors about the players -- particularly the veterans -- not getting along well with Muller, and Francis was asked how much the players' assessment of Muller during their exit meetings impacted his decision.
"I think you look at a lot of things, but ... this in no way, shape or form takes players off the hook," Francis said. "I think they still have to be accountable for their actions and how they played. But certainly you look at a lot of different facets when you're making this decision.
"You look at our team, there's guys who didn't play well. They were told that by us in the exit meetings. I think at the end of the day, there's always going to be situations where as a player if you don't like the coach, you've still got to perform. I never had any indications that there was a lot of friction between Kirk and the players."
In spite of those rumors, Muller often stuck up for players after games, even after particularly bad performances, saying the team played well enough to win and either taking the blame himself or chalking it up to a bad bounce here or there.
Part of that, of course, is the careful line coaches must walk between protecting their players to the media and projecting a strong image to the fans.
This is a relatively forgiving hockey market, compared to a Pittsburgh or a Toronto, for instance. The fans have their favorites, but they're also growing impatient with a five-year playoff drought and a team that is consistently inconsistent. 
Right now, fixing that inconsistency is Priority No. 1 for Francis in terms of on-ice issues.
"I think the biggest thing was their inconsistency. Some nights, we'd look like a great team and other nights, we really struggled. We looked like we didn't know how to play the game at times," Francis said.
"We frustrated not only ourselves but the fans and other people with the way we played certain nights. So I think we have to get to the point where we are consistently bringing the same effort each and every night and I think if we do that, it gives us a better chance to succeed in what we want to accomplish."
When asked if this move -- a fresh start, as Francis himself put it -- meant that approach would apply to the players as well, Francis answered delicately.
"I would say if there was an opportunity to make our roster better, then yeah, I would consider making changes to do that. I'm not just going to make a change for the sake of unloading a player or a contract unless it makes us better," Francis said.
There's often been the idea out there that the Hurricanes have a core of players that are popular with the fans -- like Eric Staal and Alexander Semin, for instance -- that won't be moved no matter what. The Untouchables, so to speak.
Francis dispelled that notion quickly.
"I think, coming into this job, it's a fresh start and I think I have to look at everything, including the players that are in the locker room. Absolutely," Francis said.
Like Muller had to walk the line between protecting his players and holding them accountable, Francis has to walk that line, too.
Just because he talks about a fresh start doesn't mean that the team can actually afford to tear everything down and, quite literally, start over again. It wouldn't make financial sense.
Francis echoed the words of owner Peter Karmanos from an interview about a month ago with FOX Sports Carolinas' John Forslund -- he doesn't think that the team is far away, personnel-wise.
"I think we've certainly got enough pieces to compete. Whether we keep those pieces or make changes to make us better, we'll look at those things going forward," Francis said. "But we're not going to do things just for the sake of doing things. You want to do it with a long-range plan in place."
Anything other than wholesale change will likely be frustrating for Hurricanes' fans, and there probably aren't enough moves Francis could make that would satisfy their desire for change.
This is a start, though. 
"I think the biggest thing is that the fans know that we certainly appreciate them and we need them to hang in there with us as we go through this process," Francis said.
When asked if decisions will be made with the idea of reaching the playoffs next year in mind rather than building towards that, Francis answered honestly, if you read between the lines -- a lot will depend on how much the young players can step up.
And that will be true no matter who the next head coach is.
"That's my goal to be a playoff team every year, so I have to say yes to that question. I think there are good pieces in the locker room. I think we've got some good young guys. I think it's time for them to take the next step in their leadership and their development, to take a bigger role on our team," Francis said.
"And then I think there's veteran guys that can play a bigger part in steering that ship as well. So yeah, I feel we've got enough talent."
---