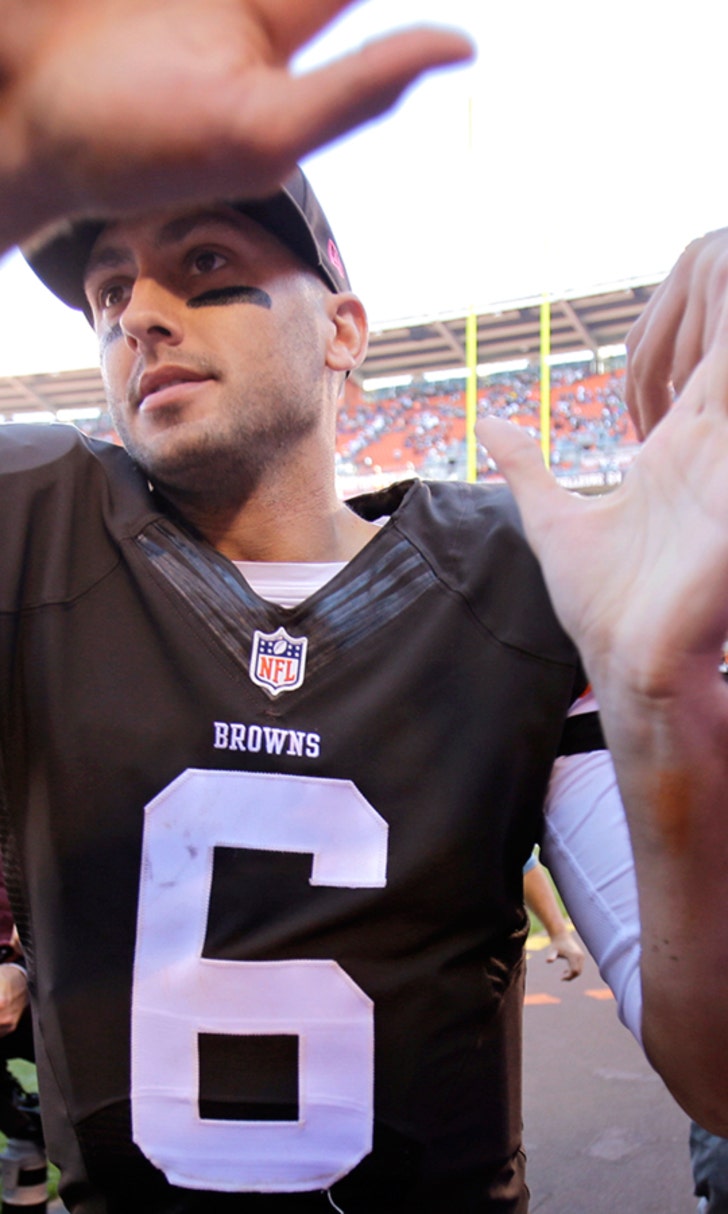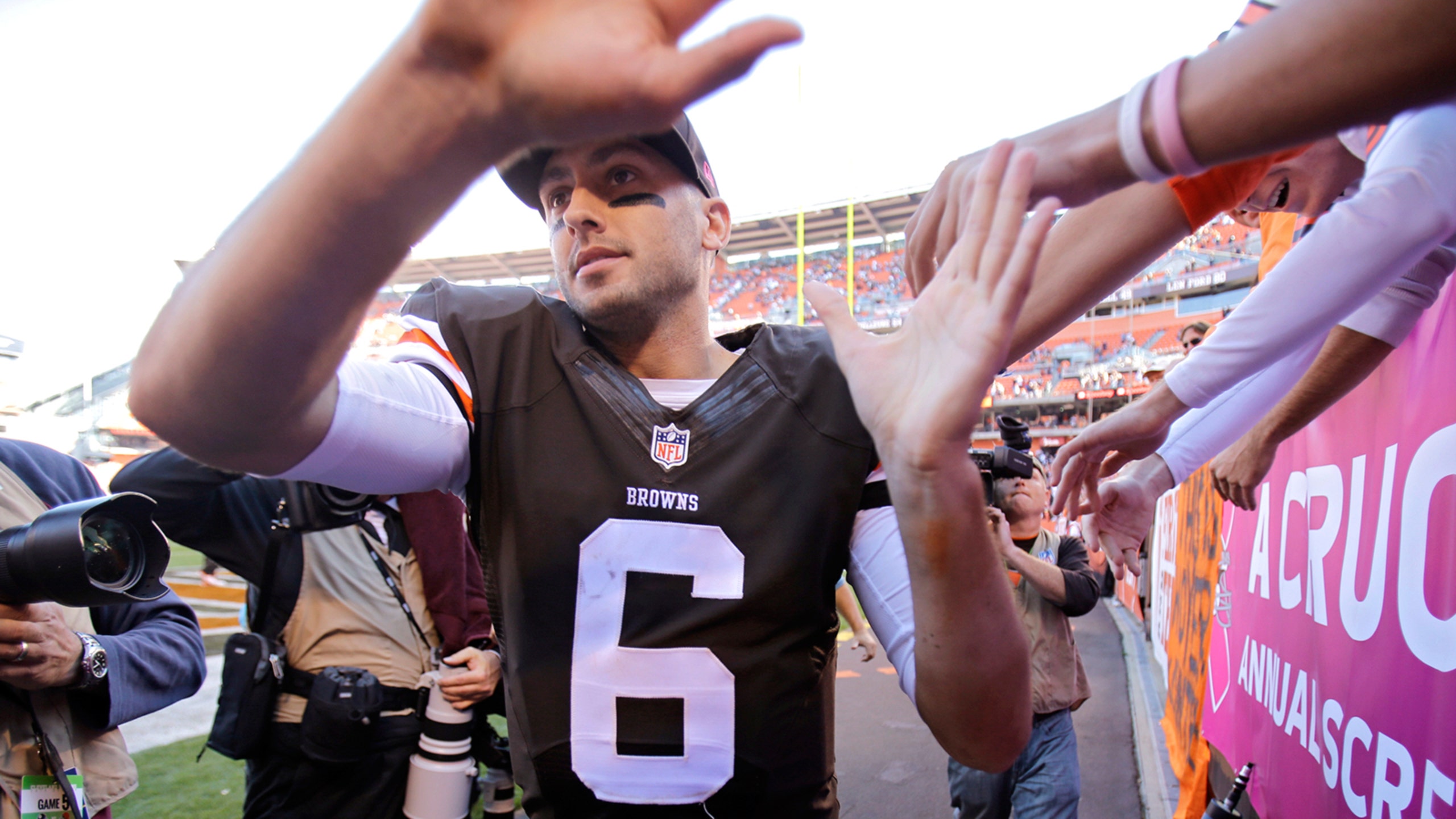 Hoyer gets first word in public negotiation with Browns
BY foxsports • February 9, 2015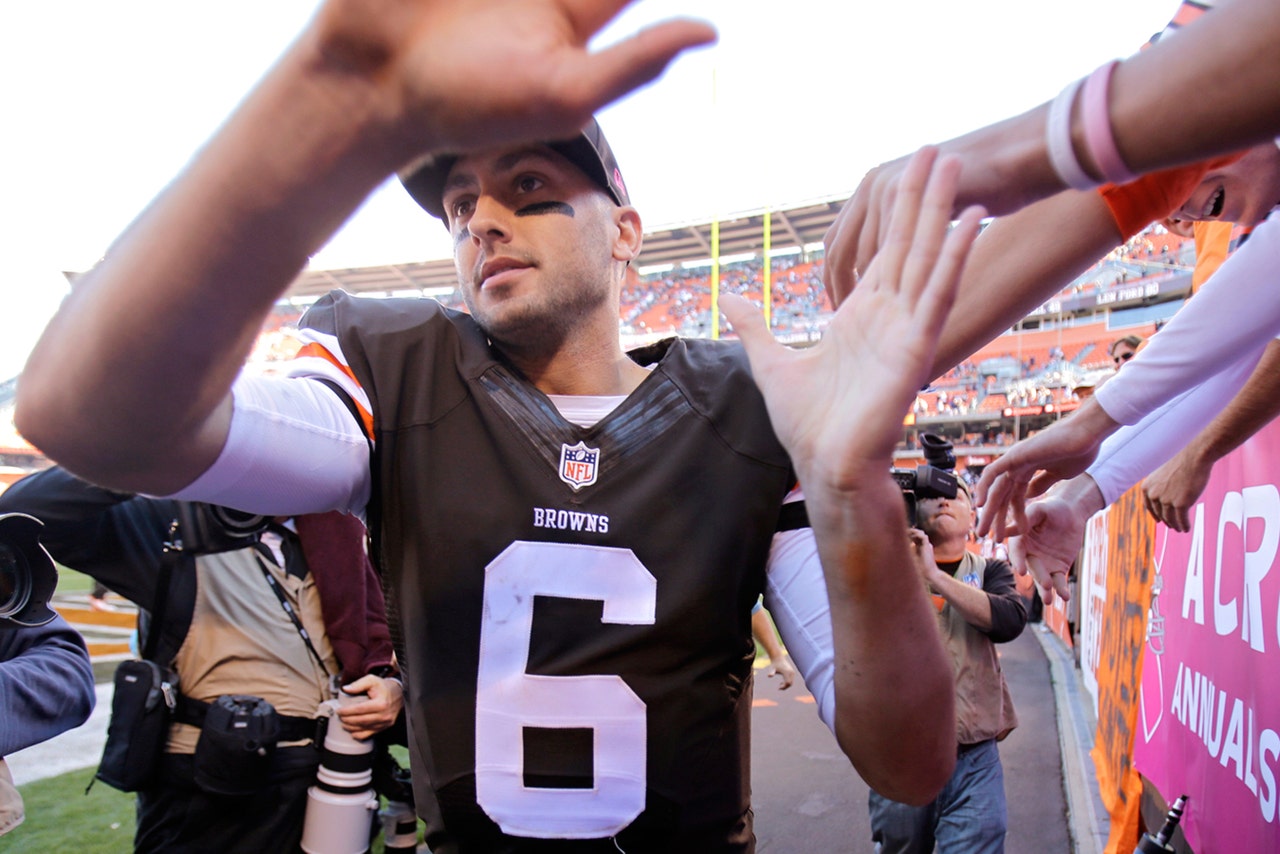 Until March 7, the Cleveland Browns are the only team that can negotiate with quarterback Brian Hoyer.
The public part of whatever negotation lies ahead -- the posturing and positioning -- has already begun.
Hoyer, benched last December then injured in backup duty after leading the Browns to a 7-4 start, is without a contract in advance of the start of the NFL's league year on March 10. Since the end of the season the Browns have added a new offensive coordinator, have seen quarterback Johnny Manziel check himself into a rehabilitation center and are hiring a new quarterbacks coach and awaiting a verdict from the NFL regarding an investigation into text messages reportedly sent during games from the owner's suite to coaches, a violaion of the league's gameday communication policy.
So, it's a typical Browns offseason with a typical Browns dilemma.
No answer at quarterback.
Hoyer and his camp -- he's repped by longtime agent Joe Linta -- know this. The Browns know Hoyer well, and one thing that makes this year different than others in the team's neverending search for a long-term quarterback answer is that the head coach and front office weren't replaced this time around.
The Browns can't contact outside options until March. The NFL Draft starts April 30.
In this, the second week of February, there's much to be settled. And the staredown isn't exactly on; not yet, anyway.
But Hoyer made a public appearance last weekend and spoke to reporters afterwards. Monday morning, he appeared on a national radio show knowing exactly what kind of questions were coming. When the Browns go to the NFL Scouting Combine in Indianapolis next week, head coach Mike Pettine and Ray Farmer know exactly what kind of quarterback questions are coming.
The two sides are going to dance, even if they never come close to touching. Both sides are going to size up other dance partners, too.
For now, it's like a really awkward high school homecoming flirtation with many millions of dollars and several jobs involved.
"You don't know how things will play out," Hoyer said Monday. "I've never had this opportunity in my career."
He also said much of what he said Saturday. That he loves his teammates and coaches. That it would be great to stay at home. That "all options are on the table" and that he'll eventually do what's best for his family and his opportunity to maximize his career.
Hoyer said he's "just as interested as everybody else" in what the NFL finds in the text-message investigation.
"If it had something to do with me, obviously I would like to know," he said.
Of course he would. And if Farmer was putting down Hoyer to now-departed coaches in those text messages, as previous reports have hinted, that could affect negotiations.
Make no mistake. Every public word put out by both sides from now until further notice is about negotiations.
"I've proven that I can win in this league as a starting quarterback," Hoyer said Saturday. "Now, did the (2014) season end the way we wanted to? No, we fell off. There are a lot of things and a lot of reasons why that happened. I'm not going to shy away from my responsibility in that part.
"I feel like (in) 16 starts, I've shown that I can be a winning quarterback in this league. Especially at this point in my career, I want to go somewhere, whether it's here or wherever it might be, that I'm going to be able to have a chance to be on the field."
Hoyer wants paid and wants a chance to win. A married father who grew up just outside of Cleveland, Hoyer has reasons to want to make things work with the Browns.
The Browns have to carve out a plan -- probably a few of them, actually -- and ask themselves if they can do better than Hoyer. They probably have to budget a certain amount of dollars, too, while taking into account that when they open their doors to players again in April, 2014 undrafted rookie Connor Shaw could be the only quarterback who shows up. They have to judge whether to trust Manziel, judge what they feel Hoyer's ceiling might be and take a long look at outside options, from Plan A through at least Plan D or E.
Hoyer has to remember what last training camp was like, what last season was like and what price he really might put on home.
The real negotiation and process will take place behind closed doors. In the meantime, though, both sides will take at least somewhat of a stand in front of the cameras and microphones.
---