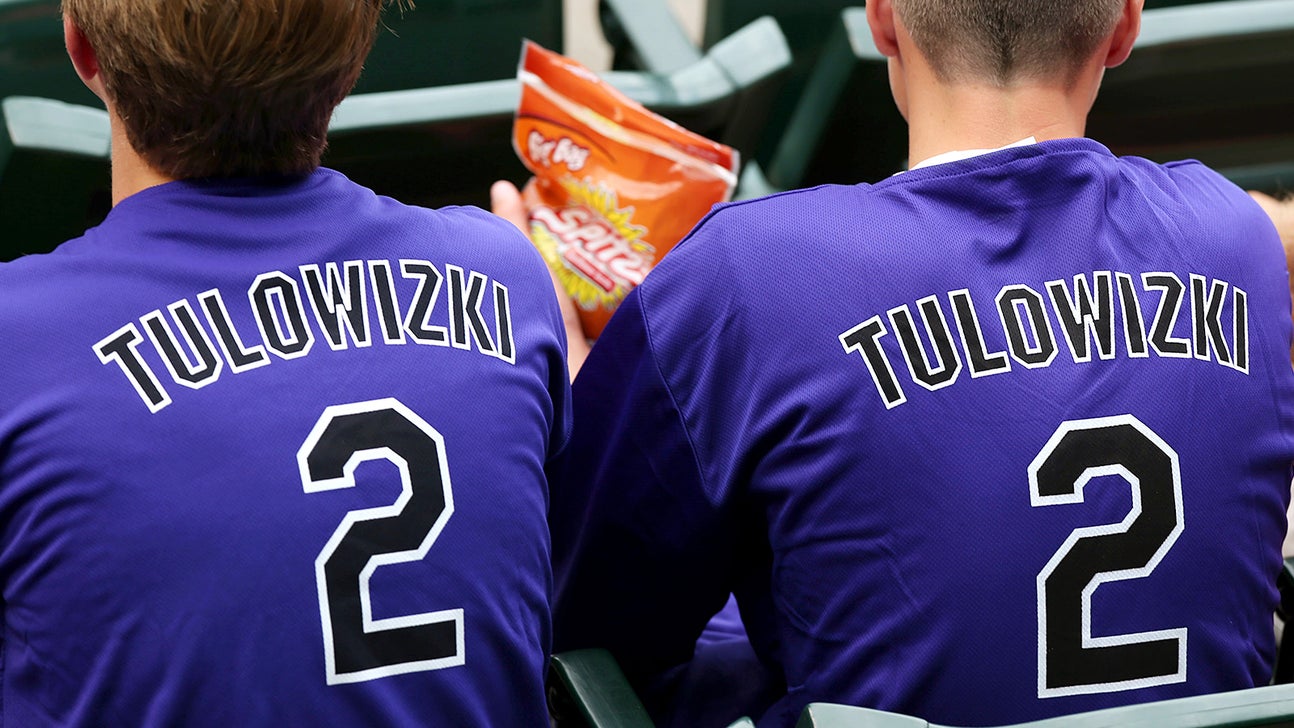 How do you solve a problem like the Rockies?
Updated
Mar. 5, 2020 12:16 a.m. ET

There's been some talk about trading Troy Tulowitzki, and some talk about Troy Tulowitzki taking over at shortstop for his idol, Derek Jeter. Talk talk talk, and I don't pay any attention until something actually happens. Otherwise I wouldn't have time to scrawl lovesick messages on postcards from faraway places.
Still, it's hard to imagine the Rockies without Tulo -- I mean, seriously, what else do Rockies fans have to live for lately -- and yet one does wonder why he's even there, since mega-contracts don't really make a great deal of sense on teams starting from scratch. Also, Tulowitzki's seemed less than thrilled with his employers lately.
Granted, he's tried to defuse the situation. Which seems appropriate, considering next year he starts making $20 million every year for (almost) forever ...
"I think that's why I came out numerous times and said I want to win," Tulowitzki said. "It doesn't mean I want out of here. It means I'm sick and tired of losing.

"Something needs to change. Hopefully that comes fairly quickly. You can't force it. But at the same time, we're all frustrated with this year — especially me."
Look, the franchise's problem is pretty obvious: It's been more than 20 years, and they just can't come up with really good starting pitchers. In the Rockies' entire history, they've got exactly four pitcher-seasons of at least 4 Wins Above Average:
Ubaldo Jimenez - 5.8 WAA in 2010
Jhoulys Chacin - 4.3 in 2013
Joe Kennedy - 4.3 in 2004
Pedro Astacio - 4.0 in 1999
Actually, that's not so bad. Surprisingly good, even! Four Wins Above Average is superstar territory, and the only reason we didn't notice is Coors Field. Let's drill a bit deeper, though.
In this century, the Athletics have 19 pitcher-seasons of at least 2 WAA, compiled by 10 different pitchers, and four of them did that more than once: Tim Hudson (4), Barry Zito (4), Mark Mulder (3) and Gio Gonzalez.
Same span, the Rockies have 12 pitcher-seasons, eight pitchers, three of them more than once: Ubaldo Jimenez (3), Jhoulys Chacin (2) and Aaron Cook (2).
Aside from the pitcher-seasons, there's not a huge difference there. Except seriously, is there any comparison between Hudson-Zito-Mulder and Jimenez-Chacin-Cook? The Rockies simply have not developed an enduring star pitcher in the franchise's entire existence, which goes all the way back to 1993. Jimenez is easily the best pitcher they've developed, and he's got one good season since turning 27. Chacin looked like he might be really good, and I suppose he still might be ... but this season's 5.40 ERA in 11 starts isn't encouraging.
In fairness, not many teams can stack up against the A's and all the young pitchers they've developed in the last 15 years. Other clubs have struggled, too. The Diamondbacks joined the National League five years after the Rockies, and they've developed one oustanding starting pitcher (Brandon Webb). On the other hand, the Marlins were the Rockies' 1993 expansion-mates, and they've come up with Josh Johnson, Dontrelle Willis, Anibal Sanchez, Josh Beckett, A.J. Burnett, and now Jose Fernandez and Henderson Alvarez.
Why haven't the Rockies been able to develop excellent starting pitchers? Or trade for them? Or sign them? We've all written about this many times, and one can only guess how many thousands of hours management has devoted to answering these so-fundamental questions. We've suggested everything, and they've tried everything. After more than 20 years, it's probably fair to wonder, I mean really wonder, if the situation is simply impossible. If the demands of pitching half your games at Coors Field -- and before that, probably pitching half your games in Colorado Springs for a spell -- is just too much for all but the rarest of the rare.
Aaron Cook threw sinkers, and he was pretty good for a while. Jhoulys Chacin's best pitch has been his slider. At his best, Ubaldo Jimenez threw a mid-90s fastball and a lovely change-up. So there's really no pattern here. With the humidor in action, maybe a high-strikeout/fly-ball pitcher is best-equipped for Coors Field, because his stuff should play just about anywhere. But for whatever reason, the Rockies just haven't been able to develop those sort. Or any other sort, really.
One might also wonder if they need to try a radically different model. Of course, they tried something radically different a couple of years ago ... then backtracked very quickly, and are now completely conventional again.
I might be completely wrong about this. But it's been so many years that I'm fairly convinced they need to try something radical again, or leave Denver. And they're not leaving Denver.
Which leaves ... what, exactly? Figure that one out, and you'll make your first million dollars.
---