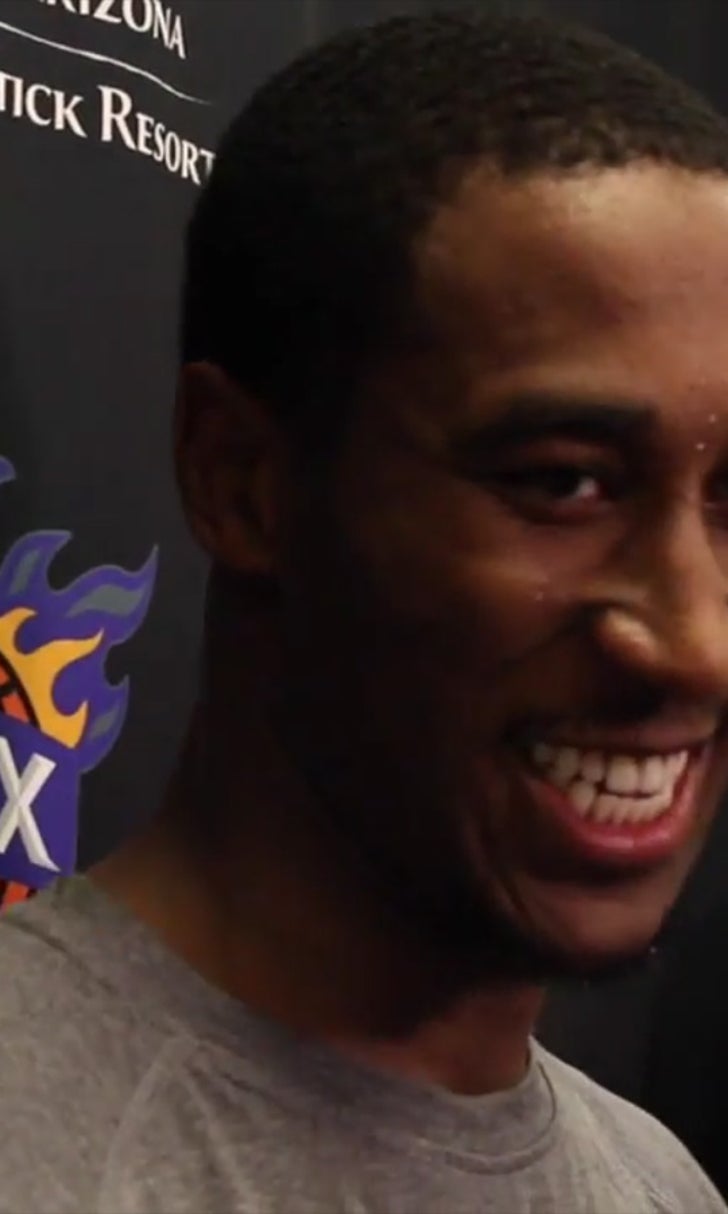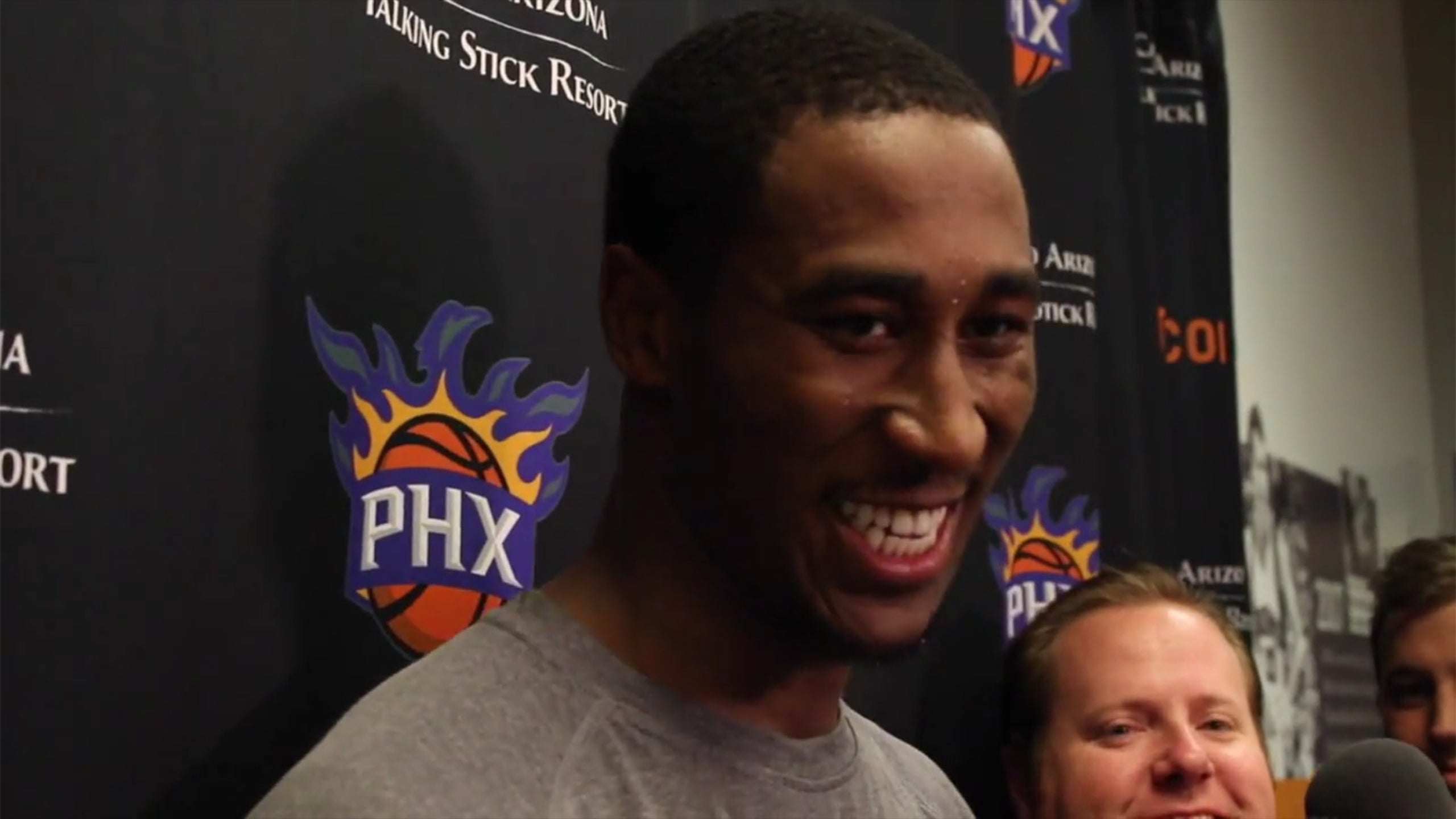 Hollis-Jefferson packs enthusiasm, effort, personality into Suns' workout
BY foxsports • June 5, 2015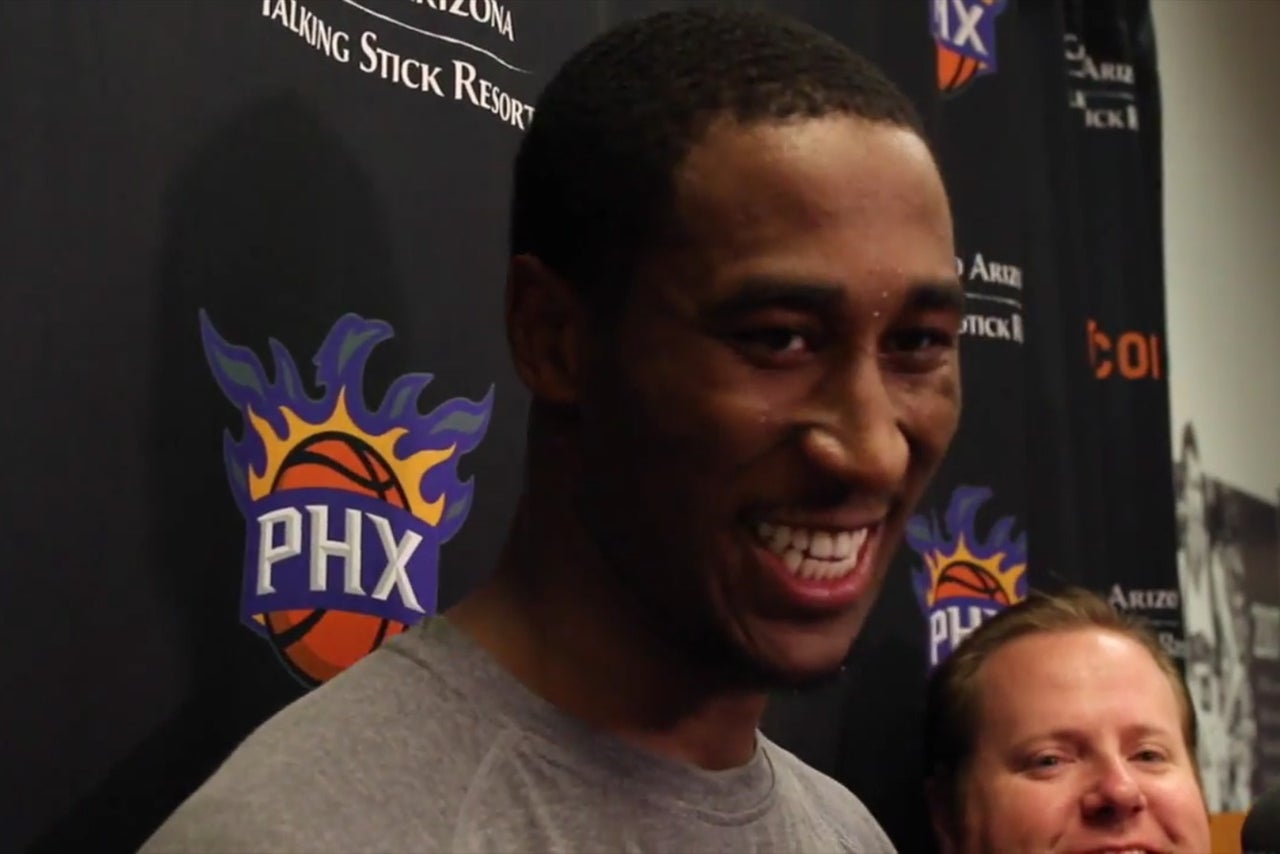 PHOENIX -- We'll begin this pre-draft look at Rondae Hollis-Jefferson with a brutally honest scouting report delivered by someone who's known the University of Arizona swingman better and longer than anyone else currently lobbing opinions.
For the record, the 6-foot-7 lefty -- projected as a mid-to-late, first-round selection -- was one of six prospects to audition for the Suns in the first of two workouts on Friday at U.S. Airways Center.
Arizona point guard T.J. McConnell and former North High star Alan Williams (UC-Santa Barbara) were part of group two.
Anyway, let's get to that assessment of Hollis-Jefferson.
"First I'll start off with matching his intensity," our source said of RHJ. "I'm talking to the team . . . I'm on the other team."
Yeah, that's a little confusing, but just stay with us here.
"First, you've got to match his intensity," the insider continued, "second you've got to know where he is at all times. He's a good offensive rebounder, good defensive rebounder . . . great, great defensive player.
"He's good in transition, getting to the basket. He's good at working with his teammates. He struggles a bit beyond the arc. He has a solid pull-up game . . . watch out for that. Um . . . pretty much it."
This detailed review was provided, of course, by Hollis-Jefferson, who was responding to a self-assessment prompt by one of several media inquisitors to quickly realize the 20-year-old is elite . . . as an engaging personality.
"He's one of the more loquacious guys we've had in over the past couple of years even," Suns general manager Ryan McDonough said.
As a prospect, most well-meaning mock drafts have him positioned from just outside the lottery to somewhere in the bottom third of the first round. He's the kid from Chester, Pa., credited with most of the locking down of Ohio State freshman hotshot D'Angelo Russell (a favorite of mock drafts everywhere) in the Arizona's NCAA Tournament win over the Buckeyes.
So the Suns, sitting on that 13th overall pick, could put him to good use in an effort to initiate a defensive upgrade. Right, there's quite a logjam at small forward and shooting guard that Hollis-Jefferson -- a 21-percent marksman from behind the collegiate 3-point stripe -- might find difficult to crack. He averaged 11 points per game for the Wildcats but certainly doesn't scratch the Suns' itch for better perimeter shooting.
He does, however, bring a marketable skill that continues to grow in NBA importance.
"He's aggressive," McDonough said. "I think he embraces that roll as a stopper. He's not afraid to take on a challenge, a defensive challenge. He feels like he can guard multiple positions . . . he did that at Arizona; he's certainly capable of doing that in the NBA."
And now, the previously listed caveat.
"I think his shooting . . . it's improved," McDonough said, "but there's still some work to do. To be able to play a lot of minutes in the NBA, you need to make open shots.
"You need to be able to spot up and make open shots. You don't necessarily need to create the shots if you have unique skills at the defensive end like he does, but you need to make open shots."
But he seems to consider playing basketball a blessing and realizes shooting may be easier for him to upgrade than middling aggression, length (he's 6-foot-7 with a 7-2 wingspan) and athleticism might be for someone else.
He might not be able to immediately excite much of the non-UA-affiliated fan base if selected at 13, but Hollis-Jefferson has the type of enthusiasm and communication skills the Suns aren't exactly loaded with.
An example follows:
"I'm Rondae . . . it's nice to meet you all. You don't have to say your name . . . let's get to it."
That's how his post-workout media session inside the Al McCoy Press Room began.
"It went well, it went well," he said when asked for an overall assessment of another typically grueling Suns pre-draft challenge. "You can tell by my shirt."
Right, it was absolutely soaked.
"We went hard, it was fast-paced, up-tempo," RHJ continued, "physical . . . pretty much just go hard . . . pretty much how you love to play the game . . . so I enjoyed it."
Hollis-Jefferson's workout pals were two-guard Rashad Vaughn and stretch-four-man Christian Wood of UNLV, Utah point guard Delon Wright, Louisville power forward Montrezl Harrell and Georgia State shooting guard Ron Hunter.
A group of so many really good players -- all presumed to come off the board somewhere between the end of the lottery and the end of the first round -- probably compels anyone on the floor to dial things up a notch, right?
Well, that's not how Hollis-Jefferson approached it.
"I don't see it," he said following a momentum-shifting pause. "I don't see it. I think you should get juiced up no matter who you play, because anybody could come at you if you're the underdog or if you're talked about or mentioned more -- you should be ready no matter what. So I see it as playing basketball . . . I enjoy it, I'm going to go out and have fun."
As Hollis-Jefferson pointed out a bit later, personnel watchdogs from every team in the league are quite familiar with most aspects of any prospect's strength and weaknesses before they show up for these up-close trials.
And the prospects are there to demonstrate that what the teams have seen is what they'll get -- and hopefully a little more.
"I go hard," he said when questioned about what he was attempting to convey to Suns brass. "Pretty much no matter who's there, no matter if the chips are up are down . . . making shots, missing shots, I'm going to go hard. You only get better.
"You're going to mess up throughout your process of life, you're going to make mistakes, but as long as you keep going hard, you keep fighting . . . the outcome will be great, it'll be in your favor."
But we're not pretending the Suns had very little interest in watching the kid shoot the ball.
That struggle behind the arc (he wasn't much better shooting jumpers inside of it, either) was escorted into his early entry decision by some unhelpful mechanics. While the NBA has witnessed several great shooters with unusual technique, the guys who look a bit cockeyed in their technique and miss a lot require some tweaking.
While letting it  fly as an Arizona Wildcat, RHJ usually loaded the shot with his balance hand almost on top of the ball.
That doesn't render a shot unmakeable, but does increase the odds of negatively altering its directional accuracy. And by failing to keep his shooting hand directly behind the ball, some of the rotation is compromised.
Adding to this 21-percent stew was the tack of releasing the shot from slightly above his head, making it impossible to keep the elbow under the ball for the purpose of generating consistent arc.
While watching video of Hollis-Jefferson launching (mostly) unchallenged, stationary jumpers in a draft-preparation workout at Impact Basketball in Las Vegas, we noticed the hand positioning has been corrected. He also was staying under the ball with his elbow, holding his release, and the jumper -- although not attempted under duress or at game speed -- looked, well, better.
Although Hollis-Jefferson looked more polished at preparing to shoot, his lack of lower-hip leverage and subsequent lack of balance was evident in shots off the dribble.
Between work at Impact and sessions with trainer Ross Burns back in his New York base, RHJ at least understands what the process requires.    
"I just say repetition, you know, little things that make your shot better," he said when asked for specifics in his preparation. "Holding your follow-through up, making sure you get into your stance, making sure you get into that bend. Up and off, one motion smooth, getting it off early rather than late. Just keep working at it."
Did that translate to a good shooting day in front of the Suns?
"I did better than usual, I did a lot better than usual," he said. "I feel comfortable."
And there's always his calling card . . . the potential to become an elite-level NBA wing defender.
"Guys can score, but they (NBA teams) also want to see guys play defense," he said. "Me having that mindset of being a defensive stopper . . . I definitely say that'll get me on the court and keep me on the court."
McDonough concurs.
"That's usually what most coaches look for at the NBA level," he said of defense," especially from young guys. Rondae's got a good body, good length."
With less than half of his 14 or 15 pre-draft appearances in the bank, Rondae Hollis-Jefferson looks at each visit pragmatically.
"They know you're not going to play your best every time," he said, "but there are other things you can do to make your team better. I can bring that energy, I can make guys feel uncomfortable and I can push guys . . . even if it isn't my best day, you can count on a smile."
---