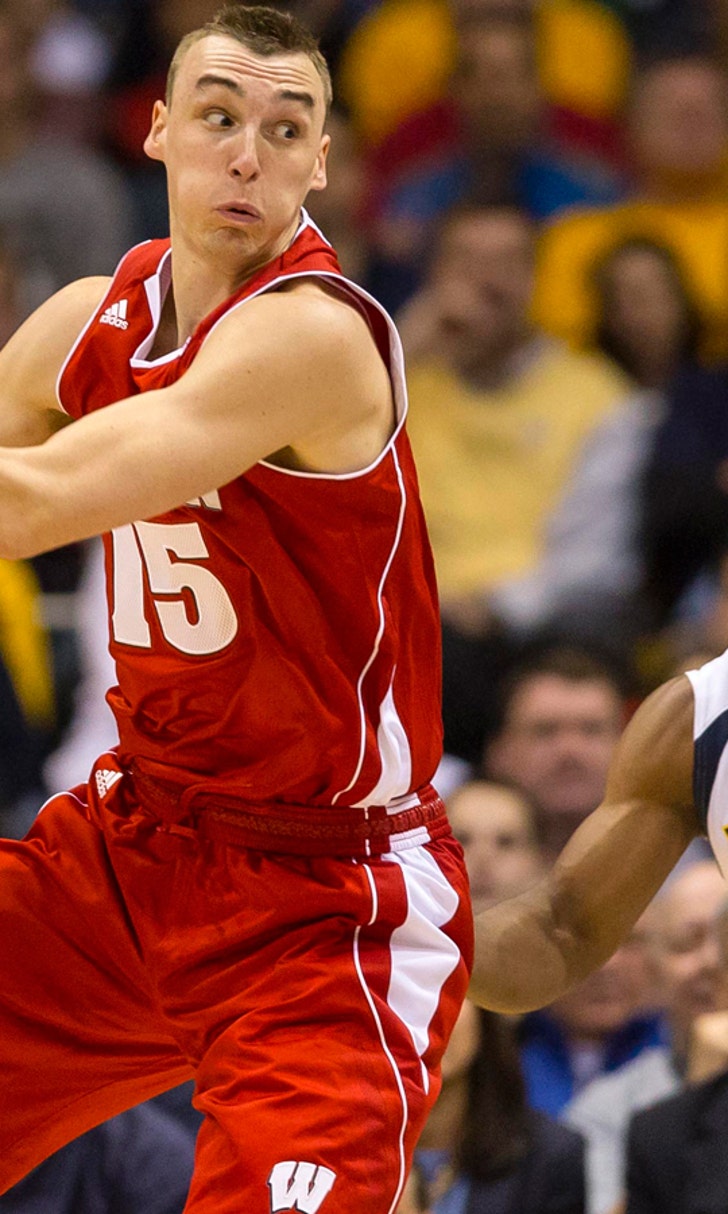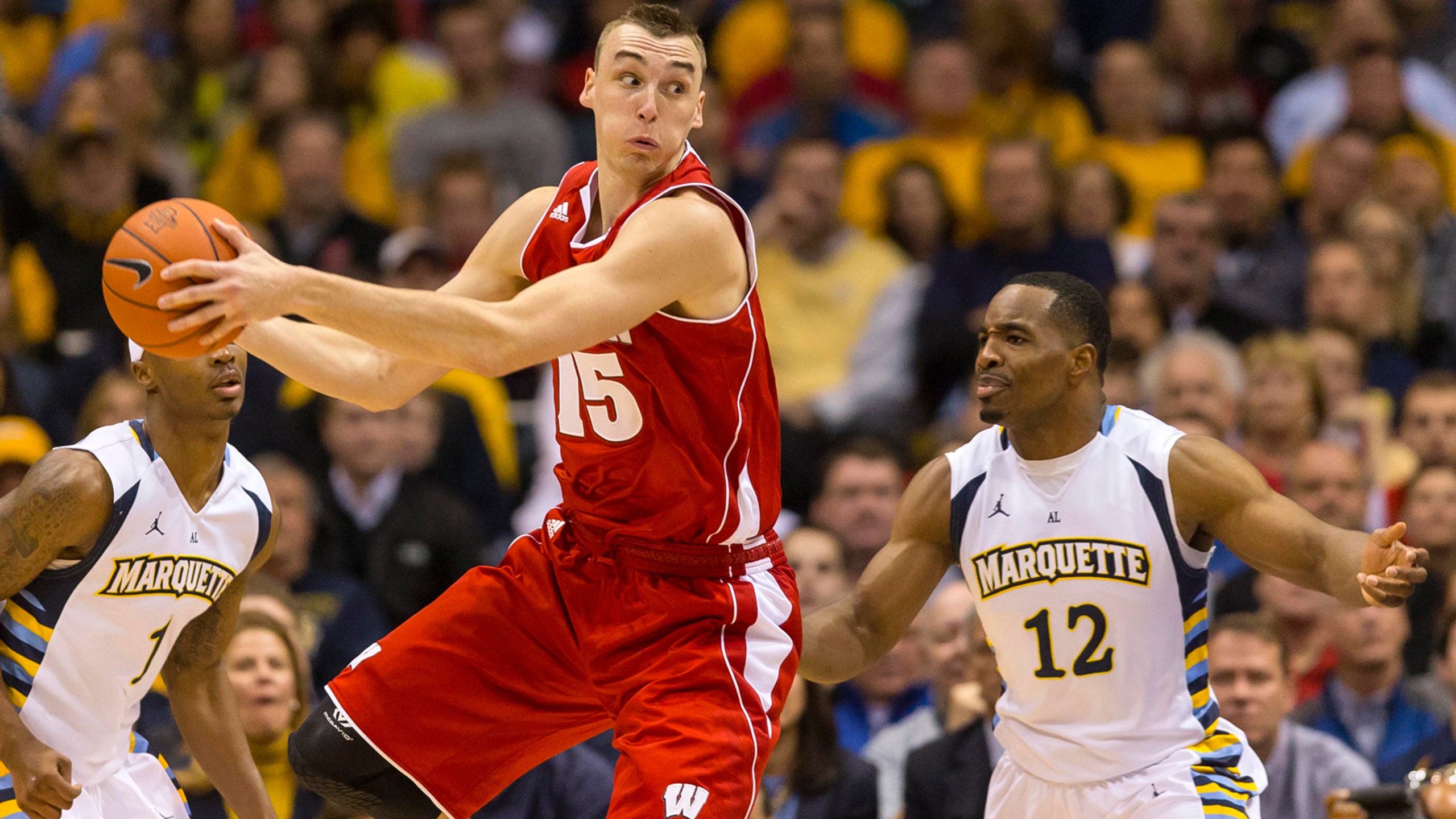 Hobbled by ankle, Dekker not using injury as excuse for underperformance
BY foxsports • December 9, 2014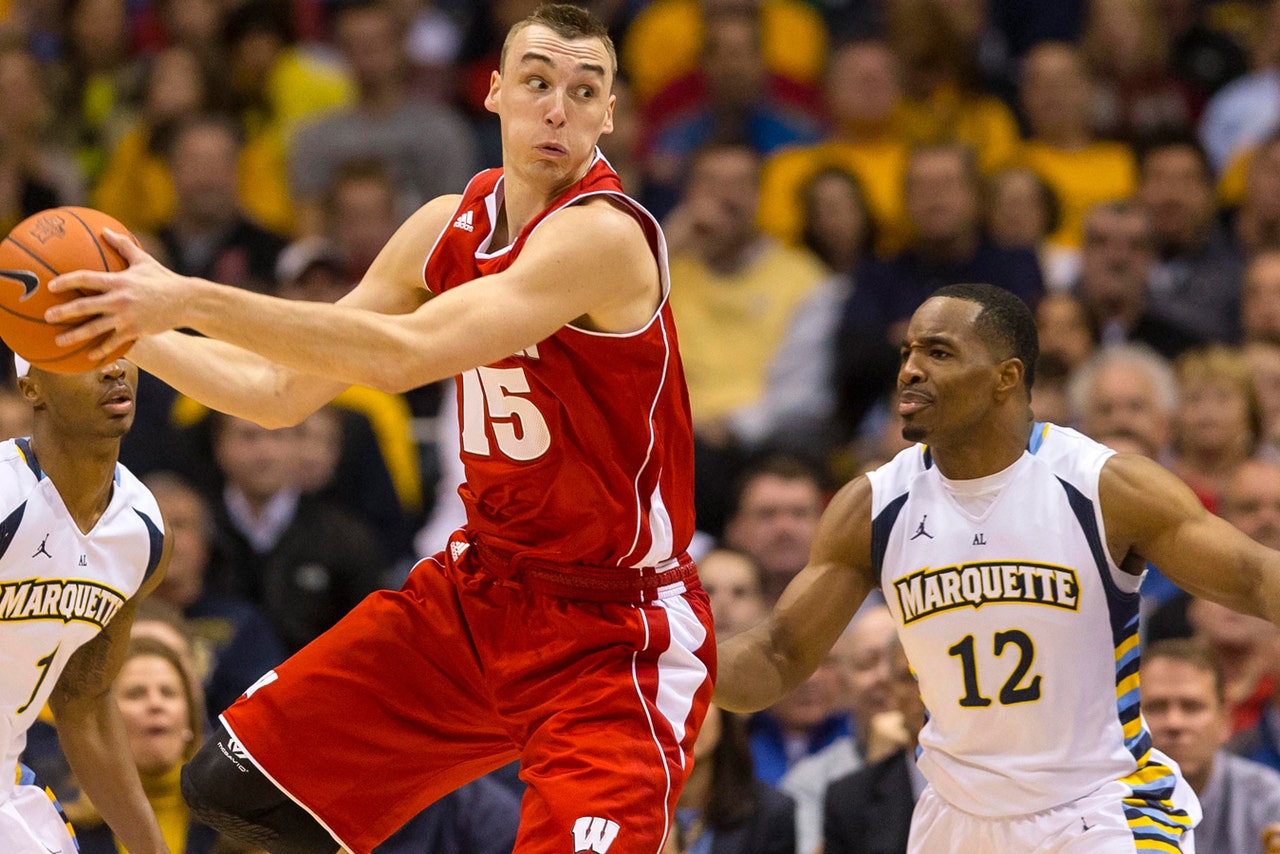 MADISON, Wis. -- Sam Dekker acknowledges he'd prefer not to discuss the lingering left ankle injury that has kept him from playing at full strength for Wisconsin this season.
"Everything's good right now," Dekker said following Monday's practice. "That's all I really should say about that."
But there is more to be said -- and more Dekker did say -- because of the way in which the sprain he sustained during an Oct. 24 practice has affected his ability to perform. Dekker practiced Monday and will once again be in the starting lineup when No. 5 Wisconsin (8-1) plays at Milwaukee (4-5) at 8 p.m. Wednesday in the U.S. Cellular Arena. His effectiveness, however, remains in question.
Dekker, the 6-foot-9, 230-pound junior from Sheboygan, Wis., still ranks third on the team in scoring at 10.7 points per game. But he also has been held to five points or fewer in four of the past six contests and has been noticeably hobbled during periods of those games. Last year, Dekker scored five points or fewer just twice in 38 games.
That Dekker participated during Monday's practice represented a sign of progress. He was held out of practice Thursday and Friday before Saturday's game against Marquette and he's missed practice time in each of the past few weeks, as well.
"Getting back on the court for practices made me the happiest guy in Madison that you could find right now," he said. "We'll leave it at that. I'm pretty excited with what's going on right now."
Some have argued now would be the right time to rest Dekker for a longer stretch. Wisconsin plays four more nonconference games before opening Big Ten play in 23 days against Penn State at the Kohl Center on Dec. 31, and Dekker's presence is not a necessity at this stage of the season.
Badgers coach Bo Ryan certainly is not one to use injuries as an excuse, and he indicated he had not considered sitting Dekker for any extended period of time.
"He's had rest," Ryan said. "So what happens with the players that way is internal. And why even talk about it? We just play."
For his part, Dekker refused to accept that the injury would simply remain with him in some capacity all season and expressed optimism with his progress early in the week. Badgers fans that have not seen Dekker's struggle up close likely are less enthused.
Dekker scored at least 15 points in the team's first three games. But since then, he has scored four points against Boise State, five points against UAB and five points against Duke -- a game in which he did not move particularly well on defense.
Dekker then scored a season-low two points on 1-of-5 shooting in 22 minutes during Wisconsin's 49-38 victory over Marquette on Saturday. He added five rebounds and three assists. Dekker technically was listed as "questionable" for that game but noted he did everything in his power to participate.
"That's a game you don't want to miss, regardless how you're feeling, how you're playing," he said. "You just want to be out there in that environment playing against a rival and against a great program in Marquette. I didn't want to miss that for my team, for myself and for the coaches. That's an important game. I was glad I was out there.
"I brought what I thought I should and could bring. I always want to do more. Sometimes that's not always going to be there, but you can't get down on yourself, can't get down on anything else. Just take what you get, and I just tried to bring energy for the team and do what I can in that regard."
Dekker is not injured to the point that he cannot play, but the lingering tenderness has no doubt hampered him, particularly with his scoring. Badgers assistant coach Greg Gard said Dekker still needed to mature in the area of impacting the team in other ways aside from scoring -- rebounding, defense and passing, among them. He noted center Frank Kaminsky made that leap last season to develop into a much more complete player.
"He's got to get some repetitions and get his timing back a little bit," Gard said of Dekker. "He's kind of been like an engine that has bad sparkplugs. He's got to get his sparkplug cleaned out and get back in sync. I think we've seen slowly that he's started to do that. It just hasn't been maybe as big of a splash as what we had seen prior to him getting hurt."
Teammates, meanwhile, have tried to offer support to Dekker as he deals with the frustration of not being at his best. Dekker wowed spectators at the LeBron James Skills Academy in Las Vegas this summer and was Wisconsin's most consistent scorer during October practices, showing off his stronger frame by scoring at the rim, as well.
"Sam is a heck of a player, regardless if he's scoring the ball," Badgers point guard Traevon Jackson said. "Obviously that's his talent and we need him to do that for our team. But I'm proud of the way he played, how he's handled adversity, the way he continues to overcome things. I think he's getting better and better every day."
Dekker is considered by most pundits to be a first-round NBA Draft pick if he chooses to leave school a year early. DraftExpress.com lists him as the No. 16 prospect, while ESPN draft analyst Chad Ford has Dekker at No. 21. But at this point, Dekker is simply thinking about regaining his health to help the team make another Final Four run.
"You just can't put pressure on yourself," Dekker said. "Good things are going to come out of this. I'm going to learn from this. I think overall this whole thing has grown me up mentally. Mentally, it's been harder than physically, I think, just getting back and everything.
"I'm excited. Mentally, I've grown from this. I'm stronger from it. And I can learn a lot from this come later parts of the year."
Follow Jesse Temple on Twitter
---