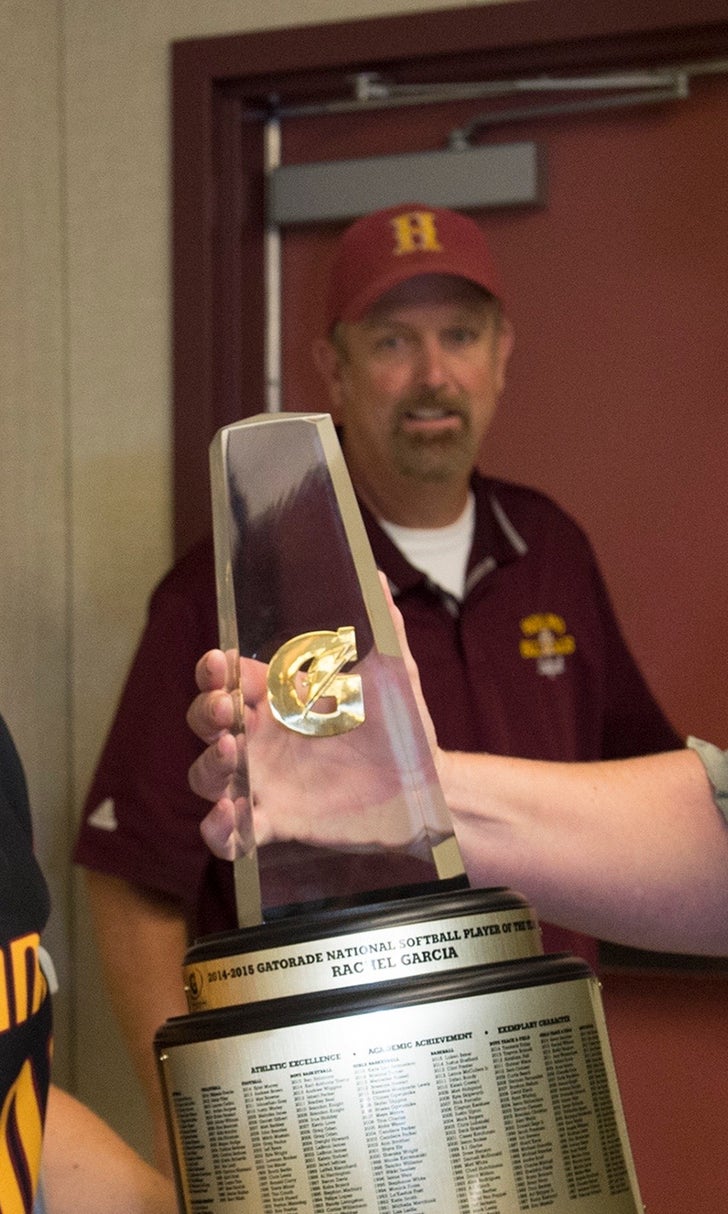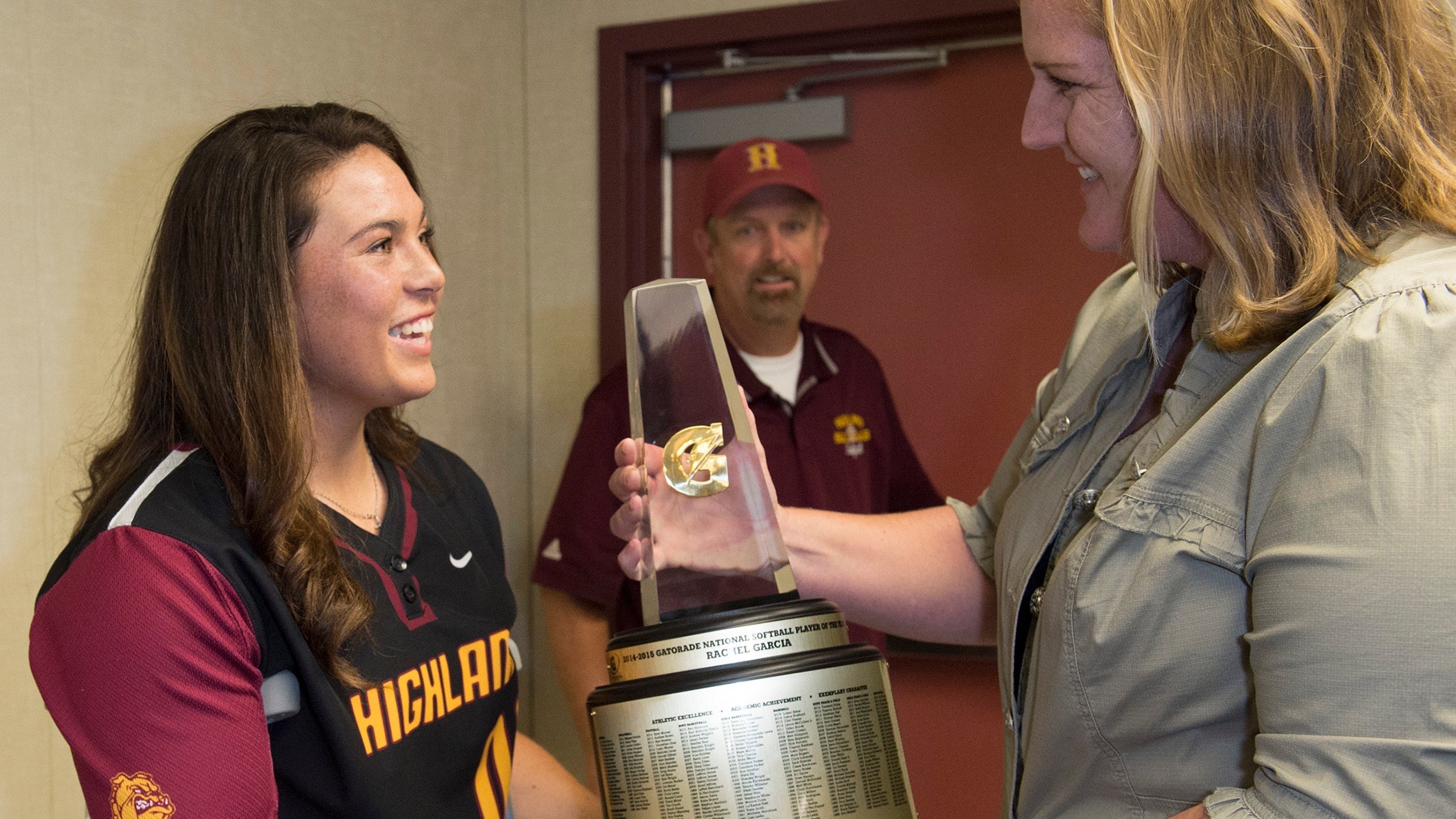 Highland's Garcia wins Gatorade National POY after up-and-down year
BY foxsports • June 18, 2015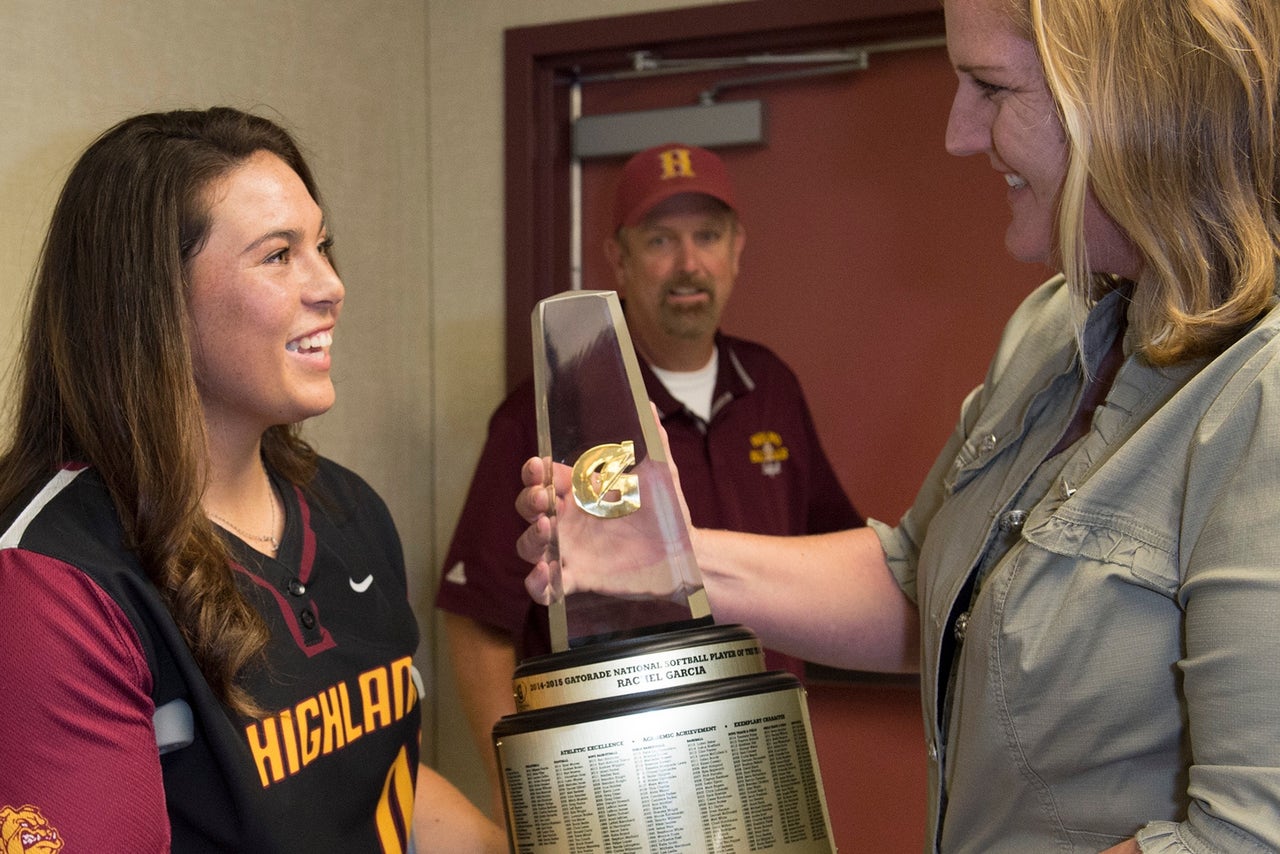 Rachel Garcia knew something was up. Things just didn't seem right. 
As she sat in the Highland school parking lot early Thursday morning and saw her grandmother roll by in a cart to enter a classroom, she was convinced.
"It was obvious something was happening but I wasn't sure what, exactly, it was," Garcia said.  
Grandma and others were on hand to see Garcia honored at the Gatorade National Softball Player of the Year. As part of the surprise, she received the award from UCLA great and two-time Olympic Gold Medalist Stacy Nuveman. 
As a result, the UCLA commit becomes a nominee for the Gatorade Female Athlete of the Year Award that will be handed out next month in Downtown Los Angeles. 
"It's amazing," Garcia admitted. "It's also been a goal."  
The two-time Gatorade State Softball Player of the Year had her sights on winning the national award and was able to get it done during a 2015 campaign that had its ups and downs and even featured an instance in which Garcia was incredibly, imperfectly perfect. 
Garcia threw nine no-hitters and five perfect games while leading Highland to its first CIF Southern Section final. She finished the season 26-2 with a 0.20 ERA. She struck out 418 batters and walked just 13 in 175 innings. At the plate she hit .667 with 20 home runs and 57 RBI --all team highs.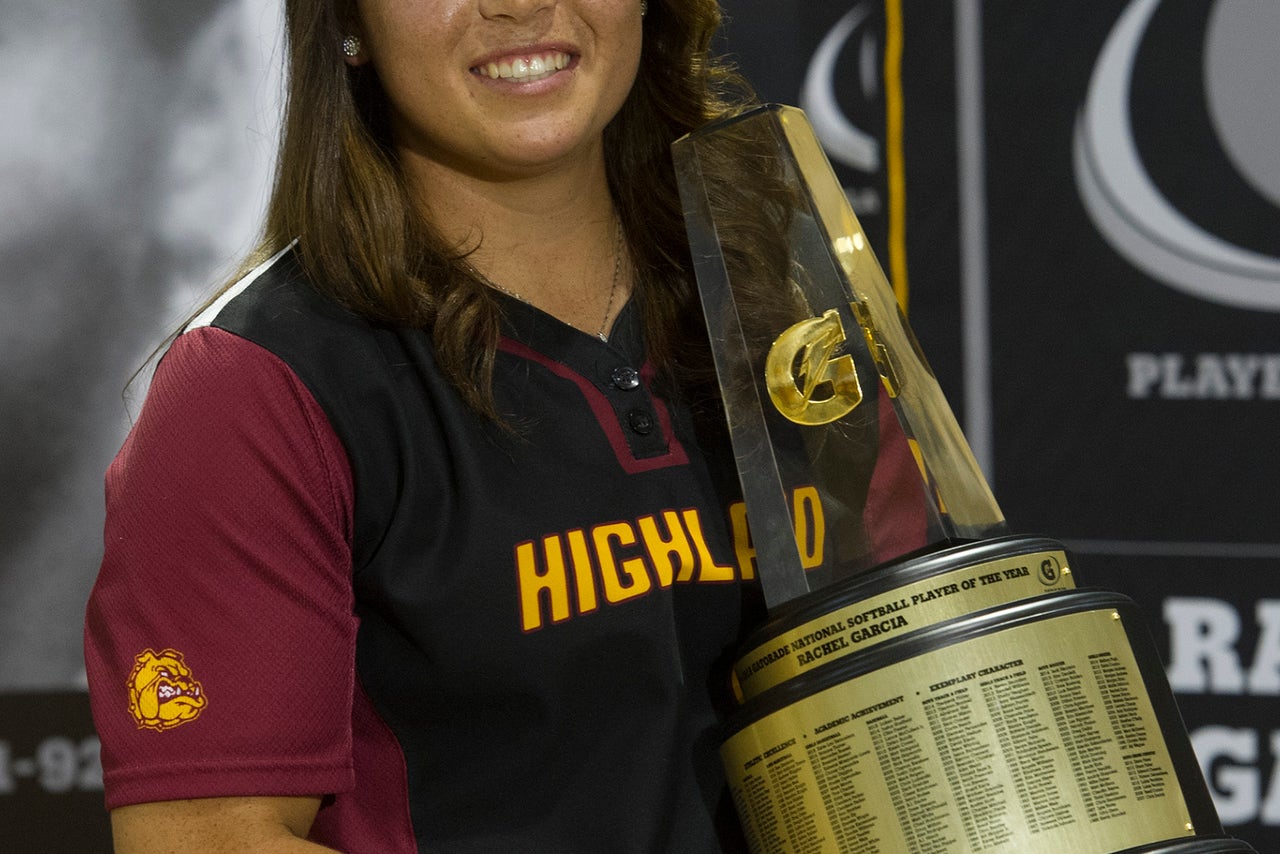 Garcia holds the trophy during a press conference after being named the 2014-15 Gatorade National Softball Player of the Year. Garcia was surprised with the news by two-time Gold Medalist and former UCLA Bruin Stacey Nuveman.
She even threw a perfect game and lost. Yes, she took an "L" in a perfect game.   
Garcia became a national story earlier this season when her Highland team suffered a 1-0 eight-inning loss in the Thousand Oaks Tournament championship. 
Garcia was perfect in the game. Due to the International tiebreaker rule, a runner was put on second to start each extra inning. Garcia threw a wild pitch in the eighth which allowed the runner to advance to third. On an attempt to throw out the runner at third, Garcia's battery mate threw the ball into the outfield allowing the lone run to score. 
By rule, Garcia was credited with a no-hitter, not a perfect game. But she was perfect. 
An injury ended her season in the CIF Southern Section Division 4 championship when she suffered a torn meniscus. Garcia suffered the injury in the 12th inning after striking out 24 in the game. Highland was defeated 1-0 in 13 innings. Immediately following the CIF title game, Garcia was expected to report to the U.S. Junior National Team but was unable to because of the injury. On Monday, she's expected to undergo surgery, which will cause her to be out for six weeks.  
As incredible as 2015 was for her, it definitely had its heartbreaks. In a way, Thursday's announcement was able to compensate for the tough times. 
"Right now I'm just so focused on getting healthy and after today it just, kind of, gave me a little break from focusing (so much) on the injury," she said. "This makes up for it a lot."  
---