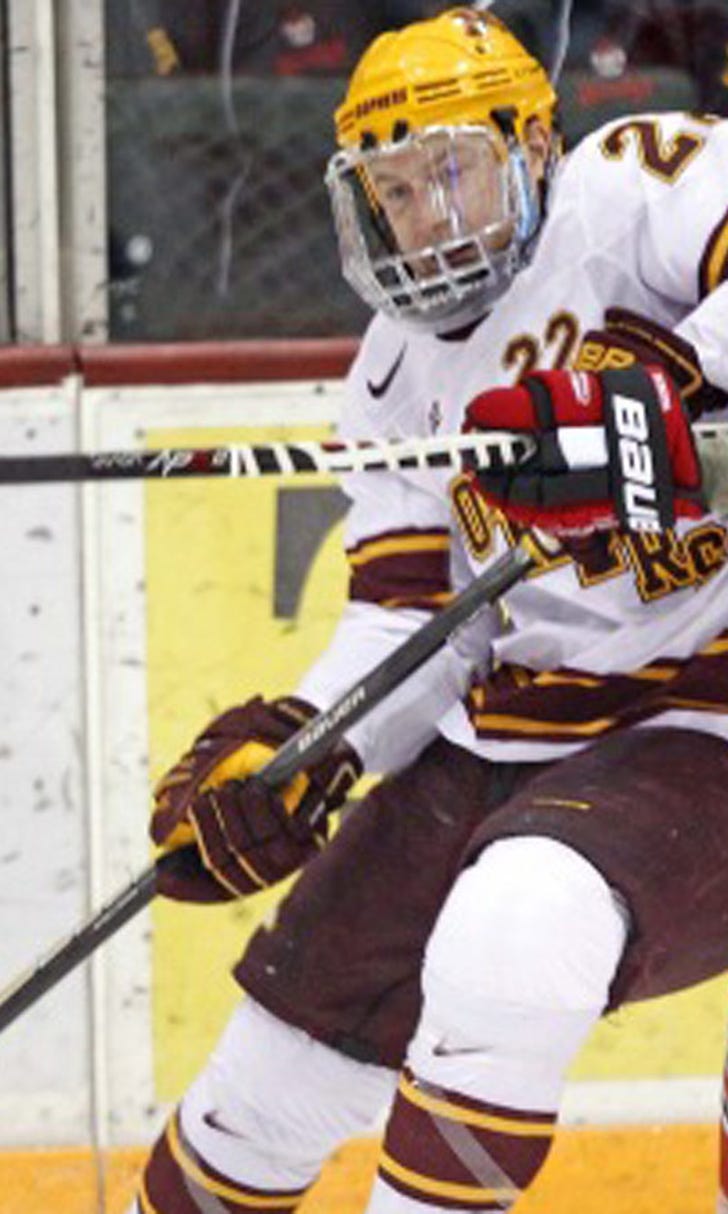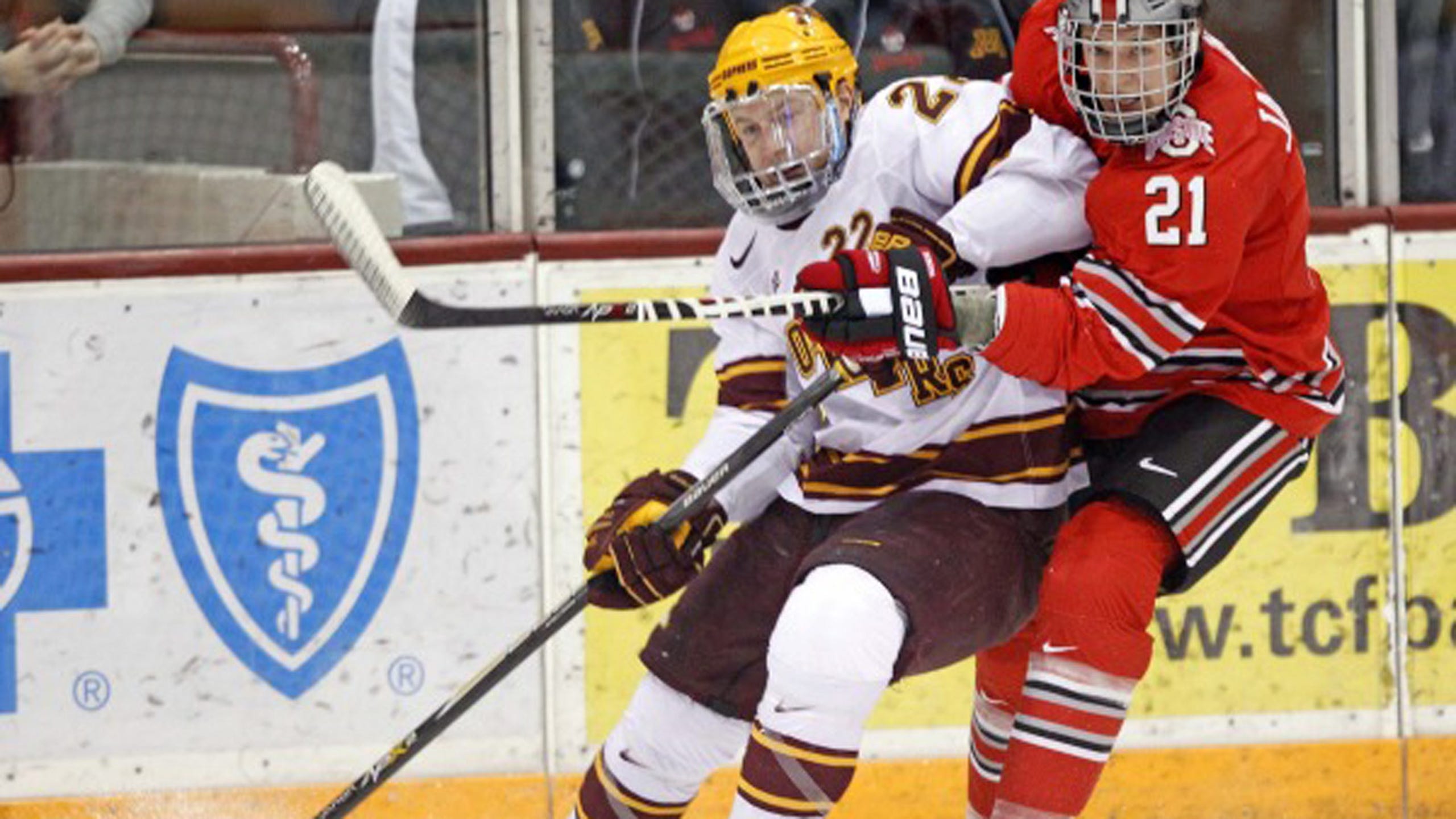 High-powered Michigan provides true test for surging Gophers
BY foxsports • February 11, 2015
MINNEAPOLIS -- Shortly after his team swept Ohio State last weekend for two much-needed wins, Gophers hockey coach Don Lucia warned against getting overconfident.
He knows the true litmus test will take place this Friday and Saturday.
Minnesota had seen itself slip in the Big Ten standings and Pairwise rankings before two victories against the Buckeyes temporarily got the Gophers back on track. But a quick glance at the conference standings show that third-place Minnesota is still trailing two teams.
One of those, the Michigan Wolverines, will be at Mariucci Arena this weekend for a two-game series. The other, Penn State, lies ahead the following weekend. If the Gophers really want to find out if last weekend was a step in the right direction, they'll start to answer that question Friday night.
"A huge weekend for us," said senior forward Travis Boyd, who netted a hat trick Saturday against Ohio State. "If we can get two wins like we did last weekend, we'll be tied for first and I think we'd have the tiebreaker over them. But there's still a long ways to go. Either way, it's about coming out and trying to get two wins."
If Minnesota hopes to do that, it will have to continue to tighten things up defensively. That was a big point of emphasis for the Gophers heading into their series with the Buckeyes, but it's even more essential against Michigan. The Wolverines will enter this series with the top-scoring offense in the country at 4.21 goals per game. That's nearly half a goal per game more than the second-best offense, Minnesota State, which is averaging 3.79 goals.
Michigan's scoring average was inflated a bit the last time the Gophers and Wolverines met. After Minnesota lost 4-3 in overtime in the first game of that series in Ann Arbor, Michigan came out and scored seven goals in the series finale to notch a 7-4 victory and a weekend sweep.
The Wolverines are doing it with a balanced scoring attack, too. They have five players with 10 or more goals. By comparison, the Gophers have just two -- Boyd, who surpassed that mark last weekend, and Connor Reilly, who is out indefinitely with a knee injury.
Michigan's firepower on offense is unmatched in the Big Ten. For the second time this year, Minnesota will have to find a way to slow the Wolverines down.
"They're obviously highly skilled. Where they present the biggest problem is their depth up front," Lucia said Wednesday. "They've obviously got some high-end defensemen, too, and their center play is really, really good. . . . We're not going to outscore Michigan. We have to out-defend them."
The Gophers are hoping goalie Adam Wilcox snapped out of a mini-funk this past weekend along with Minnesota's offense. It had been an up and down season for the junior netminder, but he allowed just four goals in two games against Ohio State. The last time he faced Michigan was arguably his -- and the Gophers' -- worst game of the season. Wilcox allowed five goals on just 11 shots and was pulled in favor of backup Nick Lehr for the first time all year.
Minnesota's defense as a whole must make a concerted effort to lock down Michigan's high-octane offense, and some of that responsibility will fall on Wilcox.
"I thought he was more consistent, and that's what we have to have," Lucia said of Wilcox in the OSU series. "The bottom line is, we don't ask him to be perfect. We just keep telling him, 'If you give up two, it's going to give us a great opportunity to win games.'"
The two wins over the Buckeyes last weekend helped Minnesota get back into the top 16 in the Pairwise rankings -- tied with Quinnipiac for 13th, to be exact. It was the first time the Gophers earned a sweep since early November, and Lucia and the coaches reminded his players before Saturday's win that it had been 89 days since their last sweep.
That sweep won't mean much if Minnesota doesn't have positive results this weekend. One or two losses to the Wolverines would keep some distance between the Gophers and first place. If Minnesota has aspirations of winning the Big Ten regular-season title for the second consecutive year, these next two games are perhaps the most important of the year.
"I think last weekend was a big step forward in the right direction," said forward Sam Warning. "This weekend's big. It's big for the Big Ten standings. We're trying to go out here and get six points this weekend."
Follow Tyler Mason on Twitter
---