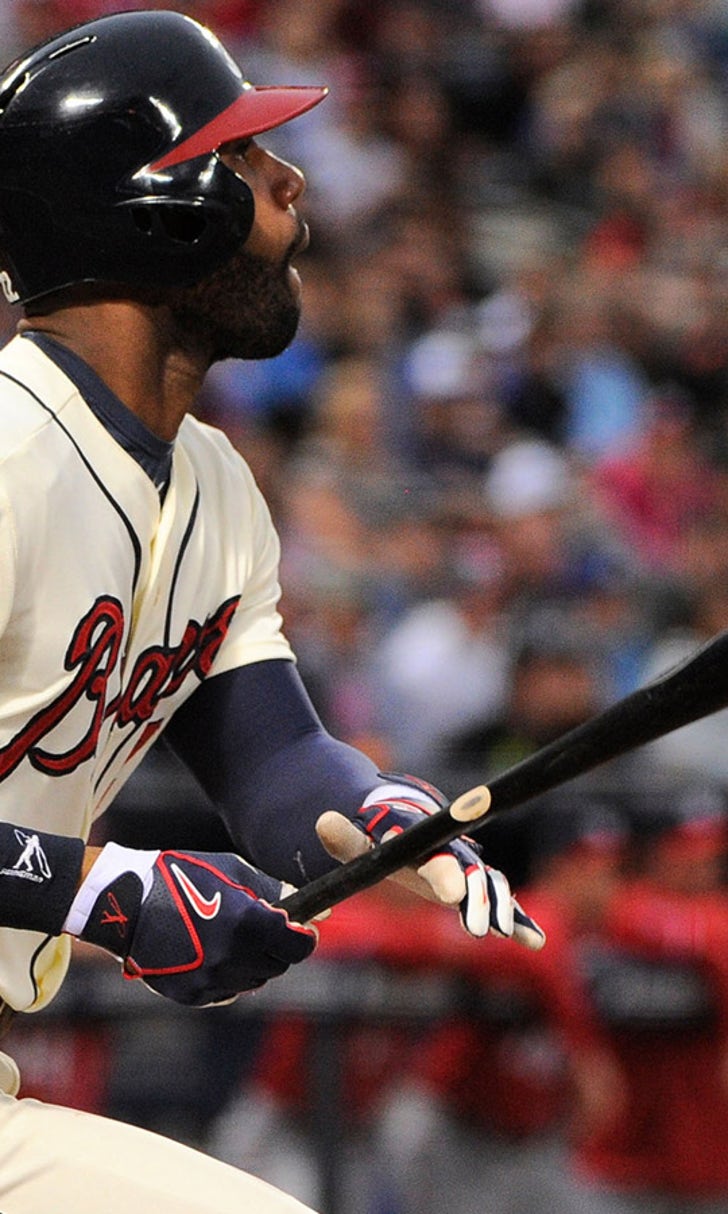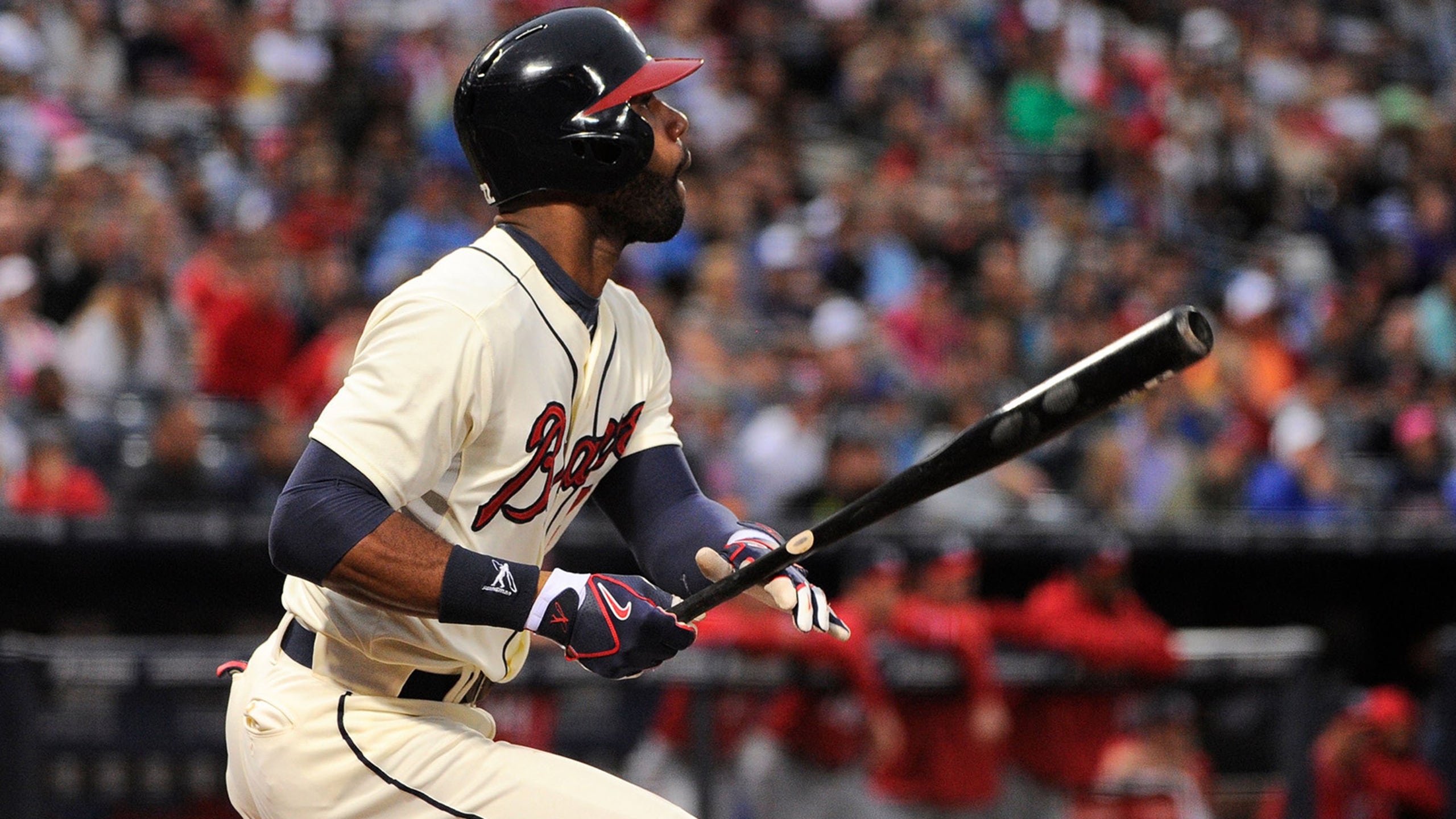 Heyward preparing to make history at leadoff for Braves
BY Cory McCartney • February 25, 2014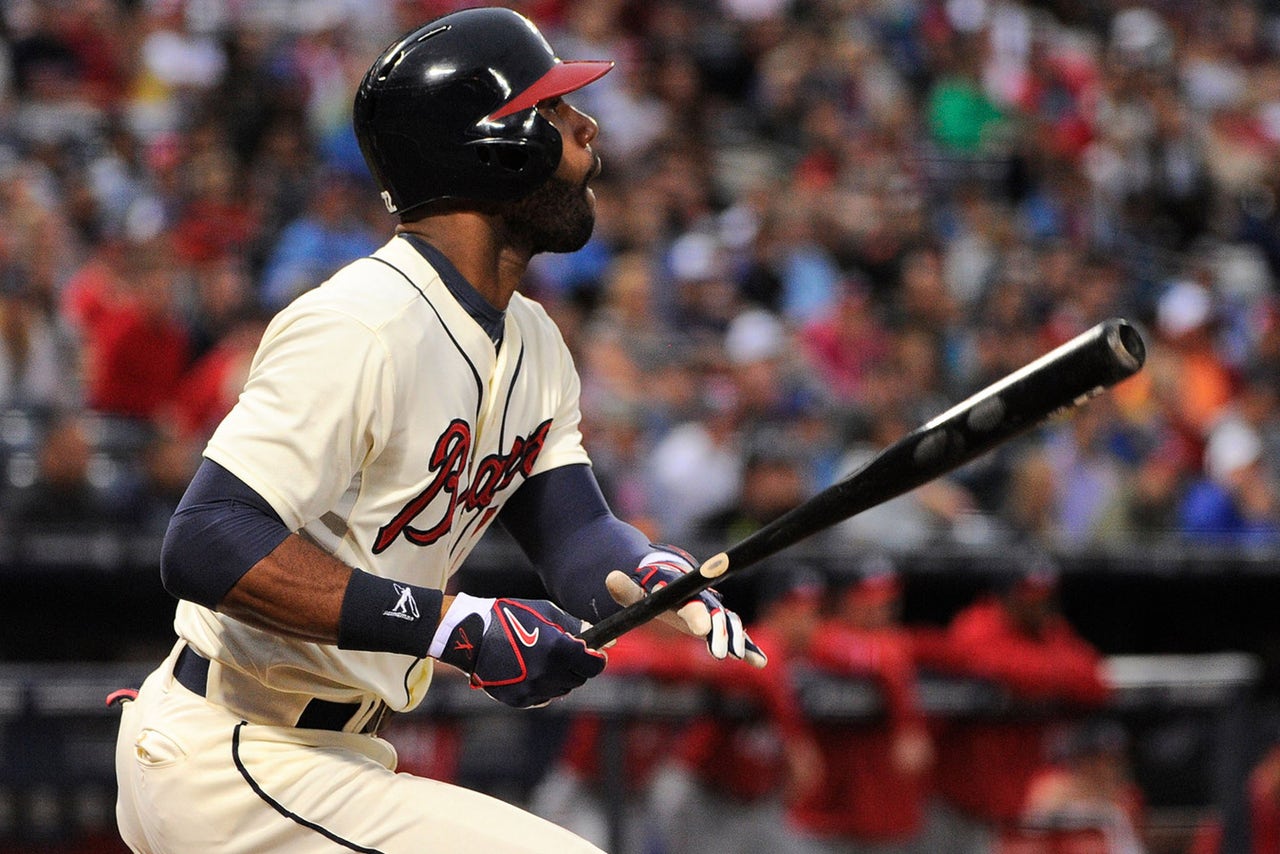 LAKE BUENA VISTA, Fla. -- Jason Heyward stands out, there's no getting around that.
As Braves outfield and base-running coach Doug Dascenzo put his players through drills at the team's spring training complex, those who had already run stood by, watching.
With a body that's more NFL than MLB -- he is the same height and just seven pounds lighter than recently retired Falcons tight end Tony Gonzalez -- the 6-foot-5, 240-pound Heyward is hard to miss, towering above that collection of bodies. It's a size that also has him playing against type as a leadoff hitter, though it's a role the 24-year-old has proven adept at.
"My hitting approach has always pretty much been the same," Heyward said. "That's why I guess it was an easier transition for me to go into that role, so I didn't have to play any different."
Heyward isn't the tallest table-setter since 1911, that would be Frank Howard. At 6-7, the four-time All-Star manned the spot in the last game of the season for the Senators in 1969, with manager Ted Williams hoping to give him more opportunities to catch Harmon Killebrew in the American League home run race (which Howard didn't). Heyward isn't the tallest in the modern era, either, which is 6-6 Corey Hart, who batted first in a combined 78 games for the Brewers in 2011 and '12.
But when Atlanta takes the field on March 31 in Milwaukee, Heyward -- quite literally -- stands to be the biggest player in known history to open the season at leadoff, surpassing Brian Hunter (1998, Tigers) and Dexter Fowler (2001, Rockies), both of whom are 6-4.
The thought of having Heyward atop the order isn't the ideal situation, but the Braves couldn't find consistency at the spot. In all, they ranked 12th in the National League, hitting .261/.315/.383 as Andrelton Simmons (.219/.256/.332 over 64 games) and B.J. Upton (.178/.256/.301 in 19 games) struggled to find their footing.
Once manager Fredi Gonzalez opted to move Heyward up from his typical No. 2 spot on July 27, he took off, posting a .322/.403./.551 slash line with six home runs over 30 games -- a run that was interrupted by his missing 26 games with a broken jaw suffered on Aug. 21 vs. the Mets. That average was nearly .100 points higher than what Heyward hit in his usual position.
Further taking Heyward out of his comfort zone, he was moved from right field -- where he won a Gold Glove in '12 -- to center to step in for the struggling Upton and allow the Braves to reconfigure the outfield to keep Evan Gattis' bat in the line up.
Heyward was more than effective with a defensive run saved and an 8.7 UZR/150 in 164 innings to go along with 15 DRS and a 21.0 UZR/150 over 697 2/3 in right field. But he's hoping to avoid bouncing around this season.
"You have to be ready for whatever," he said. "You never know what's going to happen: you have injuries, people getting days off. You never know how a season is going to play out, so I just want to be prepared. I can play center and right field, obviously right field being the primary position."
While he thrived in the leadoff role, there are some perceived troubles that come with having Heyward in that spot.
Chief among those is taking a player whose scouting report when he broke into the majors as a middle-of-the-order run producer and making him a table-setter. But Heyward did produce runs at a higher rate -- one every 7.3 at-bats when hitting first compared to 11.9 at second -- and he had just six less extra-base hits (15) than he totaled in 143 more chances hitting No. 2.
However, having Heyward at leadoff may not help an offense that had difficulty on the base paths last season.
They sat 12th in the NL with 64 total steals despite being sixth in stolen base opportunities (2,259). Failing to capitalize may be more of a matter of having 22.2 percent of the team's franchise-record 1,384 strikeouts come from the second and third spots in the lineup. They were able to mask those deficiencies with a league-best 181 HRs, but having an aggressive presence at the top spot can make a difference.
Heyward had all of two steals last year, none of which came when he moved up in the order. In fact, the player who delivered 13 of the team's 25 steals at leadoff was reserve Jordan Schafer.
While he filled in during the brunt of the games Heyward missed after the jaw injury, Schafer's playing time in largely contingent on whether Upton bounces back after a dismal first season in Atlanta. Should he return to form, consistent playing time for Schafer could be hard to come by, taking away the team's top speed option.
It's not as though Heyward hasn't been an effective base-stealer before, swiping 21 bags in '12 and 11 during his rookie season of '10. A return to those ways will go a long way if the Braves' feast-or-famine offense is to have fewer of those famine days.
When he came up as a 20-year-old and connected on a three-run homer in his first major league at-bat, the buzz began and Heyward seemed to be every bit the cornerstone of the Braves' future.
But amid the run of extensions handed out over the last month, it was Freeman that got the longest (eight years) and richest ($135 million) in team history, while Simmons (seven years, $58 million), Craig Kimbrel (four years, $42 million) and Julio Teheran (six years, $32.4 million) were also given long-term deals.
While all those deals guarantee that group will be Braves through the team's move from Turner Field to Cobb County in '17, Heyward -- whose contract was the first announced -- inked a two-year, $13.3 million pact that only bought out his arbitration years.
Part of the trouble surrounding Heyward's worth, and which had the two sides headed to arbitration over a $300,000 difference, was a difficulty in finding pricing comparisons given the amount of time Heyward has missed last season with an appendectomy and the jaw.
Still, that he doesn't have to concern himself with any contract talks, at least for the next season or so, was something Heyward could get behind.
"Everybody's always happy to get that out of the way, honestly," Heyward said. "Regardless of what you're talking about arbitration or long-term deals, you're always happy to get it out of the way, because, for us, the most important thing is always going to be going out there and playing baseball and having fun and trying to win."
Heyward is now the senior-most position player on the Braves roster -- he has five months on first baseman Freddie Freeman -- and he arrived at camp looking every bit the part. Always mature-looking for a player in his 20s, he's now sporting a full, thick beard.
"Just let it grow," Heyward said, slowly shaking his head from side to side.
The Braves are hoping their atypical leadoff hitter does the same with an offseason to prepare.
---