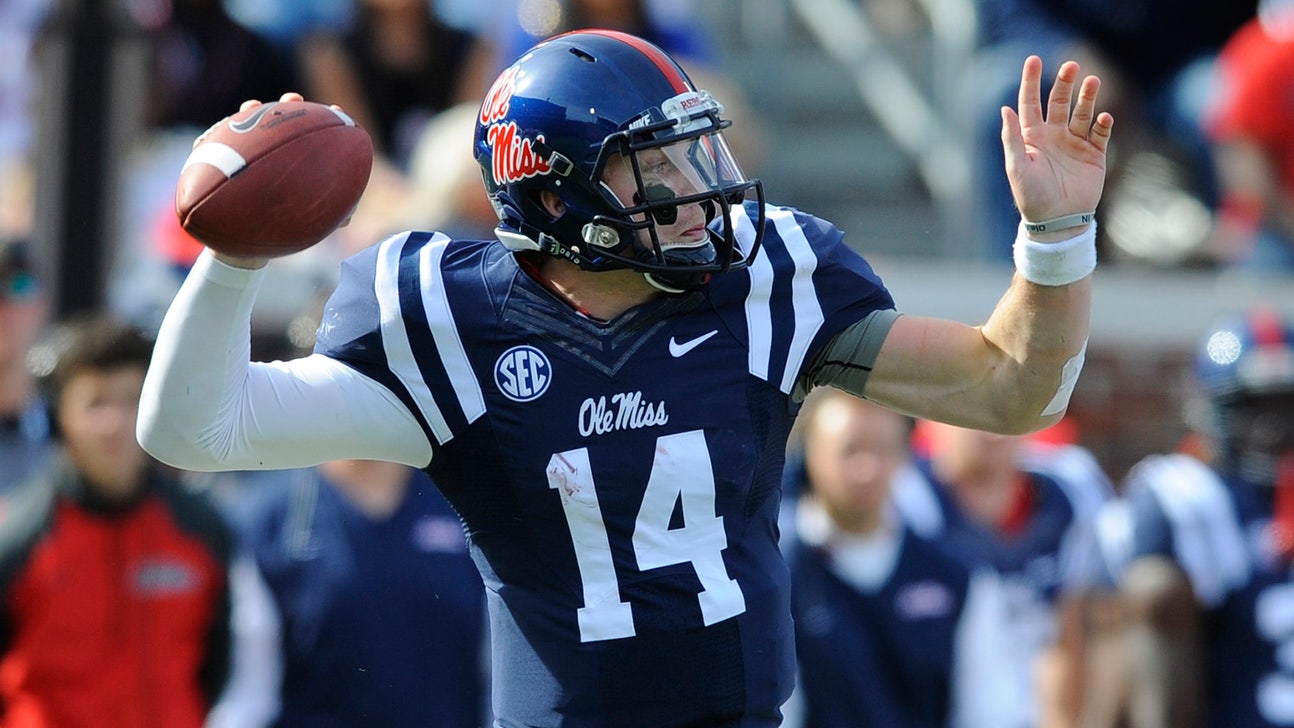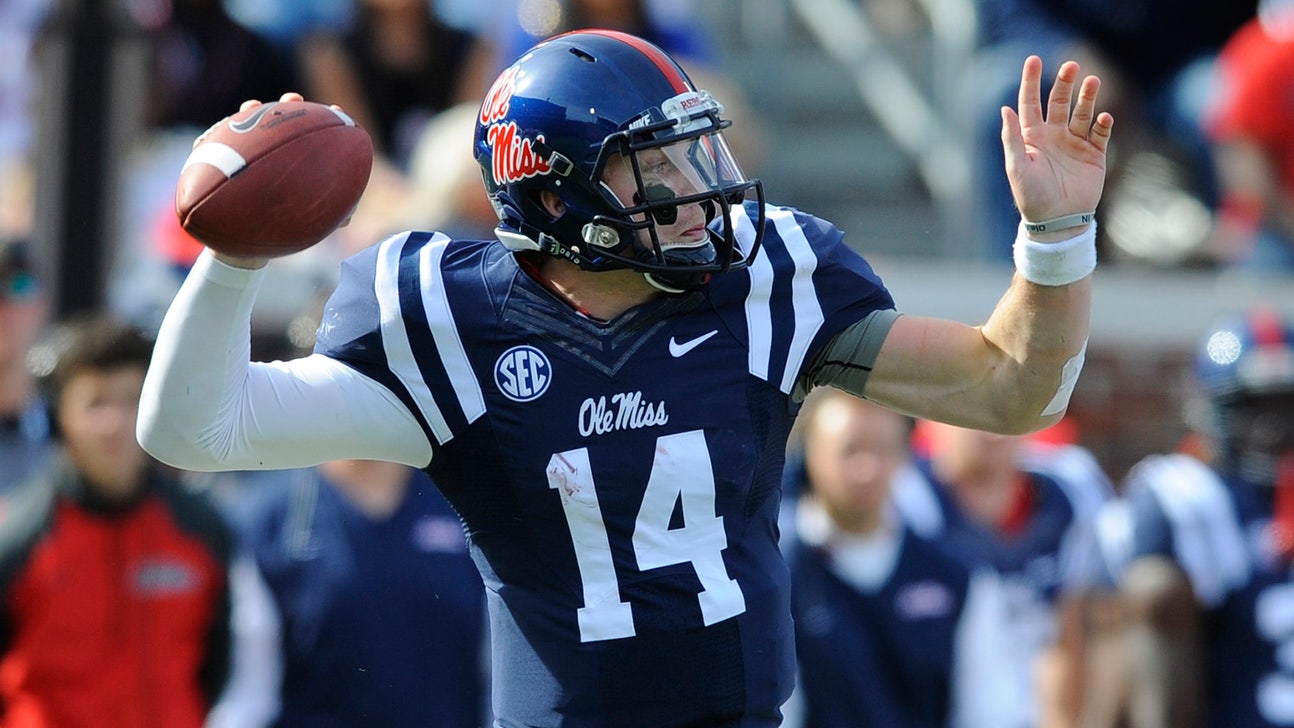 Heisman Forecast: The case for Rebels' Wallace; Buckeyes' Barrett rising
Published
Oct. 22, 2014 10:40 a.m. ET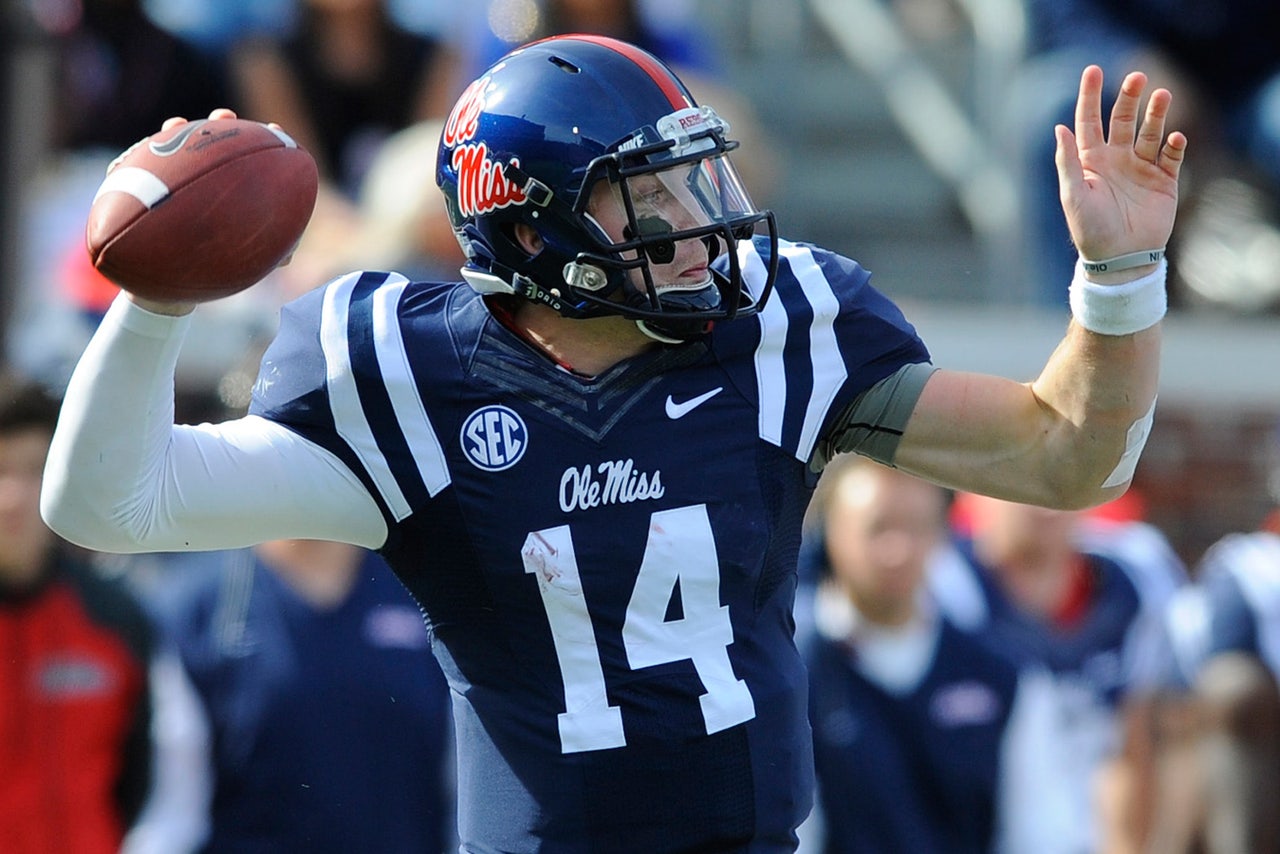 We've found ourselves with a muddled Heisman Trophy race.
The problem isn't up top, where Mississippi State's Dak Prescott and Oregon's Marcus Mariota have broken away, it's after them.
With Florida State's Jameis Winston not a viable candidate for reasons both historically (see the suspension and stigma surrounding other defending winners) and fundamentally (the off-the-field issues), it's difficult to make a case for a number of players behind the top two.
The likes of Nebraska's Ameer Abdullah, Notre Dame's Everett Golson, Wisconsin's Melvin Gordon and Auburn's Nick Marshall all have their draws, and some of them could make a late push.
But there's another potential contender rising that, frankly, nobody saw coming, and one that has a real chance to join the top tier of contenders: Bo Wallace.
Throughout the offseason, the belief was Ole Miss' senior quarterback was that he was the only thing that could keep the Rebels from going to SEC West also-ran to a contender. After all, he had thrown a combined 27 interceptions in 2012 and '13, including 10 a season ago, and despite being the conference's top returning passer, was picked as the third-team QB behind Auburn's Nick Marshall and Prescott at SEC Media Days.
Dr. Bo did nothing to change the perception in the first half of the season opener, throwing three picks against Boise State. But he's thrown three INTs since halftime on Aug. 28, while totaling 16 touchdowns and sits ninth in FBS with a 163.0 rating, 24.9 points higher than a last season. He's also tied for 10th in the nation with 9.1 yards per attempt.
Add in that he's been part of one of the season's best stories in propelling Ole Miss to a No. 3 ranking and the schedule that lies ahead of him -- No. 24 LSU this week, No. 5 Auburn on Nov. 1 and No. 1 Mississippi State on Nov. 29 -- and Wallace looks like a more than viable contender.
This week against the Tigers he'll face the nation's fourth-ranked pass defense and a week from now he can pick up a fourth win over a ranked opponent, which would be more than any major challenger.
The problem, though, is Wallace isn't the true backbone of the Rebels' rise, it's Robert Nkemdiche and that defense (but we all know the makeup of a Heisman contender and it's not defensive tackles, no matter how dominant). Wallace, though, has an opportunity to further establish himself, especially with that Egg Bowl showdown against Prescott.
Give him this much, amid his team's best start since 1964, Wallace has already changed the narrative and his steady play has become one of the Rebels' biggest strengths. That alone should be enough to make Wallace as one of the top-level candidates, something he can continue to do with a win Saturday night in Baton Rouge.
Before we look at the players that are primed to rise and fall this week, here's a look how the voting would likely stack up:
Braxton Miller's fill-in leads the Big Ten and ranks 10th in the nation with an average of 333 yards of offense -- a figure that is higher than Mariota and Winston and less than nine yards behind Prescott -- and over the past four games has thrown 17 touchdowns to just one interception, all while completing 71.6 percent of his passes. All of that, though, came against Kent State, Cincinnati, Maryland and Rutgers, meaning all Barrett has done so far is put up some impressive stats that put him in the neighborhood of other candidates. He can help to build his case this weekend against Penn State, but becoming a full-blow, legitimate threat isn't going to happen without a defining win, and he and the Buckeyes will get their chance on Nov. 8 in East Lansing against No. 8 Michigan State. For now, Barrett has succeeded in at least surprising way: making it no longer a given that Miller, who was lost for the season with a shoulder injury, is going to have his job waiting for him.
Matt Barkley, Matt Leinart and Mark Sanchez all came calling after Kessler set a Trojans record with seven touchdown passes against Colorado, and he did so in just three quarters. With a favorable schedule, including No. 19 Utah this week, along with No. 25 UCLA, No. 7 Notre Dame and a potential Pac-12 title game date with No. 6 Oregon, Kessler can overcome losses to Boston College and Arizona State. The games that lie ahead and the fact that with a 69.5 percent completion rate he's on pace to break the Trojans' single-season record of 69.1 set by Barkley in 2011, Kessler could see his number of supporters grow. Of course, the West voting region belongs to Mariota until further notice, though Kessler may get a chance to alter that should the division standings hold.
He's now put up seven straight games of at least 100 yards receiving, a Mountaineers record, and in averaging 145.7 yards per game, is in line for 1,894 yards, which would be the fifth highest total in FBS history. But with Alabama's Amari Cooper very much still in place -- Cooper currently has better odds (18/1) than White at 25/1 -- having two wide receivers as options isn't helping either player. Just five times in history have two WRs finished in the top 10 in voting and in two of the last three instances ('09 with Cincinnati's Mardy Gilyard and Notre Dame's Golden Tate and in '6 with USC's Dwayne Jarrett and Georgia Tech's Calvin Johnson), the players finished ninth and 10th. A more meaningful debate may be whether it's Cooper or White that deserve the Biletnikoff Award right now.
After getting back on the Petty bandwagon last week, it's time to jump off again, and maybe for good. He rebounded against TCU with some late-game heroics, then went on to struggle as the Bears were dealt their first loss by West Virginia. Petty threw two TD passes in that game, but both were in the first half, he was sacked four times and had a 44.4 completion percentage. That one setback is enough to turn the narrative on Petty, who has always been fighting the "system quarterback" label considering the success of Robert Griffin III and Nick Florence before him. Baylor still has a couple of marquee games left for Petty to try and rectify things (No. 8 vs. No. 17 Oklahoma and Dec. 6 against No. 11 Kansas State), but once again Petty sees his hopes take a hit with a loss in the second half of the season.
Golson threw an interception in the end zone that sealed Florida State's win, but the Fighting Irish nearly pulled off the upset, if not for a pass interference call that coach Brian Kelly still doesn't understand, and Golson also converted a fourth-and-18 to even put the Irish in position to win in an tough environment. He didn't exactly kill his chances, and while there are still ranked opponents ahead, No. 14 Arizona State on Nov. 8 and No. 20 USC in the regular-season finale on Nov. 29, a win over the Seminoles would have put Golson into the upper echelon of challengers and, no matter what you want to make out of that call vs. the Seminoles, he didn't come through.
Here's hoping filing for the "Kenny Trill" trademark push ends up being worth the time for Hill's parents, because it's not going to carry the same cachet for the rest of this season. Hill had his worst game of the season in a rout at the hands of Alabama, failing to throw a touchdown pass for the first time and he threw for 138 yards, 216 below his average going in. That was three straight losses for Hill and the Aggies, who have fallen apart since entering divisional play. Hill remains second in the nation in passing yards with 2,649, thanks to five games of 300 or more yards over the first six weeks, and he's sure to build on that figure this week against Louisiana-Monroe, but he'll now be operating well off the Heisman radar.
---