Heisman Forecast: From preseason to New York, what to expect in this trophy chase
BY foxsports • August 30, 2016
For the third straight year, there will be no repeat Heisman Trophy bid, but what makes the 2016 race so compelling -- even before the first snap of the season -- is the depth of the returning contenders.
Three of the top four vote-getters are back in Stanford's Christian McCaffrey, Clemson's Deshaun Watson and Oklahoma's Baker Mayfield, and coming off an unprecedented vote in which overall four players two years removed from high school finished in the top seven -- McCaffrey, Watson, LSU's Leonard Fournette and Florida State's Dalvin Cook -- we have five returning who finished in the top 10.
Add in Ohio State's J.T. Barrett, who was fifth in 2014, and that makes six players who have been in the top 10 in voting before, tying the record set in 1944 and equaled in 1984, 2006 and 2010.
Star power won't be a problem, but who will hoist the Heisman this December? The Forecaster is here with your trophy chase primer.
Third a year ago, he cemented his spot on this list with a record-setting performance in Clemson's title game loss to Alabama, and figures to get the preseason's No. 2 team back into the College Football Playoff at the helm of a loaded offense. Coming off the NCAA's first 4,000 yard passing/1,000 yard rushing season he fits the mold as four of the past six winners have been dual threat QBs. History is also on his side, as six times a player has won a year after finishing third compared to just runner-up having done so since 1967 (Herschel Walker in '82).
It's going to be extremely difficult to duplicate or even surpass last season when McCaffrey racked up a record 3,864 all-purpose yards. For starters, the vastly underrated Kevin Hogan is gone at QB and the Cardinal will have an unproven passer with either redshirt junior Ryan Burns or redshirt sophomore Keller Chryst. The offensive line is down three starters, and is 103rd in FBS in combined starts. But he doesn't have to beat '15's stats to win; he has to keep the Cardinal in the playoff mix. With five Top 25 teams and a lofty ranking (seventh) he'll have voters' attention and plenty of opportunities to make his case.
After a torrid start in which he ran for 1,352 through the seasons' first seven games, Fournette was held to 31 by Alabama, 91 vs. Arkansas and 108 against Ole Miss, all of those in Tigers' losses. He rebounded nicely, putting up 159 vs. Texas A&M and burned Texas Tech for 212 in the Texas Bowl, and Fournette will continue to be the focal point of the LSU's offense, but key for him is the believed development of the Tigers' passing game. Ranked 105th in 2015 at 180.4 ypg, LSU passers thew for 282 yards in the spring game. Yes, it was a spring game, but improvement there could be the difference between a trip to New York and watching the ceremony from home for Fournette.
In terms of electric, turn-any-play-into-a-touchdown capabilities, Cook has few equals at the FBS level. Among Power 5 players, he was tied with Oklahoma State wide receiver James Washington for the most rushing/receiving plays of 70-plus yards, and is the major conferences' returning leader with six of 50-plus. He also finished fifth in rushing despite just 229 carries, nearly 100 less than 2,000-yard rushers Derrick Henry and McCaffrey. If he can stay healthy, missing all of one game and getting just two carries in another, he's a serious threat to lead the nation in rushing yards. He could be leaned on quite a bit early, too, with Florida State likely using a first-time starter at QB in redshirt freshman Deondre Francois.
He's now, unequivoably, the starter in Columbus after a season of back and forth with Cardale Jones. The Buckeyes figure to be all the better for it, as over the last five games in which he played, Barrett averaged 239.4 yard of offense and Ohio State scored 42 or more points three times in that span compared to two such games over the first seven weeks. While redshirt freshman Mike Weber is expected to be a force at running back, the fact is Ohio State lost three of its top four rushers and its top three pass catchers as only three starters return on offense. But it only puts more of a spotlight on Barrett and creates a greater opportunity in this race.
He put together an epic first season in Norman, throwing for 3,700 yards -- and hit at a 68.1 percent clip -- for 36 TDs and seven interceptions and ran for 405 yards and seven scores, and in a losing effort against Clemson he piled up an Orange Bowl-record 311 yards. A couple of things that could derail his candidacy, and they're tied together. Mayfield went through concussion protocols twice last season due to apparent head injuries vs. TCU (missing the second half) and Clemson, and keeping him healthy and on the field is key. That may mean a greater focus on the running game and RB Samaje Perine. He's still sharing carries with Joe Mixon (753 yards in '15), but Perine is coming off a 1,349-yard season, and could steal Mayfield's thunder.
He needs 1,882 yards to become the Ducks' all-time rusher and pass LaMichael James' record of 5,082, and after totaling 1,836 yards as a sophomore, that's well within reach. What he has playing against him is that he's not the top candidate at his position in his own conference (that would be McCaffrey) and this race is littered with prolific running backs. That being said, Freeman was fourth in FBS in rushing yards and ypg (141.2) a season ago, and with the Ducks facing questions at QB, he may be in position to top '15 when he ran for 100-plus in all but two games. That Nov. 12 date with McCaffrey and the Cardinal could loom large for his chances.
Remember, he's just a sophomore. Rosen is getting love for his pro potential, poise -- he went a Bruins record 245 pass attempts without an interception in his debut season -- and, of course, that hot tub. He put together a freshman year with 3,670 yards and 23 TDs to 11 INTs and hit for 300-plus yards in four out of five games from Oct. 22-Nov. 14 (Stanford, Cal, Oregon State and Washington State) and will have a challenge of working in a new pro style attack this season. The schedule has its benefits as the Bruins have only four Pac-12 road games (Arizona State, Washington State, Colorado and Cal) and a manageable non-conference slate, but the chances to impress are down to No. 8 Stanford (Sept. 8) and Nov. 19 (No. 20 USC).
After throwing for 4,042 yards, 31 TDs and 13 picks and rushing for 500 yards and 10 scores in his first season with the Rebels, Kelly stands as the SEC's best bet at his position. While he'll miss Laquon Treadwell and Cody Core, Ole Miss does return four of its top six pass-catchers, all of whom had at least 31 receptions and 380 yards and not being able to lean on Treadwell could be of benefit to him and this offense. The schedule, as you'd expect in the SEC West does him no favors with trips to Arkansas, LSU and Texas A&M, and there's that daunting season opener vs. Florida State to think of.
How healthy is he? He's ditched the knee brace, and in recent days has become a full participant in practice, and the belief is he'll be on the field against No. 22 North Carolina in the season opener at the Georgia Dome. If he's back to or near 100 percent, Chubb could wind up at the top of this list, as he totaled 745 yards through five games last season and averaged 149 per. But the fact that he is coming off tearing three ligaments on the first play from scrimmage against Tennessee last season remains a hangup, one that will be a concern with Chubb until we see him racking up 20-plus carry games again.
There are a number of players who could fill this role, among them Houston's Greg Ward, Baylor's Elijah Hood, Tennessee's Joshua Dobbs, Miami's Brad Kaaya or Florida State's Deondre Francois. Peppers, though, is in an interesting position. The Wolverines are a preseason Top 10 -- seventh in the AP poll, to be exact -- and Peppers figures to be their poster boy should they get off to the fast start their schedule sets them up for. Granted he's a linebacker but like the only other primarily defensive player to win this award (fellow Michigan Man Charles Woodson), Peppers is involved on offense (26 touches in '15 for 151 yards) and returns punts (17) and kicks (eight). If he's used in that same capacity again as a sophomore, expect Peppers to generate buzz and challenge Barrett or whoever emerges from Notre Dame's dual-QB system as the Midwest's top candidate.
Chad Kelly, Ole Miss. While the Rebels' meeting with No. 4 Florida State in Orlando will be a huge test for new Seminoles QB Francois, Kelly will be facing one of the nation's top defenses right out of the game and is doing so with an offense line that has five new starters. Defensive end DeMarcus Walker and safety Derwin James -- the top returners from the nation's 19th-ranked defense from a year ago -- could cause Kelly fits, and if he manages to get past this one, things get even dicier two weeks later against top-ranked Alabama.
Deshaun Watson, Clemson. It has been more than a decade since the last preseason favorite won the Heisman, with USC's Matt Leinart in 2004. That puts Watson in a good spot with odds-maker Bovada giving Fournette the best odds. Watson simply benefits from being at the helm of an attack that could be even better with the return of WR Mike Williams, and having a 1,500-yard rusher in Wayne Gallman to take pressure off. A schedule that has its biggest moments before November hits (Oct. 1 vs. No. 19 Louisville and Oct. 29 at Florida State) could allow him, should the Tigers survive those opponents, to pump up his stats en route to the ACC title game -- and a date with the Tigers' first Heisman and the first for the conference by a non-Seminole.
Follow Cory McCartney on Twitter @coryjmccartney and Facebook. His book, 'Tales from the Atlanta Braves Dugout: A Collection of the Greatest Braves Stories Ever Told,' is out now, and 'The Heisman Trophy: The Story of an American Icon and Its Winners' will be released Nov. 1, 2016.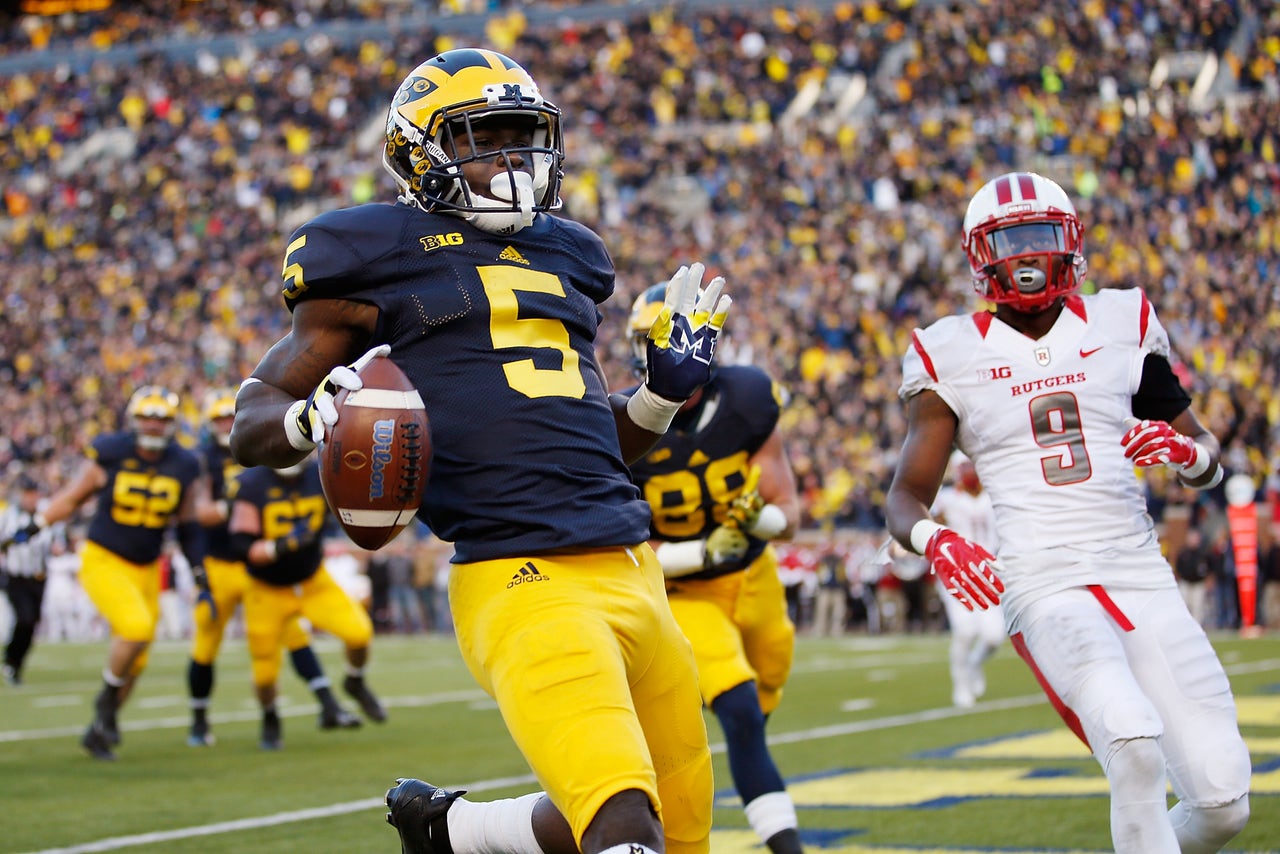 Jabrill Peppers' work on both sides of the ball could have him following in the foot steps of Michigan's 1997 winner Charles Woodson.
---