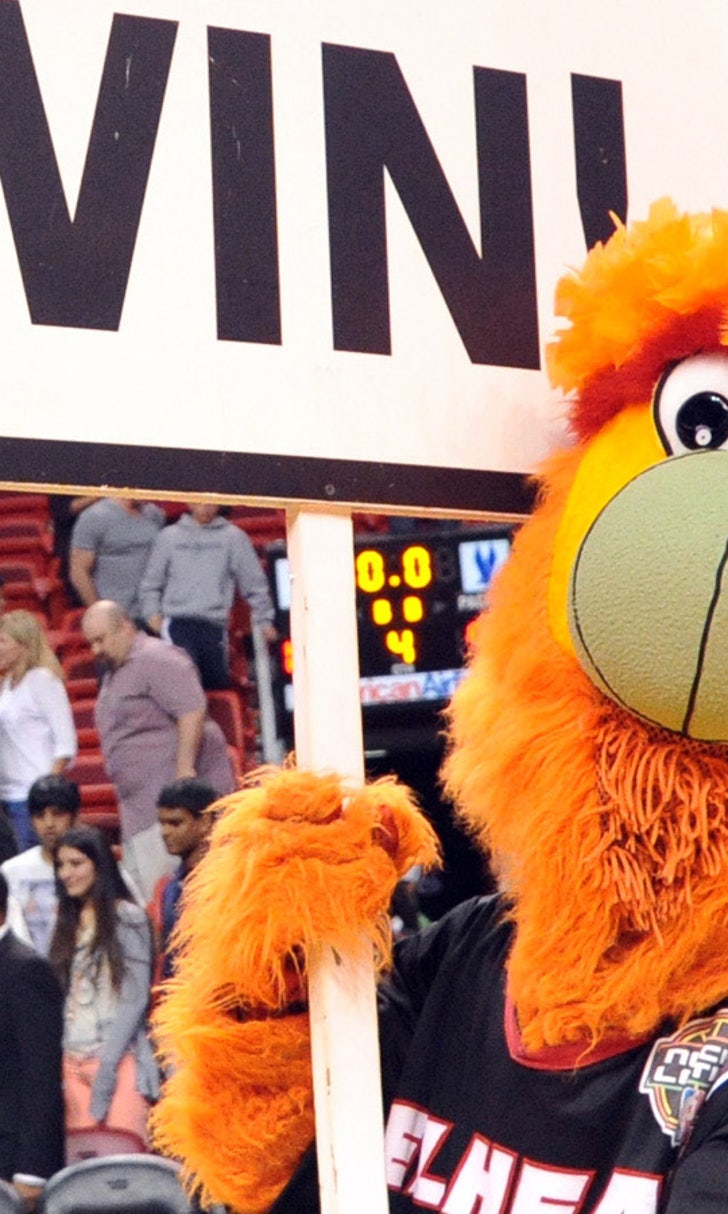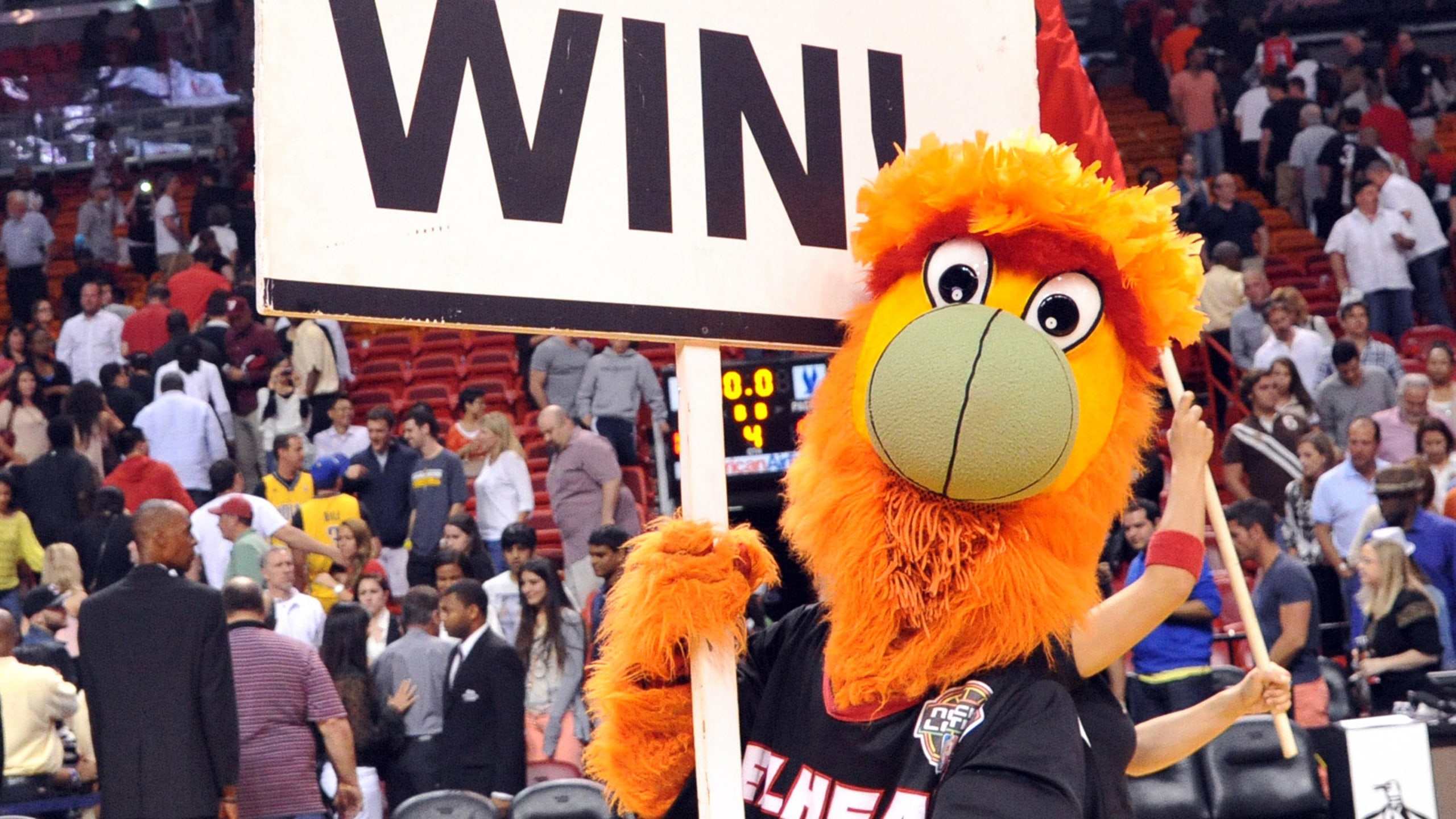 Heat, Sun Sports set to celebrate Burnie's birthday
BY foxsports • February 28, 2014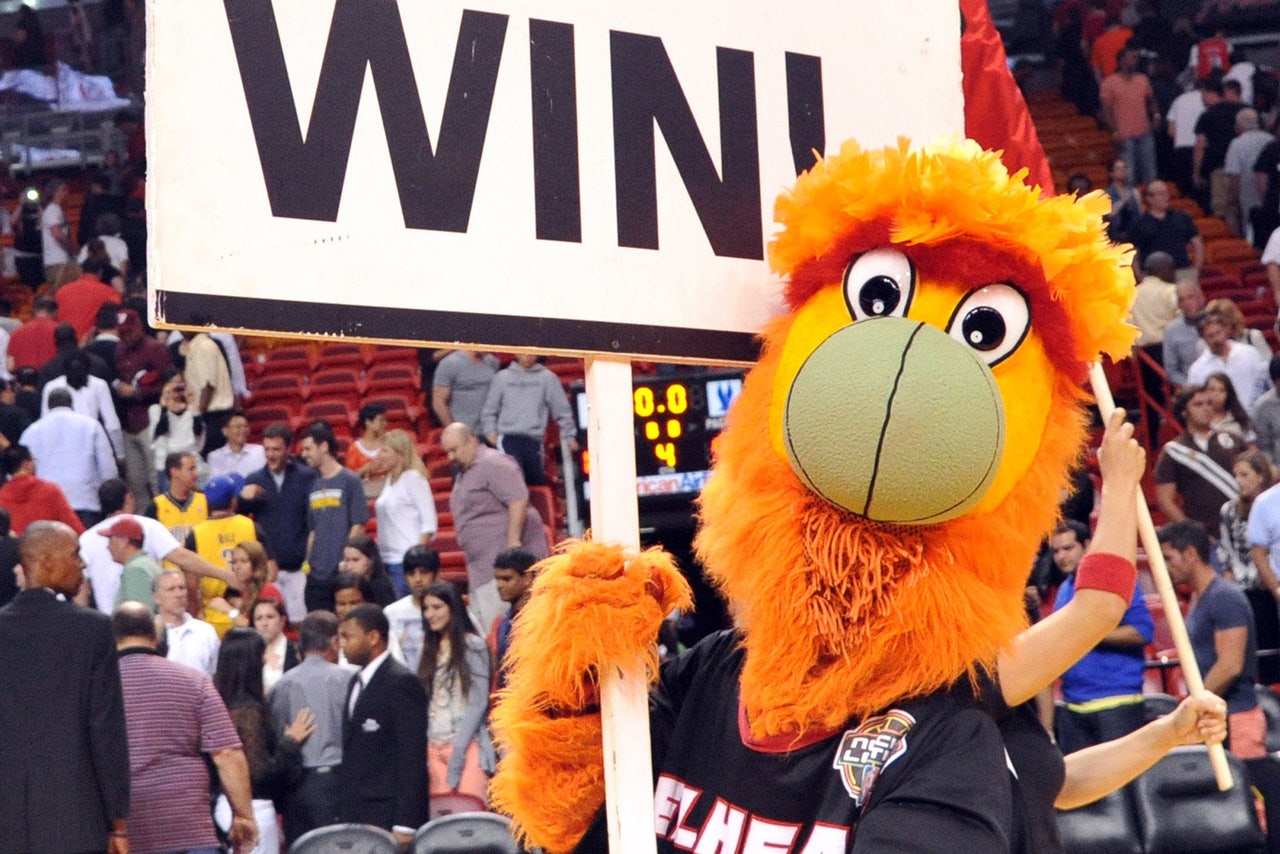 MIAMI -- The Miami HEAT, Party City and broadcast partner Sun Sports will join forces tobring young fans in attendance and viewers alike an up close and personal experience during Burnie's Birthday celebration this Saturday when the HEAT take on the Orlando Magic at 7:30 p.m. Throughout the evening, children of all ages will have a chance to participate in a host of interactive events both at the AmericanAirlines Arena and on the broadcast.
Burnie's Birthday is the annual birthday celebration for the only mascot in HEAT history. Beginning at 6:00 p.m., Burnie and his mascot friends will host a variety of activities on the East Plaza of the arena including bounce houses, face painting, inflatables, rides and more. Burnie's mascot friends will also participate in the festivities. Presenting sponsor and North America's largest party retailer, Party City will provide the first 5,000 children in attendance with an exclusive ''Burnie face on a stick'' giveaway. A coloring station will be available on the East Plaza for the kids to color in their Burnie face and display them during the game. Other activities include an in-game Donut Dash presented by supporting sponsor Entenmann's and a specially made donut cake courtesy of Dunkin Donuts, which will be presented to Burnie at halftime on the East Plaza. Additionally, kid pop sensation WowBand will be performing on the East Plaza during pre-game and halftime. AmericanAirlines Arena will open all doors at 6:30 p.m.
For the sixth straight season, the Sun Sports production team will call on a host of young ''kid-casters'' to supplement the veteran team of Eric Reid, Tony Fiorentino and Jason Jackson. Children, and their importance in our lives, will be front and center as a theme throughout the entire broadcast,which begins at 7 p.m. with a half hour edition of HEAT Live, delivered by Papa John's. A special three-part feature with Ray Allen and his family entitled, ''Food, Family & Fatherhood'' will air in the pre-game, halftime and post-game segments. Allen, his wife Shannon, and their four sons -- Ray Ray, Walker, Wynn and Wystan -- €"recently hosted a family meal with Jackson to discuss their healthy eating and family life.
The broadcast will also feature specialized graphics, baby and childhood pictures of HEAT players, and an on-court tutorial in the post-game with former HEAT Assistant Coach Tony Fiorentino and several of the kid-casters.
Danielle Malkin a 16-year-old sophomore at Felix Varela High School in Kendall and Max Ziffer a 17-year-old junior at West Boca High School were selected as the winners of the Sun Sports ''Kid-caster for a Day Contest.'' Both will have the opportunity to conduct interviews and provide commentary and at times take over play-by-play responsibilities at various points throughout the broadcast. Ziffer, who has been serving as a broadcaster for the West Boca Dragon Football League for the last year and half, will join Eric Reid and Tony Fiorentino in the second quarter. Malkin, a broadcast and journalism student who works for the Varela High school news station (WVHS), will have a chance to call the action in the third quarter.
Justin and Jordan Jackson will rejoin their Emmy Award winning father, Jason, throughout the broadcast for a fifth consecutive season. Fourteen-year-old Justin will deliver the Sun Sports Spotlight and will join his dad in the studio for post-game highlights. Eleven-year-old Jordan will serve as a Sun Sports "sideline shadow" and will also participate in the post-game walk-off interview on the court. The Jacksons will also present the HEAT Kids' Day Roster and starting lineup.
The English radio broadcast will have a family feel as well. Mike Inglis and John Crotty will be joined for the fourth straight year by one of the former HEAT point guard's daughters, as 17-year old Cassie Crotty, a junior at Ransom Everglades, will participate in various portions of the game broadcast on the HEAT Radio Network and its flagship station, 790 / 104.3 The Ticket. For the first time in the six-year tradition of Kids' Day, the HEAT will also welcome a young broadcaster on its Spanish radio broadcast. Enzo Armella, a 14-year old eighth grade student who is enrolled in the Sports Broadcasting Program at the SLAM Charter School in Miami (Sports Leadership & Management) will join La Voz, Jose Paneda and Joe Pujala for the game broadcast on Radio Mambi (710 AM).
For the fourth straight season, Sun Sports will give six young students from KEC-Canal Point Elementary School the opportunity to serve in a host of technical capacities. Among its many accolades, the school has been honored by the Florida Department of Education for several its public service announcements focusing on literacy. The students will have a chance to operate cameras, assist with videotape and audio production and even supply direction for parts of the telecast.
The Kids' Day Broadcast has been nominated for an Emmy Award in each of the five years it has previously been produced, and has received the prestigious honor for game broadcast excellence at the annual Suncoast Chapter Emmy Awards on  three occasions.
The National Anthem will be performed by 12-year-old Emily Montero, a 7th grader from Doral Academy Charter Middle School.
For more information on Burnie's Birthday, please visit HEAT.com.
---