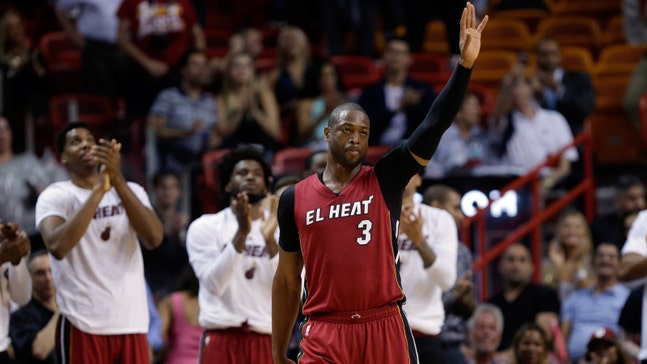 Heat star Dwyane Wade tops 20,000 career points
Published
Mar. 19, 2016 9:13 p.m. ET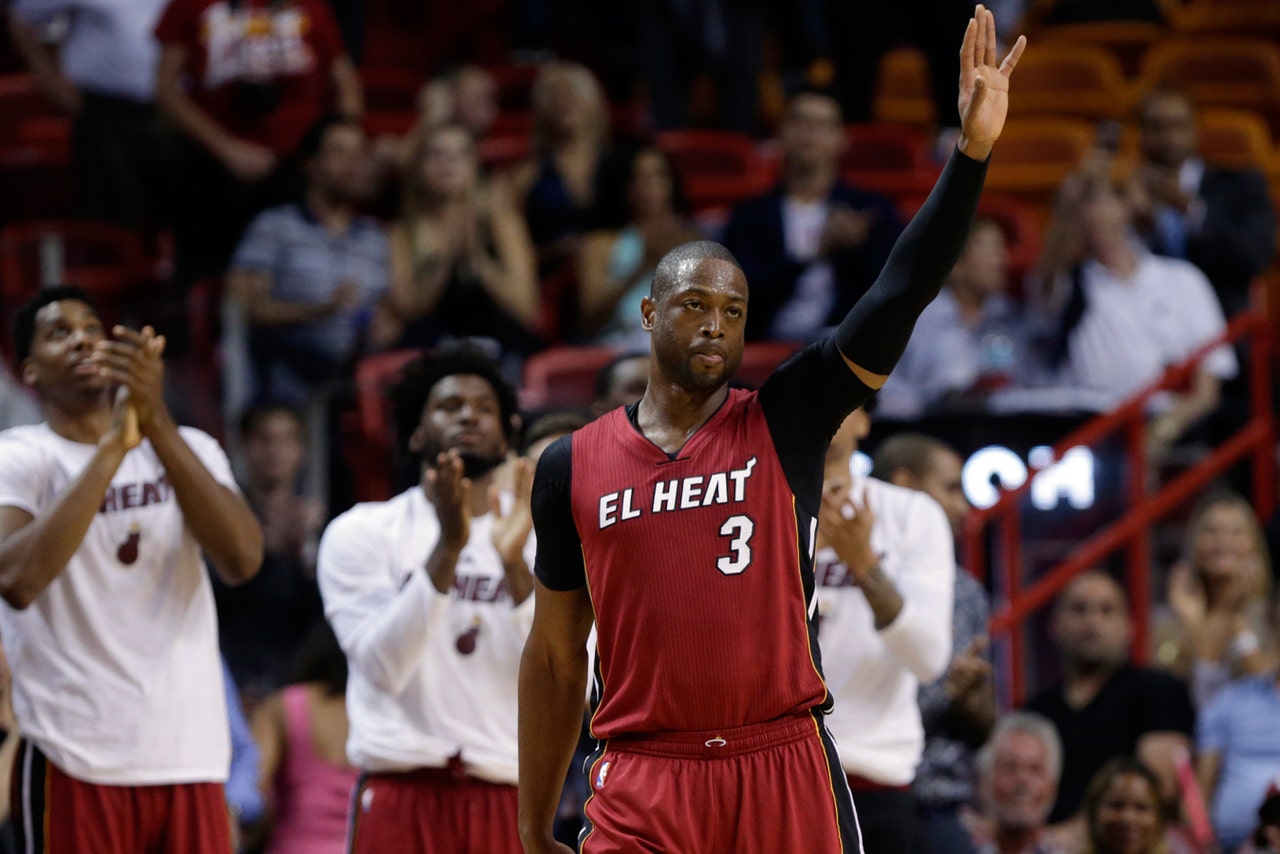 MIAMI (AP) -- Dwyane Wade always figured that 20,000 points would be enough to officially stamp him as an NBA great.
He's now there.
The Heat guard reached the milestone Saturday night, with a short floater with 10:18 left in the third quarter of Miami's 122-101 win over the Cleveland Cavaliers. Wade is the 41st player to score 20,000, doing so in his 844th game, and the ninth active one.
"I always thought, I don't know why, that 20,000 just seemed good," Wade told The Associated Press in an interview as he approached the milestone. "When you're in the NBA and they say you scored 20,000 points or whatever, that's a small group and I wanted to be in that category. Obviously, because of what I've chosen to do, giving up some of those opportunities, missing a lot of games, my style of play, to reach that point for me is big."
During the next stoppage in play after the historic score, Wade accepted congratulations from teammates, waved to fans who gave him a standing ovation and got a congratulatory pat from former teammate LeBron James. They chatted for a few moments, Wade smiling broadly.
"To be on the same floor as my brother when he gets 20,000 points in his career is just a testimony of what type of guy he is, type of professional he's been, type of leader he's been," James said. "Congratulations to him. It's big-time. It's big-time for the brotherhood."
Wade is the 21st-quickest to get to 20,000, according to STATS, and could have likely gotten there a lot faster if he was so inclined. He was instrumental in the Heat adding James and Chris Bosh in 2010, a move that helped Wade and the Heat win the second and third of their three NBA titles but surely slowed down his scoring pace.
"He has so many unique, special, professional ways about him and he's done it all in the same uniform," Heat coach Erik Spoelstra said. "You have to have Hall of Fame talent. What he's matched that with is a consistent work ethic, an ability to produce year after year. The sign of greatness is consistency."
Wade came into Saturday averaging 23.7 points for his career, fifth among active players behind only Kevin Durant, James, Kobe Bryant and Carmelo Anthony. He's a shooting guard who was never an elite shooter from deep -- never shooting better than 32 percent from 3-point range in a season -- but knew early in his career that he could still be a successful scorer.
And the critics who insisted he couldn't shoot helped as well.
"When it comes to criticism, we don't like it, but we need it," Wade said. "In a sense I'm happy people said those things. I'm still not Steph Curry or Ray Allen or Joe Johnson, but I always said I'm a shot maker. I'm not a shooter. My body makeup and mechanics is not like that. I'm a shot maker and that's what I've been my whole life, someone who can make shots, score the basketball and find a way."
That's what he did.
He would work for hours before and after practices with Spoelstra, who was then an assistant, developing his midrange game. The payoffs came quickly, with the Heat winning a title in his third season and Wade being the league's scoring champion in 2008-09. And as the Heat have changed, Wade adapted his game each time to fit in best.
"A lot of times, proud, veteran, proven players don't have the ability to adapt," Spoelstra said. "You have to adapt to them. He's so unique in that regard."
Wade started the season 54th on the NBA's career scoring list, and he's now one of only five players 6-foot-4 or shorter to reach 20,000, joining Jerry West, Allen Iverson, Gary Payton and Hal Greer.
Wade has shrugged off many of the stat-milestone events in his career, but he insisted this one will have a special significance.
"Somebody's going to pass me one day, but it's kind of cool to see my name -- while I'm still playing -- among the 50 greatest players," Wade said. "They gave us all something to shoot for."
When the night was over, Wade was dripping with sweat 45 minutes after the game.
Even on a milestone night, he got in a postgame workout. And then he could finally reflect on what the number, reaching it at home and having James there to be part of it all meant.
"Everything happens for a reason," Wade said. "To do it versus my best friend over here was pretty cool and to know that I've scored 20,000-plus points in one uniform is the most special thing."
---
---