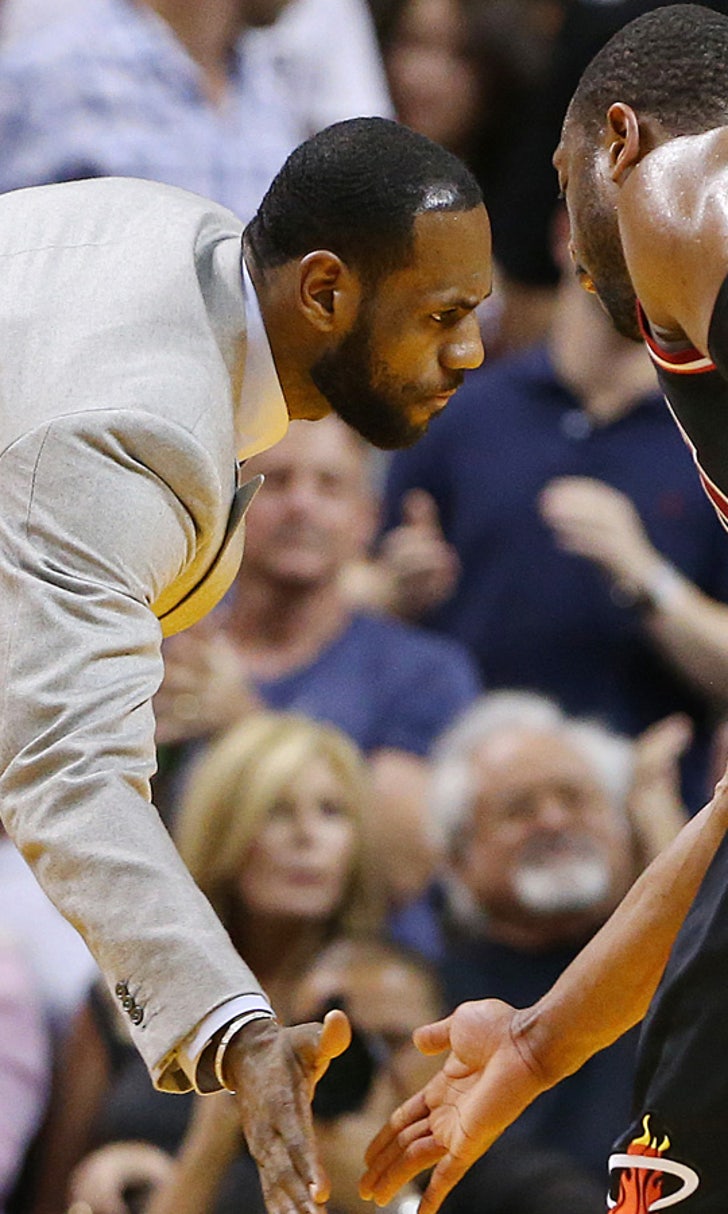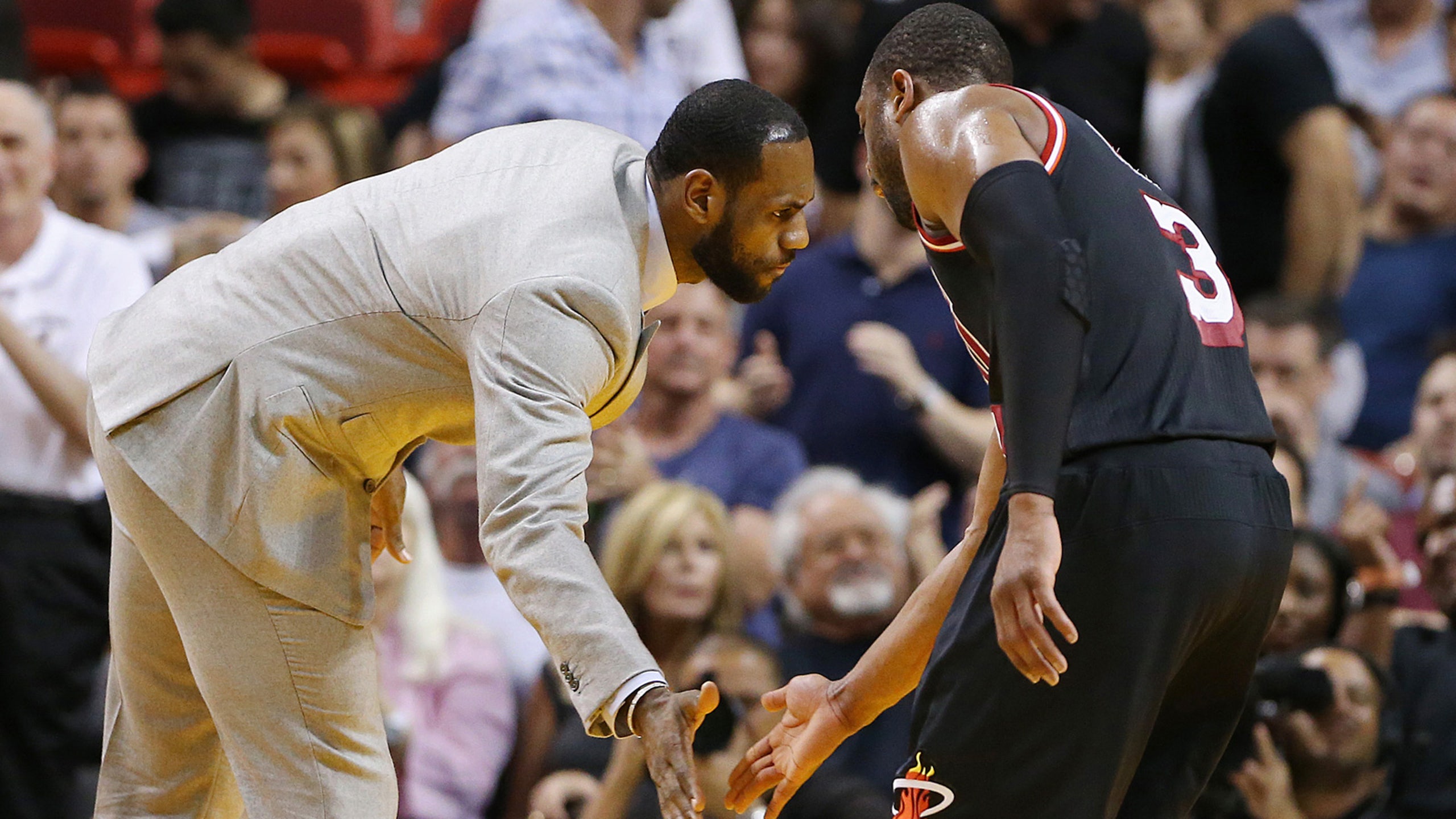 Heat show depth behind Big Three in beating Bulls without LeBron
BY foxsports • February 23, 2014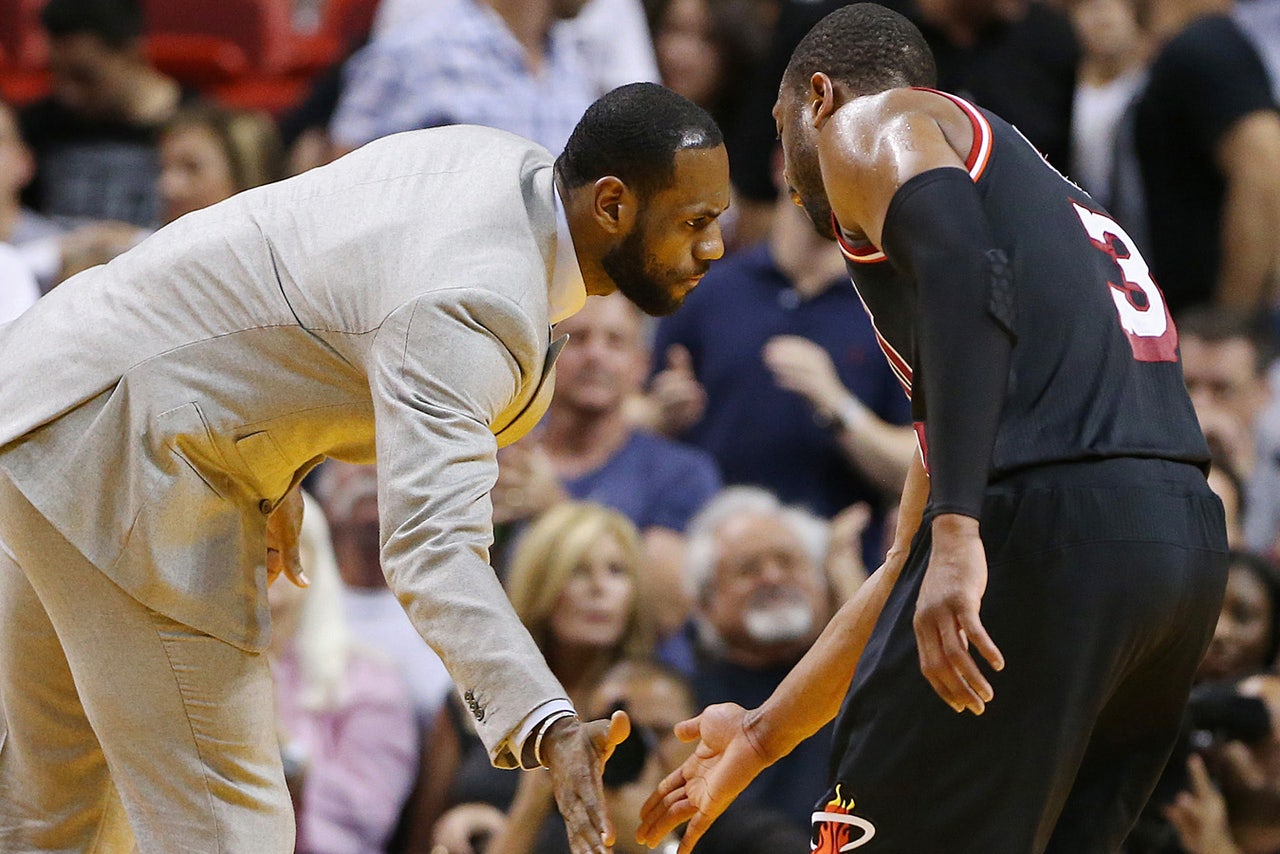 MIAMI -- While the Miami Heat's goal of another NBA championship rests largely with the Big Three, it'll take more than that to three-peat.
Postseason moments are sure to arise that will require stretches of smothering defense and big efforts from the supporting cast.
Sunday provided an indication the Heat still have what it takes in those areas.
With LeBron James sidelined due to a broken nose, fellow Big Three members Dwyane Wade and Chris Bosh stepped up as expected to lead Miami to a 93-79 victory against the Chicago Bulls.
Bosh led the way with 28 points and 10 rebounds, and Wade had a double-double himself as well, with 23 points, 10 rebounds and seven assists.
But included in the win was the type of overall production that will be required in May and June. Such as:
-- Defense that set the overall tone.
-- Forward Chris Andersen again providing energy and paint presence.
-- Center Greg Oden starting for the first time in more than four years and playing significant minutes.
-- Mario Chalmers displaying the type of effort characteristic of a quality point guard.
First, the defense.
Miami held Chicago to 35.8 percent shooting, including 6 of 21 (28.6 percent) from 3-point range. The Heat also forced seven shot-clock violations -- seven!
"Our defensive intensity and physicality was more adequate and that's the way (the Bulls) play," said Erik Spoelstra, who notched career-coaching victory No. 300. "Sometimes, they get you in tough situations and make you grind out the game."
Andersen's contributions can't be summed up by his seven points, three rebounds and block in 25 minutes, 36 seconds.
"His energy, for some reason, is contagious ... it's infectious," Spoelstra said. "Everybody starts to feed off his speed, his energy, his extra plays. He generates momentum for your team."
The veteran "Birdman," who has played well all season, even took two errant 3-point tries -- the first time this season he had multiple attempts from behind the arc.
"I don't want him shooting the same ones that Chris Bosh is shooting," Spoelstra said, "but at the end of the (shot) clock, if he ends up in the corner, I have absolutely no problem with shooting that one."
Oden started for the first time since Dec. 5, 2009. The 7-footer, whose career has been hindered by chronic knee issues, finished with five points and five rebounds in 12:49. His size undoubtedly will be important if or when the Heat face teams such as Chicago, Brooklyn and Indiana during the postseason.
Oden said he learned of his impending start Sunday morning despite not having played at Oklahoma City on Thursday night.
"I understand, it's a league of match-ups and it's just going to happen sometimes," Oden said. "There are some games that are fit for me to play in and others that are not."
Oden is averaging 3 points, 2.5 rebounds and little more than eight minutes in 11 games. He's moving better as he continues to get acclimated with Miami's approach and his teammates.
"I know the plays a little bit better and I'm starting to feel a little more confident out there," Oden said. "I think guys are starting to feel comfortable with me out there."
Sitting at his locker surrounded by a horde of media, Oden said he's also trying to get focused for the stretch run.
"They've all been through this before," Oden said of his teammates. "This is one of my first times going through this. This is that push you got to get for first place -- that's what we're aiming for right. The next push is going to be when the playoff starts."
Nobody benefitted more from James' absence Sunday, in terms of showing what he can do, than Chalmers.
James and Wade always will have opportunity to handle the ball and run the offense. But with the King sitting, Chalmers played 39:35 and finished with 12 points, nine assists and only two turnovers.
"Everybody worries about the Big Three, but we don't worry about that," Chalmers said. "We know when our numbers' called, we step up and we're always ready to deliver."
Even Wade did more, grabbing a career-high seven offensive rebounds as the Heat closed to within 1 1/2 games (one in the loss column) of Eastern Conference-leading Indiana.
"There is nothing that we can do to replace the best player in the world," Wade said. "But when the game starts, you forget about it.
"Chicago is an unbelievable rebounding team. It's hard to outbound them but we were able to be disruptive in other areas."
The Bulls outrebounded the Heat 51-41 -- one of the few categories in which Miami failed to earn the advantage.
"When guys are out, I'm always curious to see how you respond as a basketball team," Spoelstra said. "Are you going to take the challenge and have guys step up within their game, or are you going to use it as an excuse?"
No excuses were needed Sunday.
You can follow Charlie McCarthy on Twitter @mccarthy_chas or email him at mac1763@bellsouth.net.
---