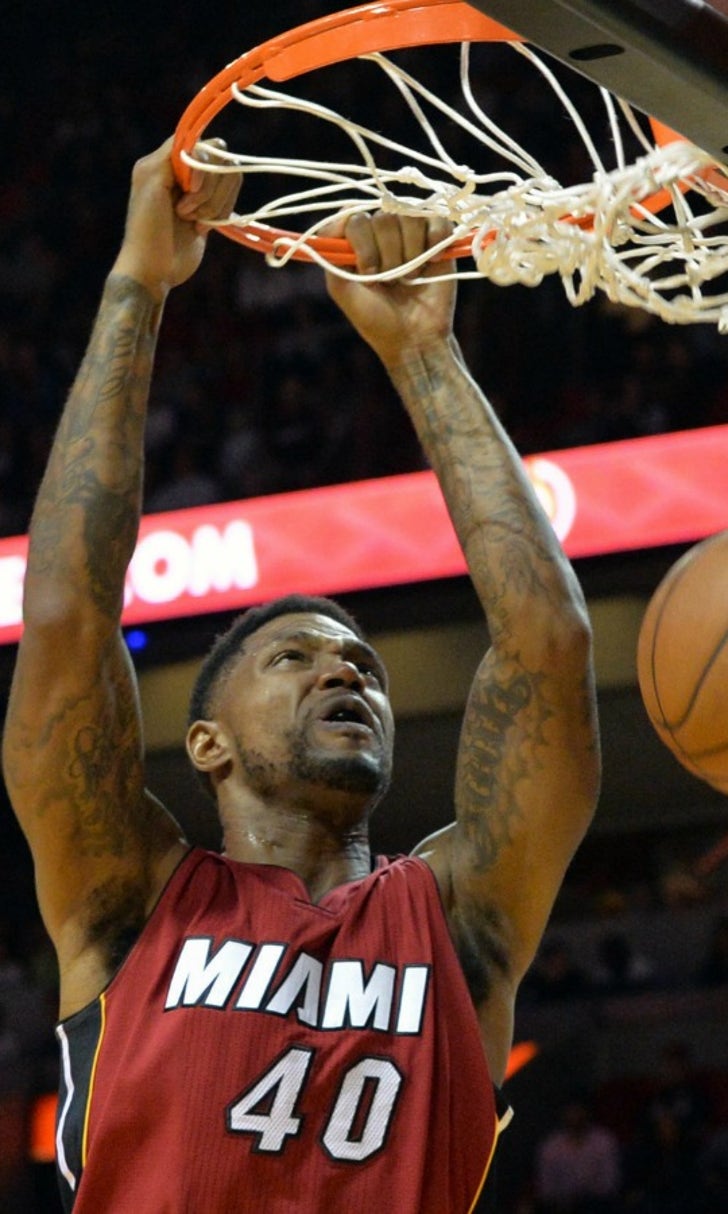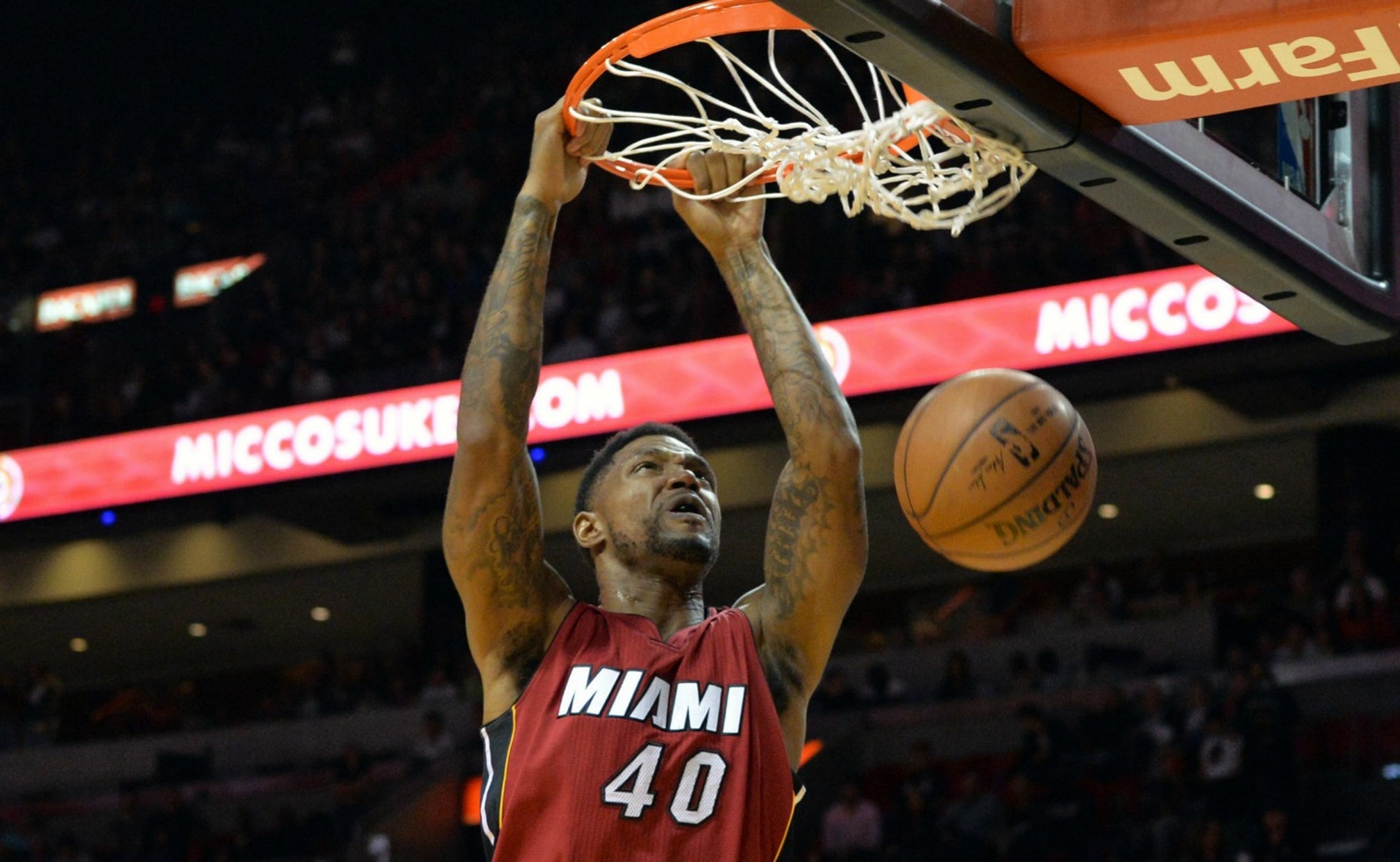 'Heat Lifer' Udonis Haslem always brings positive influence to team
BY foxsports • May 10, 2015
Perhaps no one else but Udonis Haslem can make the best case for being the ultimate "Heat Lifer."
As a youngster, Haslem used to watch his hometown Heat play at the Miami Arena just blocks away from the future site of the AmericanAirlines Arena, where he would become the franchise's all-time leading rebounder and win three NBA titles. 
Since going undrafted and signing with the Heat in 2003, Haslem has seen his fair share of ups and downs as well as plenty of teammates come and go. Through it all, Dwyane Wade has been by his side.
"I always want UD out there," Wade said in April. "I always feel like we have a great shot when he is on the floor because he will bring something that no one else can bring. We've been playing together for 12 years now. We have been through highs, lows, mediums, whatever you want to call it; we have been through it all together. (This season) is just another chapter we can add."
The soon-to-be 35-year-old averaged 4.2 points, 4.2 rebounds and 16.0 minutes for the 2014-15 season and missed out on 20 games either due to health, rest or because he was in and out of the rotation. As has been the case his entire career, Haslem brings much more to the team then just statistics with his drive, leadership, and locker room presence. 
Injuries necessitated a bigger role for Haslem then head coach Erik Spoelstra might have anticipated, but he is grateful for what the co-captain did contribute.
"He has been an influence all year long," Spoelstra said. "Through the tough times he was just a driving force of consistency, professionalism and an example of who we want to be. When you call on him for bigger minutes and a bigger role, he produces in a big way. I don't think it is a coincidence why he has been here and so beloved in this organization for so long."
WHAT HE DID RIGHT
Through all the many difficulties of the season, Haslem was there for Spoelstra when called upon and was also a guiding force for his younger teammates.
"I check up on them and see how they're feeling and what they might have going on," Haslem said in early April of the Heat's rookies. "(I) give them my input or my suggestions on some things that maybe they might be dealing with playing throughout the season."
On the floor, Haslem largely maintained the same offensive and defensive numbers as the previous season and remains a solid team defender. Additionally, his midrange shot was a bit more reliable then years past. He led the team in charges taken this season with 16 and had six games where he reached double-figures in points, three games with 10 or more rebounds and three double-double games. 
Miami finished 14-11 with Haslem in the starting lineup.
WHERE HE NEEDS TO IMPROVE
At this stage of his career, Haslem will still bring his trademark hustle to every game he plays in but it comes at a cost with all the wear and tear caused by his style of play. The occasional mid-range shot or put-back dunk aside, Haslem isn't much of an offensive threat anymore which gives the opposing team more free reign to cover his teammates. He also tested out his 3-point shot a career-high 10 times last season, but only connected on two of them.
BEST GAME
In a vintage performance for the two long-time teammates, Haslem was the perfect Robin to Wade's Batman with a season-highs of 18 points and 13 rebounds to lift the Heat past the visiting Detroit Pistons on March 29. Wade scored 19 of his 40 points in the fourth quarter as the two captains willed their shorthanded team to victory.
With Hassan Whiteside sitting out, Haslem got the start and scored most of his points near the rim through opportunistic tip-ins and having Wade and Goran Dragic find him as he cut to the basket.
LOOKING AHEAD
Haslem enters the final year of his two-season deal at $2.9 million in what could be either a contract year or the end of a celebrated career. In order for Miami to have a shot of becoming an elite team in the East again, they will need Chris Bosh, Josh McRoberts, and Whiteside healthy with Haslem in an emergency role to be used when needed. With fresh legs and championship experience, he could yet have a role to play in the postseason.
You can follow Surya Fernandez on Twitter @SuryaHeatNBA or email him at SuryaFoxSports@gmail.com.
---