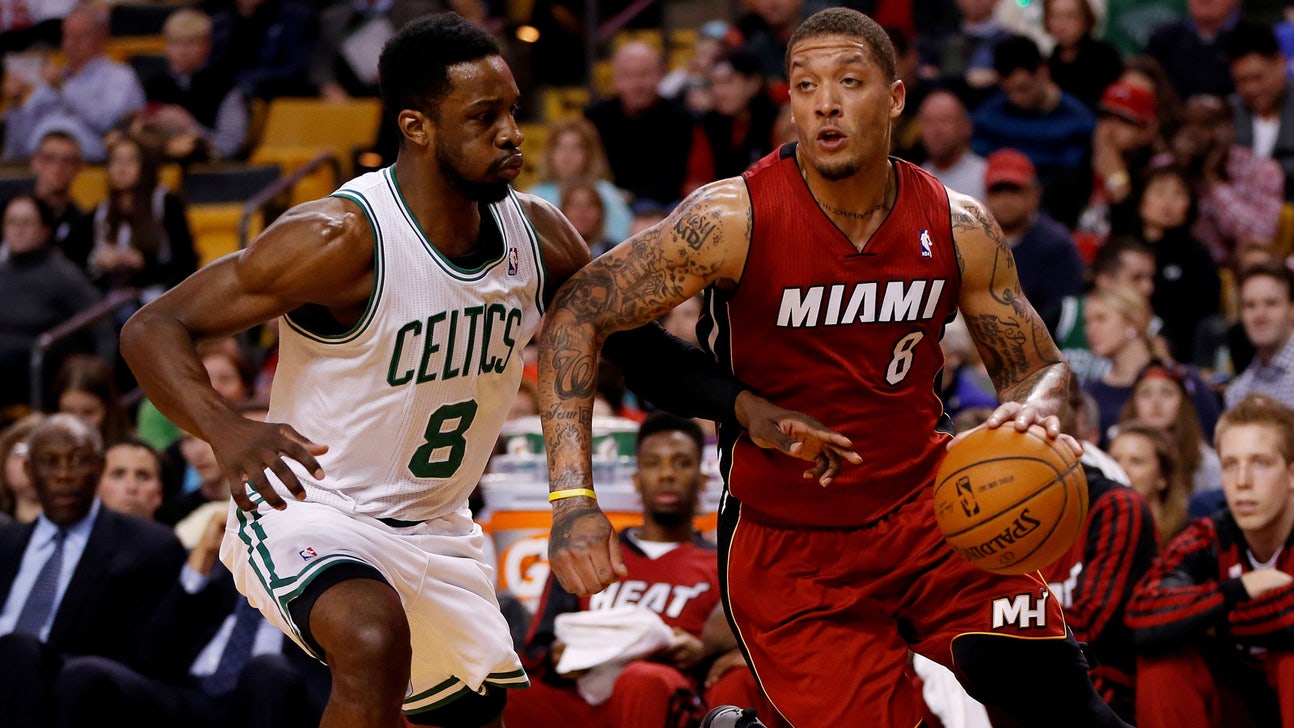 Heat fall to Celtics with LeBron James on bench
Updated
Mar. 4, 2020 6:46 p.m. ET

BOSTON (AP) -- The word came shortly before tipoff: LeBron James wouldn't be playing.
Good news for Boston Celtics coach Brad Stevens. But not as good as the news his team delivered down the stretch.
Jeff Green's 3-pointer broke a 94-94 tie with 2:32 left and Rajon Rondo hit two running baseline shots in the last two minutes as the Celtics broke a five-game losing streak with a 101-96 win over the Miami Heat on Wednesday night.
Stevens had prepared to face James, who scored 43 points in a 100-96 win over the Cleveland Cavaliers the previous night. But when he learned that James would sit out with back spasms, "you just move on to what's next," he said.
What came next for the Celtics was a poor first quarter in which they made 9 of 27 shots, a better second quarter and a second half in which they outscored the Heat 48-37.
"We were down 12" after the first quarter, Stevens said. "And then we hit 60 percent of our shots the rest of the way and that's why we won."
That and the Heat's second-half shooting problems. They sank 40 percent of their attempts in that half after hitting 56.5 percent. In the second half, Chris Bosh made 1 of 6 shots and Dwyane Wade hit 2 of 9.
"I was just off," Wade said as James sat in the opposite corner of the locker room dressed in jeans, a gray T-shirt and dark green ski cap while eating pasta.
"I had opportunities," Wade said with a smile. "I just couldn't go my normal 60 percent shooting self."
Rondo made his shots when the Celtics needed them, continuing to regain his skills since returning Jan. 17, almost a year after tearing the anterior cruciate ligament in his right knee.
"That's the most frustrating part of my game that hasn't come back," he said of sinking floaters near the basket. "I expected it to be there. I made two tonight and have to continue to work on it."
He finished with nine points, 15 assists and 10 rebounds. Avery Bradley led Boston with 23 points and career highs of six 3-pointers and nine 3-point attempts. Brandon Bass added 18 points.
"I just have that confidence in my shot," Bradley said. "We didn't only execute at the end of this game but we played great defense."
The Heat, who had won their previous two games after losing five of six, were led by Wade with 17 points, Chris Andersen with 16, and Ray Allen and Udonis Haslem with 14 each.
"We aren't used to playing so unstable," Bosh said. "We need to pick it up."
Miami remained in second place in the Eastern Conference, three games behind Indiana, which lost to the New York Knicks.
The Heat would have had a much better chance to gain on the Pacers had James played. But coach Eric Spoelstra kept him out against one of the NBA's worst teams because of the back problem.
"It was sore in the walkthrough today, but he was able to go through it so I didn't really think much of it," Spoelstra said. "Then it didn't get much better by game time so it was a pretty easy decision."
Rondo said James' absence didn't affect the Celtics' defense.
"Our pick-and-roll defense is usually the same," he said.
Rondo had missed four of his six shots before banking the ball in from the right with 1:44 to go, putting Boston ahead 99-94. Wade then converted an offensive rebound with 1:32 left.
Each team missed a shot before Rondo connected again with 18.7 seconds to play.
It capped an impressive comeback after one of the NBA's best teams had built a 14-point lead early in the second quarter and led 59-53 at halftime.
Bradley started the scoring with a 21-foot jumper, giving the Celtics their only lead of the first half. A dunk by Haslem tied the game 2-2 and the Heat led 34-22 after the first quarter.
NOTES: Heat center Greg Oden got the night off to rest after starting the last two games and playing in nine of the last 12. ... Bosh finished with just six points, but had 11 rebounds. ... Andersen's 16 points were two less than his high for his 11 seasons. ... The Celtics made 13 of 28 shots from 3-point range, the Heat just four of 17.
---