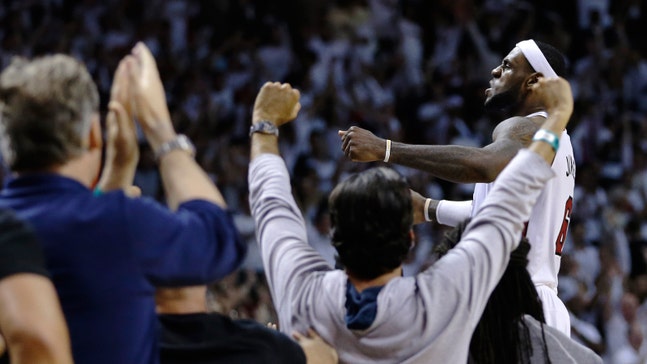 Heat cut down Nets to advance to fourth straight conference finals
Updated
Mar. 4, 2020 10:50 p.m. ET

MIAMI -- In the end, the team built to win championships held off the team constructed to dethrone it.
The two-time defending NBA champion Miami Heat overcame an eight-point deficit in the final 2:48 Wednesday night to defeat the Brooklyn Nets 96-94 at AmericanAirlines Arena and win their Eastern Conference semifinal series 4-1.
That meant reaching the conference finals for a fourth straight season.
And beating a Brooklyn team that had won all four regular-season meetings.
And ousting a team led by former Boston Celtics stars Paul Pierce and Kevin Garnett, acquired by the Nets to challenge the Heat for Eastern supremacy.
"I don't think you ever bury these guys, they're unbelievable competitors, and I don't know if we really want to," said Dwyane Wade, who scored 20 of his 28 points in the first half. "They bring something out of you.
"We've had some unbelievable battles versus these guys, and we can credit them for the team we are today because they were the team we had to get by when they were in Boston and we had to learn how to win and learn how to beat."
Heat guard Ray Allen also was a member of those Celtics teams. His 3-pointer with 32 seconds remaining gave Miami the lead for good at 93-91.
"I was like, 'This ball is going up,' " said Allen, who had 13 points. "It is something I practice every day: getting your feet ready and right and putting it up in the air."
The Heat had lost to Brooklyn four times during the regular season -- three games by a point each and the other in double overtime.
Before the series, both teams said that didn't matter -- and they were right.
Miami is headed to its fourth consecutive Eastern Conference finals, meaning it has been an annual rite for the Big Three of Wade, Bosh and LeBron James.
"You have to cherish these moments," said Bosh, whose 16 points included hitting 4 of 6 3-pointers. "To be a great player, you going to have to go through some extreme, very tough situations over and over and over. While they might not be that fun while you're going through it, it's a good feeling coming out victorious."
For most of the final 24 minutes, Miami emerging in triumph seemed unlikely. Allen's late 3-pointer was the Heat's first advantage of the second half.
"You can't get caught up in frustration," coach Erik Spoelstra said. "You can't get caught up trying to come up with a 10-point play. It just takes incredible focus just to concentrate on one possession at a time."
Miami will prepare to face the winner of the Indiana-Washington series. If the Pacers win Game 6 Thursday night at Washington, the conference finals will begin Sunday in Indiana. Otherwise, the Heat will return to action Tuesday night.
Reaching the conference finals didn't mean the Heat were increasing their focus on a three-peat.
"I don't think so, not yet, we still have some business to take care of," said James, who followed his Game 4 49-point effort with 29 points. "But it's great to put ourselves in position to get where we want to go. We never shortcut the process. We understand each and every game will be a challenge for us.
"This is the reason we came together four years ago, to put ourselves in position to compete for a championship. And this one step closer to it."
You can follow Charlie McCarthy on Twitter @mccarthy_chas or email him at mac1763@bellsouth.net.
---