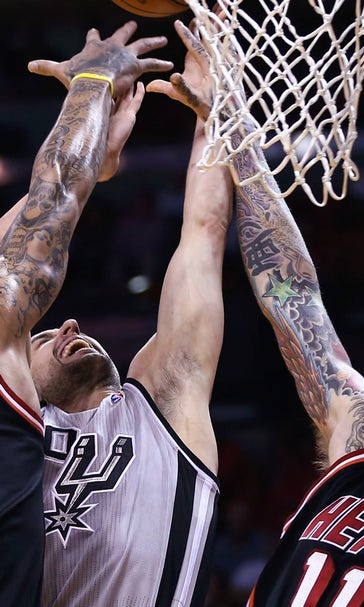 Heat Check: Miami cruises in Finals rematch with San Antonio
January 26, 2014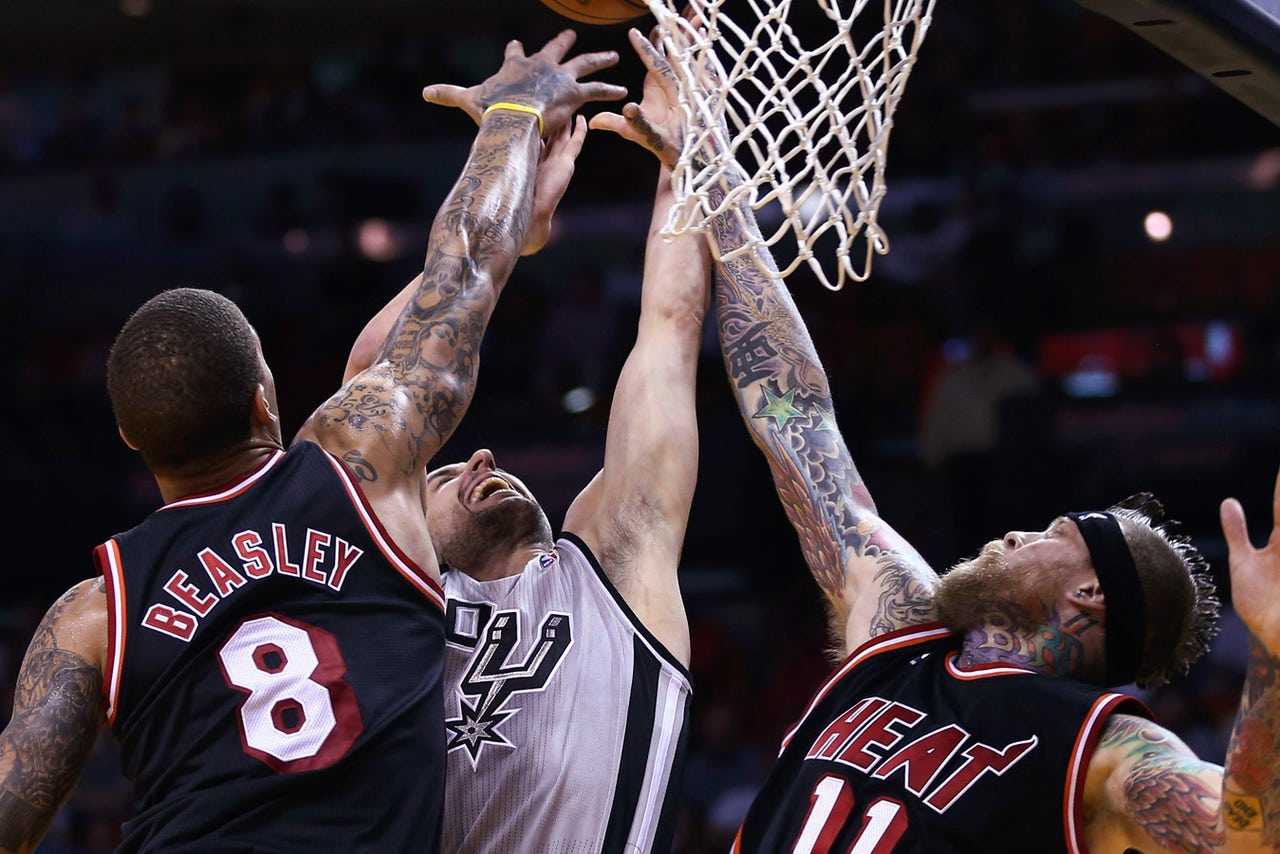 MIAMI -- The Miami Heat didn't need a score-tying 3-pointer in the final seconds to beat San Antonio this time.
Not by a long shot.
Chris Bosh scored a game-high 24 points on 9-of-10 shooting to help the Heat earn a convincing 113-101 victory against the Spurs on Sunday afternoon.
LeBron James added 18 points and 7 rebounds for Miami, which built a 20-point lead through three quarters and went ahead by as many as 29 in the fourth. San Antonio, which never led, scored 13 consecutive points late to make the final score more respectable.
Eight Heat players scored at least 8 points each.
The game certainly lacked the atmosphere and importance of San Antonio's visit to AmericanAirlines Arena for Games 6 and 7 of last season's NBA Finals.
Dwyane Wade, who missed the previous four games to rest his knees, played but didn't start for the first time since Jan. 6, 2008. He entered with 4:41 left in the first quarter and scored 8 points in 23 minutes, 42 seconds.
Center Greg Oden, coming back from a four-year layoff due to knee injuries, played in a third straight game. He finished with 3 points, 2 rebounds and a block in 12:53 minutes.
In his pregame meeting with the media, coach Erik Spoelstra said the fact all 15 Heat players would be available to play tested his decision-making. Spoelstra went 12-deep, though Rashard Lewis and Roger Mason Jr. didn't enter until the final 4:34.
James Jones and newcomer Tony Douglas were inactive.
James and Bosh each had 12 points to help Miami build a 58-50 half-time lead. The Spurs never led during the first 24 minutes.
Miami shot 59 prevent in the first half, when the starting backcourt of Mario Chalmers and Ray Allen was a combined 6 of 8, including 3 of 5 from beyond the arc.
THE TURNING POINT
Leading by four points after Tim Duncan's basket with 8:44 remaining in the third quarter, the Heat went on a 15-3 run in a 4:47 span to take command. Bosh (6 [points), Chalmers (5) and James (4) did all the Miami scoring during the stretch.
THE DIFFERENCE MAKER
Bosh, who scored 20 more points for sixth time in seven games. He also shot 61 percent or better for the fifth time in six games.
STAT OF THE GAME
Miami shot 58.1 percent (43 of 74), including 8 of 19 from 3-point range.
WHAT'S NEXT
The Heat will play the Oklahoma City Thunder, 7 p.m. Wednesday, at AmericanAirlines Arena.
You can follow Charlie McCarthy on Twitter @mccarthy_chas or email him at mac1763@bellsouth.net.
---