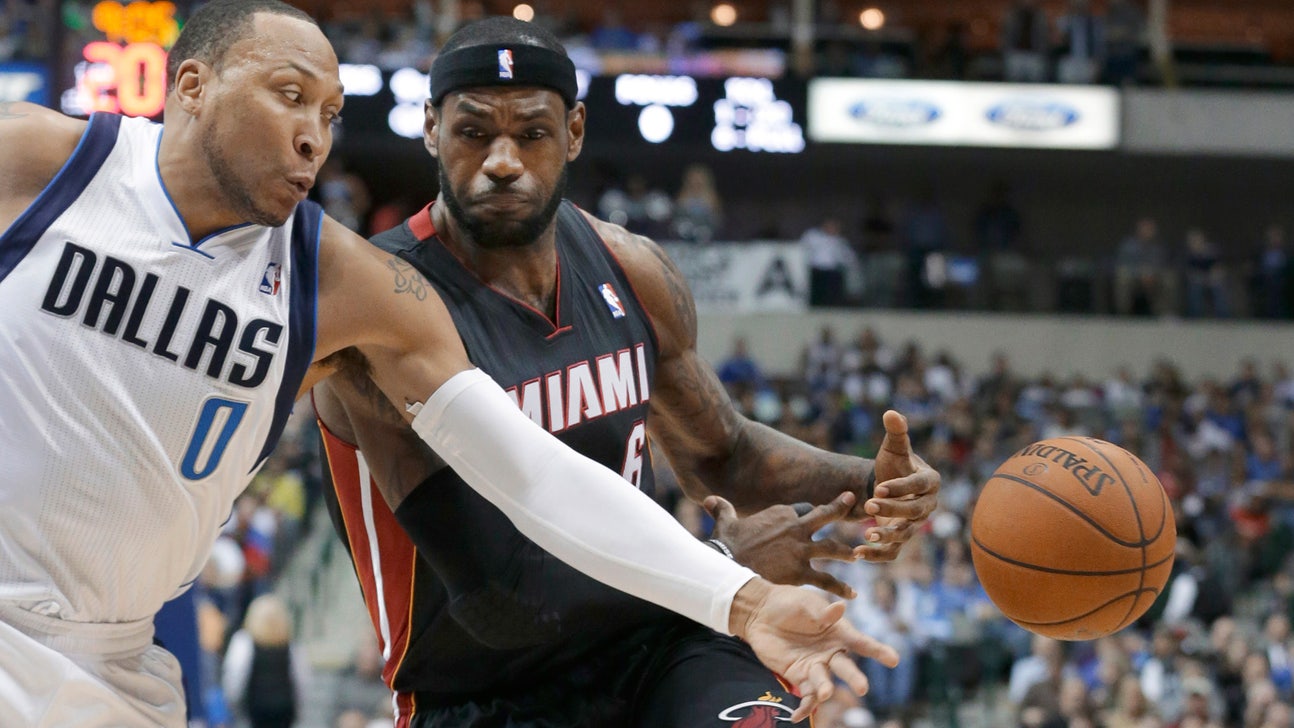 Heat Check: LeBron James takes control to lead Miami past Dallas
Updated
Mar. 5, 2020 2:19 a.m. ET

Outrebounded by 22? No worries ... at least when you have LeBron James.
James scored a season-high 42 points to lead visiting Miami to a 117-106 victory against Dallas on Tuesday night at American Airlines Center. It was the Heat's sixth straight win against the Mavericks.
Miami prevailed despite being outrebounded 50-28 and allowing the Mavs to grab 21 offensive rebounds. That was a shocking because Dallas entered the game 28th (40.1 avg.) in the league in rebounding. Miami was last averaging 36.7.
Besides notching his 50th career game of 40 or more points, James had nine rebounds and six assists.
James, who scored 39 in a November win against the Mavs at Miami, has scored 30 or more points in six of the last eight games.
Chris Andersen had a season-high 18 points and three rebounds in 27 minutes off the bench for the Heat (38-14). "Birdman" hit 7 of 9 shots, including a 3-pointer in the final minute.
Chris Bosh had 22 points on 8-of-12 shooting, and Dwyane Wade added 13 points and seven assists.
The Heat forced the Mavericks (32-23)  to commit 16 turnovers, leading to 24 points.
Miami trailed by only 85-84 after three quarters despite being outrebounded 36-20 to that point.
James had 19 points and the Heat shot 58.1 percent (25 of 43) to take a 60-54 halftime lead.
THE TURNING POINT
LeBron re-entered the game in the fourth with 7:47 left and the Heat down by 3. He proceeded to score eight straight points -- beginning with two 3-pointers -- to fuel a 14-0 Miami run that built a 106-95 cushion with 3:20 to go.
THE DIFFERENCE MAKER
Once again, it was King James, who took over the game midway through the fourth quarter.
STAT OF THE GAME
Having already mentioned Dallas' rebounding advantage, the stat of the game was Miami outscored Dallas in the paint 56-34.
WHAT'S NEXT
The Heat will play the last of six straight road games at Oklahoma City 8 p.m. Thursday.
You can follow Charlie McCarthy on Twitter @mccarthy_chas or email him at mac1763@bellsouth.net.
---