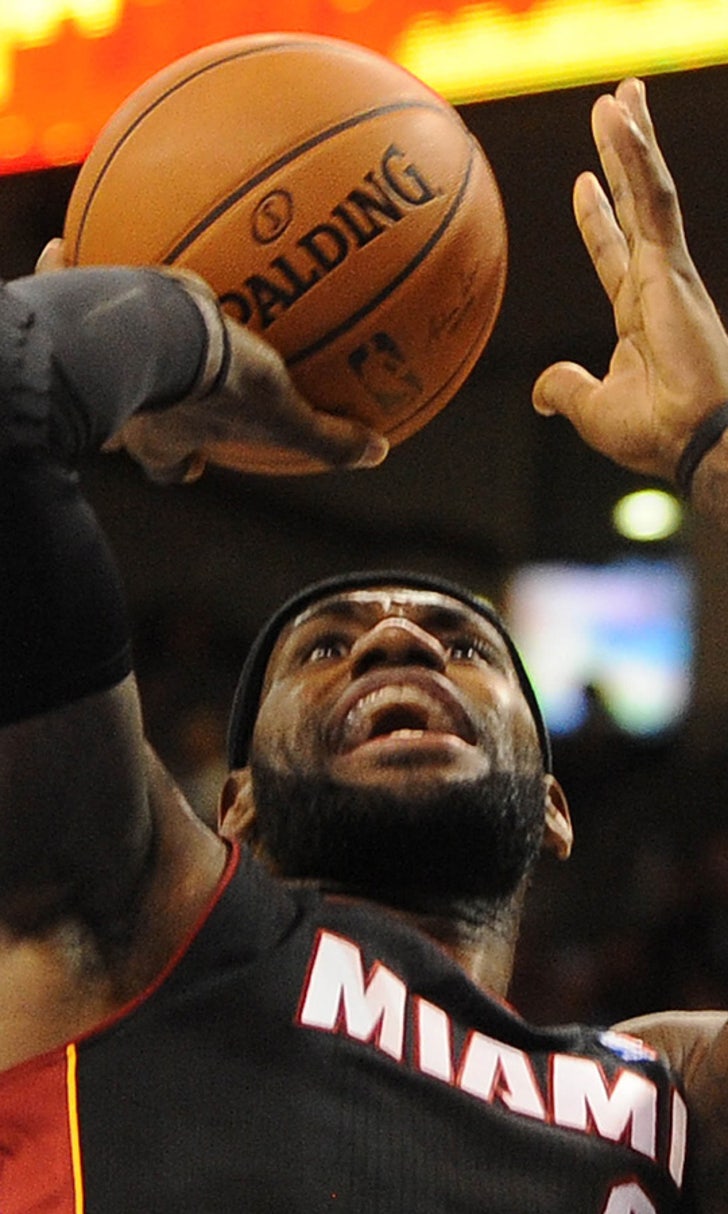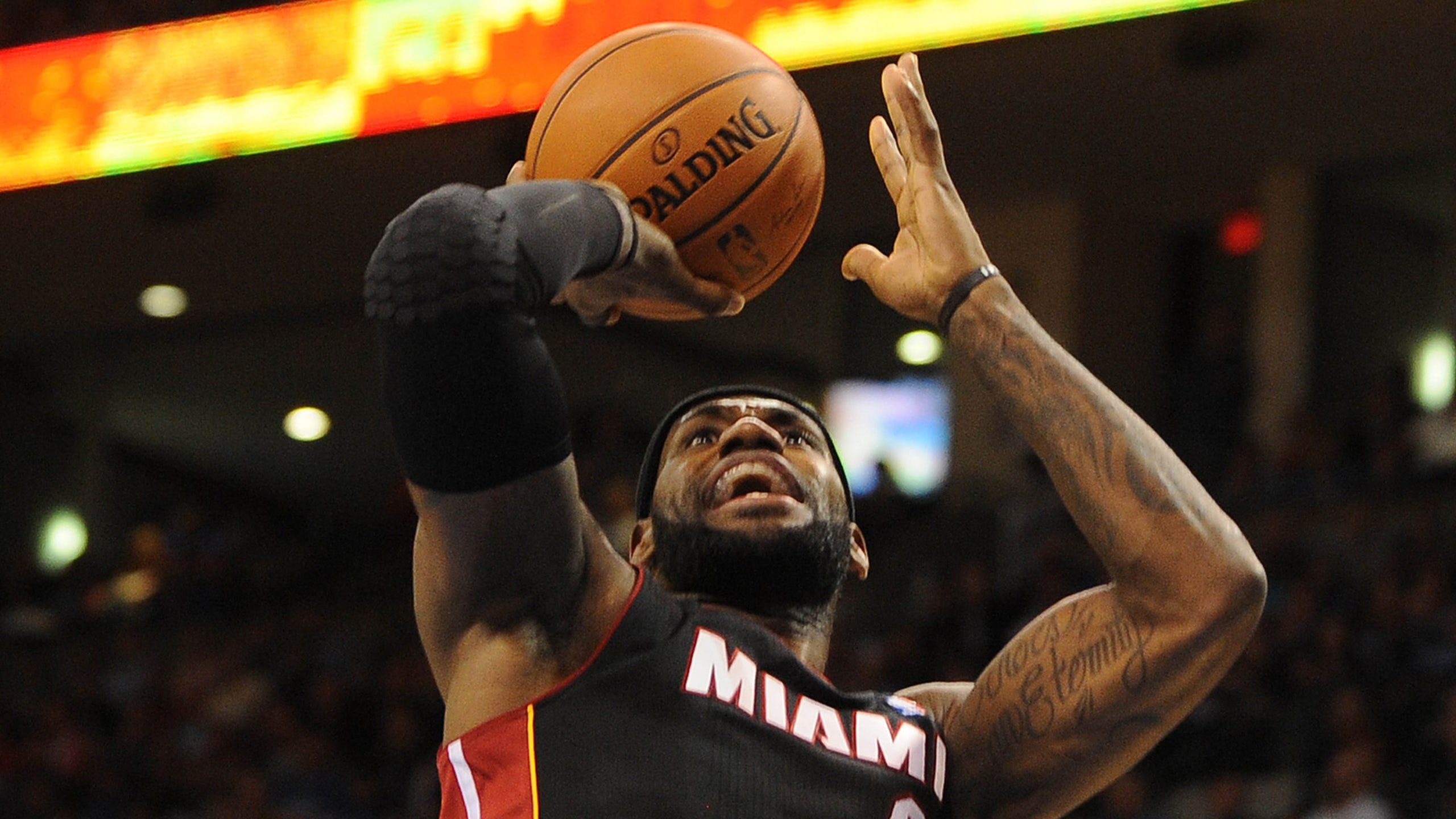 Heat Check: LeBron bloodied but helps Miami throttle Thunder
BY foxsports • February 20, 2014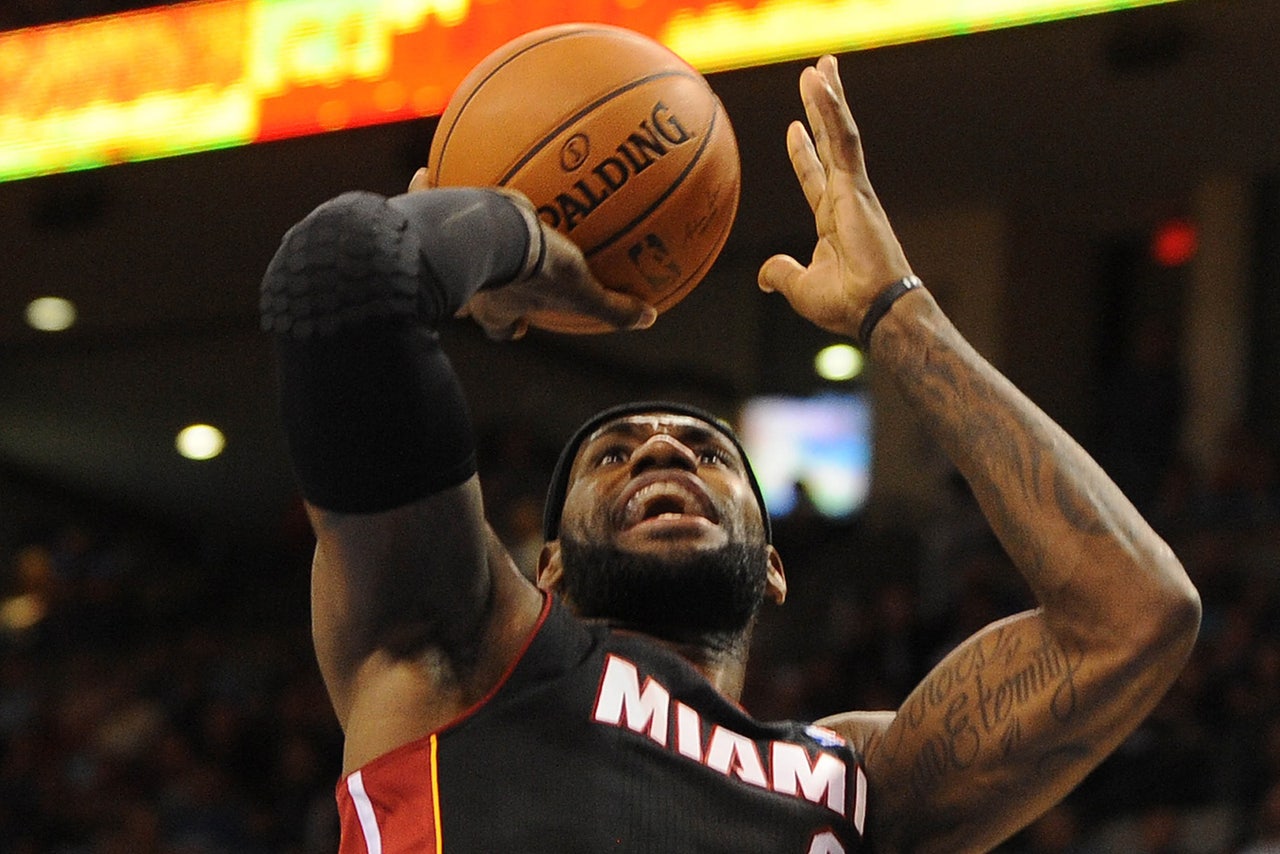 The highly anticipated, much-hyped duel between MVP contenders LeBron James and Kevin Durant never really materialized Thursday night, when the Miami Heat avenged last month's home loss to Oklahoma City.
James scored 33 points and hit 15 of 22 shots to lead the Heat to a 103-81 rout of the Thunder at Chesapeake Energy Arena. The win moved Miami to within 1 1/2 games of Eastern Conference-leading Indiana.
James left the game with 5:50 remaining in the fourth quarter after being hit in the face by defender Serge Ibaka's hand on a driving basket. The Heat star suffered a bloody nose, and held a towel to his face while being escorted to the locker room. He did not return.
Dwyane Wade had 24 points, seven rebounds and 10 assists. Chris Bosh added 24 points and eight rebounds for Heat (39-14).
James added seven rebounds, three assists and four steals for the Heat, who outrebounded the Thunder 41-38 two nights after grabbing 22 fewer boards than Dallas in a road win against the Mavericks.
Durant, who scored 33 points in a victory at Miami on Jan. 29, finished with 28 points. But he had 19 in the second half when Oklahoma City (43-13) never really threatened after Miami took control early on the third quarter.
Not even the return of Russell Westbrook, who had been sidelined since Christmas Day with a knee injury, could help the Thunder, who never got closer than five points in the second half.
Ray Allen (six points), Norris Cole (five points, three assists) and Chris Andersen (eight rebounds, two blocks) were the only Miami reserves to play.
In the teams' first meeting, the Heat had run out to a 22-4 lead before losing 112-95 at Miami. The Thunder shot 16 for 27 from 3-point range in that game.
Oklahoma City was just 2 of 20 from 3-point range on Thursday night.
Miami went ahead 54-47 at halftime after leading by as many as 19 points. But this time, the Heat refused to collapse. They began the second half with a 16-4 run to build a 70-51 cushion with 7:50 to go in the third quarter.
The Heat led by as many as 22 in the third quarter and led 76-65 entering the fourth quarter. Miami then scored the first eight points to take a 19-point lead with 9:47 to go.
Miami started strong, leading 34-17 after one quarter. The Heat shot 76.2 percent (16 of 21) and forced nine Thunder turnovers (14 points) in the opening period.
James had 16 points on 8-of-10 shooting, and Durant had two points on 1 of 5 in the first 12 minutes.
THE TURNING POINT
Miami's 16-4 run to start the third quarter built a 70-51 cushion with 7:50 left in the period.
THE DIFFERENCE MAKER
As good as James was, Dwyane Wade showed how strong Miami can be when he's playing at an elite level. The Heat were plus-29 with the All-Star guard on the court.
STAT OF THE GAME
Oklahoma City hit just 2 of 20 from 3-point range. The Thunder's long-distance shooting played a huge part in the win at Miami.
MUST-SEE VIDEO
WHAT'S NEXT
The Heat return home to play the Chicago Bulls at AmericanAirlines Arena at 3:30 p.m. Sunday.
You can follow Charlie McCarthy on Twitter @mccarthy_chas or email him at mac1763@bellsouth.net.
---