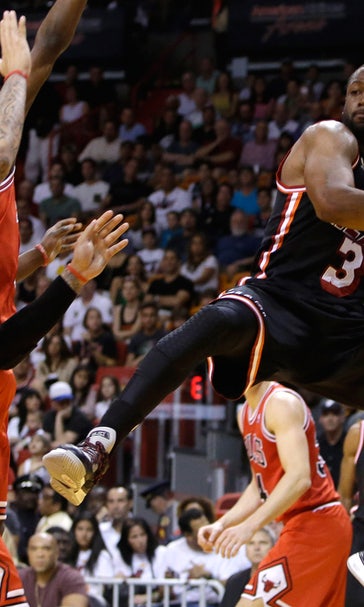 Heat at Bulls game preview
BY foxsports • March 8, 2014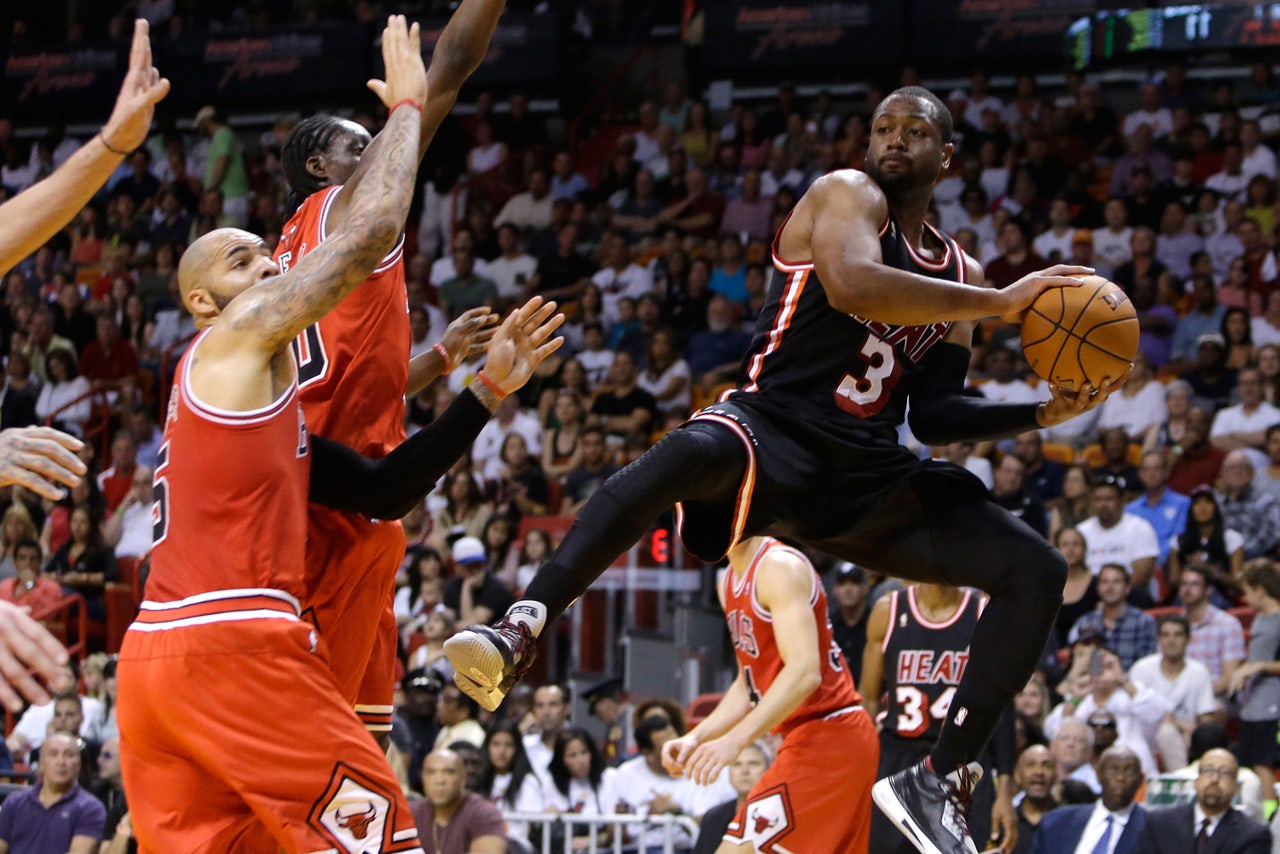 Game time: 1 p.m.
TV: ABC
LeBron James and the Miami Heat seem to be getting as much attention for what they're wearing these days as they are for their pursuit of the Eastern Conference's top seed.
In Chicago, the focus might be solely on what seems like a rare chance for the Heat to lose a third straight game.
With or without his mask - and definitely without sleeves - James looks to shake out of his brief shooting slump and help Miami avoid a three-game skid Sunday against a Bulls team that's had some success frustrating the four-time MVP.
James missed the Heat's 93-79 home win over the Bulls on Feb. 23 after suffering a broken nose three days earlier against Oklahoma City, then returned with a black mask Feb. 27 against New York.
The NBA requested James switch to a clear face protector, which he wore in last Saturday's win over Orlando and his career-high 61-point effort against Charlotte two days later, but James has been a bit more out of his comfort zone through two stops on this three-game trip. He missed six of seven shots after halftime in a 106-103 loss at Houston on Tuesday, then went 6 of 18 from the floor as San Antonio routed Miami 111-87 on Thursday.
James ditched the mask early in the first half, but his complaint after the game focused on the short-sleeved jerseys the Heat have occasionally worn for the league's Latin Night program.
"Every time I shoot, it feels like it's just pulling right up underneath my arm," said James, who went 1 of 18 outside eight feet in the past two losses. "I already don't have much room for error on my jump shot anyways, so it's definitely not a good thing."
The Heat (43-16), who have lost three straight once in their last 195 games, won't wear those uniforms again this season, but Tom Thibodeau's Bulls (34-28) have done a solid job of slowing down James in recent years - even if that hasn't often led to wins.
Since last April 14, James has been held to 22.5 points per game on 45.0 percent shooting in eight matchups - six wins - with the Bulls, including Miami's five-game victory in the East semifinals.
James has averaged 27.0 points and shot 56.0 percent against the rest of the league in that stretch.
Chicago's defensive influence is even more noticeable on James' jumpers. He's shot 26.5 percent (16 for 61) outside eight feet versus the Bulls in those eight contests compared to 39.3 percent against all other teams in that span.
James had 21 points on 7-of-17 shooting in Miami's first visit to Chicago this season, a 107-87 loss Dec. 5 that Dwyane Wade missed due to illness. That was the Heat's most lopsided defeat prior to losing in San Antonio.
Carlos Boozer had 27 points and Joakim Noah 17 with 15 rebounds as the Bulls outrebounded the Heat 49-27. Noah had 20 and 15 in the loss at Miami last month while Chris Bosh scored 28 and Wade 23 with 10 boards.
The best stretch of Noah's career had been coinciding with an outstanding run to propel the Bulls into the East's top four, but they've stumbled twice in three games this week. Noah (15) was the only starter to score in double figures Friday in an 85-77 home loss to Memphis.
The Bulls were outrebounded 45-37 and fell to 6-12 when they lose the battle of the boards, but Taj Gibson was quickly looking ahead.
"Guys understand tonight we kind of let one slide," he told the team's official website. "I'm looking forward to guys getting ready for the next task, and the next task is Miami (Sunday).
"We're not going to need extra hype to get ready for that game."
---